Blackberry Swirl Cheesecake Bars 
Blackberry Swirl Cheesecake Bars are sublime baked cheesecake bars with swirls of blackberry jelly and a sweet graham cracker crust. I gently swirled some homemade jelly into the batter to create an extremely tasty and beautiful Cheesecake Dessert.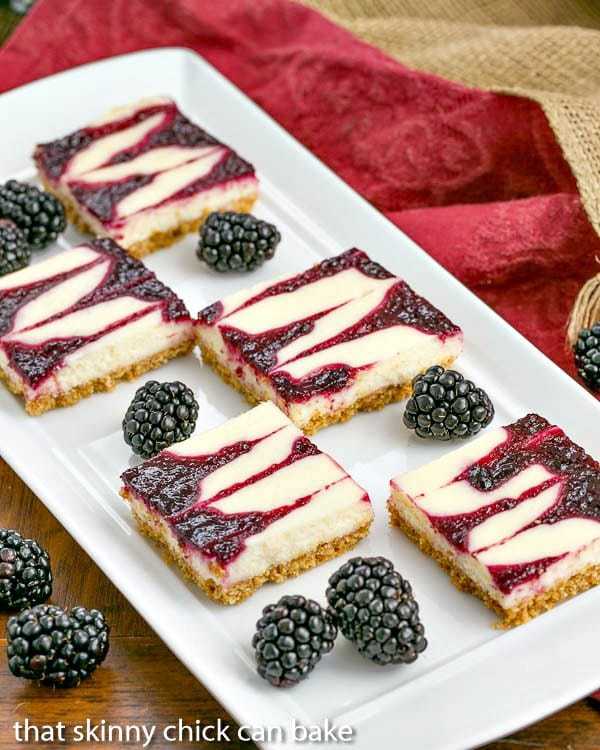 Blackberry Swirl Cheesecake Bars
I love making bar cookie recipes (you may have noticed a glut of them on this blog!). Only one or two trips to the oven instead of batch after batch as when baking cookies, and, voila, 25 dessert servings! I've made numerous cheesecake bars, but never one with jelly or jam swirled into the batter.
The sweet and slightly tangy cheesecake is complemented by both a graham cracker crust and the sweet, slightly tart swirl of blackberry jelly. I was lucky enough to have some homemade blackberry jelly which wasn't over-sweetened like many grocery store brands. But store-bought will always do in a pinch!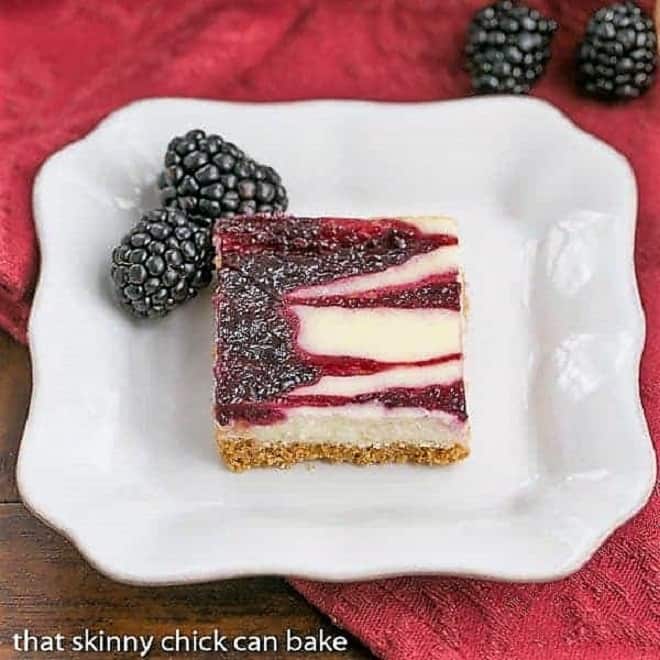 Tips for Making Cheesecake Bars
Even though these cheesecake bars look fancy, they're pretty darn simple. Here are some tips for making these bars with the berry swirl.
As with all cheesecake recipes, you must start with room temperature cream cheese and eggs. They will make a smoother batter as cold ingredients don't incorporate as well.
Cheesecakes taste best when chilled overnight, then brought out for an hour before serving

The marbling technique wasn't as daunting as you might imagine. I warmed the jelly slightly and whisked with a fork. Then I scooped it into a quart ziploc bag, clipped off a corner and piped 3 thick parallel lines across the surface of the cheesecake batter.
Then, I used an offset spatula and inserted it just a fraction of an inch deep and dragged it the length of the pan and looped back and forth creating this here look!

Not classic marbling, but I like the way these turned out. The jam was a Christmas gift from a friend and I was thrilled to have a homemade version for this recipe.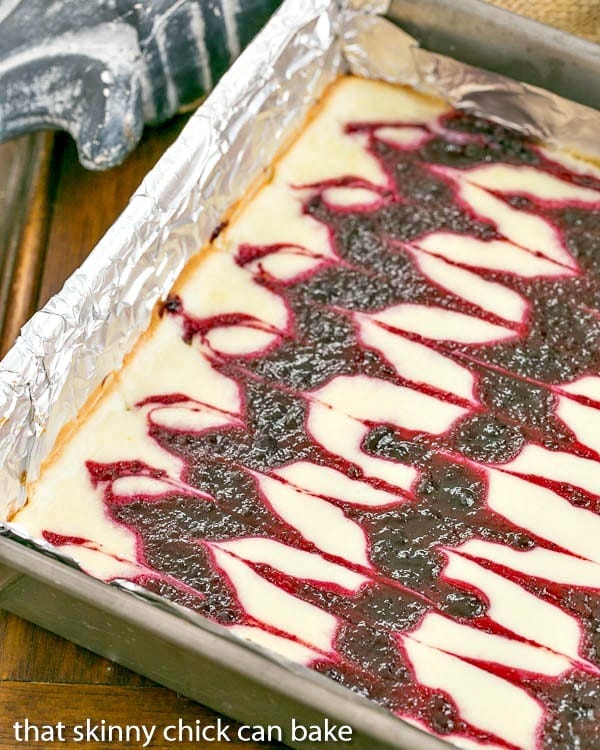 Can I Use Another Flavor Jam?
No need to hunt down blackberry jelly or jam, just use what's in your fridge or pantry. The base of these cheesecake bars is a graham cracker crust, but I pondered whether to make one with vanilla wafers or Biscoff cookies. But, alas, my supply of those had dwindled. Feel free to add a bit of lemon oil or extract to your batter—the touch of citrus would be lovely with the berry swirl. I hope you find an occasion to try this splendid cheesecake dessert.
You may need these supplies to make the cheesecake bars recipe:
And if you love the berry cheesecake combo, check out this lovely No-Bake Blueberry Cheesecake which can also be cut into bars or this stunning Mixed Berry Cheesecake. Plus my Berry Topped Cheesecake Bars have a mixed berry topping that the whole family adored! These Strawberry Cheesecake Bars and Twix Cheesecake Bars will tantalize your taste buds as well.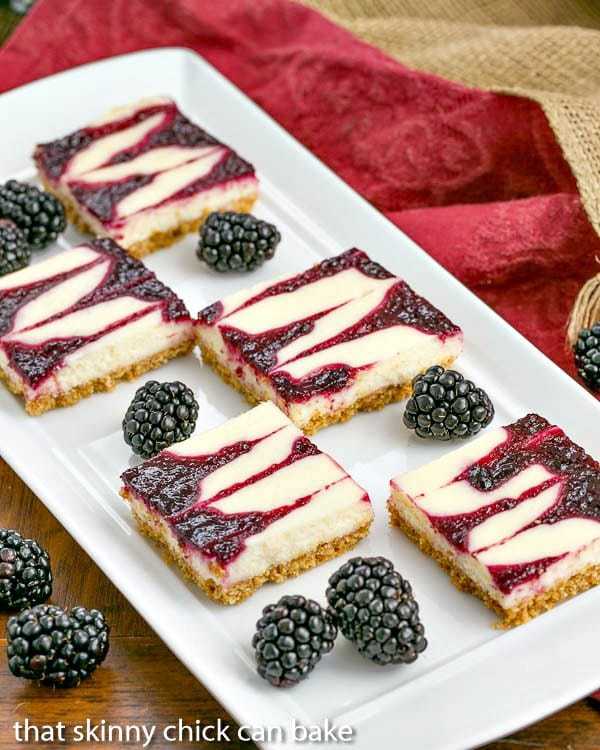 The Recipe:
Blackberry Swirl Cheesecake Bars
Prep Time 30 minutes
Cook Time 28 minutes
Total Time 58 minutes
Yield 16 servings
Creamy Cheesecake Bars with a blackberry swirl.
Ingredients
Crust:
1 1/2 cups graham cracker crumbs
1 tablespoon sugar
6 tablespoons melted butter
Filling:
8 ounces cream cheese, room temperature
1/2 cup sugar
1/2 teaspoon almond extract
1 egg
6 tablespoons blackberry jam or jelly
Instructions
Preheat the oven to 350º. Line a 9x9-inch baking pan with non-stick foil (or use regular foil and spray with non-stick cooking spray). Set aside.
In a medium bowl, mix together crust ingredients and pat into the bottom of the baking pan. Bake for 6-8 minutes. Let cool.
In a large bowl, with a hand mixer, blend together the cream cheese and sugar until smooth. Add almond extract and egg and mix till combined. Pour over the crust and smooth the top with an offset spatula.
Place the jelly in a small bowl and microwave for a few seconds, then with a fork or whisk, stir to soften.
Place jelly in a quart-sized Ziploc bag and cut off one corner to make a piping bag.
Squeeze 3 parallel lines over filling, using all jam. Use the tip of an offset spatula or knife to pull back and forth through the surface without going too deep (you don't want to disturb the crust).
Bake 15-20 more minutes until set. Cool, then chill before serving.
Nutrition Information:
Yield:
16
Serving Size:
1
Amount Per Serving:
Calories: 178
Total Fat: 10g
Saturated Fat: 6g
Trans Fat: 0g
Unsaturated Fat: 4g
Cholesterol: 37mg
Sodium: 122mg
Carbohydrates: 20g
Fiber: 0g
Sugar: 14g
Protein: 2g
Note: This post may contain affiliate links; view
my Disclosure Policy
for details. I earn a small percentage from any purchase you make by clicking on these links at no extra cost to you.