Fresh Blackberry Scones made with Cream
With butter, cream, and loads of berries, these Fresh Blackberry Scones are a moist, delicious breakfast treat! Best fresh, make these homemade scones ASAP.
Whether you adopt this recipe to make Blueberry Scones or Mixed Berry Scones, the basic formula is a winner! This will become your go-to Easy Scones Recipe!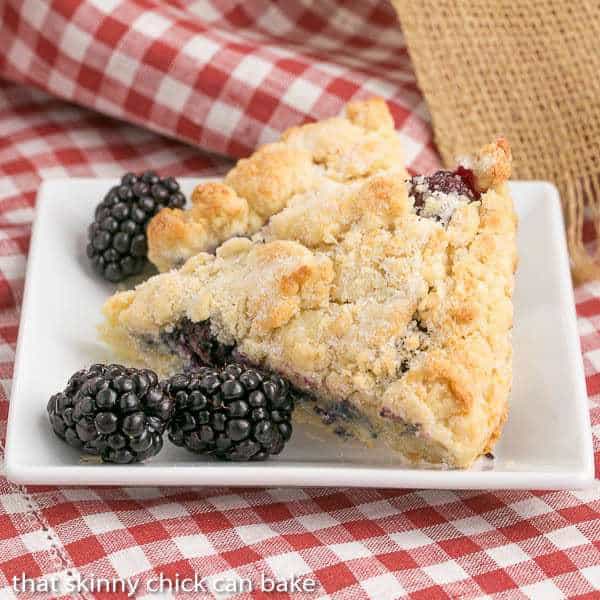 Why You'll Love these Scones
They're a delicious way to use fresh spring and summer berries!
If you haven't made scones before, you'll find out how tasty fresh from the oven, homemade scones taste!
If you don't like blackberries, try these with plump blueberries or raspberries.
Decent raspberries have been scarce this winter.  A local produce distributor owner saw me poking around the berries at the market one morning. He told me I looked like a discriminating shopper and asked if I knew who he was. After he revealed his name, I let him know that I was friends with two of his daughters-in-law.
A gregarious fellow, he went on to explain why the crops weren't up to snuff this year and why this drove up prices. I didn't find the berries I was looking for that day, but at least I knew I wasn't alone! Weeks later, I spotted some plump blackberries and snatched them up. I knew they'd be perfect to make some fresh blackberry scones.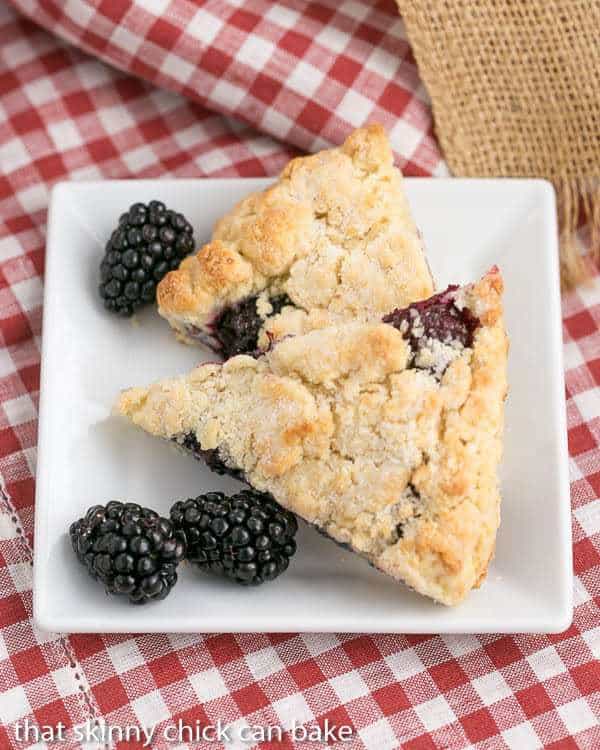 Best Scones Recipe
I enjoy both buttermilk and cream scones. The dairy ensures the scones are moist and tender, though they're still best on the day they're made. I shared some of these fruit-filled wedges with my girlfriends, then hid the leftovers of the scones in my freezer after savoring my second of the day.
This week, I plan to make some homemade clotted cream for my next batch of scones. If you don't see that recipe soon, you'll know it was a big fat flop! But I never feel those little jars in the market are truly the same clotted cream the British serve with their scones across the pond. But don't worry, these Blackberry Scones are terrific with or without clotted cream!
PRO-Tip: This basic easy scones recipe can be used for blueberry scones, raspberry scones, mixed berry scones, and more. Even dried fruit works. Just use a gentle touch when folding in delicate fruit for the best results.
Frequently Asked Questions
Can I Make Scones without a Food Processor?
Yes, of course. Using a food processor is a simple way to "cut" the butter into small pieces without a lot of effort. As with making pastry crusts, you can also use a pastry blender or two table knives to cut the flour into the butter. The end result should look like cornmeal with a few larger, pea-sized pieces of butter in the mix.
Can I Use Half and Half Instead of Cream in this Recipe?
Yes, half and half will work when making scones. But add some butter to bring the fat content up to match that of heavy cream. The formula for making a substitute for heavy cream is 7/8 cup of half and half plus 1/2 tablespoon melted butter.
Note that the butter will solidify when it hits the cold cream, so as you're adding it to the cream, whisk it a bit so it breaks into pieces.
What Are the Keys to Making Tender Scones?
Perfect scones should bake up soft and tender. Here are a few tips to make wonderful scones:
Use COLD butter. The tiny bits of cold butter will let off steam in the oven and create little pockets of air making lighter and more tender scones.
PRO-Tip: Use fresh baking powder. Baking powder is not used as frequently as baking soda and will often expire in your pantry. Scones need proper leavening to help them rise.
Add in just enough liquid to help the dough stick together. Lumps are OK.
PRO-Tip: Do not overwork the dough. The goal is not to blend in the butter, but instead, to leave the small bits intact. This is key to having tender scones.
If your kitchen is warm, chill your unbaked scones before baking.
Do not overbake.
More Berry Recipes: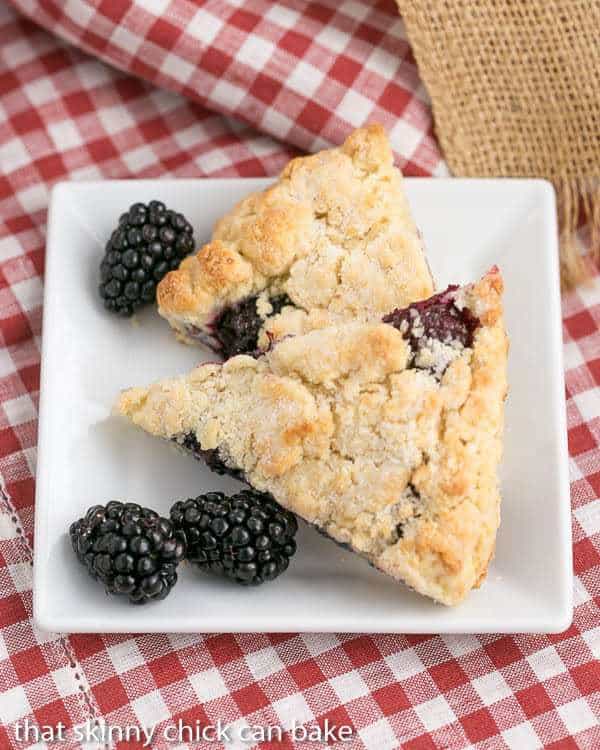 The Recipe:
Blackberry Scones Recipe
Prep Time 10 minutes
Cook Time 18 minutes
Total Time 28 minutes
Yield 8 scones
Tender cream scones chock full of blackberries
Ingredients
2 cups flour
1 tablespoon baking powder
3 tablespoons sugar
1/2 teaspoon salt
5 tablespoons cold butter, cut into small pieces
1/2 cup fresh blackberries
1 cup heavy cream
1 teaspoon vanilla paste (or extract)
Instructions
Preheat the oven to 425°. Line baking sheet with parchment and set aside.
Place flour, baking powder, sugar, and salt into the food processor and pulse to mix.
Remove the lid and sprinkle the butter over the flour mixture. Pulse about 10-15 times till the mixture resembles coarse cornmeal. Transfer the mixture to a large bowl.
Add the vanilla paste to heavy cream, then stir in the cream with a rubber spatula until the dough starts to come together.
Pour out bowl contents onto a floured surface, and knead a few times, then carefully knead in the blackberries. I sprinkled a few on top, folded the dough over, and repeated. You don't want to overwork the dough.
Form dough into an 8-inch round (alternatively, you can press it into an 8-inch cake pan lined with parchment, then carefully flip it out). Cut into 8 wedges
Place wedges on a baking sheet and bake until tops are light brown, 15 to 18 minutes. Cool on a wire rack for at least 10 minutes. Serve warm or at room temperature.
Notes
Adapted from America's Test Kitchen
Feel free to substitute other berries or dried fruit. If you use dried fruit, you will need to decrease the baking time to 12-15 minutes.
Nutrition Information:
Yield:
8
Serving Size:
1 scone
Amount Per Serving:
Calories: 303
Total Fat: 18g
Saturated Fat: 11g
Trans Fat: 1g
Unsaturated Fat: 6g
Cholesterol: 53mg
Sodium: 381mg
Carbohydrates: 31g
Fiber: 1g
Sugar: 6g
Protein: 4g
Note: This post may contain affiliate links; view
my Disclosure Policy
for details. I earn a small percentage from any purchase you make by clicking on these links at no extra cost to you.