Raspberry Cream Scones
When you're expecting company for brunch, adding Raspberry Cream Scones to the menu is a sure-fire way to make a good impression.
Made with heavy cream and fresh berries, these are some of the Best Scones that will come from your kitchen. They have the perfect texture and utterly irresistible!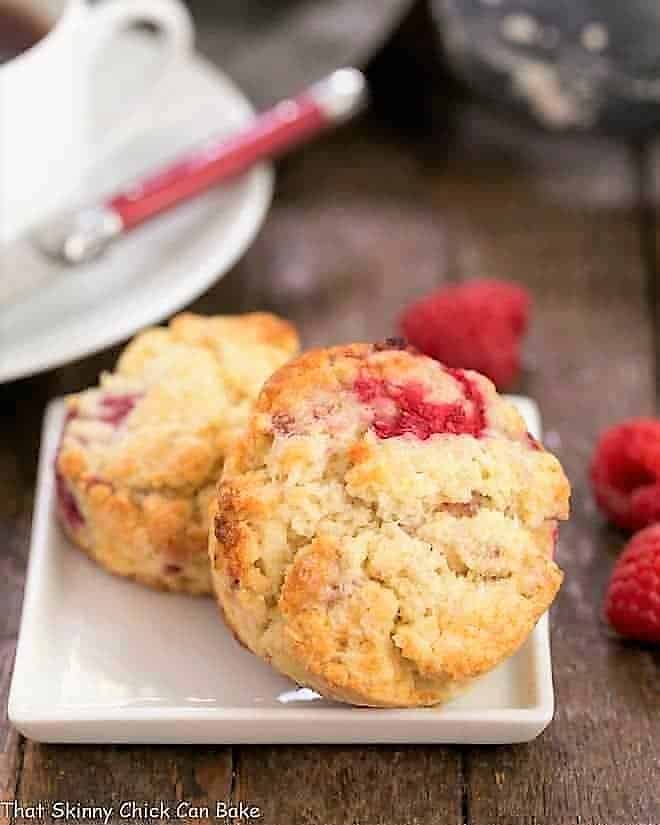 Why You Must Make
You need not look any further if you've been searching for the perfect scone recipe. This is it.
These raspberry cream scones come together quickly, and mixing in some luscious, plump red raspberries makes them even more tempting.
Adding heavy cream to the dough provides richness and tenderness.
These drew all sorts of praise from my knitting group even sans clotted cream. They really were excellent without any accouterments, but feel free to serve with butter, jam, lemon curd and/or clotted cream.
Shake things up by adding different berries to these scones.
Ingredient Notes:
Flour – I use All-Purpose Flour, but Pastry or Cake Flour is another option
Baking Powder – Check the expiration date as it expires much faster than baking soda.
Sugar – Regular granulated white sugar
Salt – Table salt
Butter – Should be very cold. I use salted butter.
Raspberries – Fresh or frozen work. You can freeze fresh berries in a single layer on a rimmed sheet pan. Using frozen berries will minimize any red staining of the dough, but may take a little longer to bake.
Heavy Cream – Should be 36% butterfat.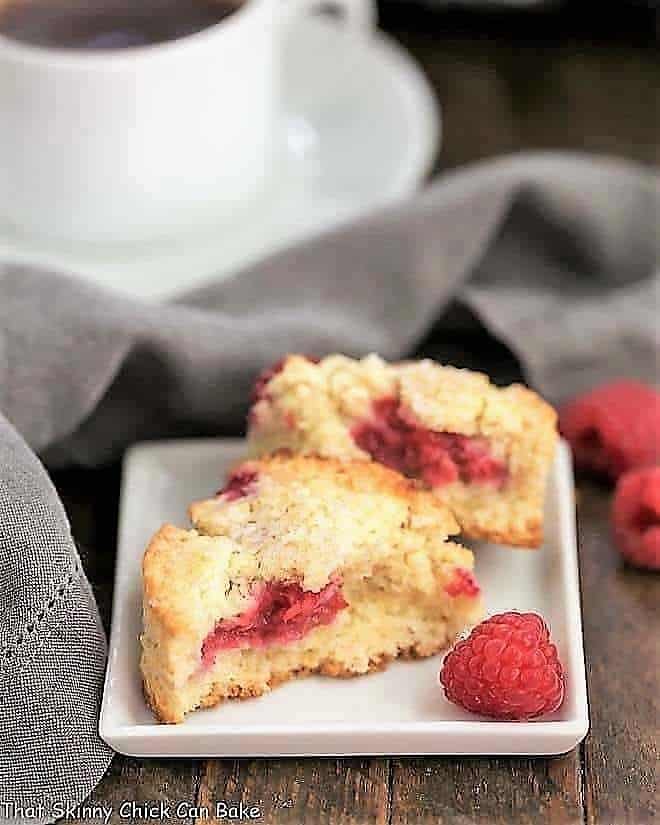 Expert Tips
Have you ever eaten a dry, flavorless scone? If you make your own scones, I have a few tips so that you never eat a sub-par scone again!
Use good quality, cold butter. It's worth the splurge to buy a pound of European butter. I often cube my butter, then put it in the freezer while I prep the rest of the ingredients.
The cold butter creates steam as it reacts to the heat of the oven and assists the baking powder in leavening the scones.
PRO-Tip: Do not over-mix or overwork your scone dough. You want some small pieces of butter interspersed throughout the dough.
PRO-Tip: Check the expiration on your baking powder (and do not substitute baking soda) as an old product will not leaven your scones. Baking soda is used more frequently, so usually baking powder expires before you use it all.
If you want round scones, like my raspberry cream scones, use a biscuit cutter. PRO-Tip: Cut straight down, without twisting as the twisting motion seals the edges and will prevent the scones from rising as well.
The other option is to pat the dough into a circle and cut it into wedges.
Place your pan of scones in the freezer while your oven preheats. This will allow the butter to get cold again.
Like with biscuits and puff pastry, make sure your unbaked scones are cool/cold and your oven is hot!
Scones are best on the day they are baked, so keep that in mind when you plan to put scones on your menu.
A couple of sources say to use pastry flour instead of all-purpose. I have not done this, but it makes sense since pastry flour has less gluten and will make for softer, more tender scones.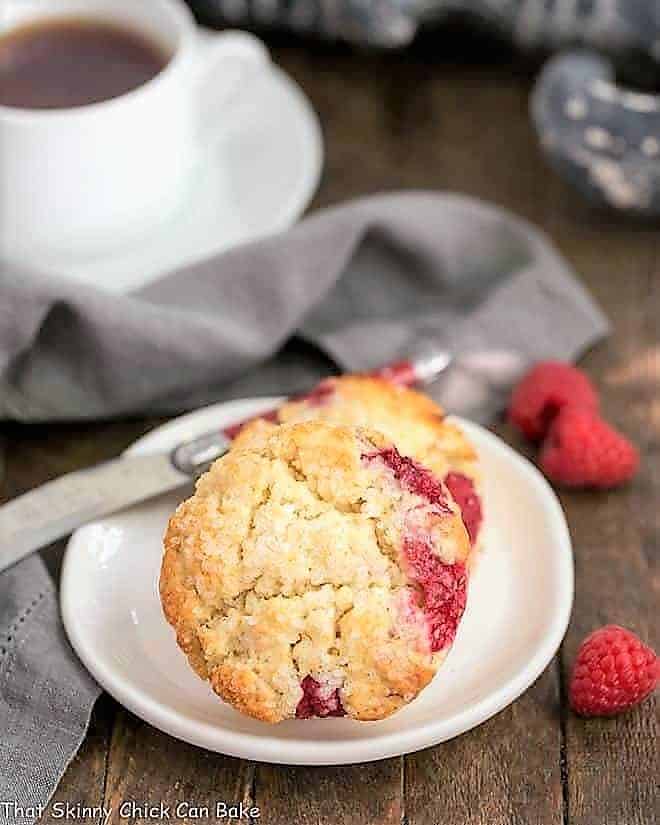 Frequently Asked Questions
Can you use frozen raspberries in scones?
Yes, frozen berries will work. I used fresh raspberries, but there will be less bleeding of juices into the dough when using frozen berries. Adjust the baking time as needed.
Can You Freeze Scones?
Yes, scones freeze well. Cool completely, wrap airtight or place in an airtight container, and freeze for up to 2 months.
How Do You Keep Scones Moist?
Scones lose their freshness quickly. In fact, they are best on the day they are made. But to keep them as fresh as you can, cool them completely, place in an airtight container, and store at room temperature or in the refrigerator for up to 2 days.

If it's very humid in your kitchen, consider placing a paper towel in the container to help absorb any moisture, keeping your scones fresher.
What Should You Serve with Scones?
Besides the traditional toppings of jam, clotted cream and other options mentioned above, you must serve scones with tea. Coffee should also be offered.
If eating for breakfast or brunch, consider yogurt, fresh fruit, ham or bacon, and other pastries to round out your menu.
You May Also Like
Stay in touch through social media @ Instagram, Facebook, and Pinterest. Don't forget to tag me when you try one of my recipes! And if you love the results, please give it a 5-star rating in the recipe card. Note: As an Amazon Associate, I earn from qualifying purchases. Visit my Amazon Store for my favorite products.
The Recipe:
Raspberry Cream Scones
Prep Time 15 minutes
Cook Time 14 minutes
Total Time 29 minutes
Yield 8 servings
Moist tender scones filled with ripe, fresh raspberries.
Ingredients
2 cups flour
1 tablespoon baking powder
3 tablespoons sugar
½ teaspoon salt
5 tablespoons cold butter, cut into ¼-inch cubes
½ cup fresh raspberries
1 cup heavy cream
Instructions
Preheat oven to 425º.
Combine flour, baking powder, sugar, and salt in a mixing bowl. Whisk to combine.
Cut in butter with a pastry blender until it looks like coarse cornmeal with a few slightly larger lumps. Gently stir in fruit.
Add heavy cream and stir with a spatula or fork till dough begins to form.
Pour out onto the countertop and knead very carefully till the dough comes together into a slightly sticky mound...only about 5-10 seconds.
Pat into a rectangle about 1 inch tall. Cut into 8-12 rounds using a biscuit cutter.
Place onto parchment or Silpat lined baking sheet. May brush with cream and sprinkle with sugar if desired.
Bake 11-14 minutes till light brown. Cool on a rack for 10 minutes before serving. May serve warm or at room temperature. These freeze well.
You may also make these in the food processor. Be careful not to over-process.
Notes
Yield varies depending on the size of your biscuit cutter.
Frozen raspberries work well, too. You may need to bake a little longer to adjust for the frozen fruit.
These are best on the day made. Freeze leftovers and just pop in the microwave for a delicious treat.
Adapted from America's Test Kitchen
Recommended Products
As an Amazon Associate and member of other affiliate programs, I earn from qualifying purchases.
Nutrition Information:
Yield:
8
Serving Size:
1 scone
Amount Per Serving:
Calories: 302
Total Fat: 18g
Saturated Fat: 11g
Trans Fat: 1g
Unsaturated Fat: 6g
Cholesterol: 53mg
Sodium: 381mg
Carbohydrates: 31g
Fiber: 1g
Sugar: 6g
Protein: 4g
Note: This post may contain affiliate links; view
my Disclosure Policy
for details. I earn a small percentage from any purchase you make by clicking on these links at no extra cost to you.