Flourless Chocolate Cake with Marshmallow Frosting
When I first spied this stunningFlourless Chocolate Cake with Marshmallow Frosting, I knew my family could make it disappear in a New York minute!
With a rich, dense chocolate base and a made from scratch marshmallow frosting, this is not for those watching their calories as it's as decadent as it looks! A sliver is all you need!
Flourless Chocolate Cake with Marshmallow Frosting
It was time for our annual summer book club dinner. I always volunteer to bring dessert and chocolate is extremely popular with this crowd. Plus, any leftovers would please the home team.
This Flourless Chocolate Cake Recipe is one of those desserts that can serve a crowd. Super rich, you only need a thin slice to satisfy your sweet tooth. The billowy marshmallow topping and chocolate drizzle make jaws drop when it's unveiled at the end of your meal.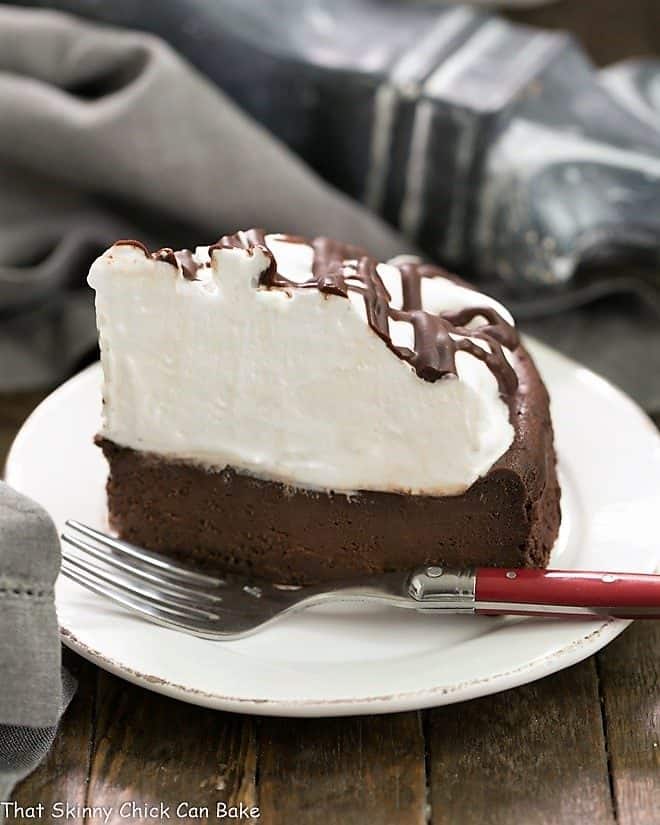 Two Sweetie Pies
Thanks again to my lovely friend, Danielle, for another magnificent recipe! She is my go-to blogger for decadent treats. I promise you will love whatever you try from her blog!!! We share a recipe from each other's sites every second Monday of the month.
Check out Danielle's take on this recipe as well as her social media sites! Plus make sure to stop by her blog and check out which of my recipes she made this month, too.
Hugs & Cookies XOXO – Facebook – Pinterest – Twitter – Instagram
More Flourless Chocolate Desserts You'll Love:
Even the chocoholic hubby described this flourless chocolate cake with marshmallow frosting as extremely rich. So save it for a holiday or anytime you're serving a crowd. And make sure to check my tips below, especially for making the frosting.
I've made loads of other flourless chocolate cakes, some glazed like this La Bete Noire, others served with berries and cream like this Flourless Chocolate Cake from Princeville Hotel. But flourless chocolate desserts aren't limited to cakes. These decadent Flourless Chocolate Turtle Cookies throw caramel and pecans into the delicious mix or how about a Flourless Chocolate Brownie topped with ice cream, chocolate sauce, and toasted coconut??? Yeah, my mouth is watering, too!
Tips for Making the Best Flourless Chocolate Cake
Since there's no flour (duh!) in a flourless chocolate cake, your taste buds are getting a pure blast of chocolate flavor. Undiluted, unadulterated. So for this reason, buy a step up in quality. Chocolate Bars instead of chocolate chips. A European brand if you dare.
As far as domestic chocolate, I primarily use Ghirardelli bars. Watch for sales around the holidays and stock your cupboards.
The same goes for butter. European butter rocks, but it does cost more. Kerrygold Irish Butter has a higher butterfat percentage compared to traditional grocery store butter and is readily available. It's more important to buy quality chocolate, but if you want to spring for a top-notch butter, try a European brand.
Read your recipe as some so-called flourless chocolate cakes actually have a couple of tablespoons of flour. You will not want to serve one of those recipes to your gluten-free guests or on Passover.
Coffee enhances the flavor of chocolate. 1/2 cup of coffee will not make this cake taste like a mocha dessert but instead will make the chocolate flavor deeper, more intense.
If you want even more chocolate intensity, use bittersweet chocolate instead of semisweet.
Many flourless chocolate cakes have whipped egg whites folded into the chocolate and egg yolks to lighten the batter. In this particular cake, the leftover egg whites are whipped into a fluffy meringue, AKA marshmallow, frosting.
As with any meringue, the most important tip is to have all your bowls and utensils free from oils, grease, and any bits of egg yolk. Any of the former will prevent the whites from whipping into a beautiful, billowy marshmallow frosting.
I'd recommend separating your eggs one at a time, using two bowls (meaning don't separate a whole egg over the bowl of egg whites). If you happen to get a bit of yolk into those whites, all of them are contaminated and you have to start over. Trust me, I've done that. It's a nightmare when you don't have an extra 6 eggs to spare in the refrigerator!
The Recipe:
Flourless Chocolate Cake with Marshmallow Frosting
Prep Time 40 minutes
Cook Time 40 minutes
Total Time 1 hour 20 minutes
Yield 12
A  rich, dense flourless chocolate cake topped with a made from scratch marshmallow frosting!
Ingredients
For the cake:
2½ sticks  butter, cut into pieces, plus more for the pan
6 ounces semisweet chocolate, chopped
6 ounces unsweetened chocolate, chopped
6 large eggs
¾ cup light brown sugar
Pinch of salt
½ cup hot coffee plus 1 tsp. vanilla
For the meringue and chocolate drizzle:
2 ounces semisweet chocolate, chopped
2 tablespoons unsalted butter
1 tablespoon light corn syrup
1 cup granulated sugar
3 large egg whites
¼ teaspoon cream of tartar
Pinch of salt
2 teaspoons vanilla extract
Instructions
Preheat the oven to 325 degrees F.
Butter the bottom and sides of a 9-inch springform pan and line the bottom with parchment paper.
Place the 2 chocolates in the top of a double boiler and stir until melted over low heat.
Put eggs, brown sugar, and salt in a mixing bowl.
Place mixing bowl over the water from the double boiler and whisk to warm eggs, for about two minutes.
Transfer the bowl to the stand mixer and beat on medium speed for 5 minutes.
On low, add the coffee and vanilla, then the melted chocolate.
Once mixed add the butter slowly to incorporate.
Pour into pan and bake 30-35 mins until toothpick comes out with few crumbs.
Cool, run a knife around the edge of the pan and remove the ring.
To make the chocolate drizzle, microwave the chocolate, butter, and corn syrup until melted. Set aside.
To make the meringue, whisk the sugar, egg whites, cream of tartar, salt, and ⅓ cup water in the top of a double boiler over simmering water.
With a handheld mixer, beat on low then slowly increase to high to reach soft peaks, about 5 minutes.
Remove from heat and continue beating until the meringue has stiff peaks.
Spread on cooled cake and make peaks with a fork or offset spatula. Drizzle with the melted chocolate.
Notes
Make sure your egg whites are not contaminated with even a speck of egg yolk or grease or they will not whip properly.
Recommended Products
As an Amazon Associate and member of other affiliate programs, I earn from qualifying purchases.
Nutrition Information:
Yield:
12
Serving Size:
1 slice
Amount Per Serving:
Calories: 524
Total Fat: 36g
Saturated Fat: 22g
Trans Fat: 1g
Unsaturated Fat: 12g
Cholesterol: 149mg
Sodium: 233mg
Carbohydrates: 46g
Fiber: 3g
Sugar: 40g
Protein: 7g
Note: This post may contain affiliate links; view
my Disclosure Policy
for details. I earn a small percentage from any purchase you make by clicking on these links at no extra cost to you.