La Bete Noire AKA The Black Beast
This sublime French flourless chocolate cake, also known as La Bete Noire or Black Beast, is dark, decadent and out-of-this-world delicious.
This easily could be the Best Chocolate Cake Recipe in my repertoire. I've been making it for nearly 2 decades and it's never failed to get rave reviews and recipe requests. When you need the ultimate chocolate dessert guaranteed to impress, THIS Flourless Chocolate Cake is the answer!!!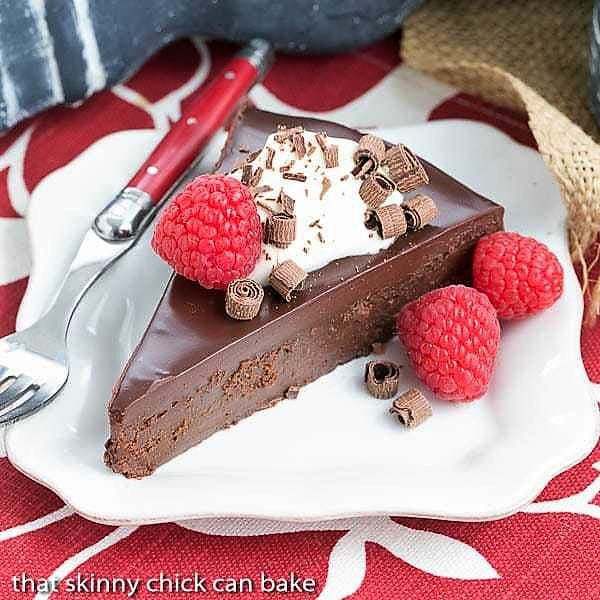 Why You Must Make
This is my absolute favorite flourless chocolate cake recipe. There are 18 ounces of semisweet chocolate in the cake and glaze!!!
It's my go-to dessert recipe for special company!
When friends ask for a tried and true dessert for entertaining, this is the recipe I share.
Chocoholics will love the double dose of chocolate: the cake and the ganache topping.
Unlike the others (and, yes, I've shared a lot of flourless chocolate cakes), this one starts with a hot simple syrup which is incorporated into the melted butter and sugar before the eggs are added. La Bete Noire is truly exquisite, smooth, creamy, and perfect for any chocoholic.
Ingredient Notes:
Check your pantry and refrigerator for these staples: Sugar, Butter, and Eggs. Plus you may need to purchase:
Semisweet Chocolate – I prefer using bars of chocolate instead of chocolate chips. The quality is better. I keep a stash of Ghirardelli semisweet chocolate bars on hand.
Heavy Cream – with 36-40% fat, it gives a delicious richness to desserts and is perfect when sweetened and whipped to garnish.
Whipped Cream, Shaved Chocolate, and/or Berries to garnish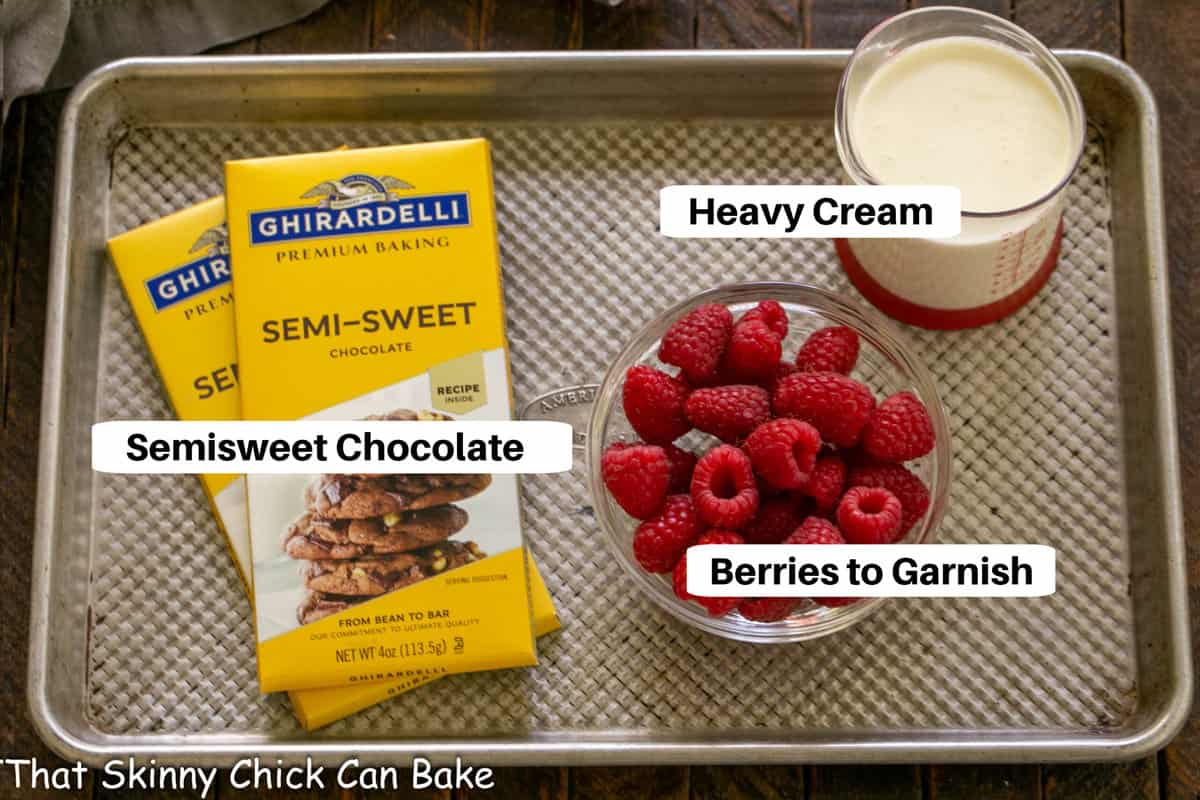 How to Make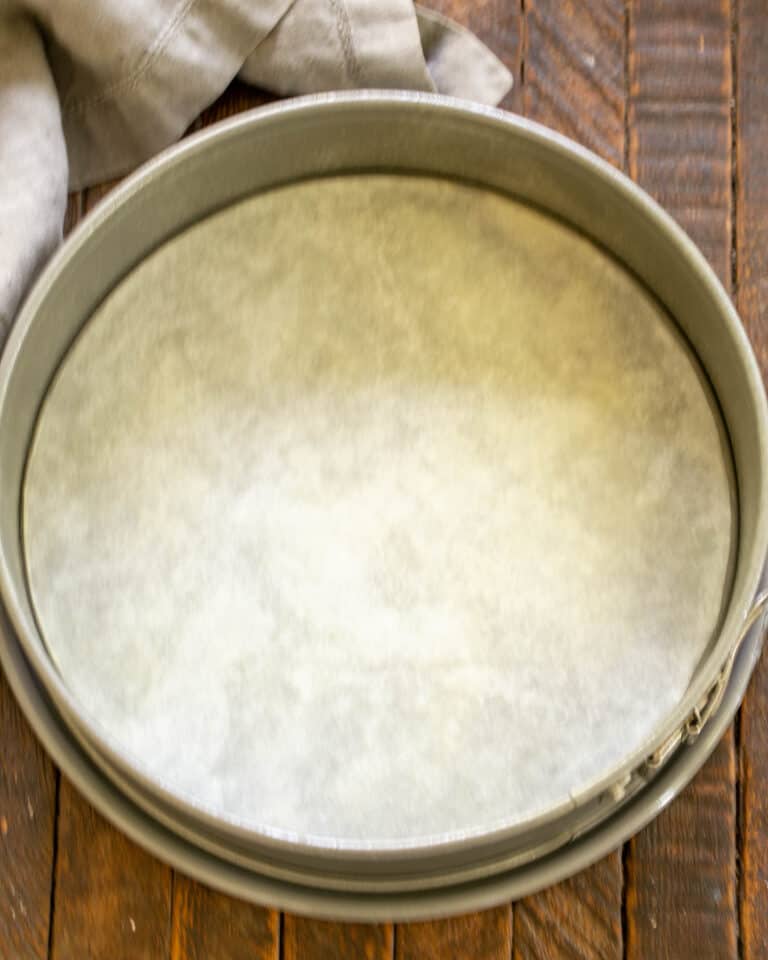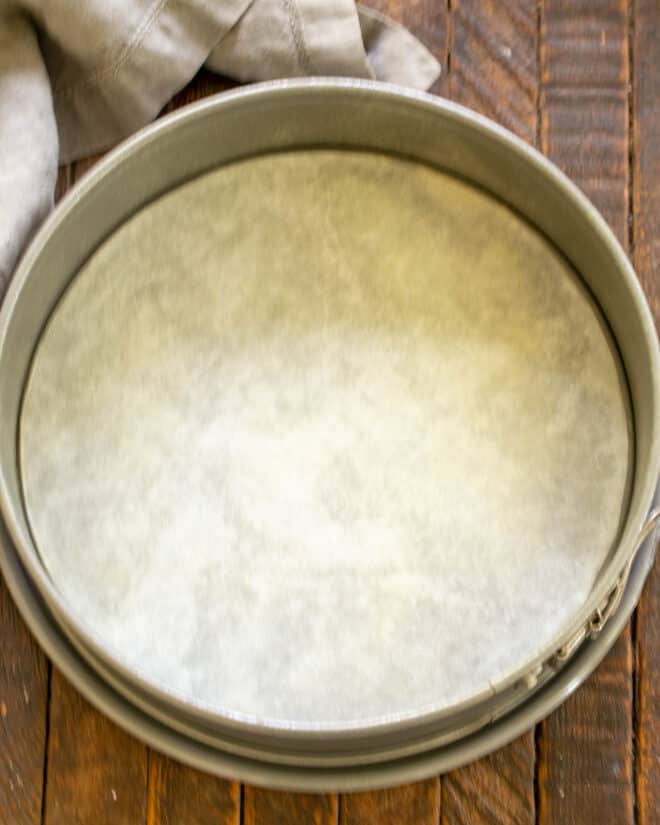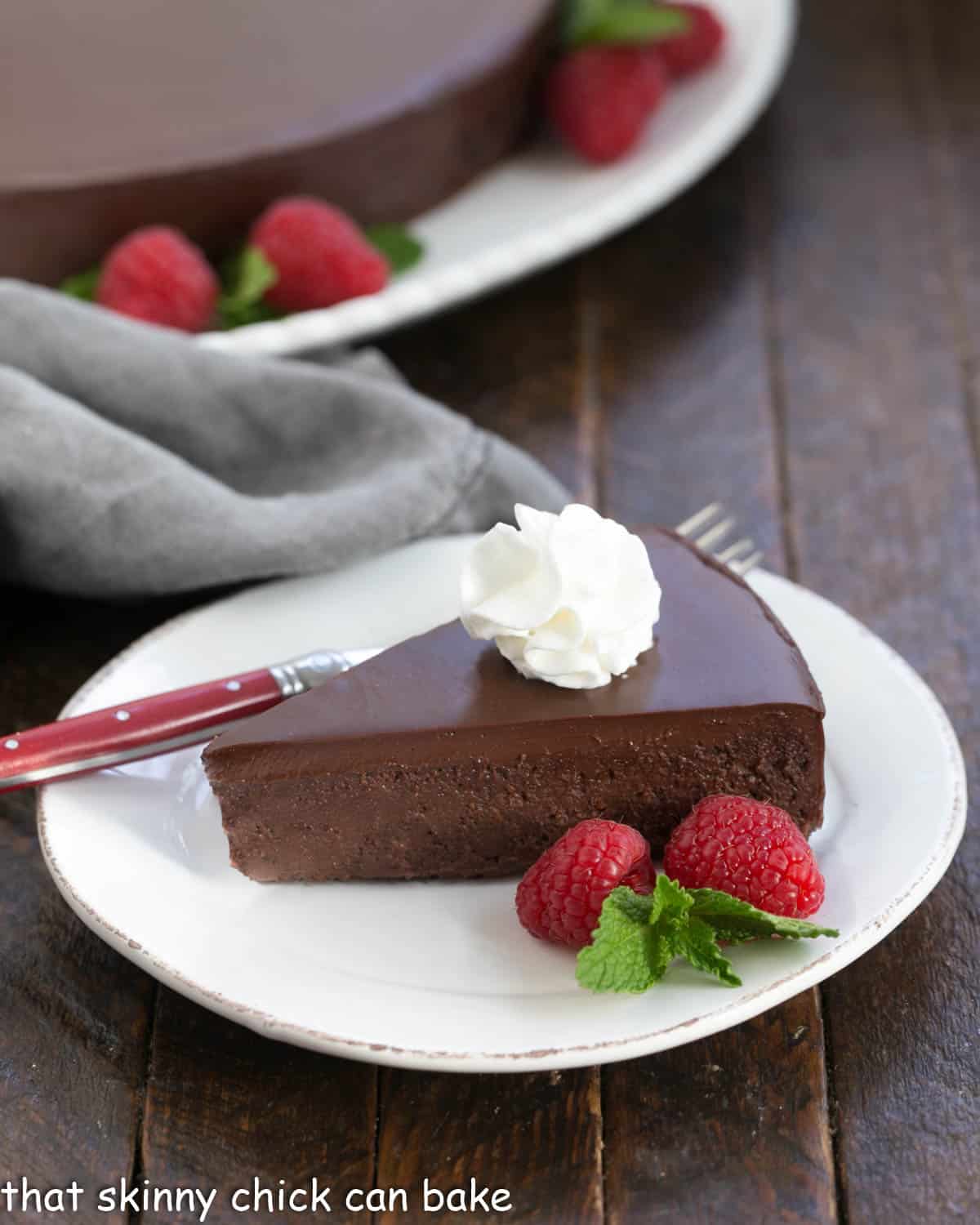 Expert Tips
The name, la bete noire, is French for "the black beast," but in 1844 this phrase meant an insufferable person, adversary, devil, or enemy, not a chocolate cake. Nowadays, you'll see this phrase on dessert menus, referring to a rich, dense flourless chocolate cake. Beastly delicious, I'd say!
Different from most other flourless chocolate cakes, this bete noire incorporates a simple sugar syrup as a sweetener. Sugar and water is simmered until the sugar dissolves; it's as easy as that!
PRO-Tip: If you're careful, it's super easy to use the microwave to gently melt the chocolate mixtures. It's safest to decrease the power to 50% or just use 30, then 15-second intervals, stopping and stirring to avoid overheating the chocolate. Plus, it's OK to stop when there are just a few teeny pieces of unmelted chocolate in the bowl. Let the residual heat finish the melting process instead of risking overcooking and ruining the chocolate.
This cake is made in a springform pan with removable sides. It's the same kind of pan used to make cheesecakes.
La bete noire, like most of my cheesecakes, is baked in a water bath. This helps the cake to bake at an even temperature and the added humidity keeps the cake moist. PRO-Tip: Make sure to wrap the exterior of the pan well with foil to prevent any water from seeping in from the water bath into the springform pan.
Cool the cake completely before adding the ganache, then refrigerate 2 hours or longer before serving.
Garnish with a dollop of whipped cream and berries or use a vegetable peeler and a chocolate bar to make shavings. A little more chocolate never hurts, either! Bon appetit!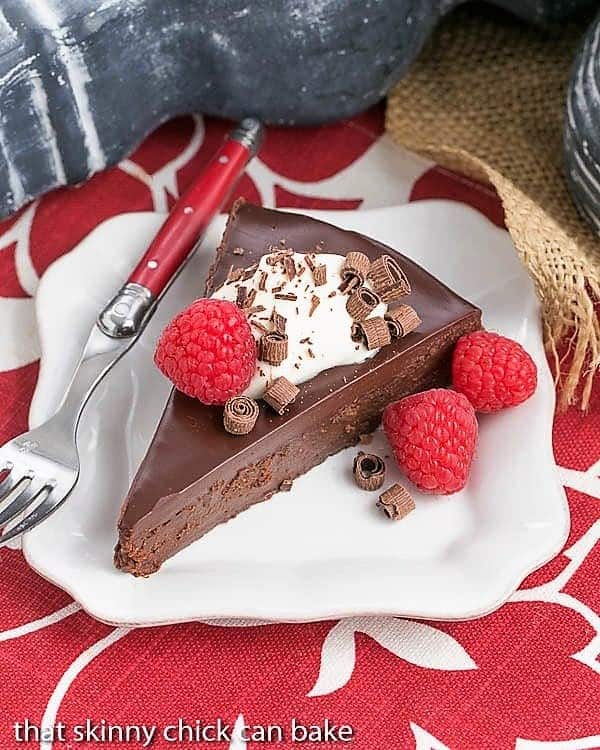 Frequently Asked Questions
Why is Sugar Syrup Used in This Recipe?
It gives the cake a wonderful custard-type texture.
Why is a Water Bath Needed to Make a Bete Noire?
The steam that a water bath produces in the oven keeps the cake extra moist. It also helps stabilize the baking temperature and allows for gentle baking.
How Should You Serve a Slice of this Black Beast?
It should chill for at least 4 hours so the cake is well set before serving time. But it needs to come out of the refrigerator about 2 hours before serving to enhance its silkiness.

Serve a slice of any super-rich dessert with a dollop of whipped cream and berries. The light, creaminess of the cream is a nice contrast to the dense chocolate cake.
How Should You Slice this Flourless Cake?
For a clean slice, use a hot knife. I like to dip my very sharp knife in very hot water, then dry it off to slice. Wipe it clean, and repeat dipping and drying as needed.
Can Bittersweet Chocolate Be Used Instead of Semisweet Chocolate?
Yes, these two types of chocolate are almost always interchangeable. If you love dark chocolate desserts, try bittersweet chocolate in this recipe.
You May Also Like:
Stay in touch through social media @ Instagram, Facebook, and Pinterest. Don't forget to tag me when you try one of my recipes! And if you love the results, please give it a 5-star rating in the recipe card. Note: As an Amazon Associate, I earn from qualifying purchases. Visit my Amazon Store for my favorite products.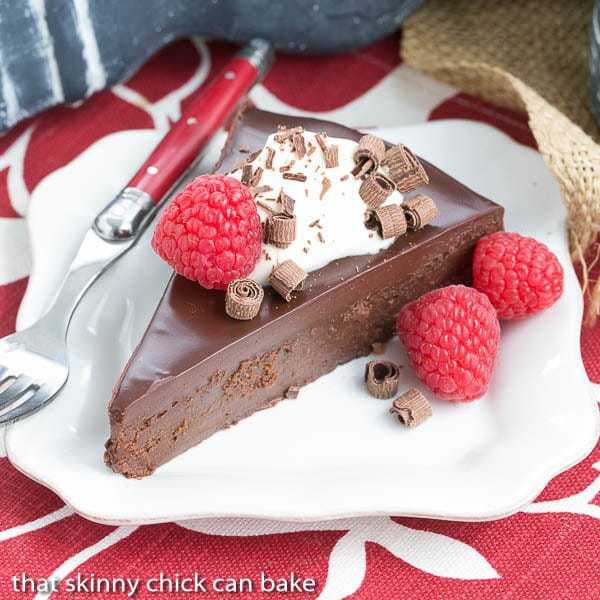 The Recipe:
La Bete Noire AKA The Black Beast Recipe
Prep Time 30 minutes
Cook Time 50 minutes
Total Time 1 hour 20 minutes
Yield 12
A dense, luscious flourless chocolate cake adapted from Bon Appetit.
Ingredients
For cake:
1 cup water
¾ cup sugar
9 tablespoons (1 stick plus 1 tablespoon) butter, diced
18 ounces semisweet chocolate, chopped
6 eggs
Ganache:
1 cup heavy cream
8 ounces semisweet chocolate, chopped
Garnishes:
Sweetened whipped cream, shaved chocolate and/or fresh berries
Instructions
Preheat the oven to 350°F.
Butter 10-inch springform pan. Line the bottom of the pan with a parchment round; butter parchment.
Wrap 3 layers of heavy-duty foil around the outside of the pan, bringing it up to the top of the rim.
Combine 1 cup of water and sugar in a small saucepan and bring to a boil over medium heat. Stir till sugar dissolves, then simmer for 5 minutes. Remove from heat.
Gently melt the 9 tablespoons of butter and the 18 ounces of chocolate in the microwave. Whisk till smooth. Whisk sugar syrup into the chocolate, and cool slightly.
Add eggs to the chocolate mixture and whisk till well blended. Pour batter into the prepared pan. Place the cake pan in a large roasting pan. Add enough hot water to the roasting pan to come halfway up the sides of the cake pan.
Bake the cake until the center is just set about 50 minutes. Remove from the water bath; transfer to a rack. Cool completely in the pan.
For ganache:
Heat cream in microwave till hot. Remove and add chocolate. Whisk until smooth. Pour over the top of the cake while still in the pan. Gently shake the pan to distribute the ganache evenly over the top of the cake.
Refrigerate cake in pan until ganache is set, about 2 hours.
Carefully run a knife around the pan sides to loosen the cake; release the sides of the springform pan.
Serve wedges with sweetened whipped cream and fresh berries or shaved chocolate.
Notes
For the best results use good quality chocolate, not chocolate chips.
Helpful Tools (As an Amazon Associate and member of other affiliate programs, I earn from qualifying purchases).
Nutrition Information:
Yield:
12
Serving Size:
1
Amount Per Serving:
Calories: 342
Total Fat: 21g
Saturated Fat: 12g
Trans Fat: 0g
Unsaturated Fat: 8g
Cholesterol: 87mg
Sodium: 37mg
Carbohydrates: 41g
Fiber: 3g
Sugar: 36g
Protein: 5g
Note: This post may contain affiliate links; view
my Disclosure Policy
for details. I earn a small percentage from any purchase you make by clicking on these links at no extra cost to you.