Flourless Chocolate Cookies
These glossy, rich Flourless Chocolate Cookies are packed full of chocolate chips and are a dreamy alternative to an ordinary meringue or chocolate chip cookie.
As a bonus, these cookies are made with whipped egg whites, which technically make them Chocolate Meringues! As a bonus, they are naturally gluten-free and are no ordinary treat!
Why You Must Make
They're rich, dense, and chewy!
With both cocoa powder and chocolate chips, they're ultra chocolaty!
They're naturally flourless so perfect for anyone who's following a gluten-free diet.
Now if you're like me, when you picture a chocolate meringue cookie, it's kind of pale, crisp, and without an intense chocolate flavor. Well, when I saw photos of these chocolate meringue cookies AKA flourless chocolate cookies on a friend's blog, I knew I'd be baking them immediately.
Then these cookies turned up on two other friends' blogs. Yup, they were definitely worth baking and sharing here, too. Dark, dense, and chewy, these were perfect for both my family and for my book club's summer dinner. The chocoholics at home gave their unwavering approval, and one of my book club friends made this immediately after receiving the recipe. A sure sign of a magnificent cookie.
What Readers Are Saying:
From Lisa via Pinterest: These are so easy to make and SOOOOO DELICIOUS! I will definitely be baking these cookies again and again!
From Diana via the comments: So good! My gluten-free son raves about them. Asked me to make another batch. Wish I had thought to teach him how to make them. My 60+-year-old arms get tired a lot faster than they used to, lol.
Ingredient Notes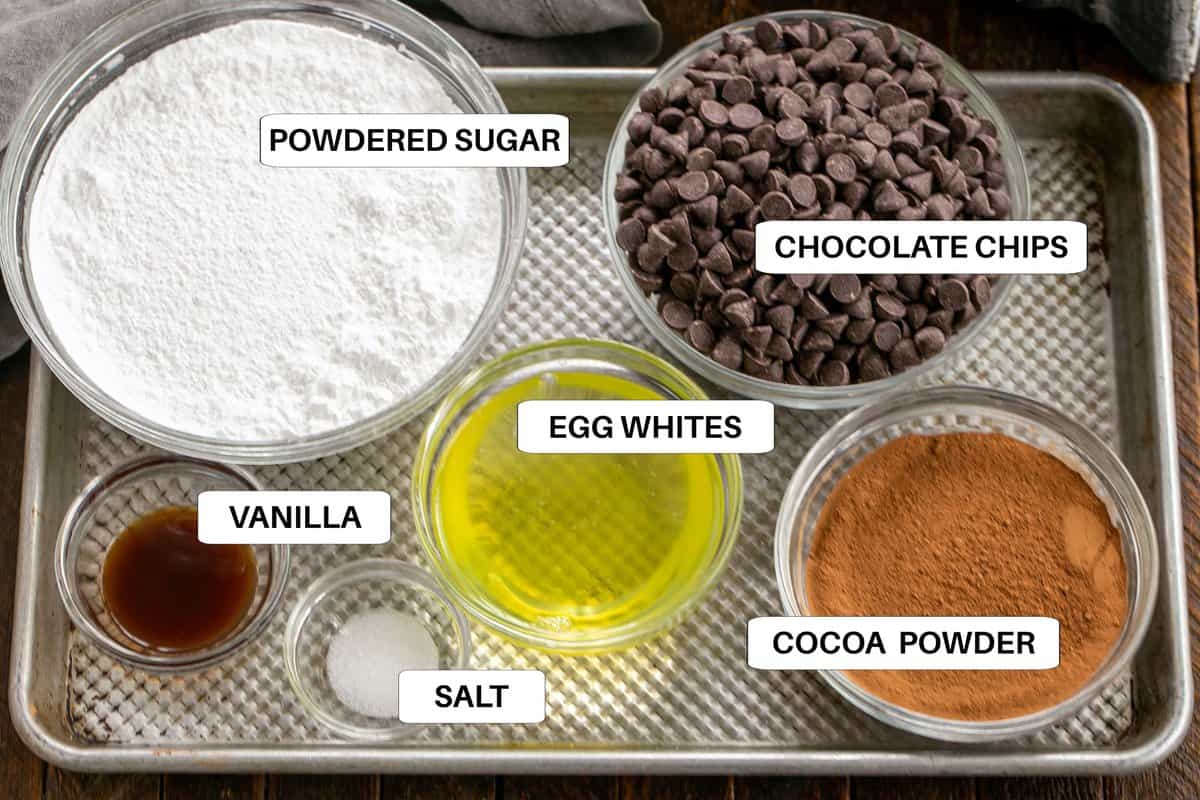 Kitchen Staples – Real Vanilla Extract, Table Salt
Cocoa Powder – Not cocoa mix, but unsweetened cocoa powder
Egg Whites – Use cold eggs as the yolk is less likely to break. Crack on a flat surface as this will minimize yolk breakage, too.
Powdered Sugar – Sift to remove lumps
How to Make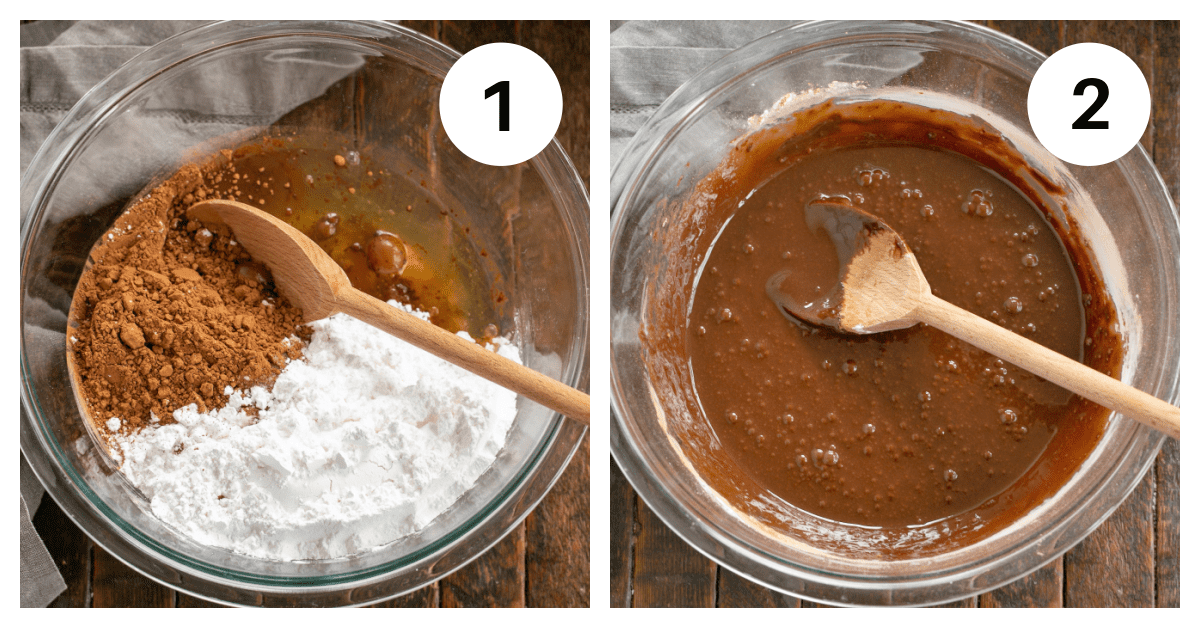 Place all the ingredients except the chocolate chips in a mixing bowl.
Stir together until well combined.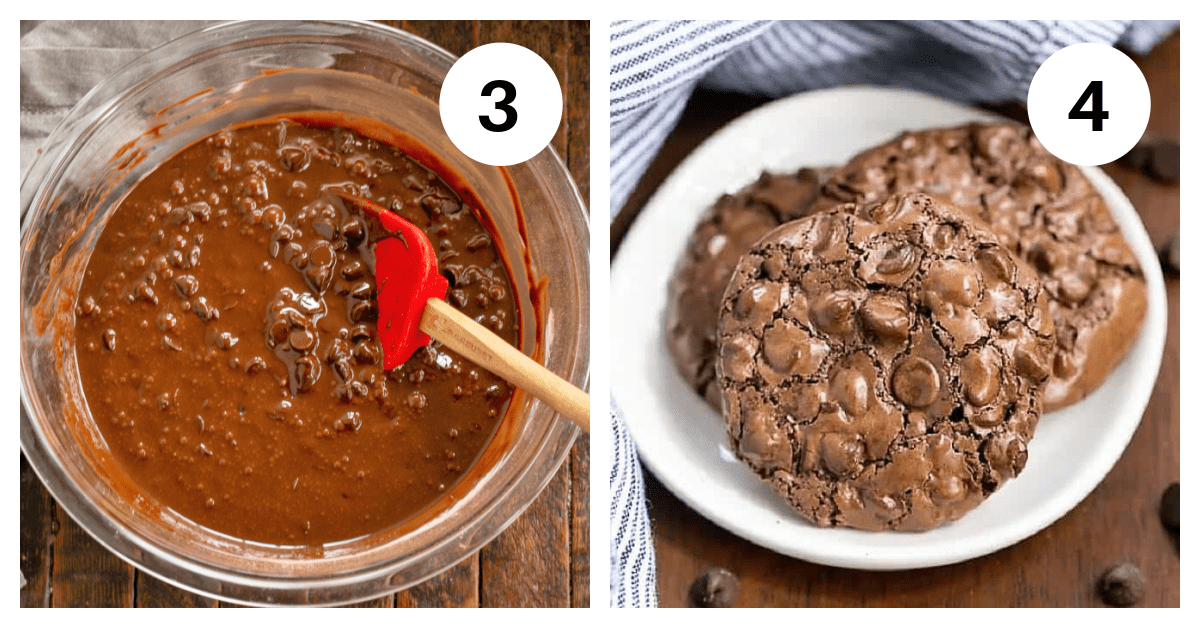 Add the chocolate chips and mix.
Drop by tablespoons onto prepared baking sheets. Bake as directed.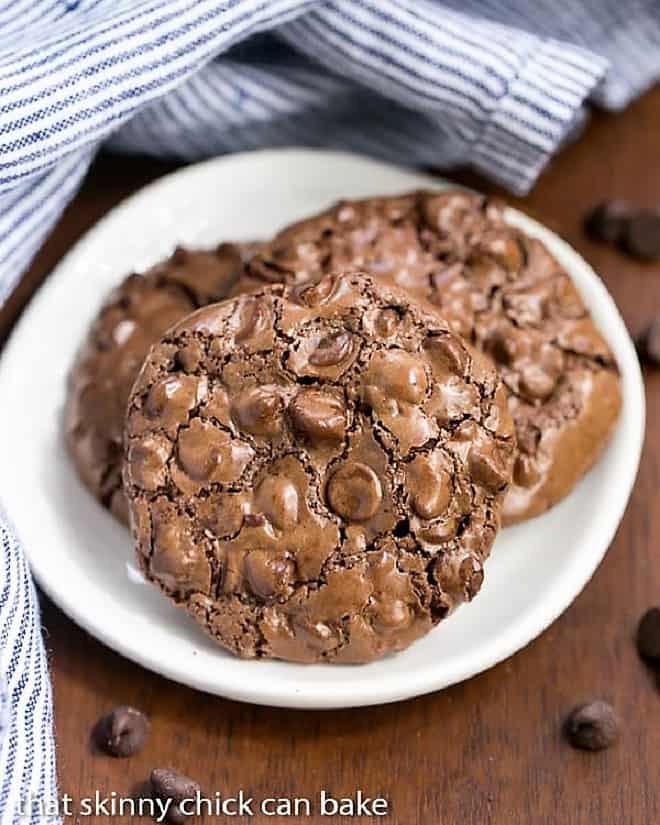 Expert Tips
A few notes about these chocolate meringue cookies. With this recipe, the egg whites are just stirred in with the other ingredients, which include a healthy dose of cocoa powder AND loads of semi-sweet chocolate chips. Unlike a typical meringue, no beating is needed, though it may take a bit of stirring to incorporate the wet ingredients into the dry. Once it comes together, then the chocolate chips are added to the mix.
PRO-Tip: Overworking this batter will result in less glossy cookies. Mix just until the ingredients are combined.
The batter has a flowing nature, so it's hard to get beautiful round cookies without a little tweaking. At my house, I'm definitely the only one who cares about the aesthetic appearance of my desserts. If you don't give a hoot, either, that's just fine.
But if you're like me, you may want to push the dough mounds into more spherical shapes when they are hot out of the oven. I use a spatula for this tidying-up process.
They will spread, so don't crowd these on the cookie sheets.
PRO-Tip: make sure you line your baking sheets with parchment paper. If your brand doesn't have a glossy finish, you may want to spray it with a non-stick cooking spray as well. They must be removed to a cooling rack about a minute or two after taking them out of the oven or they will start to adhere to the paper. You will love the results even if they don't look like Betty Crocker baked them!
Recipes Made with Egg Whites
Meringue cookies are a terrific way to utilize leftover egg whites. Whether you've made creme brulee, chocolate pudding, lemon curd, or rich ice cream, there are times when only yolks are called for in a recipe. This is when plain or chocolate meringue cookies are perfect!
I also have a fabulous chocolate-dipped macaroon recipe calling for two egg whites, but when your husband declares he's allergic to coconut so he doesn't have to eat it, these don't fly! My simple meringue cookies AKA egg white cookies are always a hit and this chocolate raspberry pavlova is killer!!!
So make sure to pin this post so you can whip up these cookies made with egg whites next time you have some to spare!
Frequently Asked Questions
What are Meringue Cookies?
Meringue cookies are typically made of whipped egg whites, sugar, and flavorings that are piped onto a baking sheet, then baked slowly at a low temperature.
Are these Chocolate Cookies Meringues?
These cookies are not traditional meringues but do contain egg whites and sugar. The egg whites are not whipped like in other meringue recipes. So by definition, these are not true meringues, but more like a cousin.
How Do You Store these Flourless Chocolate Cookies?
They will keep in an airtight container at room temperature for 2-3 days. They'll also freeze well for up to 3 months.
More Recipes You'll Love:
The Recipe:
Flourless Chocolate Cookies Recipe
Prep Time 15 minutes
Cook Time 15 minutes
Total Time 30 minutes
Yield 24 cookies
A delectable flourless chocolate cookie AKA chocolate meringue cookies, adapted from my friend, Chris, from The Sucre Cafe Farine
Ingredients
3 cups powdered sugar
½ cup plus 3 tablespoons unsweetened cocoa powder
¼ teaspoon salt
4 egg whites (no need to beat like with a traditional meringue)
1 tablespoon vanilla
2 ½ cups chocolate chips
Instructions
Preheat oven to 350º. Line baking sheets with parchment. Spray the parchment with Pam cooking spray and using a paper towel, spread the Pam so that it covers the whole surface.
Stir together all the ingredients except the chocolate chips. The mixture will eventually come together.
Scrape the bowl and mix again. Stir in the chocolate chips.
Drop by tablespoonfuls onto prepared baking sheets. Reshape if necessary (I used my spatula).
Bake till the tops are slightly cracked and glossy, about 15 minutes.
Cool only briefly before moving to a cooling rack. Cookies are fragile, but they will stick to parchment if not removed shortly after baking.
Notes
Powdered sugar contains cornstarch which is vital for this recipe to work. If you can't eat powdered sugar or cornstarch, beware that the batter may not solidify.
These cookies don't contain oil or butter so tend to stick. Make sure to use parchment paper AND Pam cooking spray so they don't adhere to the pan or paper.
Recommended Products
As an Amazon Associate and member of other affiliate programs, I earn from qualifying purchases.
Nutrition Information:
Yield:
24
Serving Size:
1 cookie
Amount Per Serving:
Calories: 148
Total Fat: 6g
Saturated Fat: 3g
Trans Fat: 0g
Unsaturated Fat: 2g
Cholesterol: 0mg
Sodium: 33mg
Carbohydrates: 26g
Fiber: 1g
Sugar: 23g
Protein: 1g
Note: This post may contain affiliate links; view
my Disclosure Policy
for details. I earn a small percentage from any purchase you make by clicking on these links at no extra cost to you.