Easy Red Velvet Fudge
This spectacular Red Velvet Fudge was a perfect addition to our Christmas goodies! Making batch after batch of fudge is a holiday tradition!
This Easy Fudge Recipe decked out in red and white is a festive holiday recipe that is super simple to make!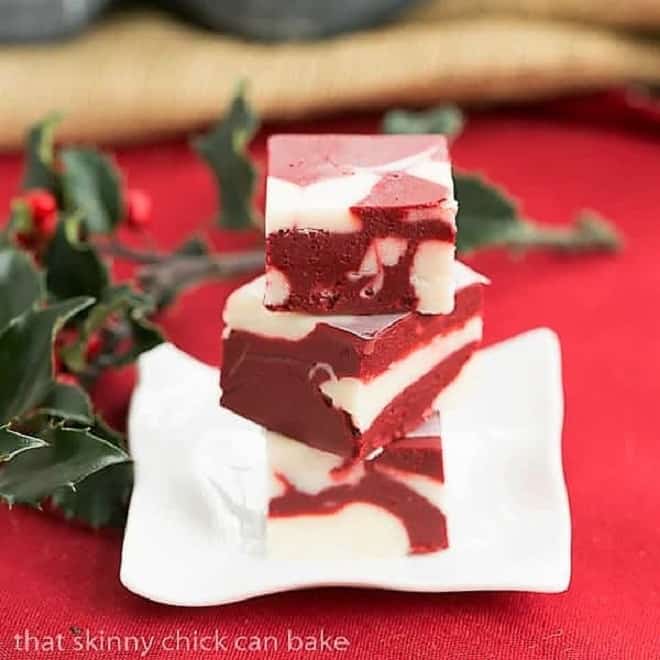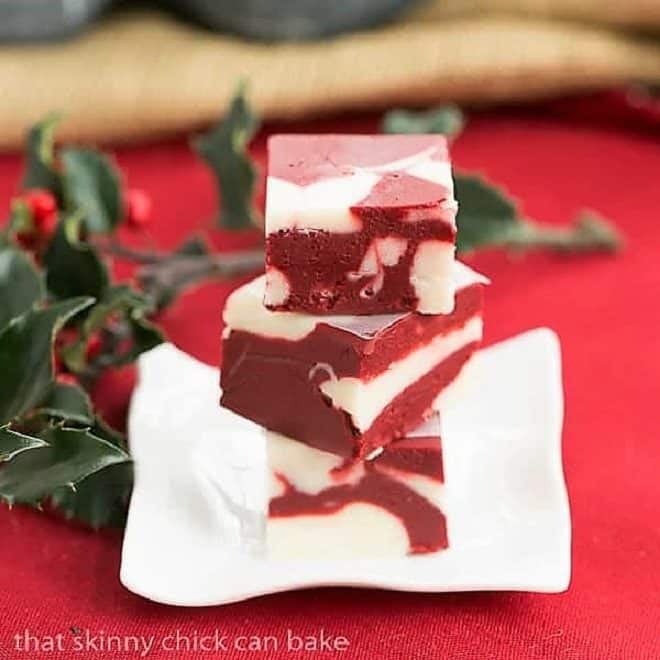 Why You Must Make this Festive Fudge:
If fudge is always on your holiday cooking list, try this festive red and white fudge! It's perfect for Christmas!
Instead of all semisweet chocolate, this is made with white chocolate for the white fudge and a mixture of white and semisweet chocolate for the red fudge!
It's super pretty with the red and white swirls. Much more dramatic than ordinary chocolate fudge.
I whipped up my take on this incredible Red and White Swirled Fudge from The Cafe Sucre Farine, for my neighborhood Christmas cookie exchange tomorrow. Not exactly a cookie, but I have a feeling there will be no complaints. It's also my sweet contribution for kickoff day of Christmas Week!
Reader Endorsement:
From Sacha: This fudge is so amazing and addictive!!! It was even better than the red velvet fudge we had at the Grand Canyon chocolate factory. We were trying to re-create what we had there and got something even better from this recipe. It's so so good. Thank you for the recipe!

How to Make this Easy Fudge Recipe
I whip up batches and batches of Fantasy Fudge each Christmas. Made with a jar of marshmallow creme and chocolate chips, it's basically foolproof. The holidays are such a busy time, that an easy fudge recipe makes a lot of sense. Especially when it's creamy and delicious!
A Double Decker Oreo Fudge also was a huge hit with my family. To create this red velvet fudge recipe, I added red food coloring, semi-sweet, and white chocolate for the red fudge and just white chocolate chips for the white fudge. A little swirling action made it ever so festive!
I broke out my candy thermometer and started the process I could do in my sleep. I do recommend boiling the sugar syrup mixture till it reaches 234º even though the recipe on the back of the marshmallow creme jar gives the option to boil for 5 minutes. Using a thermometer guarantees you've cooked it to the proper soft-ball stage. The timing method may not.
I was delighted with the results. Bill is not a fan of red velvet anything, but I offered him a sliver as I was cutting the squares. He practically groaned with approval. I have a feeling my sweet neighbors will agree. Add this red velvet fudge recipe to your holiday "baking" list.
More Holiday Treats: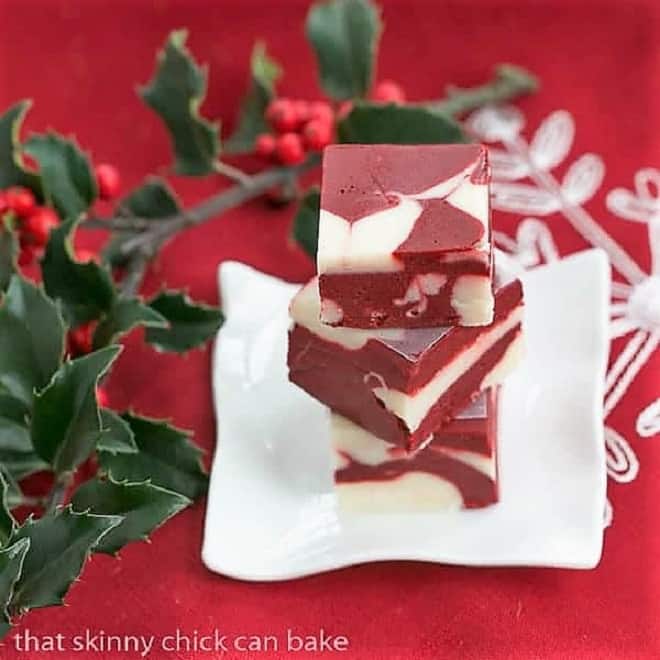 Plus, More Fudge Recipes:
Helpful Tools: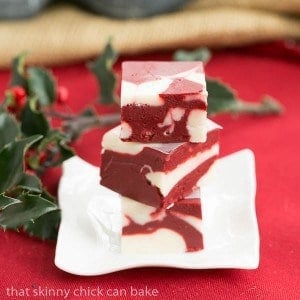 The Recipe:
Red Velvet Fudge Recipe
Prep Time 15 minutes
Cook Time 30 minutes
Total Time 45 minutes
Yield 81 one-inch squares
Scrumptious red velvet fudge made with white chocolate. Recipe adapted from my friend, Chris, of The Cafe Sucre Farine
Ingredients
3 cups sugar
3/4 cup butter
2/3 cup half & half or evaporated milk
1 12-­ounce bag white chocolate chips
1 7-­ounce jar marshmallow creme, Kraft recommended
1 teaspoon vanilla
1 cup semisweet chocolate chips
3 tablespoons red food coloring
Instructions
Line a 9 x 9 inch pan with non-stick foil. Set aside.
Place semi-sweet chocolate chips and food coloring in a heat safe bowl and set aside.
In a large, heavy saucepan, combine, sugar, butter and half and half. Cook to 234º, stirring occasionally. Immediately add white chocolate chips, marshmallow cream and vanilla. Mix to combine.
When well mixed, scrape half of the white chocolate fudge into the bowl with the semi-sweet chocolate chips and mix till melted and smooth.
Using two medium cookie scoops or tablespoons, place scoops of red and white fudge in the prepared pan, alternating flavors.
Drop pan from a few inches above counter a couple times to remove any air pockets. With a knife, swirl though the fudge to give a marbelize appearance.
Allow to cool at room temperature. When cool, remove from pan using foil and cut into squares.
Nutrition Information:
Yield:
40
Serving Size:
2 squares
Amount Per Serving:
Calories: 177
Total Fat: 8g
Saturated Fat: 5g
Trans Fat: 0g
Unsaturated Fat: 3g
Cholesterol: 13mg
Sodium: 43mg
Carbohydrates: 27g
Fiber: 0g
Sugar: 25g
Protein: 1g
Note: This post may contain affiliate links; view
my Disclosure Policy
for details. I earn a small percentage from any purchase you make by clicking on these links at no extra cost to you.