Caramel Filled Chocolate Truffles
These Caramel Filled Chocolate Truffles have a sweet surprise in the center: soft vanilla caramel! An unforgettable holiday treat! These are absolutely delicious!
Homemade Truffles can be made with whatever flavorings you'd like. They're perfect as gifts, a decadent treat for Christmas or Valentine's Day, or whenever you need a chocolate fix!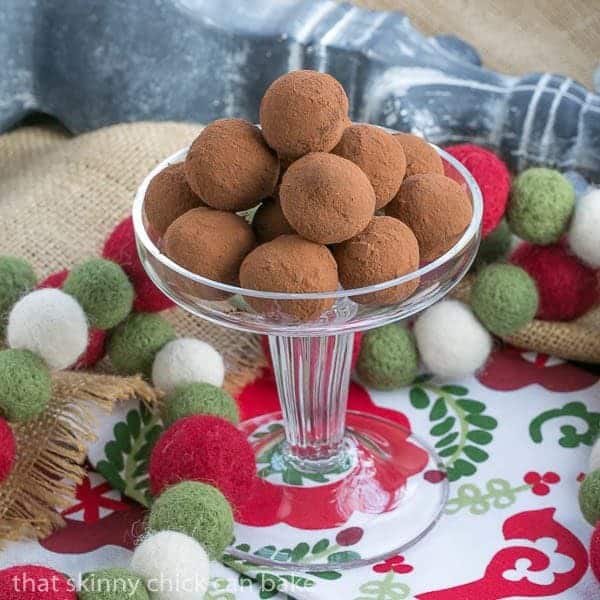 Why You Must Make
Truffles are one of the easiest candies to make. No candy thermometer. No stirring of molten sugar. All that's involved is melting chocolate with cream and flavoring it to your heart's desire.
You can shake them up easily by adding different flavorings and rolling in different coatings or dipping them in melted chocolate.
You can also fill them with caramel or even a single toasted nut! These are flavored with rum, vanilla, and coffee.
Ingredient Notes:
Pantry Staples – sugar, brown sugar, cocoa powder, butter
Half and Half – richer than whole milk but less fat than heavy cream
Heavy Cream – makes for a rich truffle filling
Light Corn Syrup – prevents the caramel from crystallizing
Good quality real Vanilla Extract – make sure yours is not imitation
Semisweet Chocolate -I prefer Ghirardelli bars over chocolate chips which can have additives to help them keep their shape
Coffee – enhances the flavor of chocolate
Rum – alcohol also enhances the flavor recipes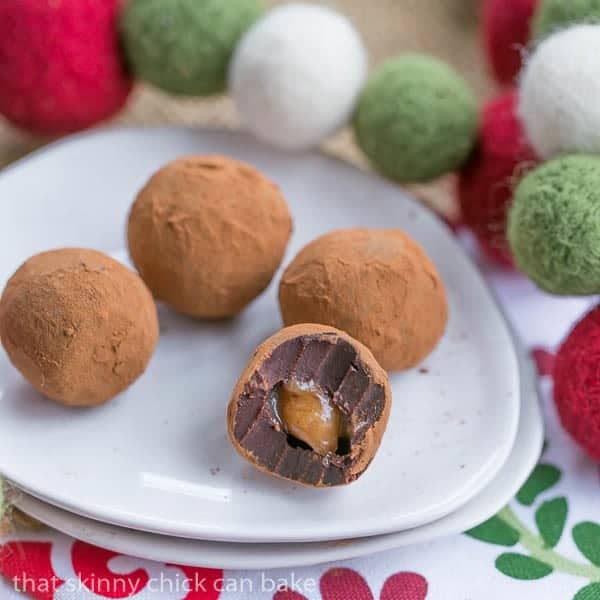 Fill Your Chocolate Truffles with Vanilla Caramel
If you're new to candy-making, the caramel filling could be a bit daunting. The ingredients are simple, but it takes a little finesse. Heating the mixture too fast will lead to burnt caramel and a hard to clean pan. Make sure to have an accurate candy thermometer and pull the mixture off the heat at exactly 240º. Any higher and your centers will be too hard to bite through.
You shouldn't need dental work after eating a chocolate bonbon. It's best to make a full batch of these soft caramels, and you'll have plenty of leftovers to wrap and enjoy along with the portion you'll need to fill your truffles. These Chocolate Truffles will be decadent even without the filling if you don't have time to fiddle with the extra steps.
Tips for Making Caramels:
Be patient. Hurrying will inevitably leave you with burnt caramel.
Use a heavy saucepan for even heating
Use a good quality candy thermometer. If you're concerned about accuracy, check the temperature of boiling water. It should be 212º F or 100ºC.
Tips for Making Truffles
The chocolate, the rum, the vanilla used in these Chocolate Truffles should all be top-notch. It's especially crucial when the ingredient list is short.
This is not the time to skimp on bargain-basement ingredients. I recommend a premium, aged liquor. You can find rum with cocoa, caramel, and coffee nuances. Different liquors and liqueurs play well chocolate bonbons.
Good chocolate is imperative, too. Much as I love chocolate chips in cookies, a bar of premium chocolate will give much tastier results.
Frequently Asked Questions
What is a Truffle?
A dessert truffle is a candy made of a mixture of melted chocolate with either cream or butter that's allowed to firm up, formed into balls, rolled in cocoa or another topping. They're often flavored with extracts, liqueurs, spices, nuts, and more.
Why are they called Truffles?
They are named after the famous, extremely pricey fungus of the same name. The first truffle candies were rather misshapen and when dusted in cocoa resembled the exotic fungus.
What's the Best Way to Eat a Truffle?
Eat it slowly so you can savor every nuance. First, bite it in half, and taste the flavors on your tongue. Next, move it to the hard palate and allow it to melt before finishing it off.
You May Also Like
 I hope you'll add truffles, whether filled with caramel or not, to your holiday sweets list.
Stay in touch through social media @ Instagram, Facebook, and Pinterest. Don't forget to tag me when you try one of my recipes! And if you love the results, please give it a 5-star rating in the recipe card. Note: As an Amazon Associate, I earn from qualifying purchases. Visit my Amazon Store for my favorite products.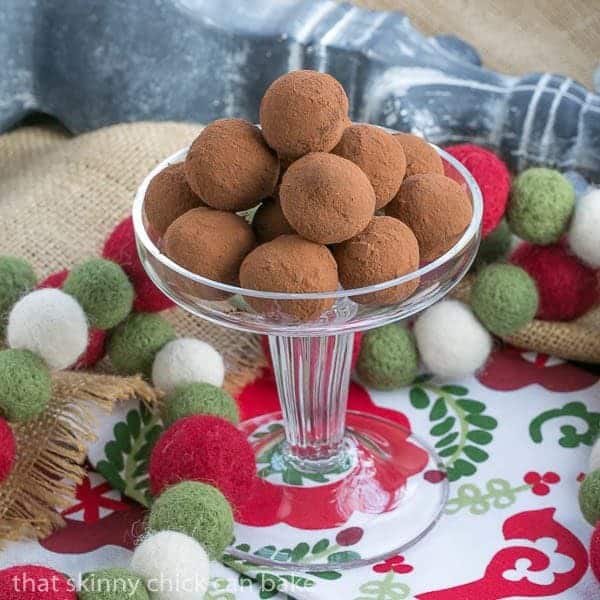 The Recipe:
Caramel Filled Chocolate Truffles
Prep Time 30 minutes
Cook Time 45 minutes
Total Time 1 hour 15 minutes
Yield 30+ truffles
Silky smooth truffles with the option of a caramel filling
Ingredients
For Caramels:
1 cup sugar
1/2 cup brown sugar
1/2 cup butter
1 cup half and half
1/2 cup light corn syrup
1 teaspoon vanilla
For truffles:
1/2 pound semisweet chocolate, finely chopped
1/2 cup heavy cream
1 tablespoons rum
1 1/2 teaspoons coffee, brewed and cooled
1/2 teaspoon good vanilla extract
Good quality cocoa powder
Instructions
Make caramels. Line 9x9-inch pan with non-stick foil; set aside.
Combine all ingredients except vanilla in large heavy saucepan. Cook over medium heat, stirring occasionally, until butter is melted and mixture comes to a boil.
Continue cooking, 25-30 minutes or until candy thermometer reaches 240-244°. Do not hurry this process along; it will take at least 45 minutes.
Remove from heat; stir in vanilla. Pour into prepared pan. Cool completely.
Place chopped chocolate in a heat-proof mixing bowl.
Heat the cream in a microwave safe Pyrex measuring cup until very hot (just shy of boiling). Pour the cream through a sieve into the bowl with chocolate. Let it for a few minutes, then whisk cream and chocolates together until the chocolate is completely melted. Whisk in the rum, coffee, and vanilla. Set aside at room temperature for 1 hour.
Cut 1/2 teaspoon pieces of caramel and form into balls (make about 30 to start). Scoop out 2 teaspoons of chocolate mixture and form a ball around each caramel ball. (Roll between your two palms---your hands will get messy!). Repeat until all chocolate is used. You will have leftover caramel (cut into squares, wrap in wax paper and store in refrigerator or freezer).
Roll truffles in cocoa powder and store in refrigerator. Bring to room temperature before serving so caramel centers have time to soften.
Notes
If your chocolate does not set up (I made these in the winter and this was not necessary), you may need to chill the ganache so you can roll the truffles into balls.
Recommended Products
As an Amazon Associate and member of other affiliate programs, I earn from qualifying purchases.
Nutrition Information:
Yield:
30
Serving Size:
1
Amount Per Serving:
Calories: 142
Total Fat: 8g
Saturated Fat: 5g
Trans Fat: 0g
Unsaturated Fat: 2g
Cholesterol: 15mg
Sodium: 36mg
Carbohydrates: 19g
Fiber: 0g
Sugar: 19g
Protein: 1g
Note: This post may contain affiliate links; view
my Disclosure Policy
for details. I earn a small percentage from any purchase you make by clicking on these links at no extra cost to you.