Chocolate Truffle Brownies
With a shortbread crust, truffle-like brownie filling, and ganache topping, these Truffle Brownies are one of the BEST brownie indulgences!
If you want an out of this world dessert, these rich chocolate brownies will make you swoon!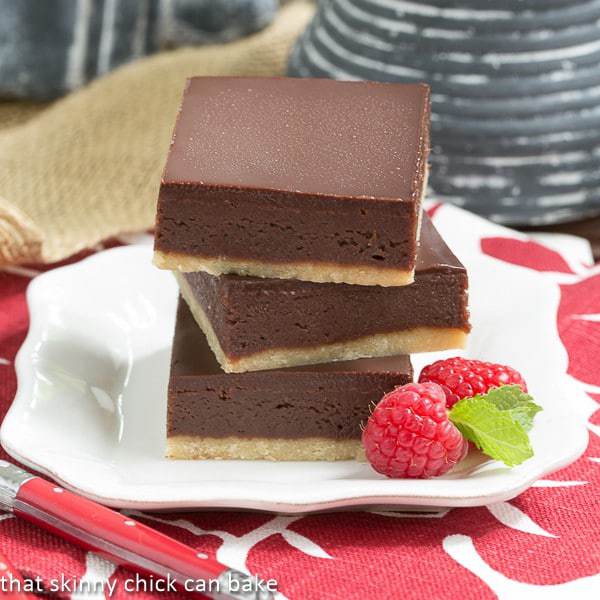 Truffle Brownies with a Shortbread Crust
Today, I'm guest posting for yet another dear foodie friend, Alice, from Hip Foodie Mom. So many of my food blogger friends are virtual buddies, but I've actually gotten to spend time with Alice at a couple of food blogger conferences. We were thrilled to dine together at the ultra-chic Sitka & Spruce, when the IFBC along with Urban Spoon bused groups of bloggers to various Seattle restaurants.
Then, just in May, we met again in Miami where we were whisked to a waterfront manse to nosh on wine and cheese at an event hosted by Wisconsin Cheese. Alice is a sweet, generous soul whose blog just keeps getting better and better.
She has a savvy business sense, and I keep hoping some of it will rub off on me. Maybe at our next conference! I've whipped up these delightfully decadent Truffle Brownies for Alice today.
Photo courtesy of Wisconsin Cheese (Allie from Baking a Moment, me and Alice)
Rich Chocolate Brownies
I resurrected an old, yet utterly decadent, recipe for truffle brownies to share on her site. So please pop over to Hip Foodie Mom and say hello to my talented friend, Alice. Brownies are one of my favorite desserts to bake. They're rich, decadent without a ton of work. With so many brownie recipes to try, it's rare to make the same brownies more than once. But these are exceptional, so they make our menu whenever the urge for a delectable brownie strikes.
What Exactly are Truffles?
What do you think of when you hear the word truffles? Nowadays, most people don't think of the black fungus, considered a delicacy, which is found in France. Instead, minds tend to gravitate towards the rich chocolate-coated truffles which vaguely resemble the pricey black truffle mushrooms.
These truffle brownies are similar in texture and flavor to the famous chocolate bonbons. With their extremely rich filling and luscious ganache topping, you'll swoon with every bite. Plus, there's no need to roll balls of ganache and dip them in chocolate, a messy task!
Tips for Making Truffle Brownies:
If you're new to baking, here are few pointers when it comes to making these layered truffle brownies.
Start with room temperature ingredients, especially when you need to cream the butter. Eggs incorporate better when they're not ice cold as well.
I like to use the microwave to melt chocolate. I do this in 30-second increments, stopping and stirring before adding more time.

PRO-Tip: When the chocolate appears to be almost all melted, it's OK to stop as the residual heat will finish the job. This goes for melting chocolate with butter as well. It's definitely better than overheating the chocolate!
If you don't have a microwave, you can melt your chocolate over low heat in a saucepan, but it needs to be watched carefully and stirred frequently so the bottom does not burn.

PRO-Tip: For the easiest removal and cutting, you can line your pan with non-stick foil. The foil will assist you in lifting the cooled brownies right out of the pan to cut. You can also use regular foil sprayed with a cooking spray like Pam.
When it comes to mixing in the flour, only do so until the flour is just incorporated. Any longer than necessary will activate the gluten, making your dessert less tender.

Chill the brownies after they come out of the oven. You'll want the top to get a chance to set before pouring on the ganache.
Also, let the ganache cool about 10 minutes before coating the brownies. The ganache will thicken slightly, but still be pourable. Check out my tips for Tricks for Cutting Perfect Bars and Squares. It applies to brownies, too!
More Truffle Desserts You'll Love
If you need a break from chocolate, these Fresh Lemon Truffles look amazing! Peppermint Oreo Truffles are perfect for the holidays, but I wouldn't wait until then to try them, and a Caribbean Truffle Pie would hit the spot at a summer gathering.
Plus, here are some more of my favorite brownie recipes: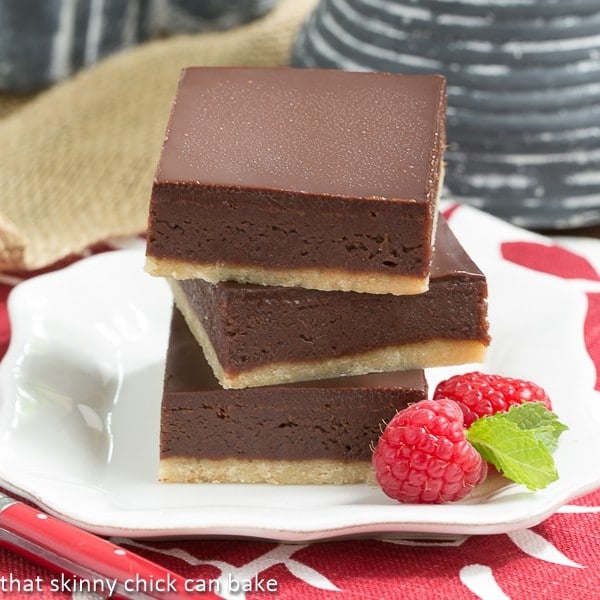 The Recipe:
Truffle Brownies
Prep Time 20 minutes
Cook Time 27 minutes
Total Time 47 minutes
Yield 24 bars
A rich brownie bar with a shortbread crust and decadent, truffle-like brownie topping!
Ingredients
For the crust:
2/3 cup brown sugar
2/3 cup butter, at room temperature
1 1/3 cup flour
For the brownie layer:
8 ounces semisweet chocolate, chopped
¾ cup (1½ sticks) butter
2 teaspoons espresso powder dissolved in 1 teaspoon boiling water, optional
1½ cups sugar
2 teaspoons vanilla
4 eggs
1 cup flour
½ teaspoon salt
For the glaze:
6 ounces semi-sweet chocolate, chopped
2 tablespoons butter
½ cup heavy cream
Instructions
Preheat oven to 350º. Grease 9 x 13 inch pan.
Cream the brown sugar and butter till light and fluffy. Slowly add flour and mix till blended. Pat into bottom of greased pan. Set aside.
Gently melt chocolate, butter (and espresso, if using) in microwave. Stir till smooth. Let cool slightly before adding sugar and vanilla. Then mix in eggs, one at a time. Stir in flour, and salt until just combined. Pour over crust.
Bake in middle of oven about 25-27 minutes. Remove from oven and immediately place in refrigerator.
Make glaze by gently heating chocolate, cream and butter in microwave till chocolate and butter are melted. Stir till smooth. Cool for about 10 minutes before spreading over brownies. Return to refrigerator. When chilled, cut into bars and serve.
Nutrition Information:
Yield:
24
Serving Size:
1 brownie
Amount Per Serving:
Calories: 275
Total Fat: 14g
Saturated Fat: 8g
Trans Fat: 0g
Unsaturated Fat: 5g
Cholesterol: 53mg
Sodium: 109mg
Carbohydrates: 38g
Fiber: 1g
Sugar: 27g
Protein: 3g
Note: This post may contain affiliate links; view
my Disclosure Policy
for details. I earn a small percentage from any purchase you make by clicking on these links at no extra cost to you.