Symphony Toffee Brownies
When you take a pan of fudgy brownies and fill them with milk chocolate toffee bars, the result is a batch of Symphony Toffee Brownies, one of the tastiest treats you'll ever taste!!
I was heading to Colorado with 5 girlfriends and got an email asking whether I was bringing any baked goods. These brownies with toffee were already in the oven! We did a good job devouring the batch. Not a crumb came home.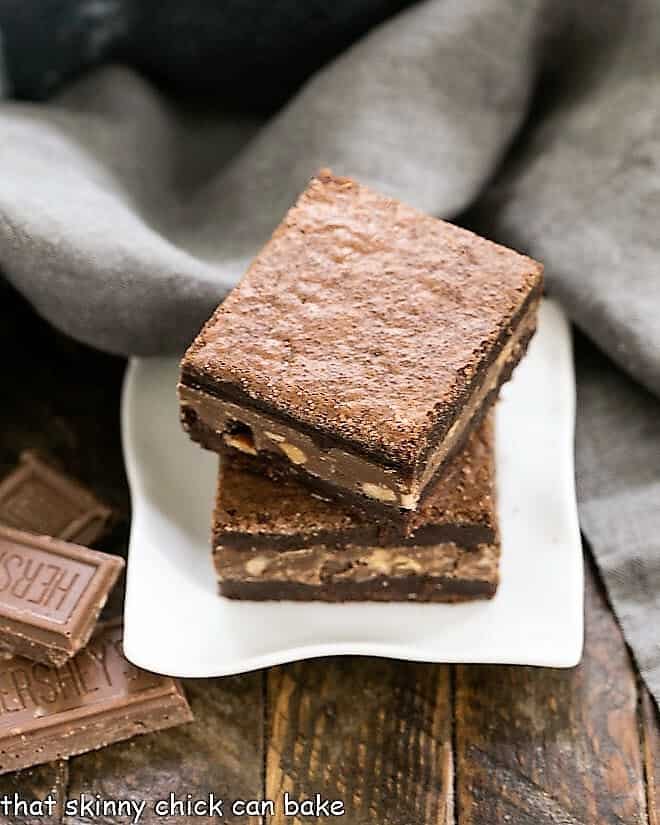 Symphony Toffee Brownies
Are you familiar with Symphony Bars? They are a Hershey product with the milk chocolate ingredients tweaked for a creamier texture. With both a plain and almond toffee version, the latter was used in these rich, fudgy Symphony toffee brownies!
This recipe comes from my friend, Diane Morrissey. She's an extraordinary cook; check her out on Instagram. When I made these first in 2011, I had just purchased Bake! by Nick Malgieri, the baking guru. When trying to decide which brownie recipe to use for these Toffee Brownies, I went to Nick's book and quickly decided on his Florida Brownies which are his take on Maida Heatter's Palm Beach Brownies. They did not disappoint. If they aren't rich enough for you, try adding a layer of chocolate bars in the middle. They're definitely sublime.
But Diane's version is even easier! She uses a box of Ghirardelli's brownie mix which makes these rich uber chocolaty brownies a breeze to prepare!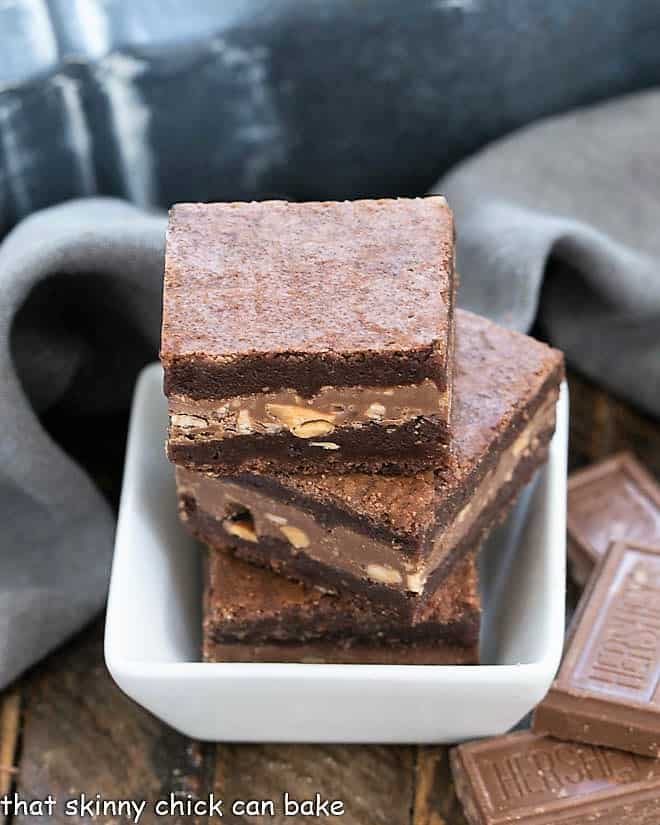 Tips for Making These Easy Brownies with Toffee
If you're not much of a baker or short on time, just grab a box of brownie mix and your friends will think you're a genius. These brownies with toffee have a delicious, rich, crunchy surprise in every bite!
The eggs, sugar, and vanilla are mixed for up to 10 minutes, so using a stand mixer is the best option if available. Make sure to scrape the bowl a couple of times during the process to make certain all the batter is beaten to the same consistency.
Since the chocolate bar in the center will be gooey when the brownies are done cooking, you cannot use the usual toothpick test to check whether your brownies are done. The 35-minute timing worked well for me in two different ovens.
Like with many fabulous brownie recipes, there is a very thin, crisp layer that shatters a bit when you cut these. Using a serrated knife to score them first will help a bit, but there's really no way to get a perfect, clean cut with every slice.
PRO-Tip: Line your baking pans with non-stick foil. This ensures the brownies will not stick to the sides of the pan and also helps for easy removal for cutting after they've cooled.
More Brownies You'll Love:
This recipe was first shared in April, 2011. Photos and text were updated in 2019.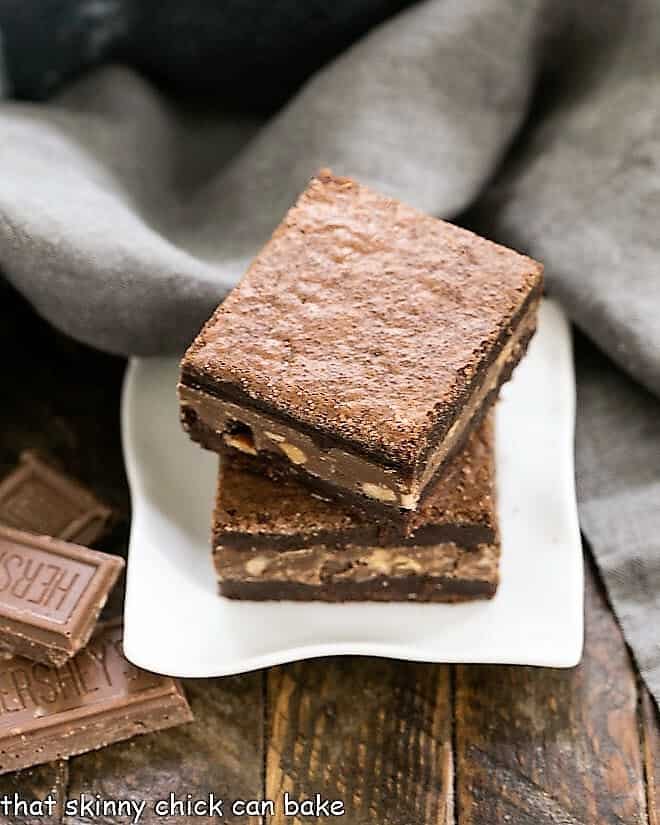 The Recipe:
Symphony Toffee Brownies Recipe
Prep Time 30 minutes
Cook Time 35 minutes
Total Time 1 hour 5 minutes
Yield 24 brownies
Fudgy brownies with a milk chocolate toffee candy bar filling!
Ingredients
Brownies*:
8 ounces (2 sticks) butter
8 ounces unsweetened chocolate, chopped
5 eggs, at room temperature
1 tablespoon vanilla
3 3/4 cups sugar
1 2/3 cups flour
Filling:
4 6.8 ounce Symphony milk chocolate bars w/ almonds & toffee chips
Instructions
Line 9 x 13 pan with aluminum foil. Grease foil with cooking spray.
Prepare brownies as the recipe or box states.
For these homemade brownies, preheat the oven to 375º. Line 9 x 13-inch pan with non-stick foil or use regular foil and spray with cooking spray. Set aside.
Melt butter and chocolate together in the microwave, using 30-second increments, stirring frequently so as to not overheat chocolate until melted and smooth. Set aside.
Combine eggs, vanilla, and sugar in a large bowl (add a large pinch of salt if using unsalted butter). Using a mixer, beat on high, scraping a few times, till very light and fluffy, for up to 10 minutes.
Add chocolate and mix in on low, scraping the sides of the bowl occasionally. Sift flour into a bowl and mix till just combined.
Spoon half of the batter into the prepared pan. Smooth the batter to cover the bottom of the pan. Place the candy bars side by side over the batter, cutting the 4th bar into sections to finish covering the batter. Top with the rest of the brownie batter and smooth the top.
Bake for 35 minutes (if using a box mix, follow the baking temperature and time on the package). Cool completely, then remove from pan using foil to lift. Cut and serve.
Notes
*Or use 2 box mixes for a 9 x 13 pan like Ghirardelli brand.  You may need to add some additional baking time to the time listed on the box.
Nutrition Information:
Yield:
24
Serving Size:
1 brownie
Amount Per Serving:
Calories: 307
Total Fat: 10g
Saturated Fat: 6g
Trans Fat: 0g
Unsaturated Fat: 4g
Cholesterol: 42mg
Sodium: 35mg
Carbohydrates: 49g
Fiber: 2g
Sugar: 38g
Protein: 5g
Note: This post may contain affiliate links; view
my Disclosure Policy
for details. I earn a small percentage from any purchase you make by clicking on these links at no extra cost to you.