Palm Beach Mocha Brownies
If you're a fan of mocha desserts, these Palm Beach Mocha Brownies are the ultimate treat! They're rich, dense, and irresistible!
This Fudgy Brownies Recipe could be the best you'll ever make! With a crisp crust and a dark fudgy interior, you'll be sold after your first nibble!!!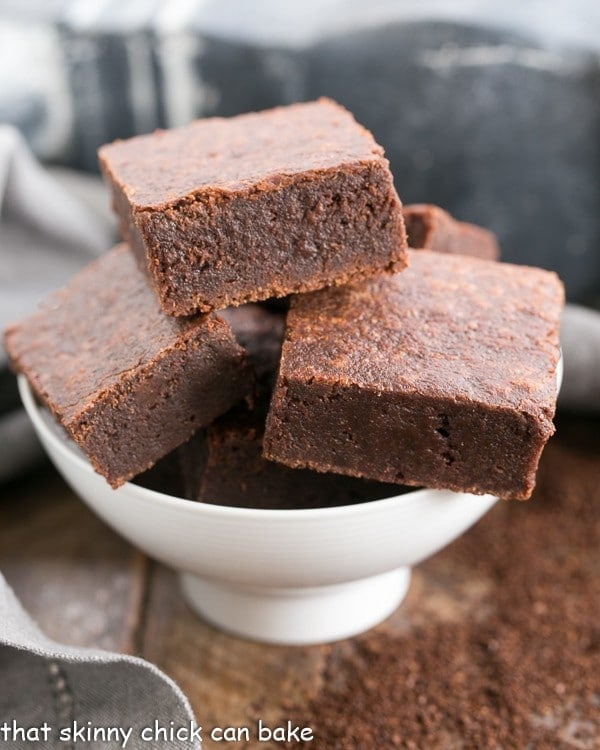 Why You Must Make
They are super fudgy with a contrasting crisp topping!
If you're a mocha fan, you can use a full 2 ½ tablespoons of espresso powder for the ultimate coffee-infused brownies. Or use just a teaspoon for a more subtle flavor.
These homemade brownies are perfect for those who don't want any interference from nuts, chocolate chips, or other add-ins. Just plain brownie perfection.
For 15 years, our book club meeting in December has involved a lot of gift-giving. My presents always come from the kitchen…I've made vanilla extract, limoncello, biscotti, caramel sauce, etc. This year, I decided to make Spicy Sugared Cashews along with some decadent, adult fudgy mocha brownies. Adult only because my children will certainly taste the espresso powder and almond extract and complain that they taste funny. However, my 23-year-old is positive he won't be bothered by a little coffee taste.
James Beard award winner, Maida Haetter, and her recipes do not disappoint; she is a master of chocolate and desserts. If you haven't tried her recipes, these Palm Beach Mocha Brownies are an excellent place to start!

Expert Tips
This recipe is a little different from the one in Haetter's cookbook, Book of Great Desserts (affiliate link). There's just one tablespoon of instant coffee or espresso powder, 4 eggs, ¼ teaspoon almond extract, and a 15-minute beating time when the eggs are added.
If you have family members who don't enjoy mocha, decrease the espresso powder to 1 tablespoon or even just 1 teaspoon as it will bring out the chocolate without screaming coffee.
PRO-Tip: Do not adjust the number of eggs, but feel free to decrease the instant coffee and almond extract for less intense flavorings.
They're also baked in a jellyroll pan. I prefer a 9 x 13-inch cake pan for thicker brownies.
I like lining my baking pans with nonstick foil or regular foil sprayed with Pam or a nonstick baking spray. The foil acts as a sling to help lift the brownies (as a whole) out of the pan and onto a cutting board. It also makes for easy pan cleanup!
Do not overbake or these won't be at their maximum fudginess. Use a toothpick test to check doneness. The toothpick should come out barely dry.
PRO-Tip: Before cutting, chill your brownies overnight, then use a serrated knife to cut with a sawing motion.
I'd forgotten all about this recipe till 4 years after I published this post. That's when my friend, Claudia, of What's Cookin' Italian Style Cuisine, was searching for an espresso brownie and made this recipe. As soon as she posted, I started wondering about what sort of photo I shared so early in my blogging career.
Well, I found there was room for improvement. I baked up a batch of these fudgy mocha brownies immediately as Nick was heading to a friend's lake house for the weekend and those boys always appreciate a little sweet treat. My oldest, Tom (mentioned above when he was 23), is a huge fan of mocha desserts (he's the only one of my children who drinks coffee), so I saved a number for him, too. Bill tasted them, but I knew that there would be too much espresso for him to be thrilled with the results. He didn't mind that they all left the house very quickly.
Are you on Team Yea or Team Nay when it comes to mocha desserts?
Frequently Asked Questions
Why is coffee and espresso added to so many chocolate desserts?
Just like salt enhances the flavor of desserts without making them taste salty, coffee enhances the flavor of chocolate. Unless you are not a coffee fan and can pick up even subtle coffee undertones, it's worth adding.
What Does Mocha Mean?
The original mocha was a fine Arabian coffee exported from Yemen's port of Mocha. Then it became a term for a hot chocolate and coffee drink and eventually was used as a descriptive for any dish with the chocolate and coffee combo.
What Does the Almond Extract do to the flavor of Brownies?
With just a teaspoon, the almond extract adds a certain je ne se quoi or a unique, undecipherable flavor. For a more subtle taste, decrease to ¼ teaspoon.
Where Did the Name Palm Beach Brownies come from?
One story is that Ms. Haetter got the basic recipe from a deli in Palm Beach. She tweaked a few things and made it her own. I'm certain that mixing in the eggs for 15 minutes, or until the batter is thick enough to look like a ribbon forms when lifting the beaters, was one of her ways of perfecting the structure and texture.
She also mentions, though, that she's been making a variation of this recipe since she was 10 years old, so the origin may be a combination of those two aforementioned recipes.
You May Also Like:
Rich, dense, and full of the classic chocolate and coffee flavor combination, these Palm Beach Mocha Brownies are phenomenal!
Stay in touch through social media @ Instagram, Facebook, and Pinterest. Don't forget to tag me when you try one of my recipes! And if you love the results, please give it a 5-star rating in the recipe card. Note: As an Amazon Associate, I earn from qualifying purchases. Visit my Amazon Store for my favorite products.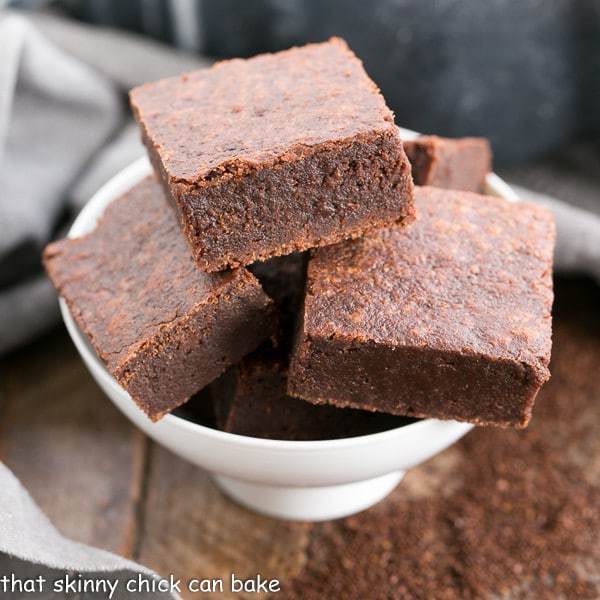 The Recipe:
Fudgy Mocha Palm Beach Brownies
Prep Time 20 minutes
Cook Time 35 minutes
Total Time 55 minutes
Yield 24 brownies
Fudgy mocha brownies adapted from Maida Heatter
Ingredients
8 ounces unsweetened chocolate, chopped
2 sticks butter, cut into chunks
5 eggs
1 tablespoon vanilla
1 teaspoon almond extract
⅛ teaspoon salt
2-2 ½ tablespoons instant espresso powder (I use Medaglia Doro brand)
3 ¾ cups sugar
1 ⅔ cups flour
Instructions
Preheat oven to 425º. Line a 9 x 13 pan with non-stick foil or use regular foil and spray with Pam. Set aside.
Melt chocolate and butter in the microwave using 30-second intervals and stirring till smooth and melted. Mine took 2 minutes total. Set aside.
In a large bowl, beat eggs, vanilla, almond extract, salt, espresso, and sugar on high for 10 minutes. Mix in chocolate till combined. Add flour and mix just till blended.
Pour into prepared pan. Bake for 15 minutes, then lightly cover with foil and bake for another 15-20 minutes. Do not bake anymore. A toothpick inserted in the middle will come out wet and covered with crumbs.
Let cool at room temperature. Place pan in the refrigerator and chill till very cold. Remove from pan using foil. Remove foil. Brownies are too gooey to be cut at room temperature.
To cut, first trim away all the edges Then cut into bars. Store and serve cold.
Notes
May decrease the espresso powder to 1 tablespoon or even 1 teaspoon for a less intense mocha/coffee flavor.
If you prefer less almond extract, decrease it to ¼ teaspoon.
Recommended Products
As an Amazon Associate and member of other affiliate programs, I earn from qualifying purchases.
Nutrition Information:
Yield:
24
Serving Size:
1 brownie
Amount Per Serving:
Calories: 298
Total Fat: 14g
Saturated Fat: 8g
Trans Fat: 0g
Unsaturated Fat: 5g
Cholesterol: 59mg
Sodium: 89mg
Carbohydrates: 41g
Fiber: 2g
Sugar: 31g
Protein: 4g
Note: This post may contain affiliate links; view
my Disclosure Policy
for details. I earn a small percentage from any purchase you make by clicking on these links at no extra cost to you.