Spicy Sugared Cashews
A crunchy sweet coating plus a touch of heat, make these Spicy Sugared Cashews an irresistible snack. Plus, these Candied Nuts are now an award-winning recipe!
Candied Cashews make a wonderful holiday gift. Just package them in a cellophane bag with a festive ribbon and coordinating gift tag!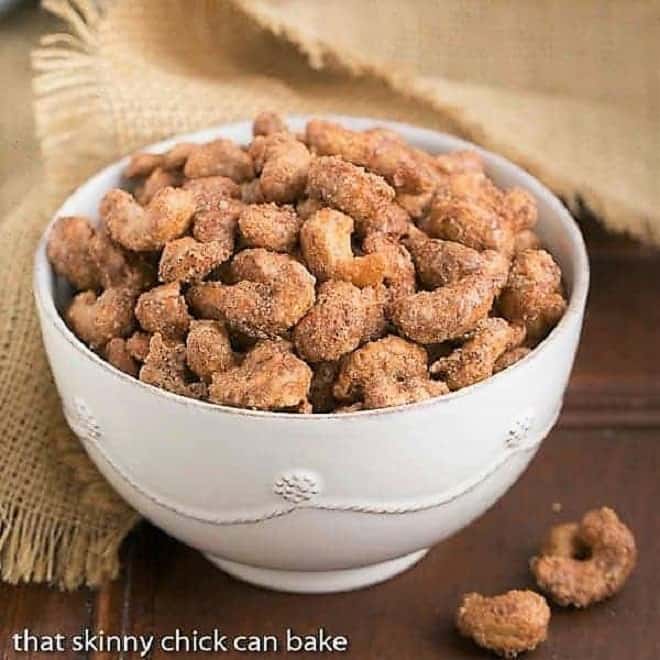 Why You Must Make
I made these nuts plus a rosemary-spiced version and they won 3rd place at Eat Write Retreat, a food bloggers' conference, last month in North Hollywood.
They are super easy to make!
They make a great hostess or holiday gifts! Just put them in a cellophane bag with a cute tag and a festive ribbon to tie it closed.
Ingredient Notes
Kitchen Staples – Water, Sugar, Brown Sugar, Kosher Salt, Cinnamon, Fresh Rosemary (instead of Cinnamon)
Egg White – At room temperature
Whole Cashews – Unsalted (if you use lightly salted nuts, decrease the salt in the recipe)
Fresh Rosemary – Finely chopped (only if using instead of Cinnamon)
Cayenne Pepper – Use the smaller amount for a less spicy version.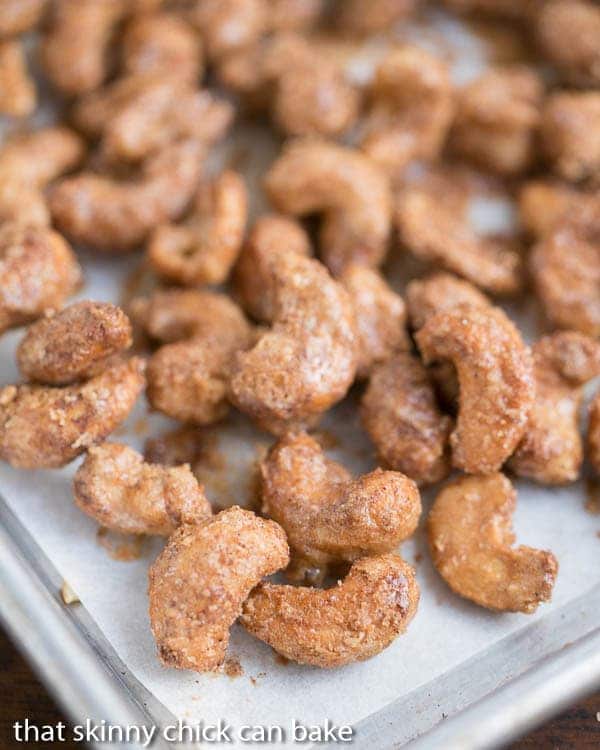 Recipe Tips
Beat your egg whites just until foamy. You don't want to beat them until white and fluffy like when making meringue.
If you're not a cashew fan, try this recipe with your favorite nuts.
Make sure to line your baking sheet with parchment or nonstick foil so they don't get stuck to the pan while baking.
Stir every 10 minutes or so to ensure all sides are browned.
Besides giving these candied cashews for gifts, use them in salads or as an ice cream topping. They're also delicious for snacking, of course.
Healthier Benefits of Nuts
Nuts are superfoods! So this is a healthier snack food than so many other options. They're full of protein, good fats, antioxidants, and minerals, they are a terrific, healthy munchie. I coated these cashews in whisked egg whites then tossed them in a sugar mixture flavored with cayenne pepper, salt, and either cinnamon or chopped fresh rosemary.
I saved my swap treats for my airport snacks, except for the doggy treats for Izzy, but I quickly got rave reviews from those who couldn't wait to dive in. Make these for your next gathering or pin this recipe for holiday gift-giving for your nutty friends!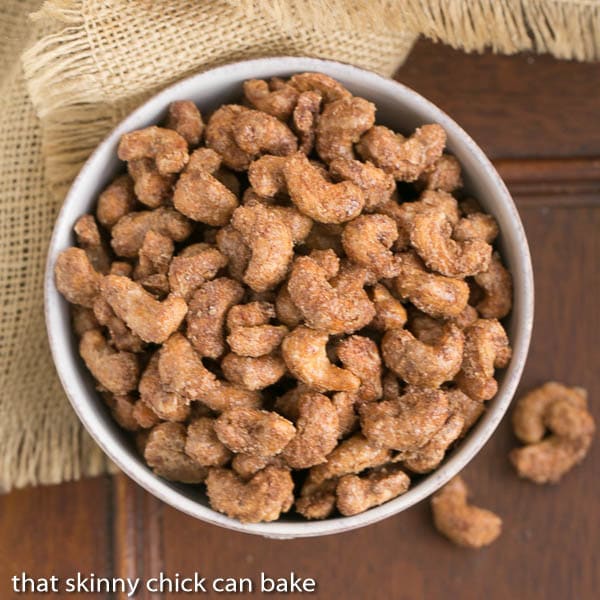 How to Make Candied Nuts
Candied nuts are a fabulous food gift, game day, or cocktail snack. They're simple to make once you master your initial attempt!
First, whip your egg whites and water until foamy. Do not overwhip to a white meringue-like texture.
Next, toss your nuts in the egg white mixture to coat.
Then, toss in your seasoned sugar mixture.
Spread your nuts evenly across a parchment-lined baking sheet.
Bake, stirring every 15 minutes to help them roast evenly.
Cool and dig in!!

Frequently Asked Questions
What Are Candied Nuts?
It can be sugar, chocolate, or a mixture of sugar and spices like cinnamon.
Where Did Candied Nuts Originate?
They were first created in France, where they were originally made with almonds coated in sugar and spices.
How Can You Use Candied Nuts?
Of course, these are delicious for snacking, but they also make a great hostess gift. They're also tasty on ice cream sundaes, in salads or as holiday gifts.
Are Candied Nuts Healthy?
They actually have some health benefits. Nuts are superfoods! Full of protein, good fats, antioxidants, and minerals
Why Are My Candied Nuts Sticky?
These nuts can get sticky if stored in a humid location. Store them in the refrigerator if you live in a humid locale.
How Long Will Candied Nuts Stay Fresh?
Stored at room temperature in an airtight container, they'll be good for up to a month. They can also be frozen for up to 3 months.
You May Also Like
The Recipe:
Spicy Sugared Cashews
Prep Time 10 minutes
Cook Time 50 minutes
Total Time 1 hour
Yield 3 cups
Sugared cashews with two spicy options, cinnamon or rosemary!
Ingredients
1 egg white, at room temperature
2 teaspoons water
3 cups cashews, roasted (if you use lightly salted nuts, decrease the salt in the recipe)
½ cup sugar
¼ cup brown sugar
¼-½ teaspoon cayenne pepper
1 teaspoon kosher salt
Spice options
2 teaspoons ground cinnamon OR
1 ½ tablespoons chopped fresh rosemary
Instructions
Preheat oven to 300º. Line a rimmed baking sheet with parchment paper and set aside.
In your stand mixer (may be done with a hand mixer or whisk), beat egg white and water till foamy (you do not want the whites to get white like when making meringues).
Add the cashews and mix till they're well coated.
Add sugar, brown sugar, cayenne, and salt. Stir.
Add in your extra ingredient, either the cinnamon or rosemary, and mix well.
Spread evenly over your prepared pan and bake for 30-40 minutes, stirring every 10-15 minutes till browned. May cook more or less, just watch carefully to prevent burning.
Remove from oven and let cool completely, even overnight. Store in a covered container.
Notes
Adapted from Averie Cooks and Ina Garten.
May use other favorite nuts like almonds, walnuts, or pecans.
Recommended Products
As an Amazon Associate and member of other affiliate programs, I earn from qualifying purchases.
Nutrition Information:
Yield:
12
Serving Size:
1/4 cup
Amount Per Serving:
Calories: 246
Total Fat: 16g
Saturated Fat: 3g
Trans Fat: 0g
Unsaturated Fat: 12g
Cholesterol: 0mg
Sodium: 401mg
Carbohydrates: 24g
Fiber: 1g
Sugar: 14g
Protein: 6g
Note: This post may contain affiliate links; view
my Disclosure Policy
for details. I earn a small percentage from any purchase you make by clicking on these links at no extra cost to you.