Peanut Butter Truffle Brownies
These delicious, irresistible Peanut Butter Truffle Brownies combine that out-of-this-world pairing of chocolate and peanut butter! Brownies are topped with a peanut butter truffle filling and then finished off with a silky ganache topping.
You can put those Reese's Peanut Butter Cups back in the bag for now and indulge in these marvelous layered peanut butter brownies instead!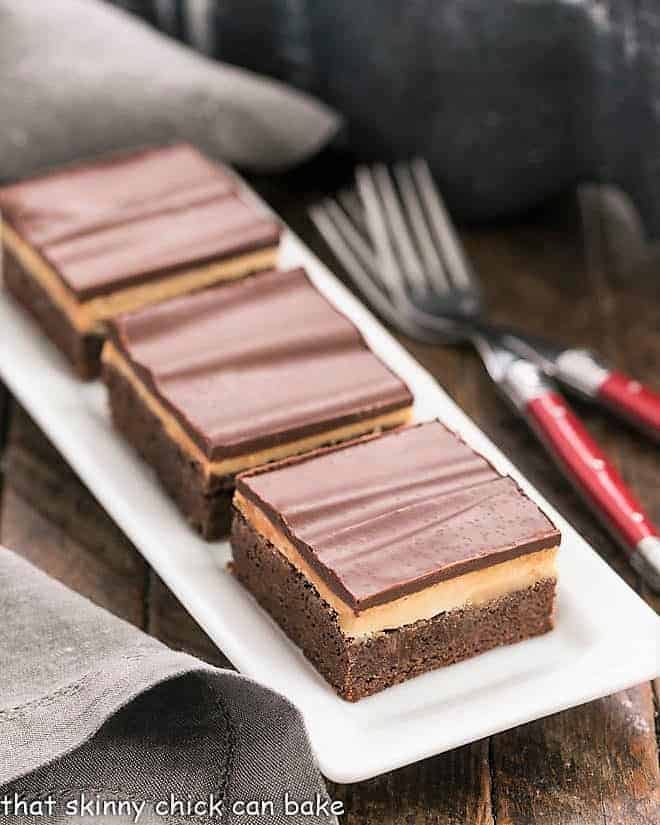 Why You Must Make
I first made these peanut butter brownies back in 2011 for a weekend reunion with some fabulous friends from college. These were those sorority sisters with whom I ate bags of chips and M & M's. We also were known to make nachos in the sorority microwave after coming home late from the bars. I knew they'd be perfect for our tailgate.
Cut into squares and packed up in a cooler, these peanut butter truffle brownies made their way across three states to a homecoming football game at my alma mater. I paid about as much attention to the game that day as I did in college. The hubby is still shocked I went to the Rose Bowl and Peach Bowl back in the day, too.
Obviously, they're a portable treat!
And these brownies are finger food, so perfect for picnics and tailgates!
They are made with the iconic pairing of peanut butter and chocolate. If you're a Reese's lover, you'll flip over these brownies!
Reader Endorsement:
From Susan in the comments: Made these last night. Brought them to work today, and they had rave reviews, I was told that this was a keeper recipe. The peanut butter layer is so light and fluffy.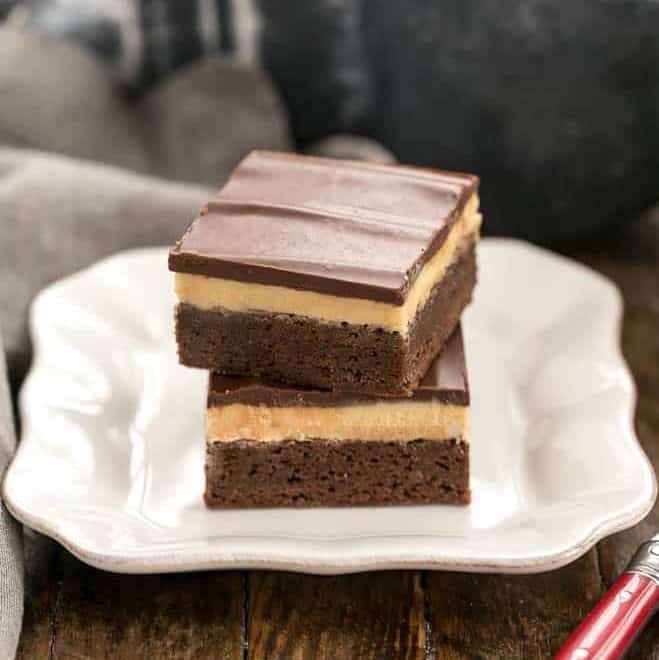 Recipe Tips
As with every recipe, read through the instructions before starting to familiarize yourself with the procedure. Also, double-check that you have all the ingredients on hand.
Usually, I pull out the butter and eggs before I start baking. Since part of the butter is melted in the microwave, only the butter for the filling and the eggs need to be brought to  room temperature.
For both the brownie batter and the peanut butter filling, I use an offset spatula (affiliate link) to spread each layer out evenly. This makes for a prettier presentation.
The first time I made this recipe, I used a bag of semi-sweet chocolate chips for the ganache topping. Since then, I've found I like the way Ghirardelli chocolate bars (affiliate link) melt better than chocolate chips.
Feel free to use 12 ounces of either chocolate chips or chocolate bars. If you use chocolate chips, you may need to add 2 tablespoons of cream to the mixture.
As with most of my brownies and bars, they cut best after some time in the refrigerator. Use a warm, dry knife to easily slide through the ganache topping and wipe the knife off between cuts.
For more details, check out my post on How to Cut Perfect Cookie Bars.
You May Also Like:
I spotted many decadent versions of these peanut butter brownies across the Internet, and I've pieced together a few recipes and added my own twist. My fabulous friends from college adored these layered peanut butter brownies—they were inhaled!!
These little gems are outrageously rich and delicious. If you like Reese's, you'll have to try a batch of these peanut butter truffle brownies.
Note: These brownies were first shared in 2011. The photos and text were updated in 2019.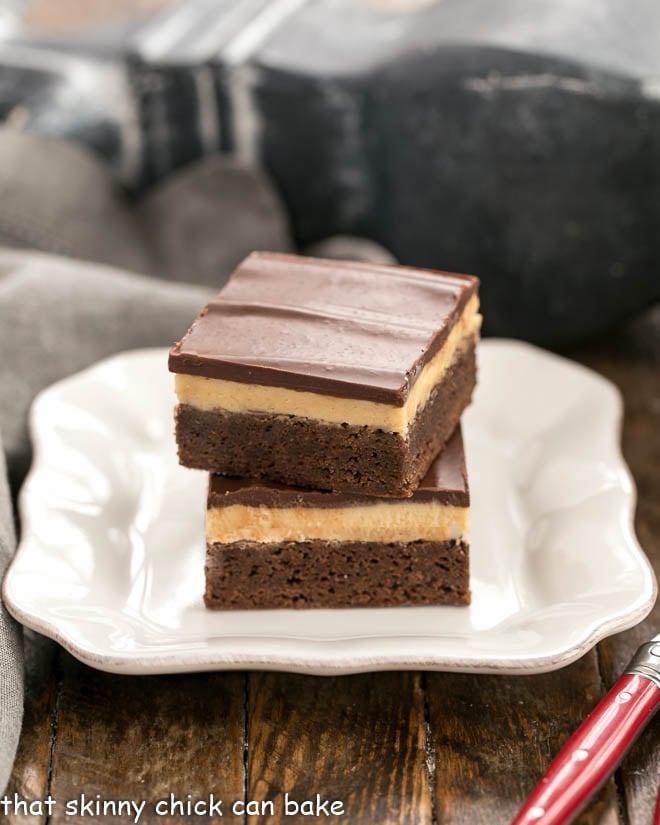 The Recipe:
Peanut Butter Truffle Brownies
Prep Time 30 minutes
Cook Time 30 minutes
Total Time 1 hour
Yield 24 brownies
Rich, fudgy brownies topped with peanut butter truffle filling and iced with chocolate ganache!
Ingredients
Brownies:
1 cup butter
2 cups sugar
3 eggs
1 tablespoon vanilla
2/3 cup cocoa powder
1 cup flour
1/2 teaspoon salt
1/2 teaspoon baking powder
Peanut Butter Filling:
1/2 cup butter (at room temperature)
1/2 cup creamy peanut butter
2 cups powdered sugar
2-3 teaspoons milk
Ganache Topping:
2 cups semi-sweet chocolate chips
1/4 cup 1/2 stick butter
2 tablespoons shortening
2 tablespoons heavy cream, optional (I suggest adding if using chocolate chips)
Instructions
Preheat oven to 350º. Put a long piece of non-stick foil or parchment in the bottom of a 9 x 13 inch pan, fitting so it covers the bottom of pan, the two shorter sides, plus has some overhang on each side for easy removal. If using foil, spray non covered sides of pan with nonstick spray. If using parchment, spray entire inner surface of pan with nonstick spray.
In a large microwave safe bowl, melt the 1 cup butter in the microwave. Mix in sugar, then eggs and vanilla. Sift the cocoa powder into the egg mixture, along with the salt and baking powder. Mix well. Add flour and mix till just combined. Scrape into prepared pan and smooth top.
Bake for about 25-30 minutes. Cool completely.
While the brownies are cooling, mix together filling ingredients. Beat until smooth adding the extra teaspoon of milk if needed. Mixture should be spreadable. Spread filling evenly over cooled brownies. Chill for at least 30 minutes.
While the filling is cooling, make ganache by melting the chocolate chips, butter, shortening and cream (if using) together gently in the microwave. Stop and stir at 30 second increments, till melted and smooth. Put dollops of ganache over filling and spread gently. Return to refrigerator to set topping.
Notes
Adapted from Betty Crocker, Loves to Eat and Sweet Pea's Kitchen
Nutrition Information:
Yield:
24
Serving Size:
1 brownie
Amount Per Serving:
Calories: 373
Total Fat: 23g
Saturated Fat: 13g
Trans Fat: 1g
Unsaturated Fat: 8g
Cholesterol: 61mg
Sodium: 198mg
Carbohydrates: 42g
Fiber: 2g
Sugar: 34g
Protein: 4g
Lambeau has not made an appearance on my blog in a while, so to celebrate Halloween, I present her as Moammar Gooddoggi: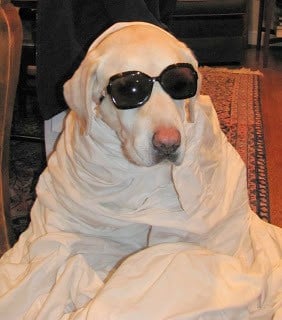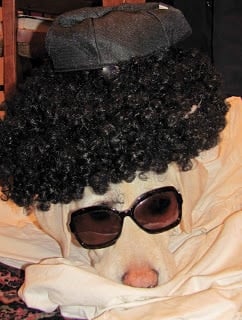 Isn't she a good sport??? Do you want to guess on the number of marshmallows it took to bribe her into posing? LOTS!
Note: This post may contain affiliate links; view
my Disclosure Policy
for details. I earn a small percentage from any purchase you make by clicking on these links at no extra cost to you.