How to Cut Perfect Cookie Bars
Apparently, I have a knack for cutting desserts in an attractive way that others find difficult. After many requests, I decided to dedicate a post on how to cut perfect cookie bars, squares, and brownies.
Below are ALL my tricks for cutting perfect squares and bars. From brownies to chocolate chip bars to fruit bars, you can perfect your dessert-cutting skills with a few tips.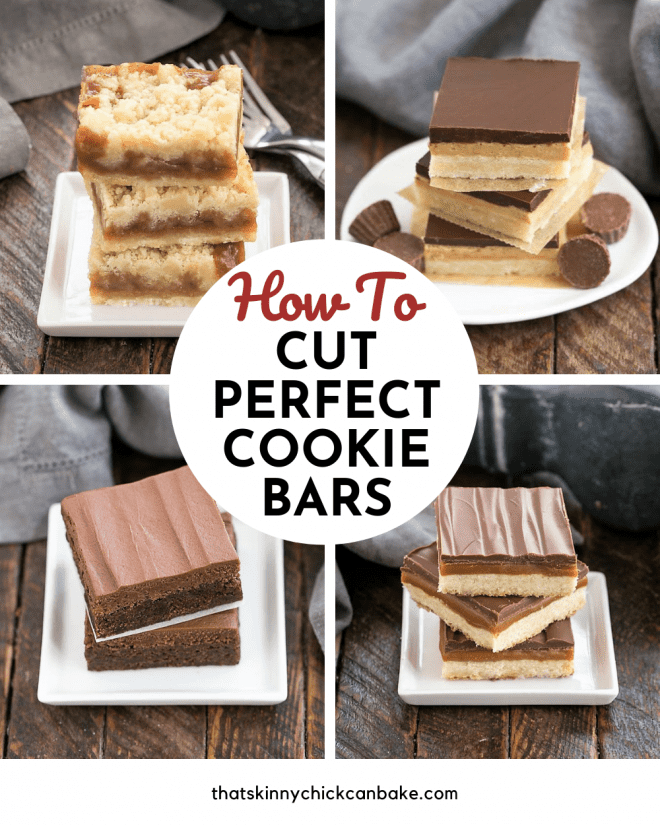 How to Cut Perfect Cookie Bars
With a few tips and lots of practice, you can have perfect dessert squares for your family and company. I don't usually utilize a ruler, but it will help keep your bars consistent as you learn the ropes. Here is my method:
PRO-Tip: Line your baking pan with Non-Stick Foil. This will aid in easily removing the bars from the pan. It is much easier to place the uncut bars on a cutting board and not have to deal with circumventing the sides of the pan.
Parchment paper can be used in place of non-stick foil. Or spray your regular foil with non-stick cooking spray to make your own non-stick foil.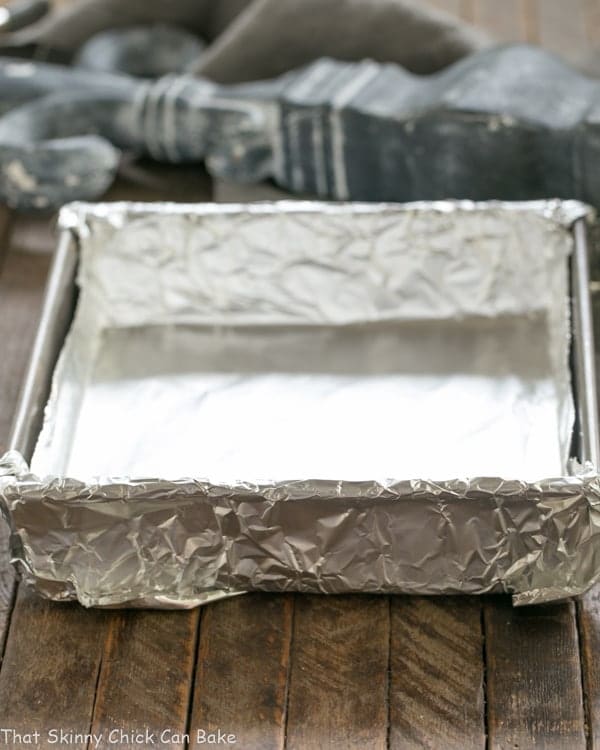 Tips Before You Cut the Bars
Use a Small Offset Spatula to spread your cookie dough evenly in the pan. The bars will look more professional if both the tops and bottoms are level.
Before removing the bars or brownies from the pan, fully cool them on a cooling rack. Then cover and place them in the refrigerator to chill.
PRO-Tip: Cold bars cut more cleanly than room temperature bars.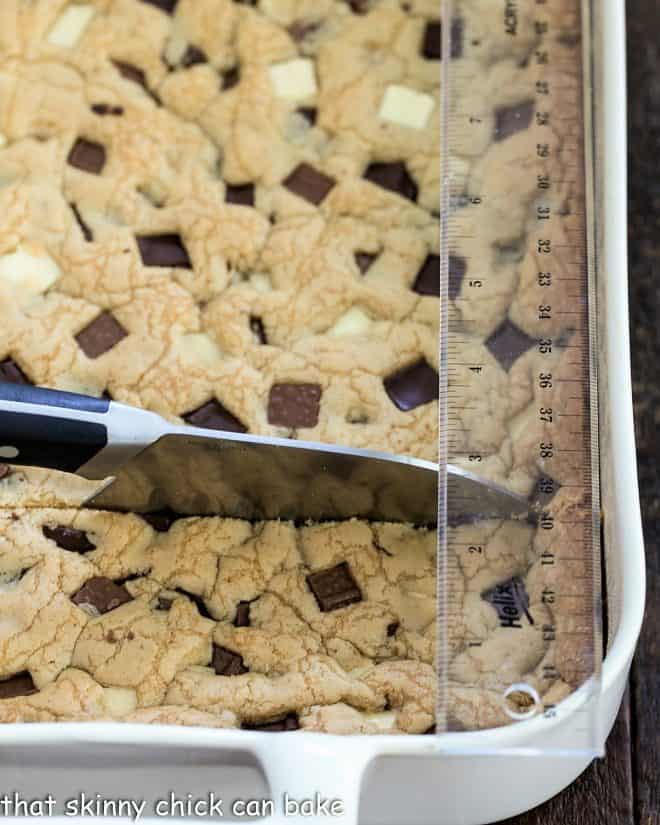 Tips for Slicing Bar Cookies
Once chilled, remove the bars from the pan to a cutting board, using the foil as a lift.
When I bake bars in an 8 x 8-inch pan, I like to cut the batch into 16 bars. They will each be slightly smaller than 2×2 inches.. This way you can start by making your first cut down the middle, rotate the pan and make a second, perpendicular cut down the middle. From there, each of the four squares can be subdivided into 4 more squares. As you get comfortable making straight cuts, you can cut into 25 or 36 bars, but that will take a little more finesse!
PRO-Tip: Use a ruler at first to make the straightest cuts possible.
You may want to trim the edges of the bars if you prefer 4 clean-looking sides on all your bars.
Tips for Cutting Brownies
Many of the same techniques work for slicing brownies, like lining the pan with non-stick foil or parchment.
Chill the brownies for about 30 minutes before cutting to minimize sticking to the knife.
Score or mark the top of the brownies to guide where you want to cut. Use a ruler if needed to make straight lines.
PRO-Tip: Purchase a large plastic knife to cut your brownies. Brownies stick less to plastic than metal. Even using one of those small plastic knives you take on a picnic works well.
Wipe off the knife after every cut is made. Moist brownies tend to adhere to the knife and a clean knife slices better than a dirty one.
Knife Tips
I like using a large sharp knife like my Wusthof Classic 7-Inch Santoku Knife. But first I run the blade through hot water (I have a hot water dispenser on my kitchen sink that is around 190 degrees), then dry it off. This helps cut through chocolate topping very slickly and will also assist in cutting through chilled bars.
Remember to use a ruler as a guide if needed.
When using a heated knife, you'll need to wipe off the blade and reheat it at frequent intervals. I use paper toweling to clean the knife, especially if chocolate is involved.
If the bars have a crust on top, like those pictured above, I like to use the tip of a knife to poke a few holes along the line where I plan to cut. If you start cutting without doing this, you may see lots of cracking across the surface. Sometimes a serrated knife works best. You'll need to experiment with your knives to see which works best with each variety of cookie bars.
I hope this simple tutorial on how to cut the perfect cookie bars will help make your squares picture-perfect! Please let me know if you have other tips to add or if you have any questions. Please scroll down to find some of my favorite bar cookies to try!
Bar Cookies and Brownie Recipes:
Frequently Asked Questions
How Do You Cut Lemon Bars?
Make sure to bake your bars in a pan lined with non-stick foil. Use the foil as a sling to remove the cooled and chilled bars onto a cutting board. Dip your knife into a tall cup of very hot water, wipe it dry and make your first slice. Clean off the knife and repeat the heating, wiping and slicing.
How to Cut Brownies?
Bake in a pan lined with non-stick foil for easy removal. For the cleanest slices, chill your brownies first. Using a plastic knife is a trick that has been around for years. There are even (affiliate link) large plastic brownie knives. You can also spray your knife with cooking spray like Pam, slice, wipe the knife clean, and make another slice, repeating until the brownies are all cut.
How Do You Slice Magic Cookie Bars?
Like with other desserts, first bake your bars in a pan lined with non-stick foil. Chill your bars before lifting them with the foil and placing them on a cutting board. Slice, cleaning knife after each slice. You may also spray the clean knife with cooking spray if they are still sticking.
How Do You Slice Bars into Diamond Shapes?
For a 9 x 13-inch pan, first cut the bars lengthwise into 4 equal-sized strips. Start with one cut down the middle from one short side to the other. Then cut a slice halfway between the edge of the pan and the center cut on both sides to make 4 long strips.
Then, to make the diamonds cut on an angle from one long side to the other, repeating at the same interval until the whole pan is sliced.
You May Also Like:
Note: This post may contain affiliate links; view
my Disclosure Policy
for details. I earn a small percentage from any purchase you make by clicking on these links at no extra cost to you.