Candy Bar Blondies
Candy Bar Blondies are a sweet bar cookie, perfect to make when you have way too much leftover Halloween candy in your house!
Make this easy Blondies Recipe for a post Halloween Treat! Add your favorite holiday candies for an out of this world dessert!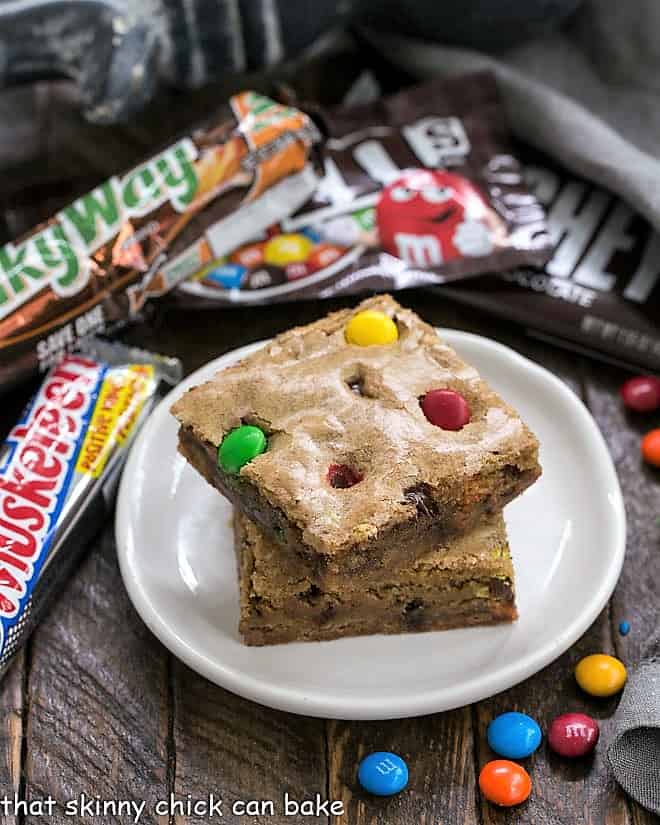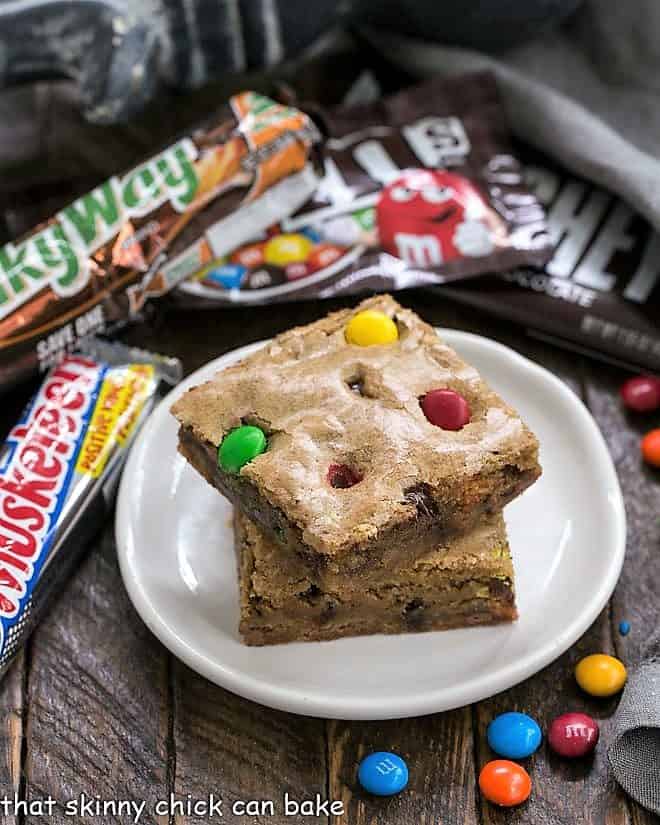 Candy Bar Blondies
Around the holidays, there is an influx of sweet treats to our house. On Halloween, depending on the weather, we could have 60-100 trick or treaters. I like to buy full-size candy bars, but having 40 left over makes for a big dilemma. Thank goodness I have an easy solution.
Make a batch of blondies and load them up with your favorite candies! Voila, Candy Bar Blondies! I've taken my favorite blondies recipe and stirred in some frozen chocolate candy bar chunks along with M&M's. My girlfriends were dying for the recipe when I shared these. They would not lead you astray.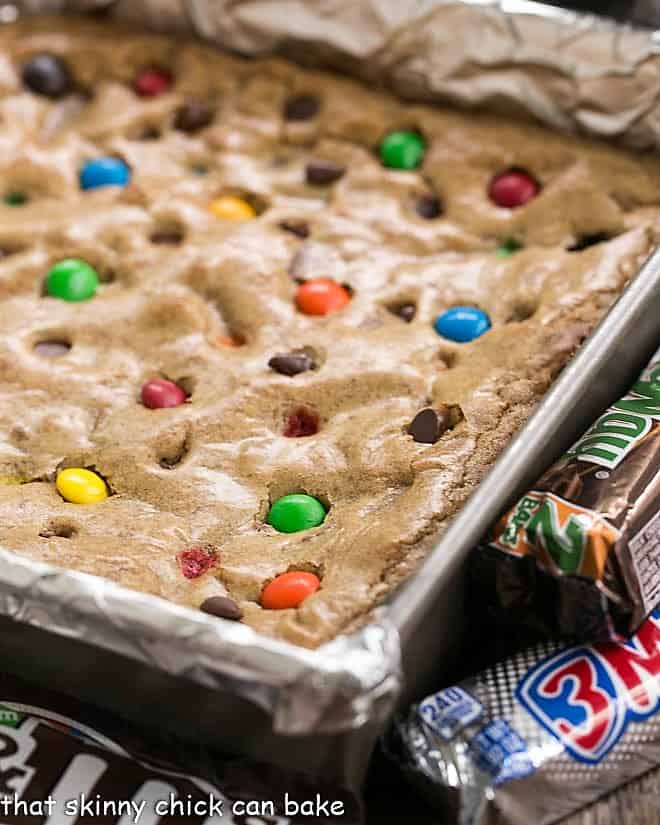 What to Do with Halloween Candy Leftovers
Unsure of what to do with the leftover Halloween candy? Sampling a few of your favorites is always required, but there's only so much your pants will stretch! Not like these treats are particularly kind to your waistline, but consider the mixing, spreading, and cutting to be a form of exercise. A batch of blondies is the perfect solution!
Tips for Making Blondies
Blondies are baked in a square or rectangular baking pan just like brownies, but without any cocoa or chocolate which give brownies their distinctive look and flavor. The name came about because blondies resemble brownies in shape when cut but are flavored with vanilla instead of chocolate. They are also called a blonde brownie. It's interesting to note that blondie recipes appeared in cookbooks before brownie recipes.
Here are some tips for making blondies:
Use either light brown sugar or dark brown sugar when making blondies. I've made this recipe with both, but prefer dark brown sugar as it gives a richer, more caramel-like flavor and extra moisture.
Melting the butter makes it easier to mix the dough, plus gives a chewy texture.
This basic recipe can be tweaked with different add-ins. Add 1 1/2 cups of your favorites, like white or dark chocolate chips or even a combo, nuts, coconut, toffee bits, or all M & M's.
Do not use a mixer to combine the ingredients. Using a mixer will over-activate the gluten and make your blondies less tender and will also add air into the batter.
PRO-Tip: Slightly under baking will make your blondies moist and chewy.
PRO-Tip: Reserve some M & M's and chocolate chips to carefully press onto the surface of the blondies when they come out of the oven. This will give a more finished, bakery like appearance!
You Might Like These Tools to Make Candy Bar Blondies:
More Bar Cookie Recipes You'll Love: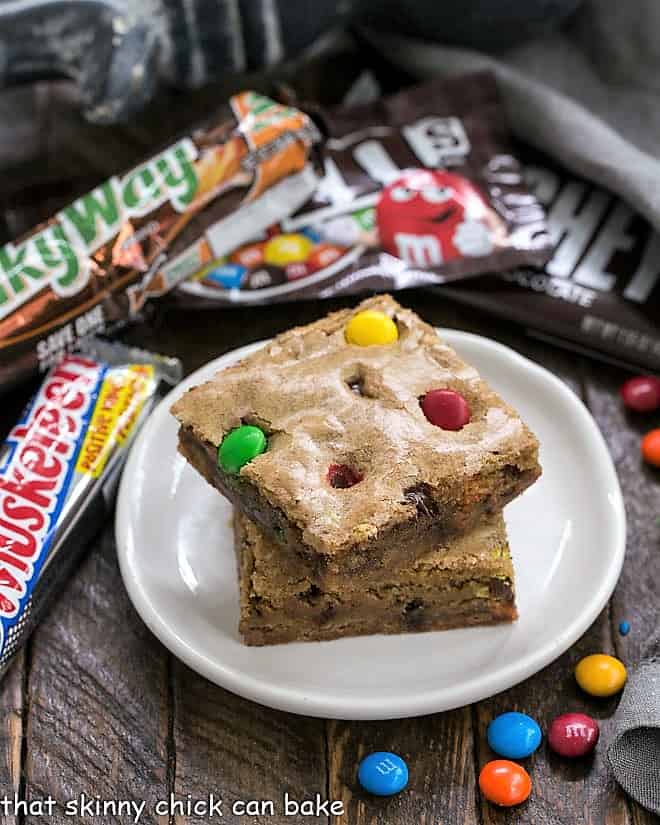 The Recipe:
Candy Bar Blondies Recipe
Prep Time 20 minutes
Cook Time 30 minutes
Total Time 50 minutes
Yield 16 bars
Load up your blondies with leftover holiday candies!
Ingredients
1 ½ cups flour
1 teaspoon baking powder
¼ teaspoon salt
12 tablespoons butter (1 ½ sticks), melted and cooled
1 ½ cups light or dark brown sugar
2 eggs, lightly beaten
4 teaspoons vanilla extract
1-1 ½ cups chocolate based candy bars, chopped (Milky Way, Reese's, 3 Musketeers, Hershey Bars, M&M's, etc.)*See Notes
2 tablespoons chocolate chips and M&M's to garnish, optional
Instructions
Preheat oven to 350°. Line a 9 x 9-inch baking pan with nonstick foil, leaving enough overhang to help you lift the blondies from the pan when they're done. Set aside.
Whisk flour, baking powder, and salt together in a medium bowl; set aside.
Whisk melted butter and brown sugar together in a medium bowl until combined. Add eggs and vanilla and mix well.
Using a rubber spatula, fold dry ingredients into the egg mixture until just combined; do not over-mix.
Fold in the candy bar pieces and spread the batter into the prepared pan, smoothing the top with an offset spatula.
Push in a few chocolate chips on top of the dough to garnish, if desired.
Bake until the top is shiny, cracked, and light golden brown, 27-30 minutes; do not over-bake. Immediately after removing from the oven, push in a few more chocolate chips and/or M&M's on top of the dough to garnish, if desired.
Cool on a wire rack to room temperature. Remove bars from pan using foil and cut to serve.
Notes
Chop candy bars with caramel or nougat and freeze while preparing the batter and preheating the oven to prevent any over-melting.
Adapted from Cook's Illustrated.
Recommended Products
As an Amazon Associate and member of other affiliate programs, I earn from qualifying purchases.
Nutrition Information:
Yield:
16
Serving Size:
1 bar
Amount Per Serving:
Calories: 319
Total Fat: 16g
Saturated Fat: 10g
Trans Fat: 0g
Unsaturated Fat: 5g
Cholesterol: 51mg
Sodium: 169mg
Carbohydrates: 41g
Fiber: 1g
Sugar: 29g
Protein: 4g
Note: This post may contain affiliate links; view
my Disclosure Policy
for details. I earn a small percentage from any purchase you make by clicking on these links at no extra cost to you.