Chocolate Chip Caramel Butter Bars
Chocolate Chip Caramel Butter Bars are a decadent twist on an old favorite, caramel butter bars. Adding chocolate to these amazing caramel bars will rock your taste buds!
Caramel Desserts are a temptation that are nearly impossible to resist. And this recipe is super easy to make providing a quick fix for your cravings!
Why You Must Make
It's no secret that I love caramel, whether it's microwave caramel sauce, homemade soft chewy cream caramels, or a caramel tart, I love 'em all. Where the hubby prefers a 3 Musketeers Bar, as a kid I'd always go for the Milky Way with the additional caramel layer.
I've made plain ol' caramel butter bars in the past, which are dreamy to say the least, but these gooey numbers are amped up with a smattering of chocolate chips!
The combo of chocolate and caramel is classic and delicious!!
Plus, adding a buttery crust and crumble topping makes them even more irresistible.
Recipe Tips:
Bar cookies are an easy alternative to individual cookies. Even though there are two separate baking times in this recipe, it's still easier than shaping out and baking up numerous cookies. Here are a few pointers for making these yummy chocolate chip caramel butter bars.
PRO-Tip: Since the hubby is not the hugest caramel fan, I made half a batch. Most times you can bake half a batch of cookie bars that would have been made in a 9 x 13-inch in an 8 x 8-inch pan. The square inches of half the 9 x 13 is 58.5 and the square inches of an 8 x 8 pan is 64. Close enough! They will be very slightly thinner in the smaller pan.
PRO-Tip: Line your baking pan with non-stick foil or regular foil sprayed with a non-stick cooking spray like Pam. If you do not, the caramel can ooze from the bars and stick to the sides of the pan making it nearly impossible to remove the cookie bars.
Pat the crust into the pan evenly using your fingers. Then I go back using the bottom of a measuring cup and press on the surface to even it out. You may need to dust the bottom of the cup with flour to prevent sticking.
Use an offset spatula to spread the caramel across the surface of the warm crust.
Pinch small pieces of the remaining dough to make the crumble topping. If you add some extra chocolate chips, make sure to incorporate some into every piece so that they're evenly distributed.
After they've cooled, use the foil as a sling to remove the bars to a cutting board to slice. If some of the caramel happens to have escaped the foil, use a table knife or offset spatula to run around the perimeter of the pan to loosen it.
Check out my post on How to Cut Perfect Cookie Bars for more tips.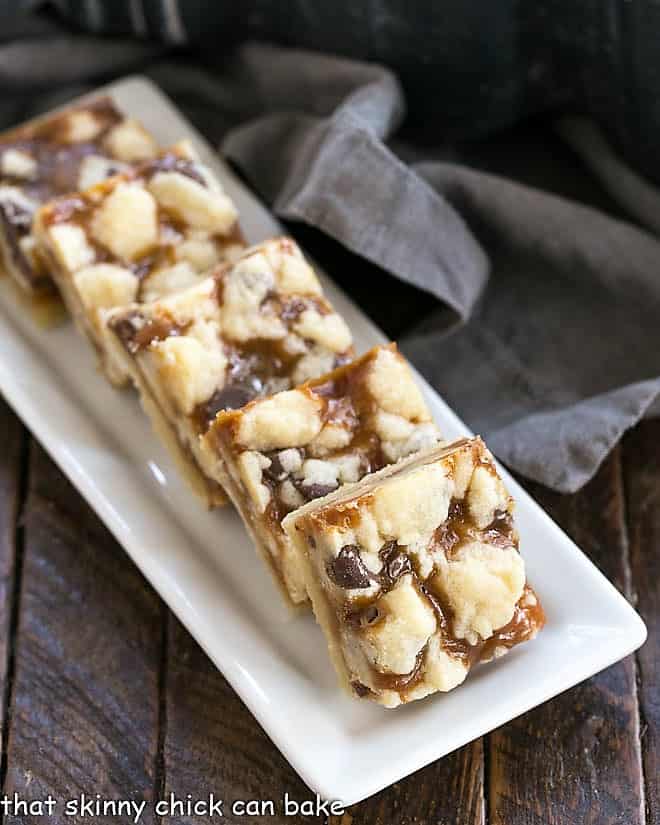 Frequently Asked Questions
How Do You Store Caramel Butter Bars?
Like most cookie bars, they can be stored in their baking container, covered well, for 3-4 days at room temperature. They also freeze well for up to 3 months.
Are There Any Tricks to Slicing Sticky Caramel Bars?
Bars always cut more easily when they're chilled. The caramel will not be as gooey, though you may need to clean your knife if it gets sticky. Make sure to let the bars come to room temperature before serving so they are soft and chewy.
Can You Make These Without Chocolate Chips?
Yes, you can omit the chocolate chips or use any other kind of baking chip instead.
You May Also Like:
Here are more caramel recipes from two of my favorite bloggers and from the blog.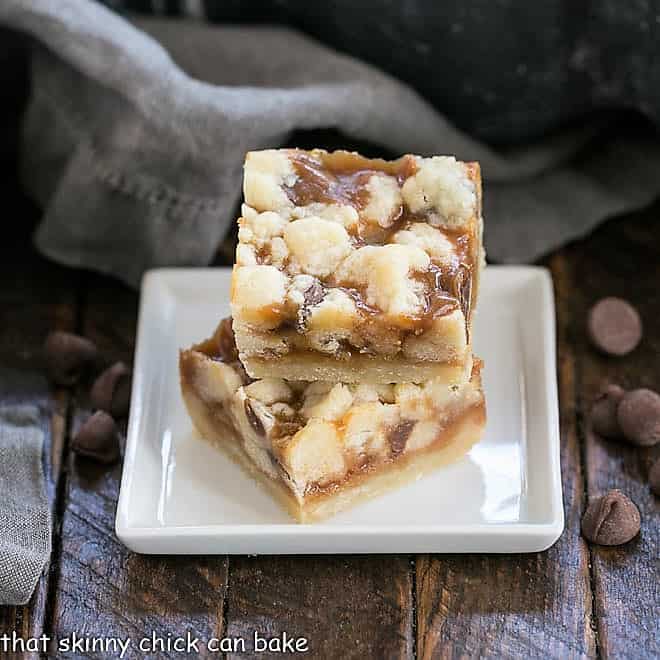 The Recipe:
Chocolate Chip Caramel Butter Bars Recipe
Prep Time 20 minutes
Cook Time 45 minutes
Total Time 1 hour 5 minutes
Yield 16 servings
Gooey caramel butter bars enhanced by the addition of chocolate chips!
Ingredients
1 cup butter, at room temperature
½ cup sugar
¾ cup powdered sugar
1 ½ teaspoons vanilla
2 cups flour
6 ounces caramel sauce (good quality jarred caramel sauce or homemade)
¼-½ cups milk chocolate chips (may add some caramel chips, too, if desired)
Instructions
Preheat oven to 325 degrees.
Line an 8 x 8-inch baking pan with nonstick foil.
Beat butter and sugar (granulated, not powdered) until creamy. Add powdered sugar and vanilla.
Add flour and mix to form the dough.
Press half in the bottom of the pan. Add chips to the rest of the dough, then cover and chill.
Bake the crust for 15 minutes.
Remove from the oven and pour the caramel evenly into the crust. Spread with an offset spatula.
Crumble the rest of the dough on top.
Bake 25-30 minutes. The middle may look slightly underdone.
Remove and cool before cutting into bars.
Notes
I made a half-batch of Danielle's recipe. Double to make a 9 x 13-inch pan. I did not reduce the chocolate chips, so if you double, feel free to use ½-1 full cup.
Recommended Products
As an Amazon Associate and member of other affiliate programs, I earn from qualifying purchases.
Nutrition Information:
Yield:
16
Serving Size:
1 bar
Amount Per Serving:
Calories: 167
Total Fat: 2g
Saturated Fat: 1g
Trans Fat: 0g
Unsaturated Fat: 1g
Cholesterol: 2mg
Sodium: 43mg
Carbohydrates: 34g
Fiber: 1g
Sugar: 21g
Protein: 2g
Note: This post may contain affiliate links; view
my Disclosure Policy
for details. I earn a small percentage from any purchase you make by clicking on these links at no extra cost to you.