Toffee Caramel Magic Cookie Bars
Toffee Caramel Magic Cookie Bars are a twist on one of the most addictive, swoon-worthy layered dessert recipe. Toffee chunks and caramel chips are added to the mix for a decadent treat!
Also known as 7-Layer Bars, this easy dessert will become a family favorite.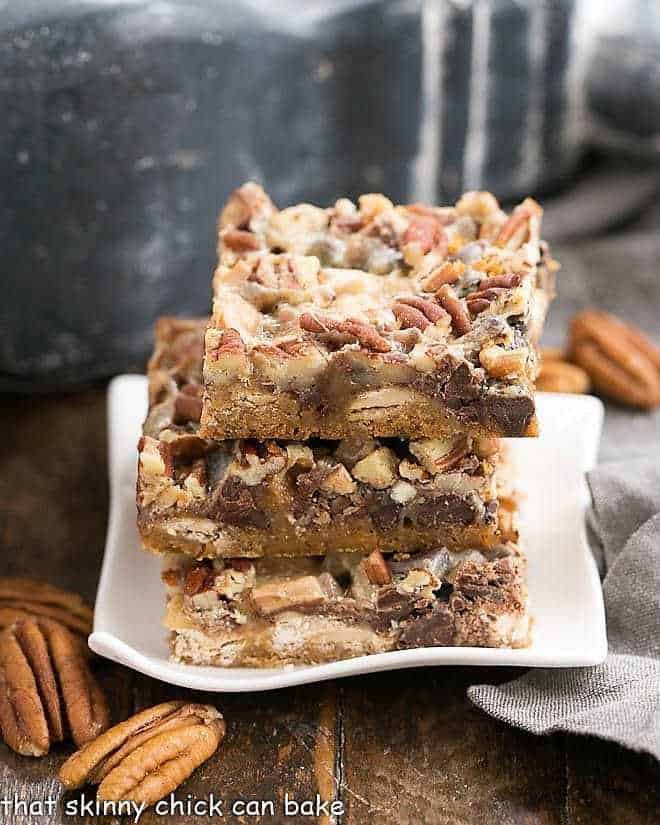 Why You Must Make
This Magic Cookie Bar recipe is perfect for caramel and toffee fans! Plus, unlike many other versions, this is a coconut-free recipe!
Known by 3 different names including Magic Cookie Bars, 7 Layer Bars, and Hello Dolly Bars, these bars are rich and delicious.
They're super easy to make!
There are numerous variations, and this toffee version, sans coconut, is as gooey and delicious as the originals. I shared these gems with my book club and knitting friends and they swooned right along with me.
Expert Tips
Unlike the original magic cookie bar recipe, mix the melted butter and graham cracker crumbs and press them into the pan for the crust. That's the most difficult part of making these easy bars!
PRO-Tip: Use the flat bottom of a dry measuring cup to pat the crust ingredients onto the bottom of the pan.
Next, layer the various chips and chocolate before drizzling over the can of sweetened condensed milk, and finally top with some chopped nuts before baking and digging in.
You can certainly use a bag of toffee chips to make these toffee caramel magic cookie bars. But I prefer chopping my own "chips" out of Heath bars for more substantial toffee pieces that include a chocolate coating.
Chill before cutting for the best-looking bars, but let them sit at room temperature so they get a bit gooey before serving. For more tips on slicing check out my post on How to Cut Perfect Cookie Bars.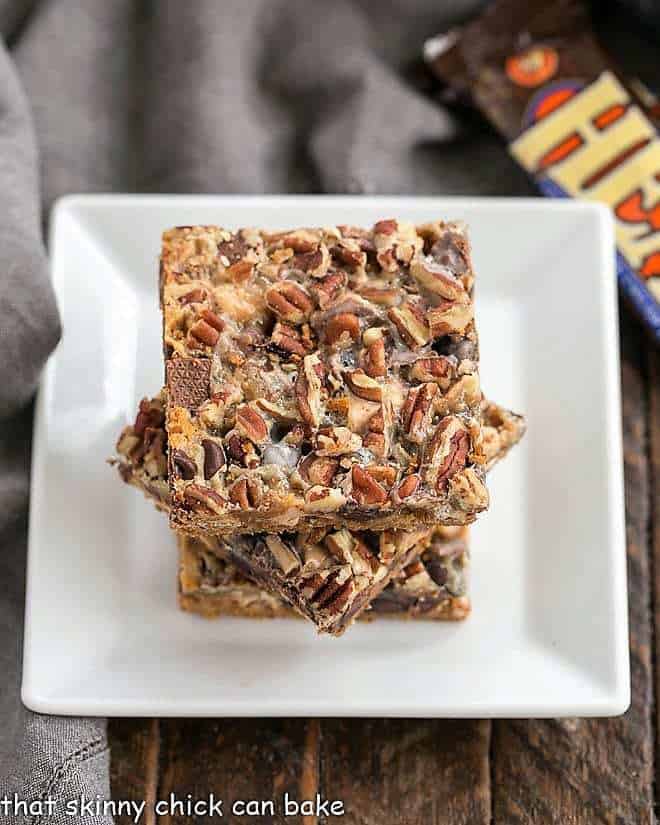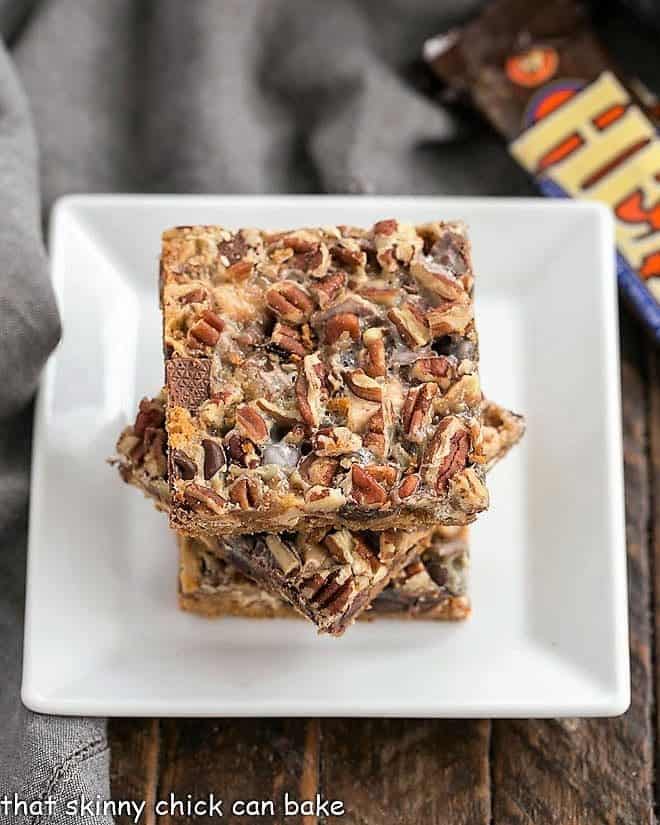 Frequently Asked Questions
Why Are These Called Magic Cookie Bars?
All 3 names for these bars have a different origin.
The "magic" in magic cookie bars comes from the fact that the originals needed no mixing. Melted butter went in the bottom of the pan, and was sprinkled with graham cracker crumbs, followed by sweetened condensed milk, coconut, chocolate chips, and nuts. Baked up, the crust forms with a gooey mixture of delicious toppings!
The name, Seven Layer Bars, comes from the 7 different ingredients layered to make these bars. Except I only count 6! What am I missing? Maybe toss in some butterscotch chips for that elusive last ingredient.
And the Hello Dollies name is a bit more puzzling. Thoughts are that these bars could have been developed when Hello Dolly was first on Broadway in the 1960s. That may be a bit of a reach, though.
Who Invented Magic Cookie Bars?
The recipe first appeared in the magazine The Week in 1965. Credit was given to a Texas grandmother for developing the recipe.
How Do You Cut Magic Cookie Bars?
Let the bars cool, then refrigerate until firm. If the pan is lined with foil, use that to move the bars from the pan to a cutting board. With a sharp knife, cut into 24 bars. Let them come to room temperature to serve.
How Do You Store Magic Cookie Bars?
They'll keep well at room temperature, in an air-tight container, for 4-5 days. If it's warm in your kitchen, keep them refrigerated.
Can You Freeze Magic Cookie Bars?
Yes, they freeze well if kept in an air-tight container. They'll keep well for up to 2 months. Let them defrost in the refrigerator overnight before serving.
You May Also Like:
Do you have another variation of these 7-layer bars? How many layers are in your version??
The Best 7 Layer Bars(Opens in a new browser tab)
The Recipe:
Toffee Caramel Magic Cookie Bars
Prep Time 10 minutes
Cook Time 25 minutes
Total Time 35 minutes
Yield 12 bars
Gooey Magic Cookie Bars with chocolate, caramel and toffee chips!
Ingredients
1/2 cup butter, melted
1 1/2 cups graham cracker crumbs
1 cup caramel flavored chips (I used Ghirardelli)
1 cup semisweet chocolate chips
1 cup chopped Heath bars (I used 3 1/2-4 1.4 ounce Heath bars)
1 can sweetened condensed milk (14 ounces)
1 cup chopped pecans
Instructions
Preheat oven to 350 degrees. Line a 9 x 13-inch pan with nonstick foil or grease well with nonstick cooking spray. Set aside.
Mix the melted butter and graham cracker crumbs until well combined. Pat into the bottom of the prepared baking pan.
Sprinkle the crust with the caramel chips, chocolate chips, and Heath bar bits. Pour the sweetened condensed milk over the top. Sprinkle with pecans.
Bake for 25 minutes. Remove from oven to a wire rack to cool. Chill to cut, but serve at room temperature.
Notes
Use the bottom of a dry measuring cup to pat down the graham cracker crust.
These bars freeze well, up to 2 months.
Nutrition Information:
Yield:
12
Serving Size:
1 bar
Amount Per Serving:
Calories: 411
Total Fat: 25g
Saturated Fat: 11g
Trans Fat: 0g
Unsaturated Fat: 13g
Cholesterol: 30mg
Sodium: 269mg
Carbohydrates: 47g
Fiber: 2g
Sugar: 37g
Protein: 3g
Note: This post may contain affiliate links; view
my Disclosure Policy
for details. I earn a small percentage from any purchase you make by clicking on these links at no extra cost to you.