Easy Balsamic Vinaigrette
Though the hubby would be happy with a bottle of store-bought French or Ranch dressing, I love a good homemade vinaigrette. This Easy Balsamic Vinaigrette has been my go-to salad dressing recipe for years!
Easy Balsamic Vinaigrette
I've shared this simple balsamic vinaigrette on a few of my salad recipes in the past, but I thought it deserved its own post. All the ingredients are staples in my kitchen so it doesn't take long to have this classic salad dressing ready for drizzling!
Just last month we had a freak wind storm that knocked out power across our city. We had dinner reservations for 10 at a restaurant that no longer had electricity and we were left in a lurch. Instead of finding another locale, since our house had power, we ordered carryout pizza. I dashed off to the market and picked up salad ingredients plus a few wedges of cheese and Italian meats for a cheese board. We had a blast…and there was quite a bit of interest while I whipped up this easy salad dressing!
Tips for Making the Best Balsamic Vinaigrette
A couple years ago, I also shared this recipe with some girlfriends. One hadn't been using high quality balsamic vinegar and for that reason, her dressings were underwhelming. When she tried this easy balsamic vinaigrette made with an 18 year aged balsamic from a nearby specialty shop, she instantly tasted the difference. I'll share my secrets with you, too!
Your balsamic vinegar must be top notch. A cheap grocery store version won't provide the best results. It should be aged, thick, syrupy and sweet.
Look for made in Modena on the label and be willing to pay a little extra. Local friends, check out Artisano's on the north side of Indianapolis. I love their 18 Year Traditional Balsamic Vinegar.

Use a nice Dijon mustard and a quality olive oil. I've been a fan of California Olive Ranch extra virgin olive oil for years!
Make sure to whisk in the olive oil slowly so that your dressing emulsifies. Don't skip the mustard when making this easy balsamic vinaigrette as it assists with emulsification, too!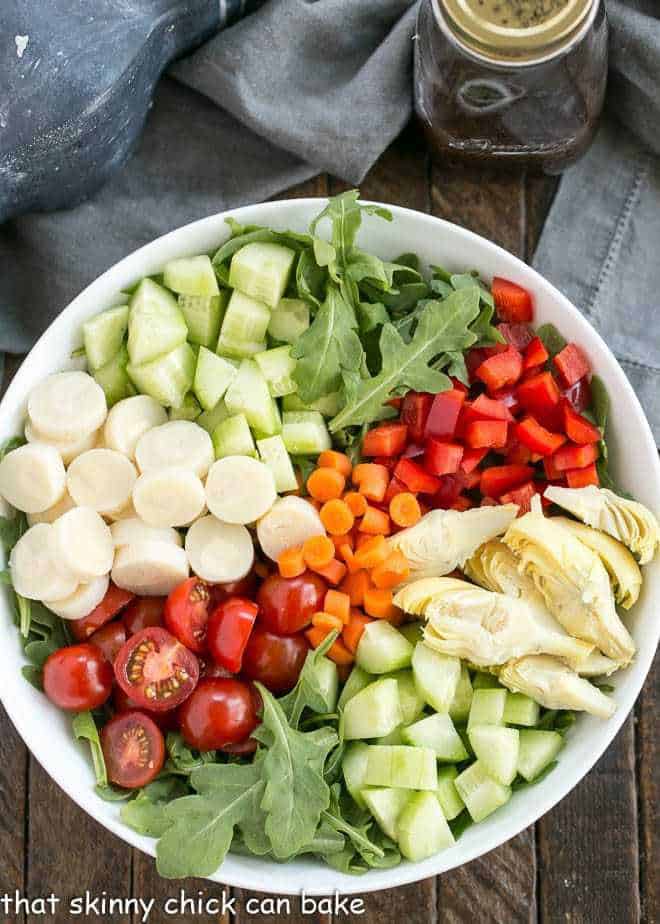 How Do You Emulsify a Vinaigrette?
Emulsification is a term that means bringing two liquids together into a smooth mixture. If a dressing is not emulsified, you'll see a layer of oil separate from the vinegar. To make an emulsified vinaigrette, you must follow the directions carefully.
Adding mustard helps encourage the liquids to emulsify, so don't leave that ingredient out of the recipe. It adds some piquancy, too, without a strong mustard flavor.
Also, the olive oil should be the last ingredient added to the dressing. Slowly drizzle in the olive oil while whisking continuously. Voila, you should have a perfectly emulsified balsamic vinaigrette.
I topped my Spinach, Strawberry, Pomegranate Salad with this easy balsamic vinaigrette, plus it would be fabulous on this Roasted Fall Vegetable Salad.
More of my favorite homemade salad dressings include this Easy Honey French dressing, Blue Cheese Dressing, and Classic Caesar Salad Dressing. I'm also loving this Homemade Ranch Salad Dressing and this Creamy Parmesan Salad Dressing from my blogger friends.
What's your favorite salad dressing? Do you make it from scratch?
The Recipe:
Easy Balsamic Vinaigrette
Prep Time 5 minutes
Total Time 5 minutes
Yield 1/2 cup
The best and easiest recipe for a classic balsamic vinaigrette!
Ingredients
3 tablespoons premium aged balsamic vinegar
2 teaspoons Dijon mustard
1 garlic clove, minced
1/2 cup extra virgin olive oil
1/2 teaspoon kosher salt
pinch of freshly ground black pepper
Instructions
To make the vinaigrette, whisk together vinegar, mustard, and garlic.
Add oil in a slow stream, whisking constantly until well combined.
Season with salt and pepper.
Notes
Using a quality, well-aged balsamic vinegar makes a world of difference. If you have a gourmet food shop or high end grocery store, check to see if they have a good recommendation.
Nutrition Information:
Yield:
8
Serving Size:
1 tablespoon
Amount Per Serving:
Calories: 126
Total Fat: 14g
Saturated Fat: 2g
Trans Fat: 0g
Unsaturated Fat: 11g
Cholesterol: 0mg
Sodium: 168mg
Carbohydrates: 1g
Fiber: 0g
Sugar: 1g
Protein: 0g
Note: This post may contain affiliate links; view
my Disclosure Policy
for details. I earn a small percentage from any purchase you make by clicking on these links at no extra cost to you.