Roasted Fall Vegetable Salad with Maple Vinaigrette
Add this Roasted Fall Vegetable Salad with Maple Balsamic Vinaigrette to your autumn menu for a delicious, vibrant side dish!
Thanks to Rubbermaid for sponsoring this post. As always, all opinions are my own.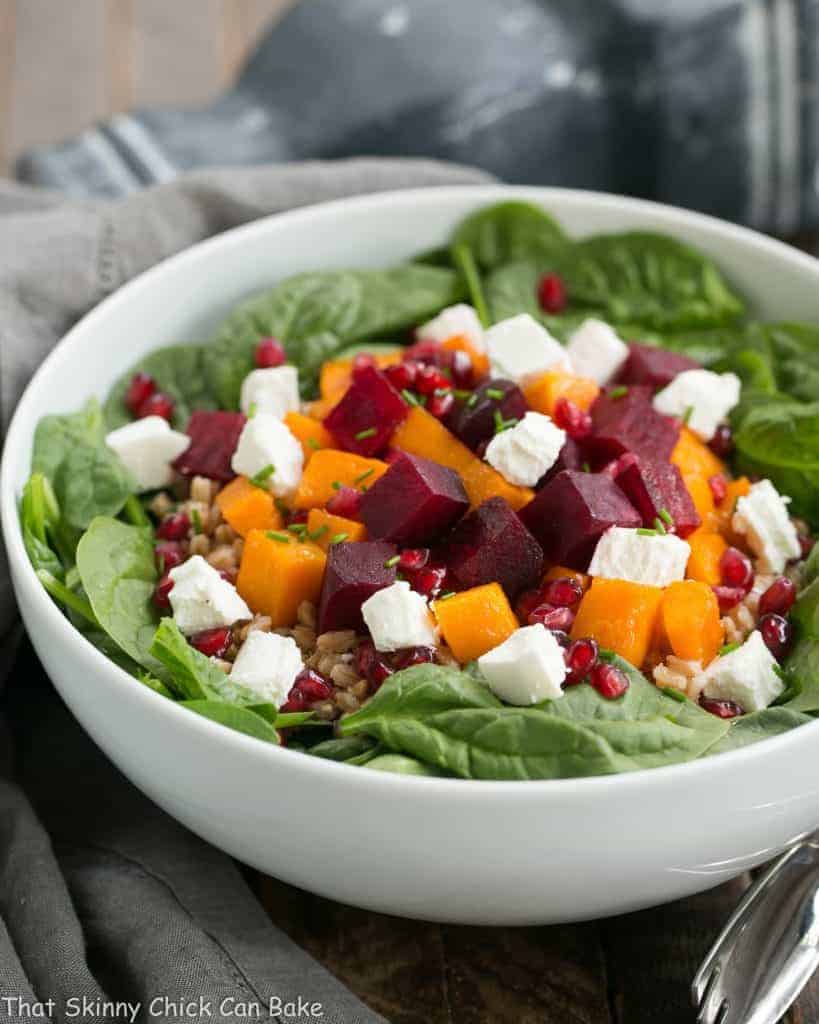 Roasted Fall Vegetable Salad
When summer tomatoes are long gone and tender garden produce is impossible to find, I love making a hearty, scrumptious roasted fall vegetable salad. This time I roasted both butternut squash and beets and layered them between baby spinach, farro, and goat cheese. An incredible Maple Balsamic Vinaigrette was perfect to bring more autumnal notes to this salad.
Do you have trouble with produce spoiling faster than you'd like? Spinach for example! Drives me nuts. Scroll down to read about one of my favorite new products, and check out how you can win a set of your own!
Rubbermaid FreshWorks Produce Saver
I have been an avid fan of Rubbermaid FreshWorks Produce Saverssince acquiring some of these useful containers this summer. Baby spinach is a staple in my fridge for salads and omelets and it lasts at least twice as long in my FreshWorks containers. My berries go directly from the grocery store container into my Freshworks Produce Saver as soon as I get home from the market.
It is amazing how much longer those pricey gems last using this new technology. Three new FreshWorks sizes have been introduced to the collection, one optimal for green beans, another for asparagus and a third for tomatoes! But, of course, you can store other fruits and vegetables in them, too.
More on the FreshWorks Technology:
In studies comparing strawberries in FreshWorks containers vs. store packaging, the FreshWorks containers kept the produce up to 80% longer. We've all had those strawberries that hardly last 24 hours!
These innovative containers have lids with patented FreshVent technology which regulate airflow for an optimal environment for your produce.
There's no need to wash or cut your produce before transferring it into the FreshWorks containers.
Notice that the CrispTray in the bottom of the containers helps elevate the produce away from moisture and allows for proper airflow which helps reduce spoilage.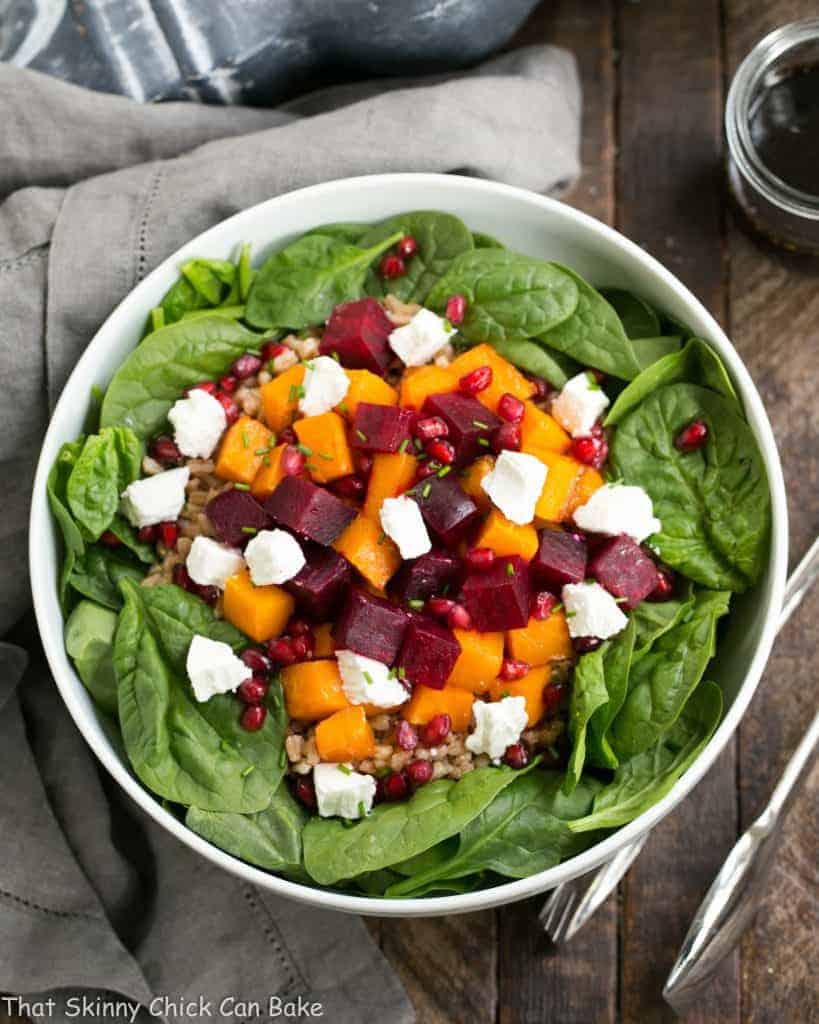 The Giveaway! (closed)
You can win your own set of Rubbermaid FreshWorks Produce Savers. Just follow the prompts in the Rafflecopter and make sure to answer the required question. This giveaway is open to those 18 and above with a US Mailing address. Good luck!
More Salad Recipes You'll Love:
Used in This Recipe: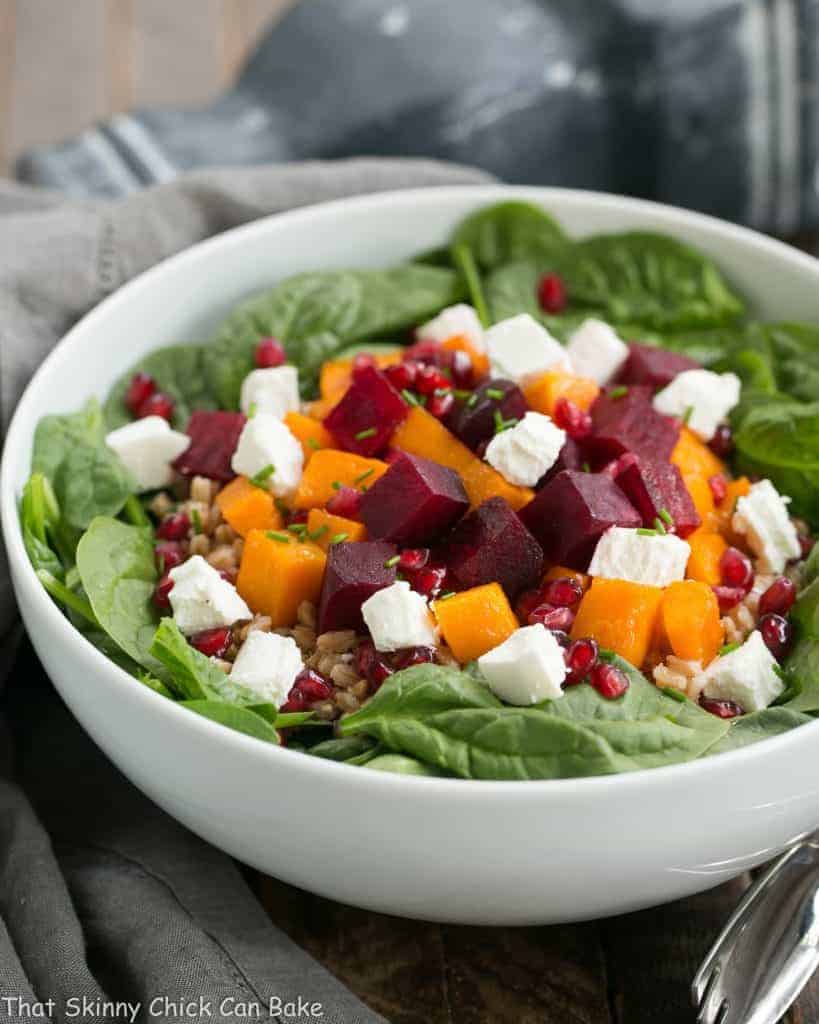 The Recipe:
Roasted Fall Vegetable Salad with Maple Balsamic Vinaigrette
Prep Time 30 minutes
Cook Time 30 minutes
Total Time 1 hour
Yield 6
Add this Roasted Fall Vegetable Salad with Maple Balsamic Vinaigrette to your autumn menu for a delicious, vibrant side dish!
Ingredients
2 medium sized beets
1 pound butternut squash, cut into ¾ inch cubes
1 tablespoon olive oil
¼ teaspoon salt
1 tablespoon maple syrup
½ cup farro
1 ½ cup chicken broth
5-ounce bag baby spinach
2-4 ounces goat cheese, cut into cubes
¼ cup balsamic vinegar
1 teaspoon Dijon mustard
1 tablespoon maple syrup
pinch of salt
¼ cup olive oil
1 tablespoon pomegranate arils, optional, to garnish
Chopped chives, optional, to garnish
Instructions
Preheat the oven to 400º.
Wrap the beets in foil and roast for about 45 minutes or until tender. When cool, peel and cut into ¾-inch chunks.
While the beets are roasting, place the butternut squash chunks on a sheet pan and toss with olive oil, maple syrup, and salt. Add them to the oven with the beets, and roast the squash for 15 to 20 minutes, turning once, until tender.
Cook the farro in chicken broth (or salted water) according to package instructions until tender. Drain any excess liquid and let cool to room temperature.
Make vinaigrette. Whisk together balsamic vinegar, Dijon mustard, maple syrup, and a pinch of salt. Slowly drizzle in olive oil, whisking constantly until emulsified.
Add some of the vinaigrette to the farro, just to moisten and add some flavor. Set aside.
Place half the spinach in a large salad bowl layer with half the farro, half the beets and squash, and half the goat cheese.
Repeat and garnish with pomegranate arils and chives if desired. Drizzle with vinaigrette and toss to serve.
Nutrition Information:
Yield:
6
Serving Size:
1
Amount Per Serving:
Calories: 303
Total Fat: 20g
Saturated Fat: 7g
Trans Fat: 0g
Unsaturated Fat: 12g
Cholesterol: 19mg
Sodium: 576mg
Carbohydrates: 23g
Fiber: 4g
Sugar: 10g
Protein: 10g
Note: This post may contain affiliate links; view
my Disclosure Policy
for details. I earn a small percentage from any purchase you make by clicking on these links at no extra cost to you.