Blue Cheese and Pear Salad
Certain foods create perfect pairings—bacon and eggs, seafood and lemon, apples and cinnamon AND pears and blue cheese. This Blue Cheese and Pear Salad is the ultimate cool weather side dish featuring fresh Bartlett pears, blue cheese, candied pecans and a delightful maple vinaigrette.
This Pear Salad with Gorgonzola is definitely a welcome addition to any menu!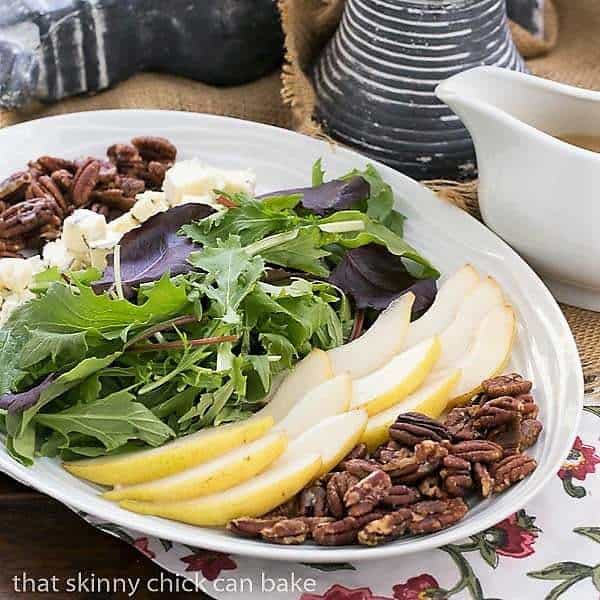 A Composed Blue Cheese and Pear Salad
When making salads for company, a composed salad creates an elegant presentation. A composed salad is basically an artfully arranged salad—whether the ingredients are aligned in rows, concentric circles or set in wedges as if divided by bicycle spokes. I selected an oval platter and lined the pecans, pears, lettuces, and blue cheese up like soldiers. Just before serving, I drizzled with the maple vinaigrette. For a weeknight meal, I'd toss all the ingredients together in a salad bowl per usual.

Winter Flavors
With pears at the peak of their season, this salad is ideal in the fall or winter. When there's nary a red tomato in sight, it's time to focus on the season's best and ripest. And a maple vinaigrette is the perfect salad dressing with a slight sweetness to play off the crisp, slightly bitter greens and tangy cheese.
Using real maple syrup is key. The mass-marketed brands with artificial maple flavoring just won't do. You can use baby spinach in place of the baby greens if you prefer, buy already candied nuts and use your favorite blue cheese. Custom make this Pear Gorgonzola Salad to your liking!
Tips for Making a Composed Fall Salad:
First, you may be wondering what constitutes a composed salad. A composed salad is arranged instead of tossed, making an impressive presentation. Here are a few tips for making the best composed salad.
You need at least 3 different ingredients to make a composed salad. Note that if you have too many ingredients, you may have difficulty fitting them all on a platter.
Pick out a platter that is big enough to hold all your ingredients arranged in sections versus tossed in a large bowl.
Once you choose your platter, consider how you will arrange your ingredients. This Blue Cheese and Pear Salad is arranged in linear sections, but you can also arrange in piles or even like bicycle spokes.
Look at the colors of your ingredients and make a plan. Alternate darker and lighter ingredients, keep the same colored ingredients apart and be mindful of separating similar shaped ingredients.
Do not add dressing, but instead pass the dressing with the salad.
Serve with a salad fork and spoon or salad tongs, so diners can pick and choose the ingredients they want on their salad.
More Winter Salads You'll Enjoy:
The Recipe:
Blue Cheese and Pear Salad Recipe
Prep Time 20 minutes
Total Time 20 minutes
Yield 4-6 servings
A lovely autumnal salad with pears, blue cheese, candied pecans and a maple vinaigrette
Ingredients
Maple Vinaigrette
1/4 cup mayonnaise
1/4 cup real maple syrup
2 tablespoons champagne vinegar
2 teaspoons sugar
1/2 cup olive oil
Salad
1 5-ounce bag of mixed baby greens
2 large, ripe Bartlett pears, halved cored and sliced thinly
1 cup cubed or crumbled blue cheese (I used Maytag, Gorgonzola works well, too)
1 cup candied pecan halves*
Instructions
To make salad dressing, whisk mayonnaise, syrup, vinegar, and sugar. Drizzle in olive oil while whisking continuously. Set aside while preparing the salad.
For a composed salad, arrange ingredients as desired on a flat serving dish. Drizzle with salad dressing and serve.
*To make one cup of candied pecans, melt 2 tablespoons butter in a skillet over medium-high heat. Add pecans and toss to coat. Add 2 tablespoons brown sugar and cook and stir till sugar melts and caramelizes. Remove to a sheet of parchment paper or non-stick foil to cool.
Notes
Pears will discolor after they are cut, so save this step until close to serving time. Alternatively, coat the pears with a little dressing to slow the oxidation.
Nutrition Information:
Yield:
6
Serving Size:
1
Amount Per Serving:
Calories: 467
Total Fat: 38g
Saturated Fat: 8g
Trans Fat: 0g
Unsaturated Fat: 28g
Cholesterol: 21mg
Sodium: 367mg
Carbohydrates: 29g
Fiber: 4g
Sugar: 21g
Protein: 7g
Note: This post may contain affiliate links; view
my Disclosure Policy
for details. I earn a small percentage from any purchase you make by clicking on these links at no extra cost to you.