Superfoods Salad with Champagne Honey Vinaigrette
This Superfoods Salad is loaded with healthy, nutritious fruits and vegetables, protein-rich quinoa, and omega-3 packed salmon!
Have you made any New Year's resolutions? I tend to eat a lot more sugar over the holidays, so incorporating Healthy Salad Recipes into our menu rotation was ideal. Scroll down to see what you can add to boost your immune system, too!
Why You Must Make
This healthy salad is highly adaptable. Add your favorite vegetables, protein sources, and greens.
It will fill you up and keep you full for hours.
There are plenty of nutrients including vitamins, minerals, protein, healthy fats, and carbohydrates.
You can easily swap out any of the ingredients like using chicken instead of salmon.
When I was returning home from Moab, Utah, this past fall, I had a layover at Denver International Airport. I needed a meal and found a healthy kiosk tucked behind a Mcdonald's. Their superfoods salad looked intriguing so I ordered it topped with chicken and savored every bite. Kale, quinoa, almonds, grapes, and more were topped with a champagne vinaigrette. I just had to make my own version at home.
This Marinated Vegetable Salad is simple and delicious, plus it's also known as a "detox" salad due to all the veggies and fiber! I hope you'll try some Healthy Salads for Dinner.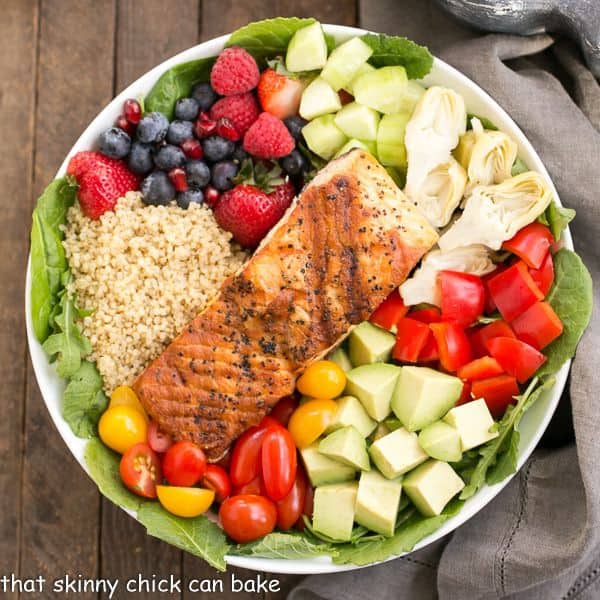 Powerhouse Food Ingredient Notes:
Kale, Spinach: A good source of folate, calcium, magnesium as well as high in Vitamin K (good for bone health), and iron. Kale has more antioxidants than most other green and one of its phytonutrients may reduce the risk of certain cancers.
Avocados: high in monosaturated fats, helps with weight loss
Red Bell Peppers: rich in lutein, zeaxanthin, and vitamin C
Salmon: High in omega-3 fatty acids which helps with brain and heart health plus salmon may help prevent skin damage from ultraviolet light as well as reduce inflammation and cancer risks.
Tomatoes: a source of lycopene, an antioxidant that helps protect your skin from sun damage and may also fight cancer and lower cholesterol
Berries: high in Vitamin C, fiber, and cancer-fighting antioxidants plus blueberries may help with memory and neutralize free radicals
Quinoa: a vegan source of protein, has ALL 9 essential amino acids
Honey: local honey may help with seasonal allergies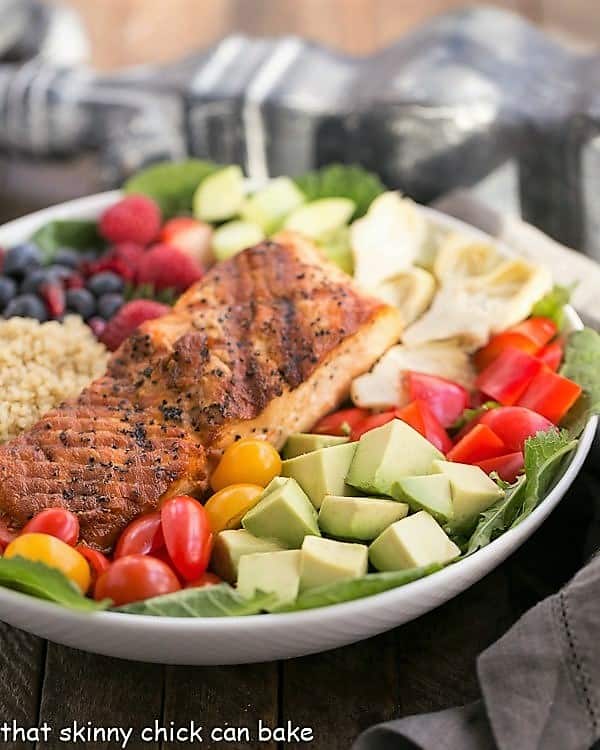 More Immune Boosting Ingredients
This time of year, colds and influenza run rampant. Foods won't necessarily prevent a viral infection, but they can definitely help keep your immune system healthy which is vital for helping you recover. And daily exercise is key, too, along with good sleep, plenty of water, and decreasing daily stressors.
Citrus Fruit like oranges, lemons, limes, grapefruit, and their juices provide vitamin C which can aid cells with clearing viruses, possibly by increasing white blood cell production. Tomatoes, cantaloupe, broccoli, kiwi, papaya, and bell peppers are also excellent sources of Vitamin C.
Elderberries are loaded with nutrients and antioxidants. Studies suggest that an elderberry concentrate may fight off the flu. 
Garlic has immune-boosting properties due to the abundance of sulfur-containing compounds, such as allicin. You must use real garlic, though, not powdered or granulated.
Ginger helps decrease inflammation which can soothe a sore throat. Add ginger to Tea, which has flavonoids, a type of antioxidant that seeks out and destroys cell-damaging free radicals for a double immune booster. Green Tea, specifically, may help with forming a compound needed for T-cells (a type of white blood cell).
Poultry and Homemade Chicken Broth or Soup are sources of Vitamin B6, which helps in the production of red blood cells. Cooking chicken to make soup draws out compounds like chondroitin and gelatin that may help with immunity.
Mushrooms, both caps, and stems, contain selenium which may lessen the severity of the flu, and niacin and riboflavin can keep your immune system healthy.
Oysters are a good source of zinc which assists in creating and activating white blood cells.
Other potential immune boosters include spinach, miso, pomegranates, yogurt (immune-boosting Vitamin D), and spinach.
Frequently Asked Questions
What Are Superfoods?
Power Foods or Superfoods are those ingredients known to have a high nutrient value per serving. Whether vitamins, minerals, protein, or fiber, there is potentially some health benefit from any ingredient labeled as a superfood.
What's In a Main Dish Salad?
Protein: This includes meat, chicken, seafood, eggs, tofu, hummus, quinoa, nuts, etc.
Fruit, Vegetables, Grains: The options are endless. A base of greens is always nice, but not necessary. Pasta, quinoa, farro, even mixed fruit can be the foundation.
Dressing: Though you can always elect to have a dry salad, the dressing provides a boost of flavor to every morsel of the salad and prevents the grains and greens from being dry and tasteless.
You May Also Like
Disclaimer: The immune-boosting suggestions come from research and personal experience. These will not prevent a viral or bacterial infection but may help keep you healthy longer or help with recovery. There is no guarantee that these foods will change any outcome of an illness. My wish for you is to stay well.
Stay in touch through social media @ Instagram, Facebook, and Pinterest. Don't forget to tag me when you try one of my recipes! And if you love the results, please give it a 5-star rating in the recipe card. Note: As an Amazon Associate, I earn from qualifying purchases. Visit my Amazon Store for my favorite products.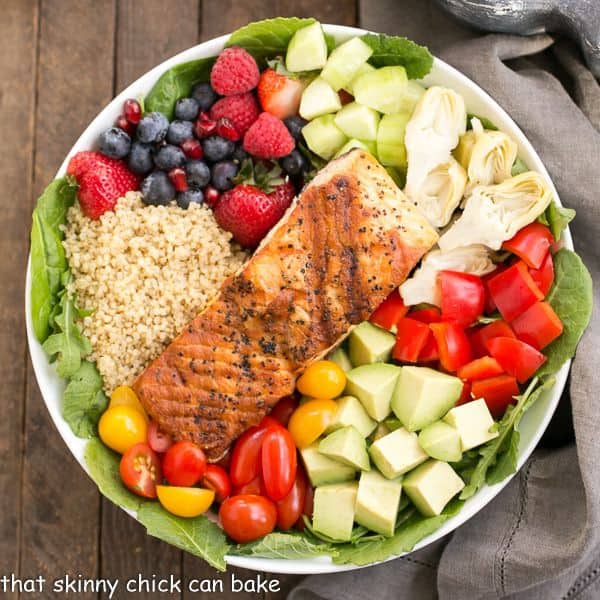 The Recipe:
Superfoods Salad with Champagne Vinaigrette Recipe
Prep Time 20 minutes
Total Time 20 minutes
Yield 3 servings
An entree salad with the benefit of many superfood ingredients
Ingredients
5 ounces of greens (I used a mixture of baby kale, spinach, and arugula)
1 cup cooked quinoa
1/2 English cucumber, peeled and chopped
1 avocado, chopped
1 red bell pepper, chopped
Grape tomatoes, cut in half
Fresh berries, whatever looks good in the market
3 6-ounce broiled salmon fillets
Marinated artichoke hearts, optional
Salad dressing:
3 tablespoons champagne vinegar
2 teaspoons Dijon mustard
2 teaspoons honey (local if available)
1/2 teaspoon salt
Black pepper, to taste
1/2 cup extra virgin olive oil
Instructions
Pick and choose the greens and superfoods you'd like in your salad.
Place greens in the bottom of a large serving bowl. Add all the rest of the ingredients.
Make the dressing by whisking together the vinegar, mustard, honey, salt, and pepper. Slowly drizzle in olive oil while whisking to emulsify.
Pour the dressing over the salad before serving. Toss and plate salad, then top with salmon.
Notes
Add or omit any of the salad ingredients. This recipe is highly adaptable to your palate.
Recommended Products
As an Amazon Associate and member of other affiliate programs, I earn from qualifying purchases.
Nutrition Information:
Yield:
3
Amount Per Serving:
Calories: 927
Total Fat: 69g
Saturated Fat: 11g
Trans Fat: 0g
Unsaturated Fat: 54g
Cholesterol: 107mg
Sodium: 593mg
Carbohydrates: 35g
Fiber: 11g
Sugar: 10g
Protein: 44g
Note: This post may contain affiliate links; view
my Disclosure Policy
for details. I earn a small percentage from any purchase you make by clicking on these links at no extra cost to you.