Summer Vegetable Salad
We had some impromptu company one Sunday night, so I threw together a refreshing, crisp Summer Vegetable Salad with what I could find in my fridge.
Learn how to make a beautiful Composed Salad with some simple tips.
Why You Must Make this Summer Salad
Summer is the best time of year to find delicious produce that's perfect for a salad.
From tender greens to ripe garden tomatoes to tender fresh sweet corn, you can use what's available to you.
Serve with your favorite salad dressing and you'll have the best summer salad of the season!
When putting together a salad, I start with the greens. We typically have a box of spinach in the fridge, so that was my base. A couple of ears of fresh corn, an English cucumber, carrots plus a juicy ripe tomato were cut into bite-sized pieces. I aim for a rainbow of veggies. A can of black beans and artichoke hearts rounded out the mix. My classic balsamic vinaigrette was drizzled atop the salad just before serving. Lots of crunch, a variety of textures and colors made for a terrific, refreshing side dish.
Ingredient Notes
Salad Dressing – Use your favorite. I've linked to my homemade balsamic vinaigrette above, plus my blue cheese and French dressings in the FAQs.
Baby Spinach – Any tough stems removed. May use baby arugula or any favorite lettuce variety.
Fresh Corn – Steamed briefly, then kernels sliced off the cob.
Tomato – Fresh garden tomato. Cubed.
English Cucumber – Half, peeled and cubed.
Artichoke Hearts – One jar of marinated artichoke hearts, drained and cut in half if needed.
Carrots – Peeled and chopped.
Black Beans – I used about half a can, drained and rinsed.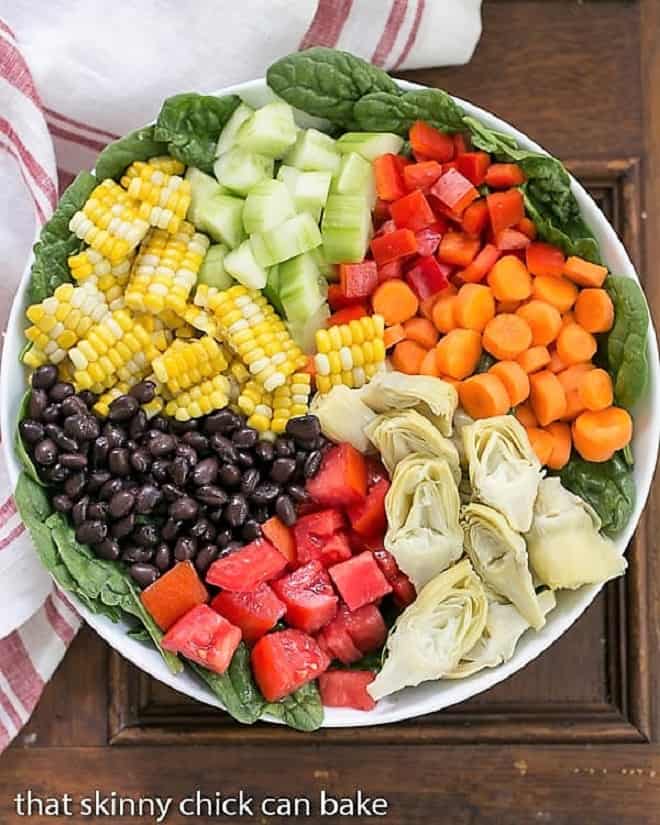 How to Make a Composed Salad
I am a fan of the composed salad. Instead of just tossing all the ingredients together in a salad bowl, the main components are artfully arranged. I like to line the ingredients in rows across a platter, but when working with a bowl, wedges seem to make more sense.
Begin with a base of greens, then decide on what goes where according to colors and shapes.
Note how the carrots and beans are rounder items and they're across from each other. The red bell peppers and the red tomatoes are also not adjacent. I thought the beans popped more when placed between the bright yellow corn and red tomatoes.
There's no real right or wrong, just use your judgment and it will be lovely!! I did notice a little pile of black beans on the hubster's plate when clearing the plates.
Shake up the ingredients any way you like. Some cheese chunks would be a great substitute for those beans. I love hearts of palm, too, and use them interchangeably with artichoke hearts.
Make sure you try my favorite balsamic vinaigrette (link in the recipe). Just make sure to use good-quality vinegar for the best results.
Frequently Asked Questions
What Ingredients Are Best for a Summer Salad?
Use the fruit and vegetables that are at their peak in the summer months. Fresh tomatoes from your garden or the farmer's market, fresh berries, peaches, corn on the cob (steamed and removed), and tender baby spinach. Add some minced fresh herbs to brighten the flavors!
What Salad Dressings Work on a Summer Salad?
I love a good, flavorful balsamic vinaigrette, but almost any favorite salad dressing will work well on a summer salad. These include French, Ranch, Blue Cheese,  and more! 
You May Also Like
The Recipe:
Summer Vegetable Salad
Prep Time 20 minutes
Total Time 20 minutes
Yield 4 servings
Summer Vegetable Salad with spinach topped with a vibrant rainbow of toppings and drizzled with a homemade balsamic vinaigrette.
Ingredients
5 ounces baby spinach, tough stems removed
2 ears of fresh corn, cooked, then kernels sliced off the cob
1 tomato, cubed
½ of an English cucumber, peeled and cubed
1 jar of artichoke hearts, drained and cut in half
1-2 carrots, peeled and chopped
Black beans, I used about half a can, drained and rinsed
Balsamic vinaigrette (see link to my recipe below) or any favorite dressing
Instructions
Place spinach in a large serving bowl.
Arrange toppings over the spinach.
Whisk Balsamic Vinaigrette and drizzle over salad before serving. Toss and serve.
Notes
Use my favorite Balsamic Vinaigrette.
Add or substitute any of your favorite seasonal salad ingredients.
Recommended Products
As an Amazon Associate and member of other affiliate programs, I earn from qualifying purchases.
Nutrition Information:
Yield:
4
Serving Size:
1
Amount Per Serving:
Calories: 195
Total Fat: 4g
Saturated Fat: 1g
Trans Fat: 0g
Unsaturated Fat: 1g
Cholesterol: 6mg
Sodium: 155mg
Carbohydrates: 37g
Fiber: 10g
Sugar: 16g
Protein: 9g
Note: This post may contain affiliate links; view
my Disclosure Policy
for details. I earn a small percentage from any purchase you make by clicking on these links at no extra cost to you.