Turtle Poke Cake
With a caramel filling and a pecan topping, this Turtle Poke Cake is a twist on my family's favorite Triple Chocolate Poke Cake. Pure decadence!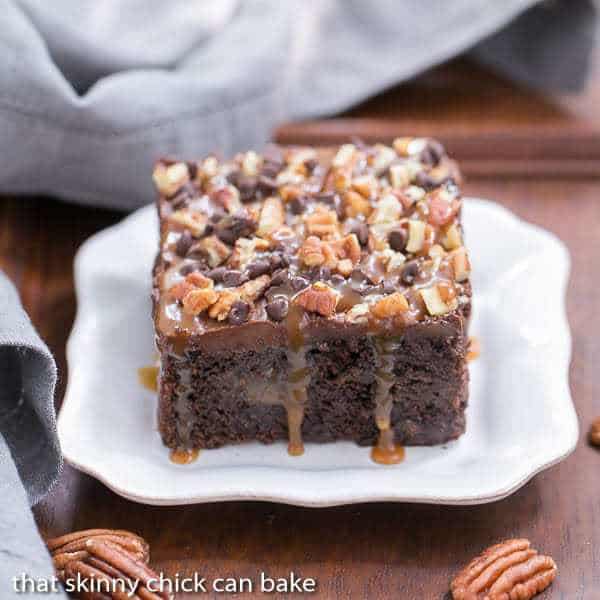 Turtle Poke Cake
I've loved turtles since I was a youngster. No, not the four-legged reptile, but instead the pecan candies with chewy caramel and chocolate. My family went crazy when I made my first poke cake and from there, the wheels started turning. How about a turtle version?
I poked holes in the baked cake and filled them with homemade caramel sauce. Followed up with a creamy chocolate buttercream and a sprinkling of pecans and chocolate chips, all the components for a turtle dessert were fulfilled. Unless you wait till the cake is fully cooled, the caramel will partially absorb into the cake, making it one of the richest, moistest chocolate cakes you'll ever encounter.
I like an additional drizzle of caramel sauce over my slice before diving in. This isn't a dessert for the faint of heart nor the calorie-conscious. I can't think of a turtle dessert that is! But it's worth the splurge.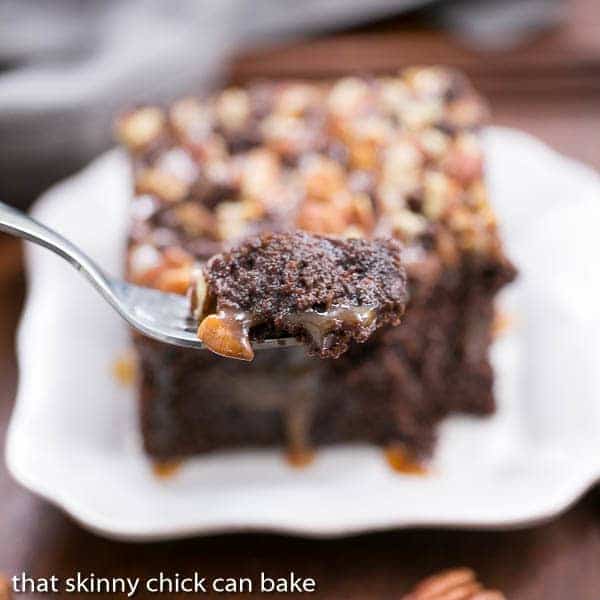 Caramel Sauce
Two batches of my Microwave Caramel Sauce will be plenty for this recipe. You'll have enough left to make a turtle sundae with some vanilla ice cream, fudge sauce, and toasted pecans. You can certainly use jarred caramel sauce but buy a premium brand. Check the ingredients and look for sugar, cream, vanilla, etc. You definitely want to avoid any artificial flavorings. Be forewarned, this turtle poke cake is hard to cut into beautiful slices. I refrigerated first, but it tastes best if left out on the counter for a bit before serving. But I don't think anyone would complain if you used a spoon and scooped out a generous portion!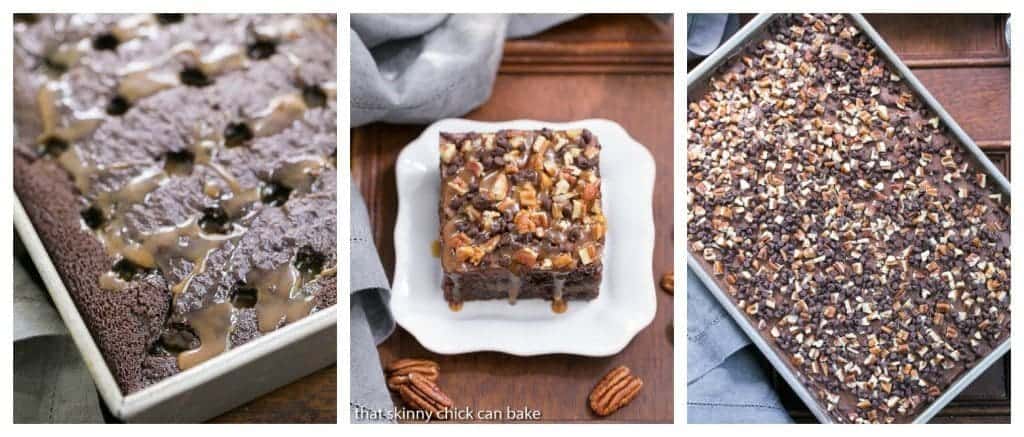 You'll Need:
More Poke Cakes:
Needless to say, my kids (and they're BIG kids now) loved this Turtle Poke Cake. I won't deny that they all scraped off the pecans, but that's a given around here.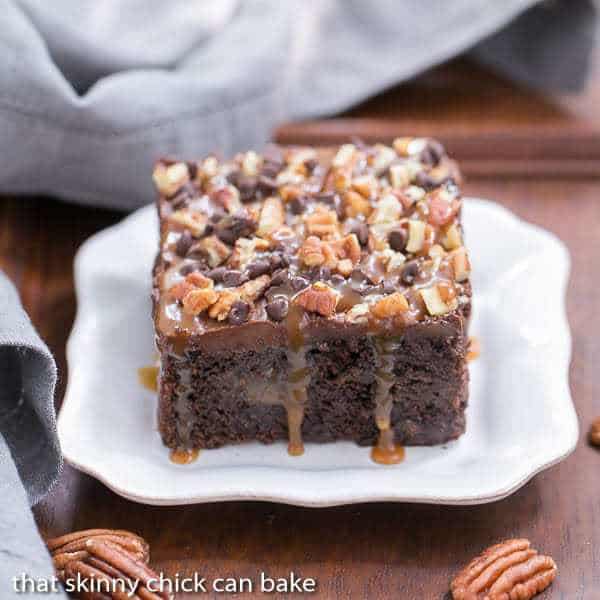 The Recipe:
Turtle Poke Cake
Prep Time 30 minutes
Cook Time 40 minutes
Total Time 1 hour 10 minutes
Yield 24 servings
A moist chocolate cake saturated with caramel sauce and finished off with chocolate buttercream, pecans, and chocolate chips.
Ingredients
Cake:
1 ¾ cup flour
1 ¾ cups sugar
¾ cup unsweetened cocoa
2 teaspoon baking powder
1 teaspoon baking soda
½ teaspoon salt
2 eggs
1 cup coffee, cooled
1 cup buttermilk
½ cup vegetable oil
1 teaspoon vanilla
Filling:
1 ½ -2 cups caramel sauce (I used my homemade microwave caramel sauce, but any good quality store-bought is fine)
Frosting:
½ cup butter (1 stick), at room temperature
⅔ cup cocoa powder
1 teaspoon vanilla
3 cups powdered sugar
⅓ cup milk
Garnish:
1 cup chopped pecans
½ cup mini chocolate chips
Caramel sauce to drizzle over slices, optional
Instructions
Spray a 9 x 13-inch pan with non-stick cooking spray. Set aside.
Preheat oven to 350º.
In a large mixing bowl or bowl of a stand mixer, combine flour, sugar, cocoa, baking soda, and baking powder.
In a large Pyrex measuring cup or medium mixing bowl, whisk together eggs, coffee, buttermilk, vegetable oil, and vanilla.
Add the liquids to the dry ingredients and beat for a couple of minutes, scraping down the sides as needed. Pour cake batter into the prepared pan and bake for 30-40 minutes or until a toothpick inserted into the center comes out clean.
When the cake is done, let cool on a wire rack for about 5 minutes. Then take a wooden spoon and using the handle end, poke rows of holes across the cake. Pour caramel sauce into the holes. Reserve any leftover sauce to use as a garnish. Cool to room temperature before frosting.
To make the frosting, beat together butter and cocoa. Add vanilla and mix well. Then alternate adding milk and powdered sugar till all is incorporated and the mixture is smooth. Frost cake.
Sprinkle cake with pecans, then chocolate chips.
To serve, cut slices and drizzle with caramel sauce.
Notes
This is a moist and gooey cake. You may want to refrigerate to make it easier to slice.
Nutrition Information:
Yield:
24
Serving Size:
1
Amount Per Serving:
Calories: 391
Total Fat: 14g
Saturated Fat: 4g
Trans Fat: 0g
Unsaturated Fat: 9g
Cholesterol: 26mg
Sodium: 341mg
Carbohydrates: 66g
Fiber: 2g
Sugar: 55g
Protein: 4g
Note: This post may contain affiliate links; view
my Disclosure Policy
for details. I earn a small percentage from any purchase you make by clicking on these links at no extra cost to you.