Chocolate Kahlua Poke Cake
Chocolate Kahlua Poke Cake: This tender, moist chocolate cake is infused with a rich Kahlua spiked custard and topped with chocolate whipped cream. A chocolate lover's dream cake!
The retro poke cake is back with a vengeance! This is not my mother's version with a white cake mix and box of Jello, but a Moist Chocolate Cake Recipe from scratch that will wow your friends and family.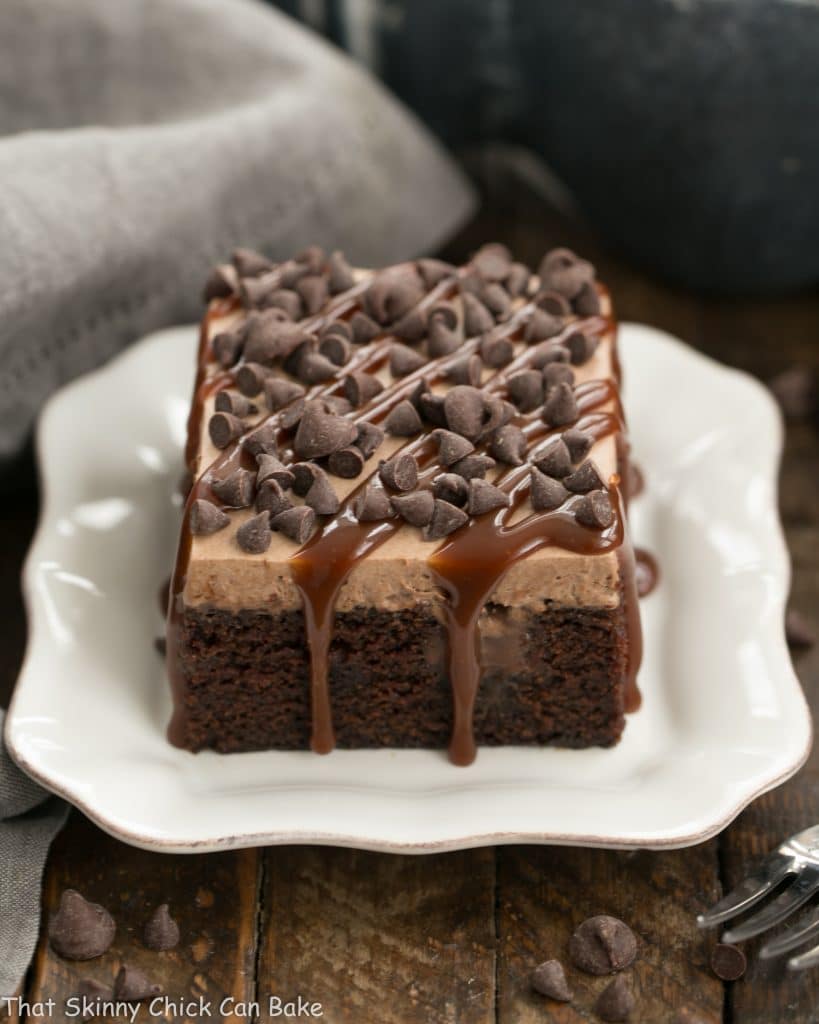 Why You Must Make
You may have guessed by now that the hubby loves chocolate. Plain ol' chocolate desserts like nut-free brownies, chocolate mousse, and chocolate cake. Though he's not a fan of coffee or any hint of coffee flavor in his desserts, there are exceptions like this dreamy chocolate Kahlua poke cake.
This poke cake is made from scratch! No Cool Whip, no box cake mix. 
Kahlua is a coffee liqueur that enhances the chocolate flavor of desserts in a much more subtle way than adding strong brewed coffee, instant coffee, or espresso powder. But even though the picky hubby noticed the coffee flavor in this dessert immediately, he was still a fan. The chocolate flavor trumped all.
This cake feeds a crowd without all the work of making a layer cake.
How to Make
A poke cake garners its name from the holes poked into the freshly baked cake which become receptacles for various filling options. Originating in the 1970s, the flavor combinations are endless!
A poke cake typically starts with a regular cake baked in a 9 x 13 inch pan. A box cake mix is an easy shortcake.
When the cake comes out of the oven, "holes" need to be poked in the cake so a filling can be poured over the top and be absorbed by the cake. This makes a moist cake even moister!
Use the handle of a wooden spoon to poke holes in the cake. I like a round handle that pokes circular holes.
My first poke cake was a Jello version, a very retro treat from the '70s. Jello was the liquid that was poured over the poked white cake and created a vibrant pattern throughout the cake!
Besides Jello, many poke cake fillings start with a can of sweetened condensed milk that's doctored up to coordinate with the cake's flavor or theme. My chocolate Kahlua poke cake filling had melted chocolate chips mixed into the canned milk.
A topping is optional. Often the Jello version would be topped with Cool Whip, but I prefer real whipped cream, again, flavored to coordinate with the cake and filling combination.
Feel free to invent your own poke cake! The options are only limited by your imagination.
Frequently Asked Questions
What Does Poke Cake Mean?
A poke cake is a cake that is baked, then poked full of holes before being drenched with something sweet, syrupy, creamy, or colorful. This helps to make a super moist cake.
How Do You Poke a Poke Cake?
There are at least two options. One is to use the handle of a wooden spoon to poke larger holes across the surface of the cake. This is good when using a thicker, custardy liquid to pour over the cake. You can also use a fork to poke many more, smaller holes when using something like liquid Jello to infuse into the cake.
How Do You Store a Poke Cake?
Do not store at room temperature or the texture will suffer. Store your covered poke cake in the refrigerator for 3-4 days. Jello poke cakes will keep up to a week. You can also freeze a jello poke cake, but I haven't tested this one that uses sweetened condensed milk.
You May Also Like: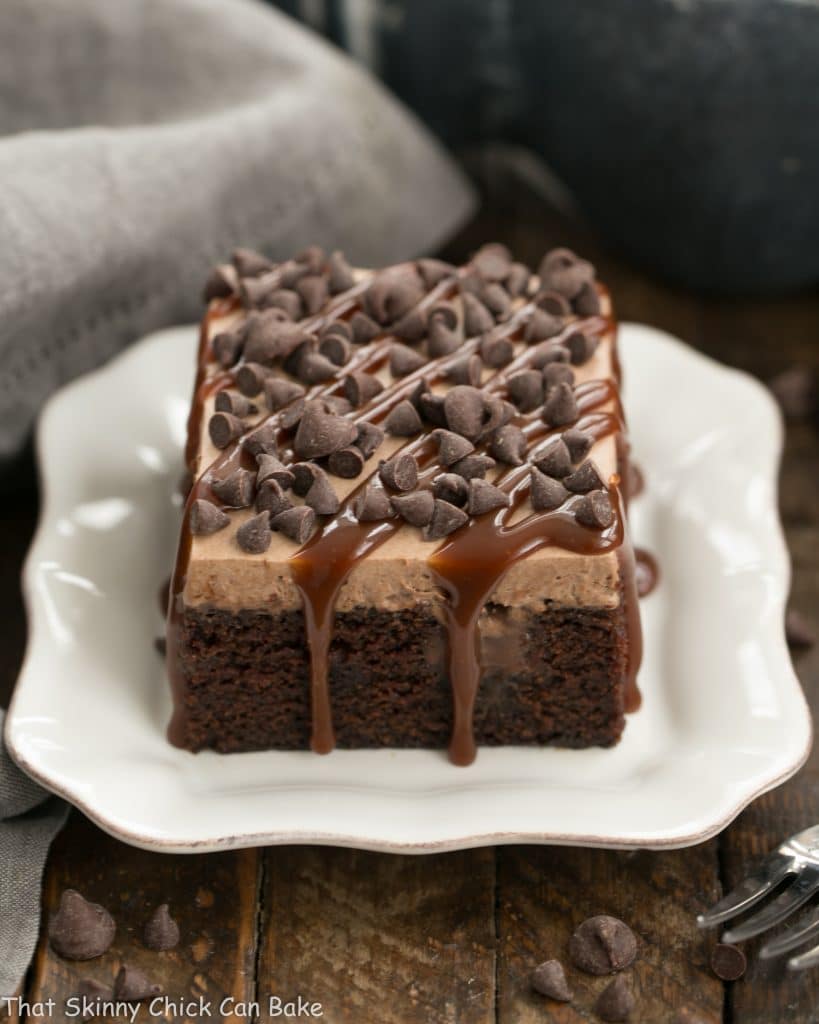 The Recipe:
Chocolate Kahlua Poke Cake
Prep Time 30 minutes
Cook Time 45 minutes
Total Time 1 hour 15 minutes
Yield 24 servings
A tender, moist chocolate cake is infused with a rich Kahlua spiked custard and topped with chocolate whipped cream.
Ingredients
For Cake:
2 cups flour
2 cups sugar
3/4 cup cocoa powder
2 tsp baking soda
1 tsp salt
2 large eggs
3/4 cup milk
1 cup vegetable oil
1 cup Kahlua (or your favorite coffee liqueur), divided
1 tsp vanilla
3/4 cup boiling water
1 teaspoon espresso powder or 2 teaspoons instant coffee
1 cup sweetened condensed milk
3/4 cup semi-sweet chocolate chips
Whipped Cream Topping:
2 cups heavy cream
3/4 cup powdered sugar
1/4 cup cocoa powder
1/2 teaspoon vanilla
To serve:
Fudge sauce
Chocolate chips
Instructions
Spray a 9×13 inch pan with flour and oil baking spray (I use Bakers Joy). Preheat oven to 300°.
Add all dry ingredients to a large bowl and whisk to combine.
Add eggs, milk, vegetable oil, half of the Kahlua, and vanilla to the dry ingredients and mix well.
Mix the espresso powder or instant coffee into the boiling water. Stir, then carefully add the water and mix until combined.
Pour the batter into the prepared pan and bake for 40-45 minutes, or until a toothpick comes out with a few crumbs.
Remove the cake to a cooling rack and poke holes across the surface of the cake using the handle end of a wooden spoon.
While the cake is cooling, pour the sweetened condensed milk and remaining Kahlua into a large Pyrex measuring cup or microwave-safe bowl. Microwave until the mixture starts to boil, remove from microwave and add the chocolate chips.
Let set for a few minutes, then whisk the chocolate until smooth. Pour over the cake making sure to fill all the holes.
Set the cake in the fridge to cool and soak.
When the cake has cooled, add the ingredients for the whipped cream topping to a large mixer bowl. Whip on high speed until stiff peaks form.
Spread the whipped cream evenly over the cake. Top the cake with mini chocolate chips and a drizzle of chocolate sauce, if desired.
Keep refrigerated.
Nutrition Information:
Yield:
24
Serving Size:
1 slice
Amount Per Serving:
Calories: 405
Total Fat: 21g
Saturated Fat: 8g
Trans Fat: 0g
Unsaturated Fat: 12g
Cholesterol: 43mg
Sodium: 241mg
Carbohydrates: 47g
Fiber: 1g
Sugar: 36g
Protein: 4g
Note: This post may contain affiliate links; view
my Disclosure Policy
for details. I earn a small percentage from any purchase you make by clicking on these links at no extra cost to you.