Korean Pork Bulgogi
My family goes nuts for this Pork Bulgogi Recipe, an easy Korean stir fry with amazing flavors! The Bulgogi Sauce is fantastic!
My hubby did not grow up with any ethnic foods other than the occasional pizza. I'm glad I've swayed him over to loving other cuisines, like this quick and scrumptious Korean Bulgogi.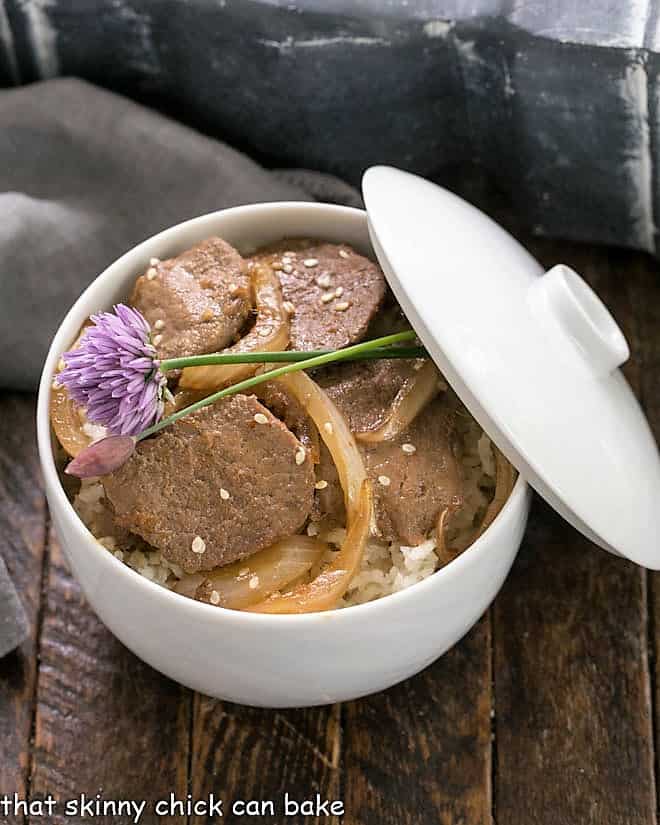 Why You Must Make
Bulgogi is a quick, flavorful, and delicious dinner recipe.
It's a lovely introduction to Korean food.
You can easily adjust the heat from mild to spicy.
I've made it with pork, chicken, and beef and it's always a hit!
Check out my Beef Bulgogi for another delicious meal! And these Quick and Easy Asian Take Out Recipes you can make at home.
Ingredient Notes
Kitchen Staples – Soy Sauce, Sugar, Garlic, Onion, Ground Black Pepper
Pork Tenderloin – It's easy to slice thin when still slightly frozen
Sesame Oil – Adds another delicious layer of Asian flavor
Pork Tenderloin – sliced wafer thin (easy to do when partially frozen)
Fresh Ginger – Grated. Peel and run across a box grater.
Sherry or Sake – Alcohol is a flavor enhancer and most will evaporate during the cooking time.
Red Pepper Flakes – Adjust the amount depending on how much heat you want.
Sesame Seeds – A sprinkle is a nice garnish, especially when serving to guests.
Peanut Oil – Good for frying at higher heat. Or use canola oil.
Expert Tips
Norm's recipe was published in Everyday Food Magazine, and after making it the first time, I can see why it was selected. Here are some tips for making this Korean stir fry.
The EDF magazine editors changed the cut of pork to tenderloins from a fattier cut of pork. Tenderloins are leaner and really simple to cut into thin medallions.
PRO-Tip: I like to slice while the pork is still slightly frozen, which makes it easier to make very thin slices.
Cook quickly and in small batches tp brown the meat instead of steaming it.
If you have a (affiliate link) wok, it's perfect for this dish. I just use a large saute pan.
When making a stir fry, cook it in small increments. Add some of the pork and onion mixture to your hot oil, cook, then remove to a serving bowl before adding more pork.
PRO-Tip: If you want more or less heat, adjust the amount of red pepper flakes.
If you're trying to follow a low-carb diet, serve this pork in lettuce leaves instead of on rice.
Sprinkle your pork with sesame seeds for an elegant finishing touch! Flowering chives are a gorgeous addition if your garden is in bloom when you make this!
Frequently Asked Questions
What is Pork Bulgoge or Bulgogi?
Bulgogi (bool-GOH-gee) translates to fire meat in Korean and is usually made with pork or beef. Thin, marinated slices of meat are cooked on a barbecue or stovetop.
What is in Bulgogi Sauce?
The sauce is a combination of the marinade and the juices exuded from cooking the pork and onions. The marinade provides flavors of garlic, ginger, soy sauce, sherry, sesame oil, and red pepper flakes.
What Do You Serve with Bulgogi?
Bulgogi and its tasty sauce are best served with white rice to soak up the juices. Offer a vegetable side dish like asparagus, broccoli or broccolini, snow peas, or sugar snap peas.
What Cut of Meat Is Best for Bulgogi?
Use a tender cut of meat for the tastiest results. Pork tenderloin is perfect for this version and rib eyes or beef tenderloin is ideal for beef bulgogi.
How Should You Eat Pork Bulgogi?
You can eat bulgogi with a knife and fork, but chopsticks are also appropriate.
You May Also Like: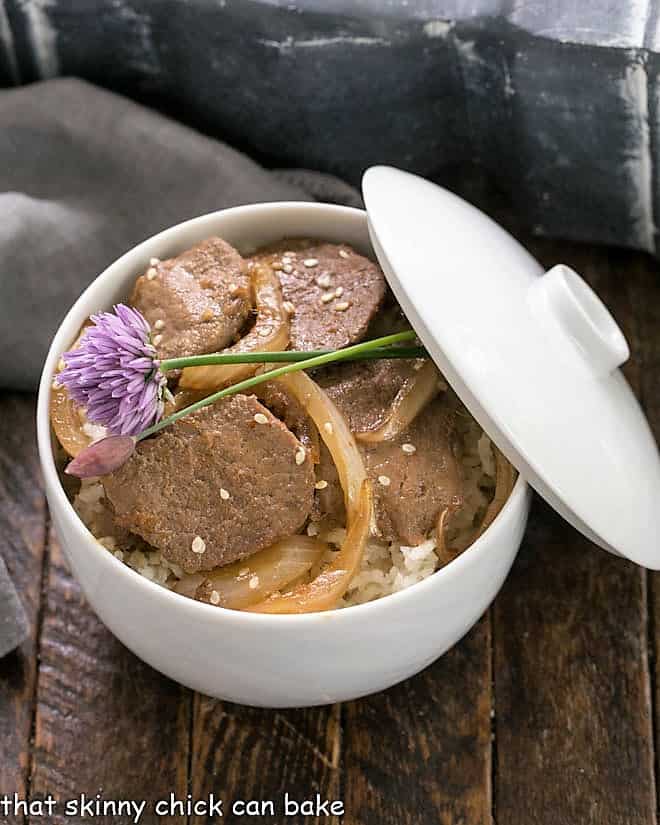 Prep Time 20 minutes
Cook Time 20 minutes
Total Time 40 minutes
Yield 4 servings
A flavorful Korean stir fry that comes together in minutes!
Ingredients
1 pound pork tenderloin (sliced wafer thin (easy to do when partially frozen))
1/4 cup soy sauce
2 tablespoons sugar
2 tablespoons sesame oil
1/4 teaspoon freshly ground black pepper
4-6 cloves garlic (minced)
2 tablespoons freshly grated ginger
2 tablespoons dry sherry or sake
2 teaspoons red pepper flakes (I cut it down to 1/2 teaspoon)
1 large onion (cut into 12ths)
Toasted sesame seeds to garnish (optional)
Peanut oil
Instructions
Mix all ingredients except peanut oil and sesame seeds. Set aside to marinate at least 10 minutes.
In wok or large skillet, heat oil.
Add marinated meat/onions in batches, frying till no longer pink. Remove each batch to a plate as it's cooked, then cook the next batch.
When all the pork is cooked, return meat to pan to reheat.
Serve over rice with a garnish of sesame seeds if desired.
Notes
Recipe courtesy of my friend, Norm Matthews
Nutrition Information:
Yield:
4
Serving Size:
1
Amount Per Serving:
Calories: 521
Total Fat: 30g
Saturated Fat: 8g
Trans Fat: 0g
Unsaturated Fat: 20g
Cholesterol: 100mg
Sodium: 990mg
Carbohydrates: 17g
Fiber: 2g
Sugar: 8g
Protein: 34g
Note: This post may contain affiliate links; view
my Disclosure Policy
for details. I earn a small percentage from any purchase you make by clicking on these links at no extra cost to you.