The Best Pork Marinade
Years ago, I discovered the tastiest Best Pork Marinade for grilling made with fresh lemon juice, soy sauce, and Dijon mustard. It quickly became our go-to pork tenderloin recipe for company.
When I found some beautiful frenched pork chops, I turned to this terrific pork marinade recipe to infuse delicious flavor into every morsel.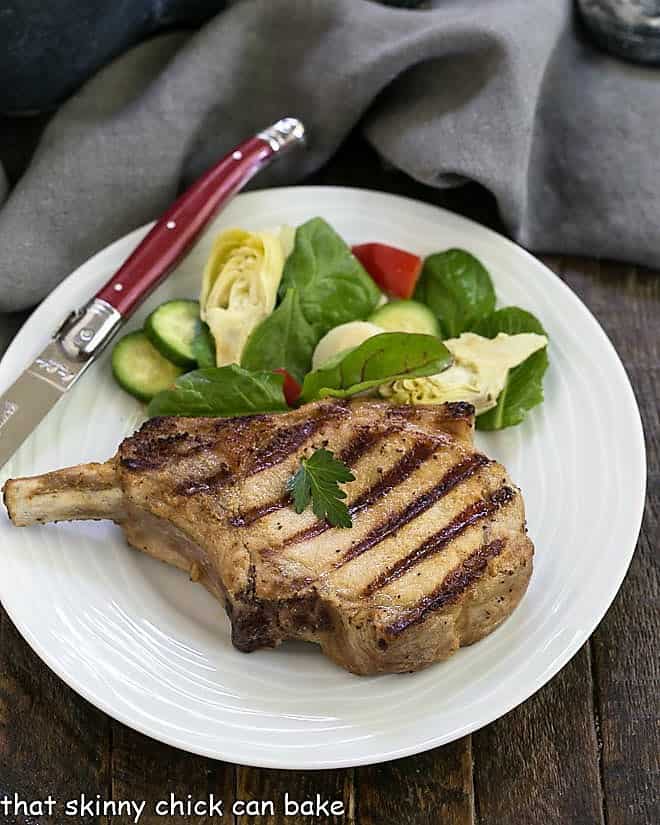 Why You Should Make this Pork Marinade
There's something about this combination of flavors in this pork chop marinade that works so well. It's a magical mixture! Make sure to marinate your pork overnight for the best flavor absorption. But getting your pork into this marinade early in the morning, then grilling that evening works well, too.
Let's go through each ingredient in this flavor-packed marinade one by one:
PRO-Tip: Dry white wine is a flavor enhancer. Like salt, alcohol boosts the taste of a dish. Since the pork will be grilled, almost all of the alcohol will be cooked off. I keep a bottle of dry vermouth in the fridge for when I don't have a bottle of white wine open.
Vegetable oil helps to add moisture and lessen the chance of the pork sticking to the grill.
Dijon mustard adds some piquancy to balance the other flavors.
PRO-Tip: Soy sauce provides that saltiness that also enhances the other ingredients, but also has "umami," that meaty taste that deepens the intensity of the flavors.
Fresh lemon juice provides the acid to tenderize the pork allowing the other ingredients to absorb into the meat more easily. Bottled lemon juice should never be substituted due to its inferior quality.
Onion is the aromatic that's key to flavoring so many savory recipes. Plus, onions contain proteolytic enzymes which also aid in tenderizing the pork.
Celery seed and black pepper are two seasonings that help perk up the marinade. No salt is needed due to the sodium in the soy sauce.
If you enjoy this marinade, here is an Easy Pork Tenderloin Marinade we also love.
A Versatile Pork Marinade Recipe
As mentioned above, at first this best pork marinade recipe was primarily used for pork tenderloin and was fed to many sets of dinner guests over the years. During the summer, when the weather is ripe for grilling, we marinate and grill some sort of pork a few times a month. And nine times out of ten, it's this marinade recipe that's used.
When we have dinner guests, I need to rack my brain wondering whether I've served this marinade to them before. If we haven't, it's a no-brainer to add grilled marinated pork to our menu. It's a fabulous way to transform ordinary chops into a company-worthy entree.
What Does it Mean to Marinate?
To marinate is to soak a food in a seasoned liquid called a marinade. Meat, chicken, seafood, and vegetables can all be marinated. The time in the marinade depends on the heartiness of the food substance, beef taking more time and tender seafood less time. Through the process of osmosis, flavor is absorbed plus marinades containing acid will tenderize.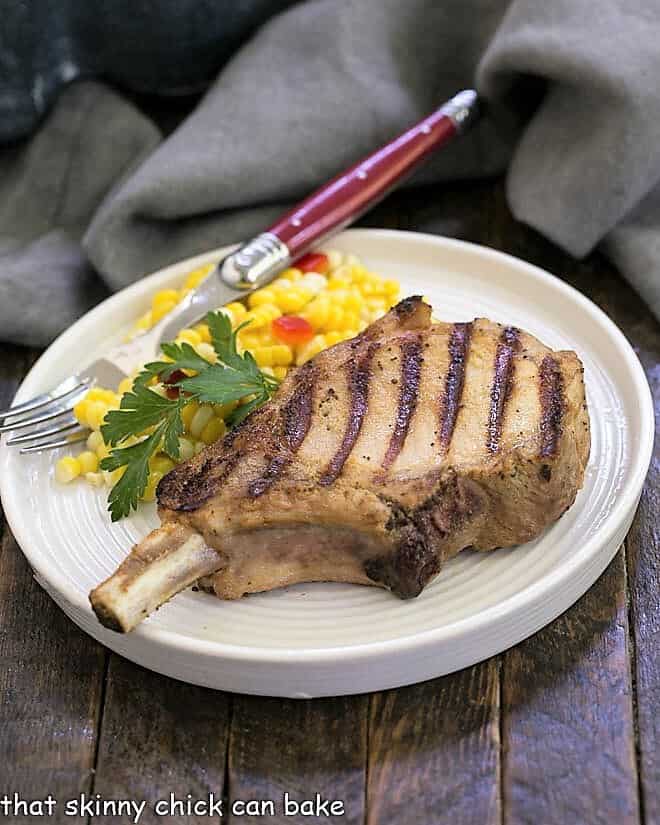 What to Serve with these Pork Chops
Plus More Pork Recipes You'll Love: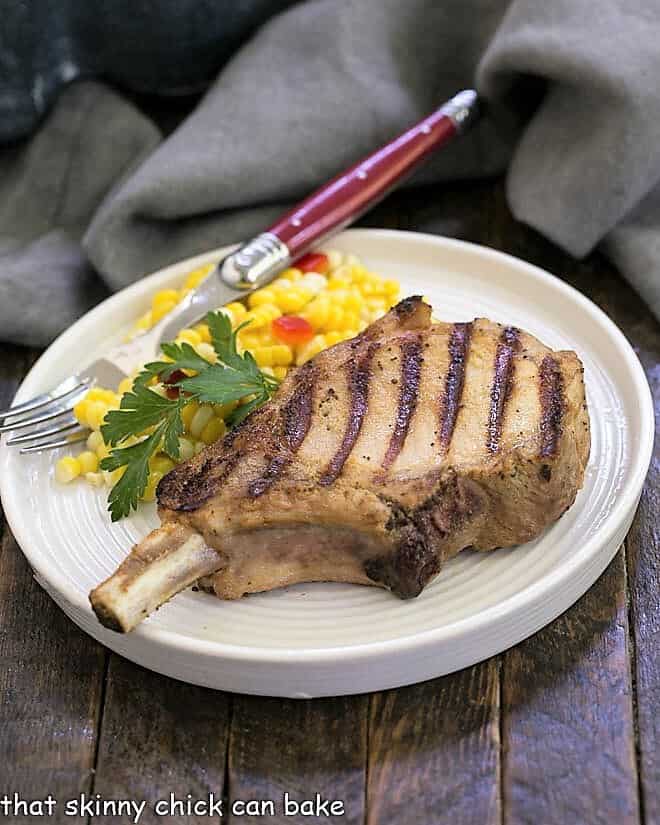 The Recipe:
The Best Pork Marinade
Prep Time 5 minutes
Cook Time 15 minutes
Total Time 20 minutes
Yield 6 servings
A delicious marinade that transform pork chops, pork tenderloin or a pork roast into a magnificent, flavorful entree.
Ingredients
1/2 cup dry white wine
2 tablespoons vegetable oil
6 tablespoons Dijon mustard
2 tablespoons soy sauce
2 tablespoons fresh lemon juice
2 tablespoons minced onion
1/2 teaspoon celery seed
1/2 teaspoon black pepper
6 pork chops or 3 pork tenderloins (trimmed)
Instructions
Add all ingredients except the pork to a gallon Ziploc bag. Seal and agitate until the mustard is incorporated.
Add your pork chops, remove excess air from the bag, and seal.
Refrigerate overnight, turning occasionally.
Grill pork chops or pork tenderloin to an internal temperature of 145 degrees.
Place on cutting board and cover with foil. Allow to rest 10 minutes before serving or slicing.
Notes
Adapted from Creme de Colorado cookbook.
Nutrition Information:
Yield:
6
Serving Size:
1 chop
Amount Per Serving:
Calories: 463
Total Fat: 24g
Saturated Fat: 6g
Trans Fat: 0g
Unsaturated Fat: 14g
Cholesterol: 163mg
Sodium: 809mg
Carbohydrates: 3g
Fiber: 1g
Sugar: 1g
Protein: 52g
Note: This post may contain affiliate links; view
my Disclosure Policy
for details. I earn a small percentage from any purchase you make by clicking on these links at no extra cost to you.