Pulled Pork Sandwich
This flavorful Pulled Pork Sandwich recipe is infused with deliciousness from a simple rub then slow-cooked in the oven until incredibly tender. Follow the tips to make a fall apart it's the perfect tutorial for How to Make Pulled Pork Sandwiches.
This is the Best Pulled Pork Recipe and has been my go-to version for nearly a decade. The shredded pork is scrumptious served as a sandwich but leftovers can be utilized in all sorts of family-friendly recipes, from nachos to casseroles. It's the perfect dinner on game day, too.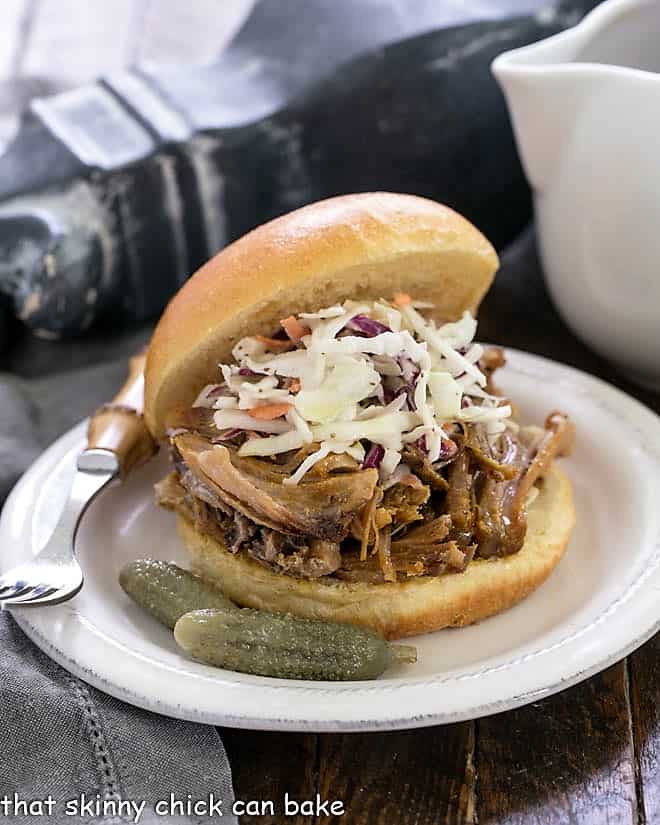 Why You Must Make
Why, oh why, did it take me so long to make pulled pork???? Maybe it's that I'm not a huge fan of BBQ sauce. Maybe it's the icky Liquid Smoke called for in some recipes.
This was the pulled pork recipe that clinched the deal. I now love pulled pork.
The aroma in the kitchen as this cooked for 6 hours was absolutely incredible. It was hard not to nibble a whole meal's worth of pork while shredding it.
Piled on a bun, and topped with coleslaw made marvelous pulled pork sandwiches!
Leftovers can be frozen and used for other meals (see ideas below).
What to Serve with Pulled Pork
I obviously love the combination of the rich pork with a fresh, crisp cabbage salad, but there are some other classic pairings with pulled pork.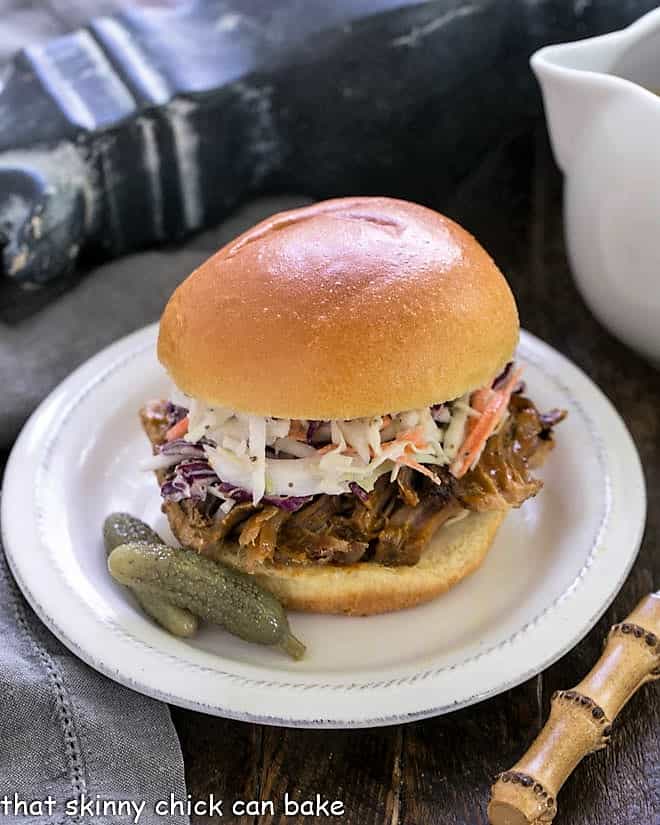 Expert Tips
I love making a pulled pork sandwich with the optional topping of coleslaw, but there are marvelous ways to use the leftover pork. With a 6-pound Boston butt roast, there are bound to be a few leftovers.
PRO-Tip: Coleslaw is always a fabulous topping unless you're my picky husband! Bill looked at me like I was crazy when I told him the coleslaw was to go on top of the pork. He wasn't having any of that, but he did eat it on the side. The cool creamy dressing is a delicious contrast to the hot barbecue pork.
A tender brioche bun is my favorite vehicle for the BBQ pork, but regular hamburger buns or even sandwich bread is fine.
This pulled pork is made in the oven is served with a sauce made from pan drippings. It's perfect to coat all the pieces of pork. If you have a favorite brand or homemade BBQ sauce, it's nice to offer that as another topping. Or just use more of the pan sauce.
The picky offspring did not partake of the slaw either, though the boys also enjoyed their pulled pork sans cabbage. I thought this BBQ pork recipe was terrific with my tried and true coleslaw with a light buttermilk dressing.
I think this will become a new Memorial Day tradition; these pulled pork sandwiches offer the perfect combination of textures and flavors!
There are numerous options for shredded pork leftovers. They make terrific tacos! Layer the pulled pork with your favorite taco fixings like shredded cheddar cheese, lettuce, diced tomatoes, and salsa onto your tortillas.
Make burrito bowls, quesadillas, nachos, lettuce wraps, or any favorite casserole with pulled pork in place of chicken or ground beef!
You can also freeze leftover pulled pork. Add the pork and enough sauce to coat it into a freezer-safe Ziploc bag. Remove excess air and write the date on the bag. Freeze for up to 3 months.
Pulled pork will be fine in the refrigerator for 3-4 days if handled properly and not left out on the counter for more than 2 hours.

Frequently Asked Questions
What is the best cut of meat for pulled pork?
You will want a cut of pork with lots of fat and connective tissue. The shoulder has two optimal cuts, the picnic cut or the Boston butt. The long, slow cooking time allows the fat to melt away and the connective tissue to tenderize. You can use a lean cut like pork tenderloin, but it won't be nearly as flavorful due to the lean nature of the cut.
How do you make pulled pork?
Start with a flavorful rub. Either purchase a ready-made rub or make my easy rub recipe. Smear it all over the pork roast, cover with plastic wrap and refrigerate for at least an hour or overnight. The longer time allows the rub to infuse into the pork like a dry brine.

This recipe requires 6 hours in the oven, plus time for the meat to cool slightly before shredding, so plan your cooking time accordingly. Place the pork in a covered Dutch oven and cook at 300º unless otherwise directed. It's done when you can easily shred the meat with a couple of forks. Low and slow is key. Alternatively, you can make pulled pork in your slow cooker (5-6 hours on high or 10-11 hours on low).
How do you shred cooked meat?
Once the meat has cooled slightly, remove it to a large cutting board. Cut the roast into a few large pieces, then take two forks, and pull in opposite directions. Continue the process until all the meat is shredded. Discard any pieces of fat.

An alternative method that I haven't tested is to put the still-warm meat in your stand mixer fitted with the paddle attachment. Make sure all the pieces are about the same size. Mix, pulling out the pieces that are shredded to the desired size, and continue mixing until all the meat is shredded.

I like having a few larger pieces of pork, but if you'd like thinner, more shredded pork, keep pulling until all the meat is well-shredded.
You May Also Like:
Stay in touch through social media @ Instagram, Facebook, and Pinterest. Don't forget to tag me when you try one of my recipes! And if you love the results, please give it a 5-star rating in the recipe card. Note: As an Amazon Associate, I earn from qualifying purchases. Visit my Amazon Store for my favorite products.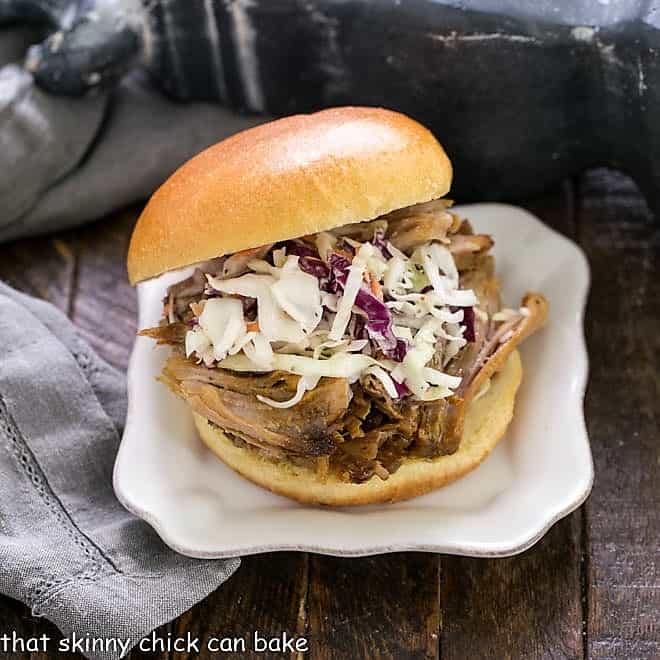 The Recipe:
Pulled Pork Sandwiches
Prep Time 30 minutes
Cook Time 7 hours
Total Time 7 hours 30 minutes
Yield 12 servings
Perfect pulled pork adapted from Tyler Florence
Ingredients
Dry Rub:
3 tablespoons paprika
1 tablespoon garlic powder
1 tablespoon brown sugar
1 tablespoon dry mustard
3 tablespoons kosher salt
6-pound Pork shoulder roast
Cider-Vinegar Barbecue Sauce:
1 ½ cups cider vinegar
1 cup yellow or brown mustard
½ cup ketchup
⅓ cup packed brown sugar
2 garlic cloves, smashed
1 teaspoon kosher salt
½-1 teaspoon cayenne
½ teaspoon freshly ground black pepper
Pan drippings from the pork
Instructions
Mix together the rub ingredients then sprinkle and rub all over pork. Cover and refrigerate for at least 1 hour, or up to overnight.½⅓
Preheat the oven to 300º. Put the pork in a coved Dutch oven and roast it for about 6 hours or until it's falling apart.
While the pork is roasting, make the barbecue sauce.
Combine the vinegar, mustard, ketchup, brown sugar, garlic, salt, cayenne, and black pepper in a saucepan and simmer for 10 minutes until the sugar dissolves, stirring occasionally.
Remove from burner and allow to cool to room temperature.
When the pork is done, take it out of the oven and allow it to rest for about 10 minutes.
Pour about a half-cup of very hot water into the pan and whisk to bring up all the crusts and juices. Pour that into the saucepan with the sauce and cook 5 minutes.
While the pork is still warm, shred the meat using two forks (remove obvious fat).
Put the shredded pork in a bowl and pour half of the sauce over. Stir it all up well so that the pork is coated with the sauce.
To serve, spoon the pulled pork mixture onto the bottom half of each hamburger bun, and top with some coleslaw, if desired. Serve the remaining sauce on the side.
Notes
If your juices are too fatty for your liking, you can use a fat separator to remove some of the fat before making the sauce. A fat separator is terrific for making turkey gravy, too.
Recommended Products
As an Amazon Associate and member of other affiliate programs, I earn from qualifying purchases.
Nutrition Information:
Yield:
12
Serving Size:
1
Amount Per Serving:
Calories: 742
Total Fat: 51g
Saturated Fat: 18g
Trans Fat: 0g
Unsaturated Fat: 28g
Cholesterol: 210mg
Sodium: 2245mg
Carbohydrates: 12g
Fiber: 2g
Sugar: 8g
Protein: 56g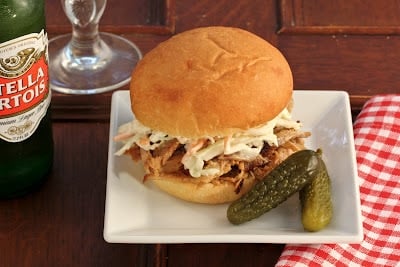 Note: This post may contain affiliate links; view
my Disclosure Policy
for details. I earn a small percentage from any purchase you make by clicking on these links at no extra cost to you.