Buttermilk Corn Muffins
Tender, delicious Buttermilk Corn Muffins with enough sweetness to make them irresistible! So versatile and quick to throw together.
Cornbread Muffins are an easy side when serving a game day bowl of chili or a speedy breakfast smeared with butter and jam.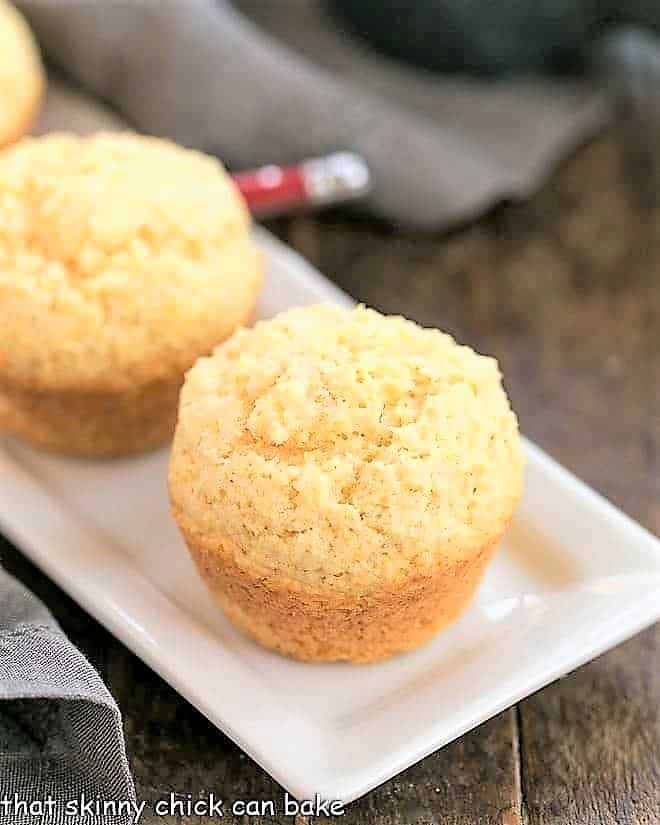 Why You Must Make
This is an old Ina Garten recipe from before she had a TV show. It was published in House Beautiful magazine many years ago. It is not in any of her nine cookbooks.
Ina made it in a casserole dish, but I love preparing muffins so I can freeze the leftovers for other meals, a quick breakfast, or a snack.
The buttermilk makes these tender and moist.
These sweet corn muffins pair delightfully with chili, soups, and even casseroles.
I bake up a batch of these buttermilk corn muffins whenever the moon and stars are aligned, meaning chili is on the menu and buttermilk is in the fridge. Sweet and tender, these corn muffins are a perfect side for a fall meal.
But sometimes I find other excuses to bake up a batch. They were excellent with tonight's fajitas. I first baked these corn muffins years ago and never looked for another recipe. They're so wonderful fresh out of the oven with a cold pat of butter.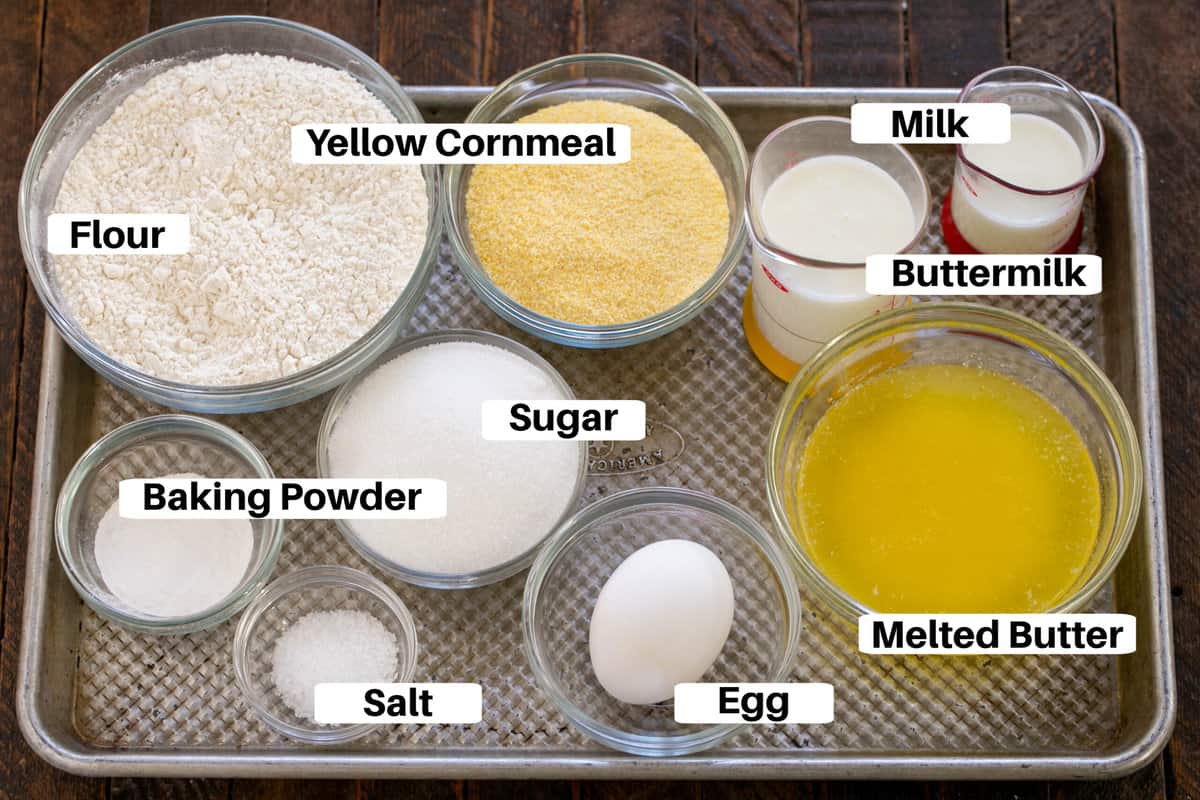 Ingredient Notes
Kitchen Staples – Flour, Sugar, Salt, Milk
Butter – Salted is OK, melt to use in this recipe.
Buttermilk – In a pinch, you can make buttermilk at home. Put a cup of milk in a liquid measuring cup. Remove 1 tablespoon and stir in 1 tablespoon of lemon juice or vinegar. Let rest for 5-10 minutes, stir then measure and use in your recipe. You can store leftovers in your refrigerator for a few days.
Egg – Use a large egg. Have it at room temperature for easier incorporation.
Yellow Cornmeal – I use Quaker brand cornmeal.
Baking Powder – Baking powder has a much shorter shelf life than baking soda. If it's expired, your muffins won't rise properly. So check the date before using. To test, put a spoonful in a cup of hot water. If it's fresh, it will bubble vigorously. If it doesn't, replace it before baking these muffins.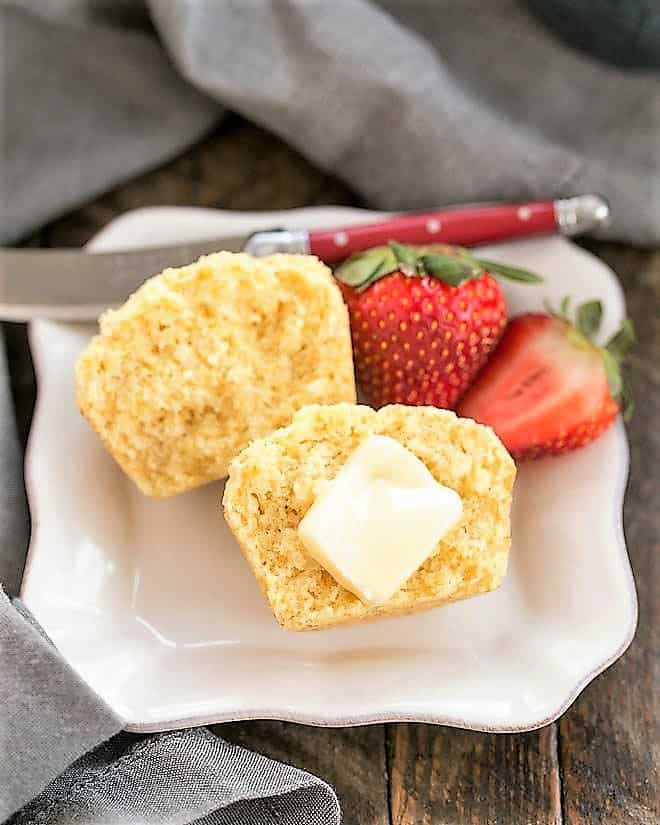 How to Make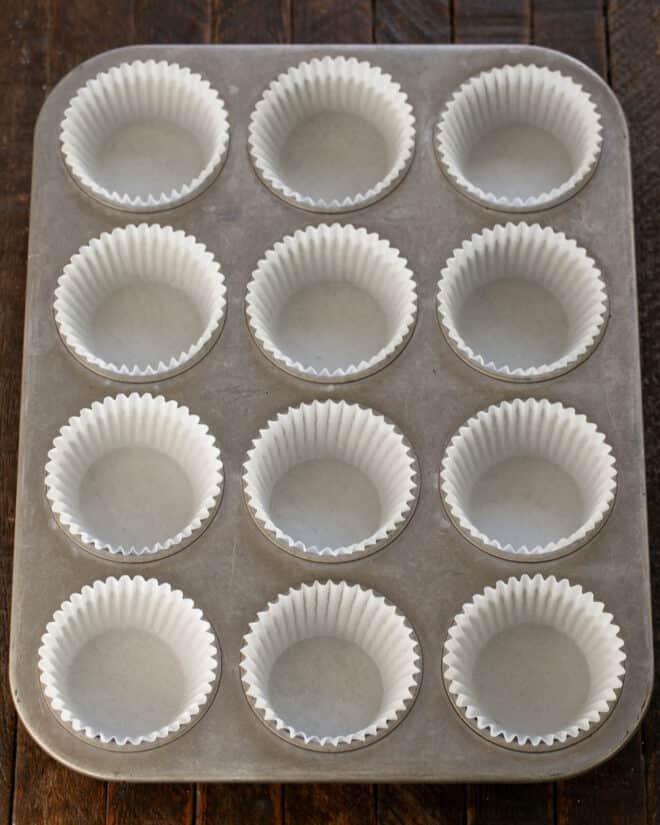 Recipe Tips
Cornbread is a quick bread, meaning it uses baking soda, baking powder, or both as leaveners instead of yeast.
PRO-Tip: Make sure your baking powder has not expired before starting this recipe. Old baking powder will not leaven properly.
This recipe calls for baking powder, not the more frequently used baking soda. Baking powder needs an acid in the batter for the best results. Both milk and buttermilk contain lactic acid.
When making quick bread, it's best to mix the dry ingredients in one bowl and the wet ingredients in another, then combine the two.
This helps prevent over-mixing which will make your muffins develop peaks and tunnels. Instead of rounded domes, the top of your cornbread will look pointed, a sign of overworked gluten.
PRO-Tip: Use a rubber spatula or wooden spoon to make the batter. Do not use a hand mixer as most likely, you will overbeat the batter.
Use a large scoop to divvy up the batter to ensure the muffins are consistent in size.
Check using a toothpick inserted in the middle to see if your muffins are done baking. There should be no batter on the toothpick when it's pulled out of the cornbread.
Frequently Asked Questions
What Can I Add to This Cornbread Recipe?
Some popular additions to cornbread include:
– Diced jalapenos and sharp cheddar cheese
– Corn kernels, minced red pepper, fresh basil
– Chopped Bacon or Ham Cubes and your favorite shredded cheese.
– Dried cranberries or other dried fruit.
– Chopped and steamed spinach, scallions, and cheese.
Can Corn Muffins Be Frozen?
Yes, these muffins freeze beautifully. Place the muffins you're not going to eat soon into a freezer-safe Ziploc bag, remove excess air, and place them in the freezer.
My kids liked to pull one out of the freezer and zap in the microwave for a quick breakfast before rushing to school.
Are Cornbread Muffins Gluten-Free?
These and most recipes for corn muffins call for wheat flour which contains gluten. Unless the packaging or baker tells you it was made with gluten-free flour, assume it has gluten.
How Many Calories in One Muffin?
With the ingredients in this recipe, each muffin has approximately 188 calories. To make healthier cornbread, consider decreasing the amount of sugar in the recipe, replacing the all-purpose flour with whole wheat flour (or half all-purpose and half whole wheat), and/or adding in corn kernels, chopped red bell peppers, or jalapeno peppers.
You May Also Like:
The next time you plan to make chili or a spicy soup, add a batch of these buttermilk corn muffins to your menu! This fabulous cornbread recipe is also wonderful for breakfast with butter and jam!
Stay in touch through social media @ Instagram, Facebook, and Pinterest. Don't forget to tag me when you try one of my recipes! And if you love the results, please give it a 5-star rating in the recipe card. Note: As an Amazon Associate, I earn from qualifying purchases. Visit my Amazon Store for my favorite products.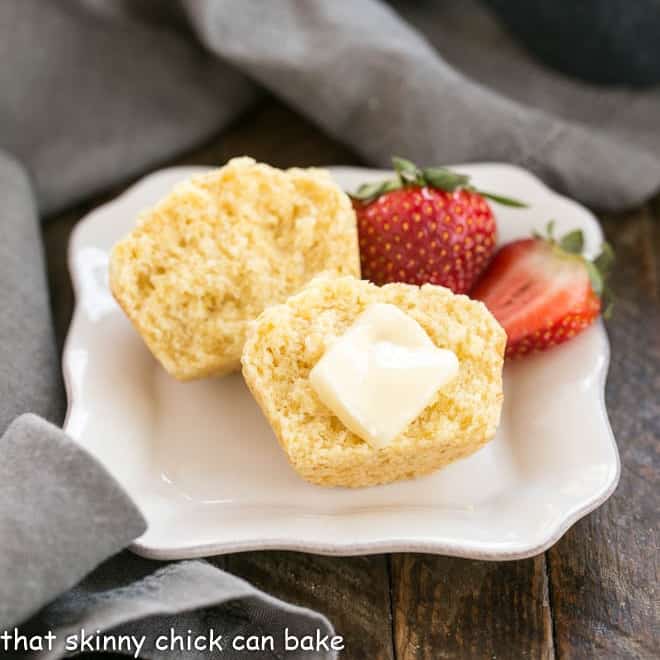 The Recipe:
Buttermilk Corn Muffins
Prep Time 10 minutes
Cook Time 22 minutes
Total Time 32 minutes
Yield 12 muffins
Sweet and tender corn muffins made with buttermilk
Ingredients
½ cup butter (4 ounces), melted
½ cup buttermilk
3 tablespoons milk
1 egg
1 ½ cups flour
½ cup sugar
½ cup yellow cornmeal
1 tablespoon baking powder
1 teaspoon salt
Instructions
Preheat oven to 325º. Grease or put paper liners in a 12-count muffin tin.
Combine melted butter with buttermilk, milk, and egg.
Sift dry ingredients and add to the milk mixture.
Stir until just combined.
Fill muffin cups about ⅔ full with batter.
Bake for about 22 minutes or till firm and golden.
Notes
To test for doneness, press the middle of the muffin with your fingertip. If it pops right back, the muffins are done. You can also use the toothpick test. Insert and remove a toothpick in the middle of a muffin. If it comes out clean, the muffins are done.
Make sure your baking powder is fresh. Unlike baking soda, it usually expires before you use it all.
Adapted from Ina Garten.
Recommended Products
As an Amazon Associate and member of other affiliate programs, I earn from qualifying purchases.
Nutrition Information:
Yield:
12
Serving Size:
1 muffin
Amount Per Serving:
Calories: 188
Total Fat: 9g
Saturated Fat: 5g
Trans Fat: 0g
Unsaturated Fat: 3g
Cholesterol: 37mg
Sodium: 388mg
Carbohydrates: 25g
Fiber: 1g
Sugar: 9g
Protein: 3g
Note: This post may contain affiliate links; view
my Disclosure Policy
for details. I earn a small percentage from any purchase you make by clicking on these links at no extra cost to you.