Favorite Apple Recipes
With the hint of autumn in the air, here are my Favorite Apple Recipes to peruse. From decadent desserts to entrees, you'll love them all!
No matter the season, I've got you covered with the best apple recipes! An Apple Crisp Recipe is made at least once every autumn. What is your favorite dish to make with apples?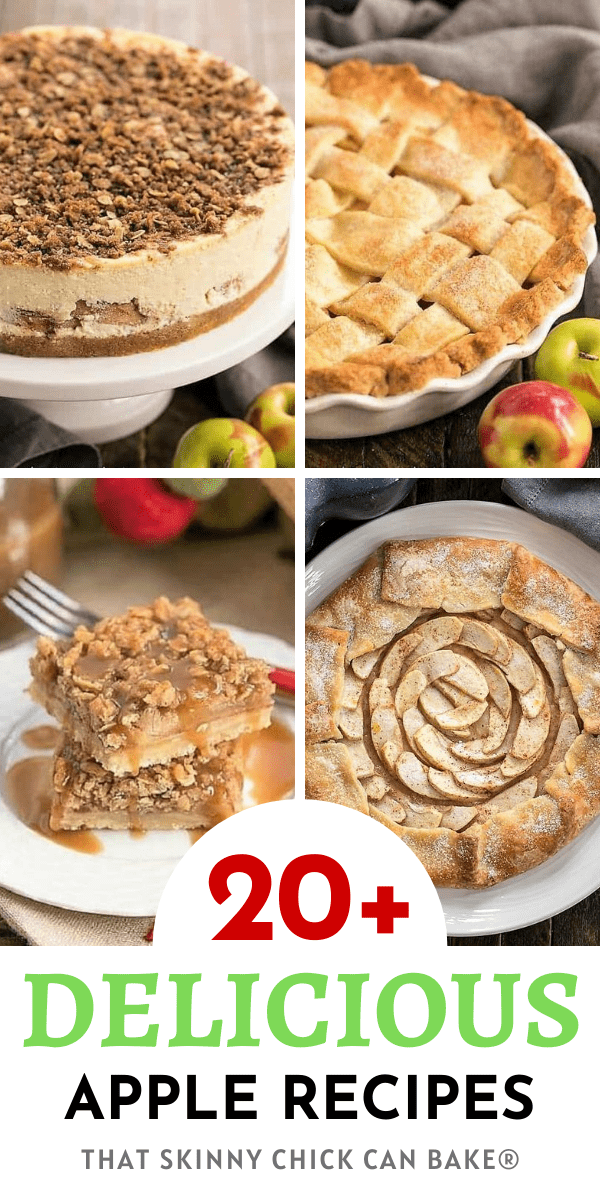 Best Apple Recipes
Going through all the apple recipes on the blog, I realized that I DO have a penchant for apples! I love eating a Pink Lady or a Honeycrisp apple with my lunch, but cooking and baking easy apple recipes is truly a passion. Starting with breakfast and ending with desserts, here are some of the best apple recipes I've shared over the last 8+ years! Plus a few notable recipes from some of my blogger friends.
Apple Dessert Recipes and Snacks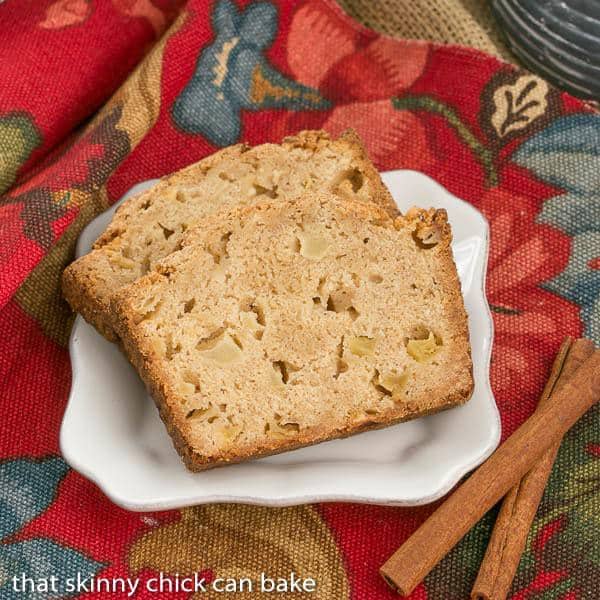 Cinnamon Spiced Apple Bread
Slices of this yummy Cinnamon Spiced Apple Bread are ideal for breakfast, brunch, and after-school snacking. I'd also be happy with a nice thick slice for dessert!
Maple Glazed Apple Galette
Making a double crust apple pie can be daunting, but you can obtain the same marvelous flavors with an apple tart or galette. This scrumptious Maple Glazed Apple Tart is kicked up a notch with a maple syrup glaze.
Folding a single crust up over the edges of a beautiful arrangement of apple slices is certainly simpler than fitting and crimping a top crust. A delicious autumnal dessert!
Cinnamon Apple Chips
Move over potato chips! These homemade Cinnamon Apple Chips are just as addictive and healthier to boot! A long stint in the oven turns super thin apple slices into a marvelous snack!
Caramel Apple Streusel Bars
With a shortbread crust, sweet apple slices, and oat crumble, these Caramel Apple Streusel Bars are one of my favorite apple treats! Make sure you serve them with a drizzle of caramel sauce! You'll have trouble restraining yourself with these gems in the kitchen!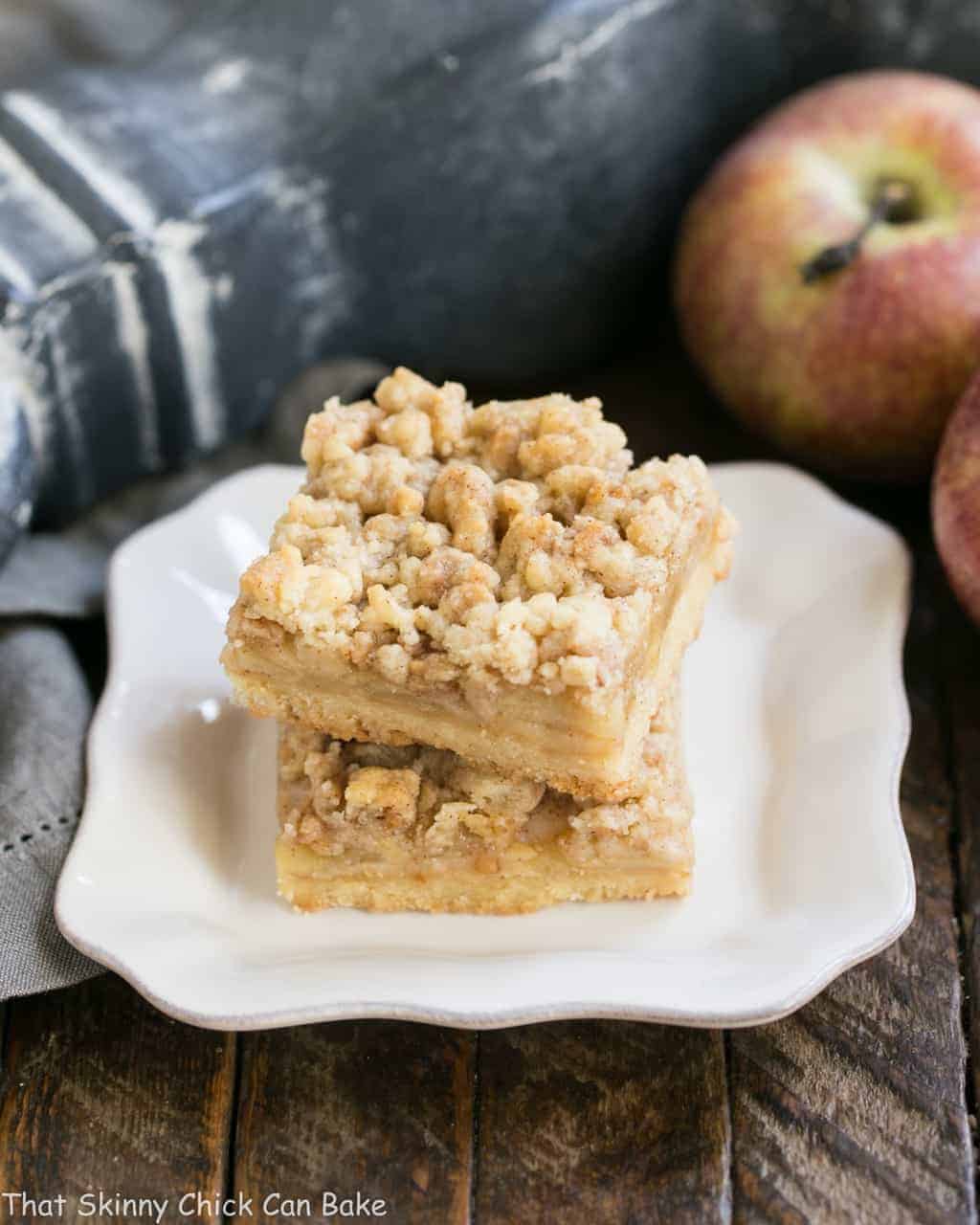 Caramel Apple Pie Toffee Bars
Similar to my caramel apple streusel bars, these tasty Caramel Apple Pie Toffee Bars have the bonus of a sweet crunch from bits of toffee!
Mulled Apple Cider
This fall spiced Mulled Apple Cider is a fun, tasty alternative to a hot mug of coffee or tea when the temperatures plummet! Keep this recipe handy for the next time you have friends or family over this fall for a non-alcoholic, hot beverage offering!
Cream Cheese Apple Torte
If you want an impressive dessert, dig out your springform pan stock up on baking apples!
This lovely, towering Cream Cheese Apple Torte starts with a buttery pastry crust followed by a layer of cream cheese filling and finally lots of sweetened cinnamon-spiced apple slices. The resulting dessert is downright terrific!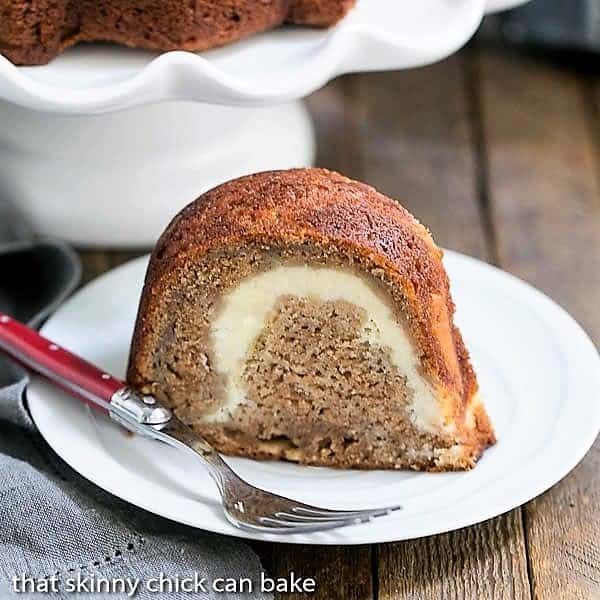 Cream Cheese Filled Apple Bundt Cake
This Cream Cheese Filled Apple Bundt Cake combines two of my favorite desserts: apple cake and cheesecake! Not cheesecake per se, but a sweetened ribbon of cream cheese that's super luscious and helps transform a simple Bundt cake into a memorable dessert!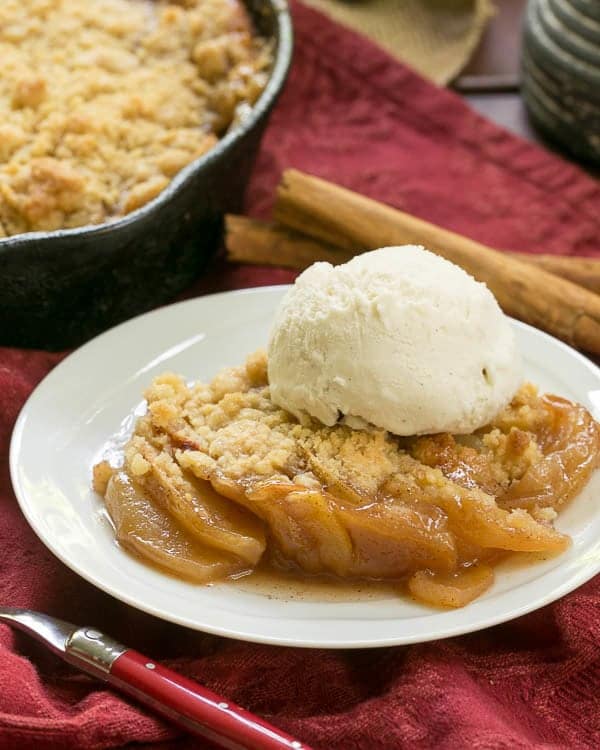 Grilled Apple Crisp
Apple crisp appears on our autumn menu every single year! But the hubby was especially impressed when I "baked" it on our grill. The smoky undertones offered a delicious twist on an easy classic recipe! Besides this Grilled Apple Crisp, make sure to check out this Easy Slow Cooker Apple Crisp, too. Or if you're looking for a classic, oven-baked Apple Crisp Recipe, I've got you covered with that, too. This Apple Crumble with Custard from Dorie Greenspan is excellent as well.
Apple Entrees and Sandwiches
Apples pair wonderfully with pork, and here are three of my favorite entrees with that delightful combination: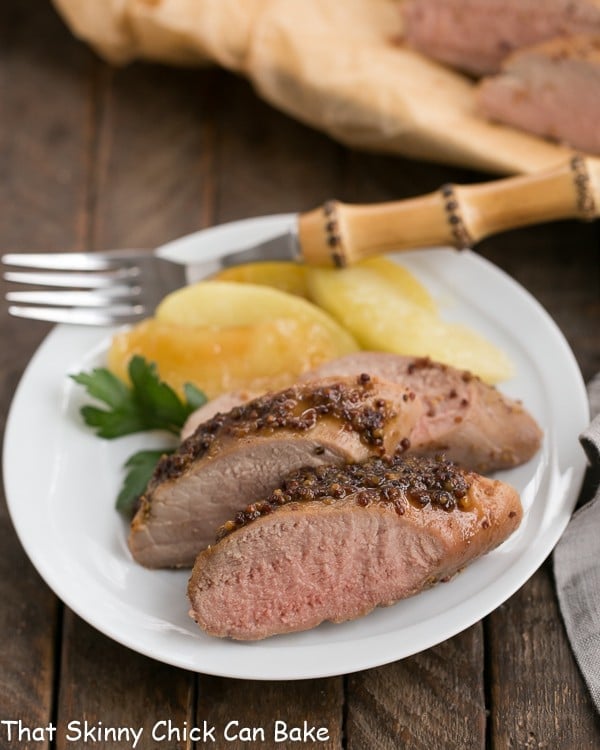 Apple Mustard Pork Tenderloin
This moist and flavorful Apple Mustard Pork Tenderloin starts with a quick brine, then roasting and glazing with a mixture of reduced apple cider, brown sugar, soy sauce, Worcestershire, and grainy mustard! Super easy and elegant enough for company!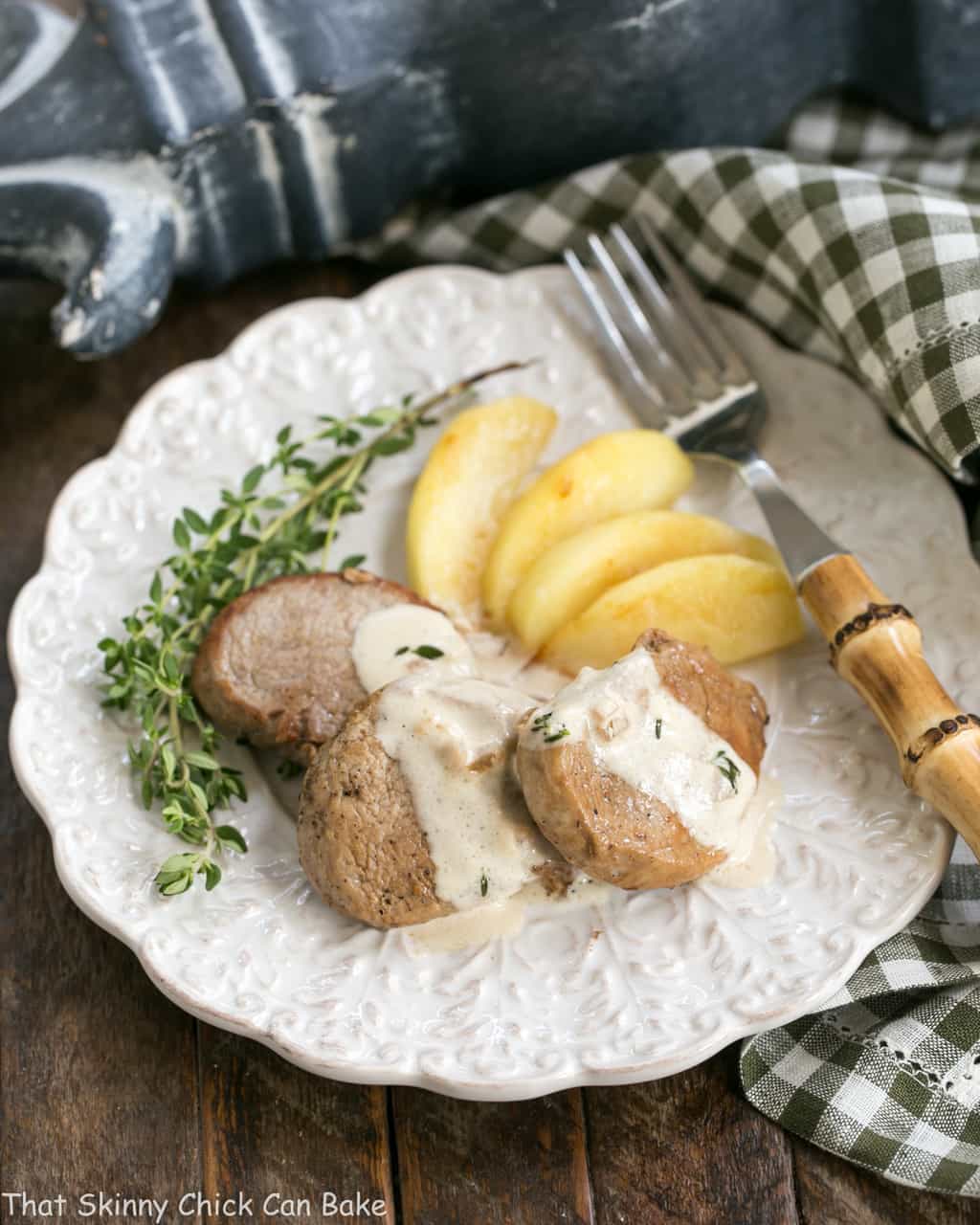 Apple Topped Pork Medallions
I adore these Apple Topped Pork Medallions, especially the sauteed apples. I always have to make extras to sample, for quality control, of course! The cognac cream sauce isn't too shabby, either!
Best Apples for Cooking and Baking
There are some varieties of apples that are versatile enough for cooking, baking, and eating. Others are not as versatile. Here are some popular apple varieties (from Allrecipes.com):
Braeburn – all-purpose, baking and eating
Cortland – baking, salads
Empire – all-purpose
Fuji – eating, baking
Gala – applesauce, salad, eating
Golden Delicious – all-purpose cooking
Granny Smith – all-purpose cooking
Gravenstein – baking, sauce, cider
Honeycrisp – eating, baking, applesauce
Ida Red – baking, salads
Jonathan – baking, salad, applesauce
McIntosh – eating, applesauce
Northern Spy – baking, juicing (my favorite pie apple)
Winesap – baking, applesauce
Frequently Asked Questions
How Do You Pick the Best Apples?
Use all your senses. Apples shouldn't have a strong aroma but instead, have a pleasant fragrance. Check the skin for bruises, blemishes, or signs of decay. Pick firm apples. The skin should have a slight sheen or shine. Dullness may indicate older apples.
Where Can You Buy the Best Apples?
Visit local apple orchards or farmers' markets during apple season for the freshest apples.
When is Apple Season?
Depending on the variety, apples are harvested from late July to early November.
You May Also Like:
Whether cooking or baking apple recipes, I've got you covered. Lest this post gets too long, here are a few honorable mentions plus some from my favorite bloggers:
Note: This post may contain affiliate links; view
my Disclosure Policy
for details. I earn a small percentage from any purchase you make by clicking on these links at no extra cost to you.