Old-Fashioned Apple Cobbler
Topped with tender buttermilk biscuits, this Old-Fashioned Apple Cobbler is the epitome of comfort food and a fabulous autumn dessert!!
One of the Best Apple Cobbler Recipes, the combination of cinnamon-spiced apples, biscuits, and a luscious scoop of vanilla ice cream will have you swooning!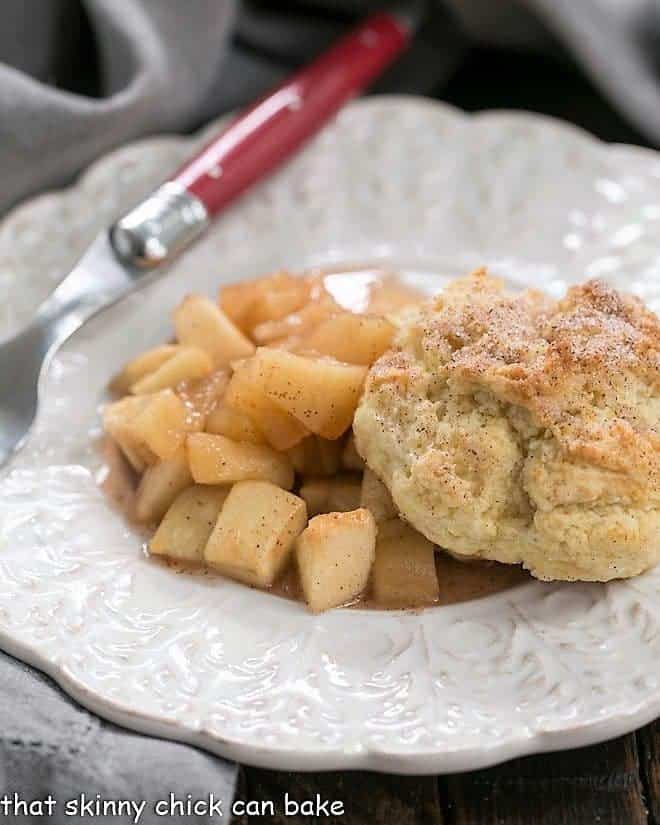 Why You Must Make
Ingredient Notes
Kitchen Staples – Sugar, Ground Cinnamon, Cornstarch, Flour, Baking Soda, Salt, Butter (salted is fine)
Apples – peeled cored and cut into 1/2-inch cubes. Using a variety of apples makes for a better depth of flavor. I like Granny Smith with Golden Delicious.
Lemon Juice – Always use freshly squeezed. One lemon will produce 2- 3 tablespoons of juice. Rolling it on the counter with your palm will help break up the citrus fibers and could help release more juice.
Baking Powder – Check the expiration date and this is used much less frequently than baking soda, so it often expires in your pantry. Details on how to test it are listed below.
Buttermilk – The acid in buttermilk helps tenderize the gluten fibers in the flour. You can make a buttermilk substitute by putting 2 tablespoons of lemon juice (or vinegar) in a 2-cup liquid measuring cup. Fill the cup up to the 2-cup mark with milk. Stir, let rest, and allow it to curdle. Stir and use as directed.
How to Make Tender Biscuits
There are a couple of keys to making the best biscuits to make your apple cobbler recipe. A good recipe and a little knowledge will help you make terrific biscuits and/or a cobbler topping.
First, your leaveners, primarily the baking powder, must be fresh. Baking powder only has a shelf life of 9-12 months and doesn't get used as much as baking soda.
PRO-Tip: Mark your baking powder with the date you open it and replace it within the year.
PRO-Tip: You can check the potency of baking powder by putting a small amount in some hot water and to see if it begins to fizz immediately. This lets you know that carbon dioxide gasses are being released and that the product is fresh. Baking soda has a very long shelf life, but I replace mine yearly if not more often.
Next, there must be small bits of cold butter distributed throughout the batter. When the biscuits/or biscuit topping hits a hot oven, the cold butter releases steam and makes for little pockets of air throughout the biscuits. It's those pockets that help make tender biscuits. The ATK recipe states to pour the cold buttermilk into some melted butter. When the cold milk hits the butter, the mixture starts to curdle or coagulate and whisking helps break the butter into small bits.
Other ways to distribute cold bits of butter into the batter include using a pastry blender, grating cold butter by hand, or pulsing the cold butter into the dry ingredients with a food processor.
PRO-Tip: Whichever method you choose, do not overwork the dough. Handling it too much will cause the butter to warm up and therefore, not produce the steam as it melts in the oven.
How to Make a Cobbler
The cookbook I referenced had specifications for a variety of fruit. Sugar and cornstarch amounts depend on your produce. For example, sour cherries need more sugar than sweeter fruit. Here are some of the highlights of their cobbler formula.
Start with your fruit, using 3 pounds of apples, pears, peaches, plums, or sour cherries. If going the berry route, use 6 cups of blueberries, blackberries, or raspberries. Apples and pears should be peeled, cored, and cut into chunks.
Mix the fruit with ¼-¾ cups sugar depending on the sweetness of the fruit, cornstarch to thicken the juices, plus complimentary flavorings, like cinnamon, lemon juice, almond, or vanilla extract. Cinnamon and lemon juice were perfect for this old-fashioned apple cobbler. I like using a variety of baking apples for the best flavor profile.
Cover the fruit mixture with foil and bake at 400º or until the fruit releases its juices. By partially baking the filling, the fruit juices start to thicken and the fruit softens.
Next, make your biscuits, divvy up the batter by ¼ cupfuls onto a baking sheet, and partially bake them, too, for about 10 minutes. They will puff and start to brown at the bottom, but will not be set in the middle.
Combine the two components, using a spatula to carefully move the biscuits onto the fruit filling, and continue baking until the filling is bubbly. Cornstarch will thicken the juices only if the liquid comes to the boiling point, marked by bubbling between the biscuits. This should take 15+ minutes more.
Let the cobbler sit for about 10 minutes before scooping out servings. Dig in while it's warm with a generous serving of vanilla ice cream!
Frequently Asked Questions
What is a Cobbler?
A cobbler is a fruit dessert, but you may wonder how it differs from a fruit crisp, crumble, brown Betty, grunt, and all those other alternatives? Well, a cobbler can be made of fruit or a savory casserole-type filling with a biscuit, dumpling, or batter topping.
Crisps and crumbles differ as they have a crumbly topping, often containing oats. A brown Betty and grunt or slump are subcategories of cobblers, the former topped with bread crumbs and the latter cooked on a grill, stovetop, or open fire instead of in an oven. If you're totally confused, don't worry. Just scan the recipes and check out what sort of topping is mentioned—if it appeals to you, give it a try! If you love excellent biscuits, this old-fashioned apple cobbler recipe is for you!
Why is It Called Cobbler?
The name cobbler most likely comes from the look of the topping that can appear like a cobbled street, especially when made with biscuits.
You May Also Like
Stay in touch through social media @ Instagram, Facebook, and Pinterest. Don't forget to tag me when you try one of my recipes! And if you love the results, please give it a 5-star rating in the recipe card. Note: As an Amazon Associate, I earn from qualifying purchases. Visit my Amazon Store for my favorite products.
The Recipe:
Old-Fashioned Apple Cobbler
Prep Time 30 minutes
Cook Time 50 minutes
Total Time 1 hour 20 minutes
Yield 8 servings
A picture perfect apple cobbler with 3 phases of baking to make a delectable filling and tender biscuit topping!
Ingredients
Apple Filling:
½ cup granulated sugar
2 teaspoons cornstarch
1 teaspoon cinnamon
3-4 pounds apples, peeled cored and cut into ½-inch cubes
2 teaspoons lemon juice
Biscuit Topping:
1 ½ cups flour
¼ cup  sugar, plus 2 teaspoons for sprinkling
2 teaspoons baking powder
¼ teaspoon baking soda
¼ teaspoon salt
6 tablespoons butter, melted and cooled slightly
¾ cup buttermilk
⅛ teaspoon cinnamon
Instructions
Preheat oven to 400 degrees.
Stir the sugar, cornstarch, cinnamon, and salt together in a large bowl. Add apples and mix gently with a rubber spatula until evenly coated; add lemon juice and mix to combine.
Pour the apples into a 9-inch pie plate or equivalent capacity baking dish. Cover with foil and set aside.
Make the biscuit topping. Whisk flour, ¼ cup sugar, baking powder, baking soda, and salt in a large bowl. Set aside.
Whisk together the melted butter and buttermilk. The cold buttermilk will help to congeal small bits of butter, which will help make tender biscuits.
Add the buttermilk mixture to the dry mixture and mix until just combined with a rubber spatula.
With a greased ¼ cup cookie scoop or measuring cup, scoop out mounds of batter onto a parchment-lined baking sheet.
Mix together the remaining sugar and cinnamon and sprinkle over the biscuits. Bake for about 10 minutes, then remove from the oven.
Place the dish of apples onto a foil-lined rim baking sheet (this will catch any juices that might overflow the dish). Bake the apples for about 25 minutes until they release their juices.
Remove from the oven, remove the foil, and carefully arrange the partially baked biscuits over the apples.
Bake for 15 minutes longer or until the apples are tender, the juices are bubbling and the biscuits are golden brown.
Cool for about 10 minutes before serving with a scoop of vanilla ice cream, if desired.
Notes
Adapted from ATK.
Make sure your baking powder is fresh. It will often expire before you use it all.
Nutrition Information:
Yield:
8
Serving Size:
1
Amount Per Serving:
Calories: 366
Total Fat: 9g
Saturated Fat: 6g
Trans Fat: 0g
Unsaturated Fat: 3g
Cholesterol: 24mg
Sodium: 343mg
Carbohydrates: 70g
Fiber: 6g
Sugar: 43g
Protein: 4g
Note: This post may contain affiliate links; view
my Disclosure Policy
for details. I earn a small percentage from any purchase you make by clicking on these links at no extra cost to you.