Easy Peach Cobbler
Summer is the perfect time for those old-fashioned desserts that bring back childhood memories. This Easy Peach Cobbler was sheer bliss.
In this Cobbler Recipe, sweetened peaches are placed over a simple batter. Typically the topping, whether biscuits, pie crust, or even cookie crust, is added last. The reverse is true in this cobbler recipe.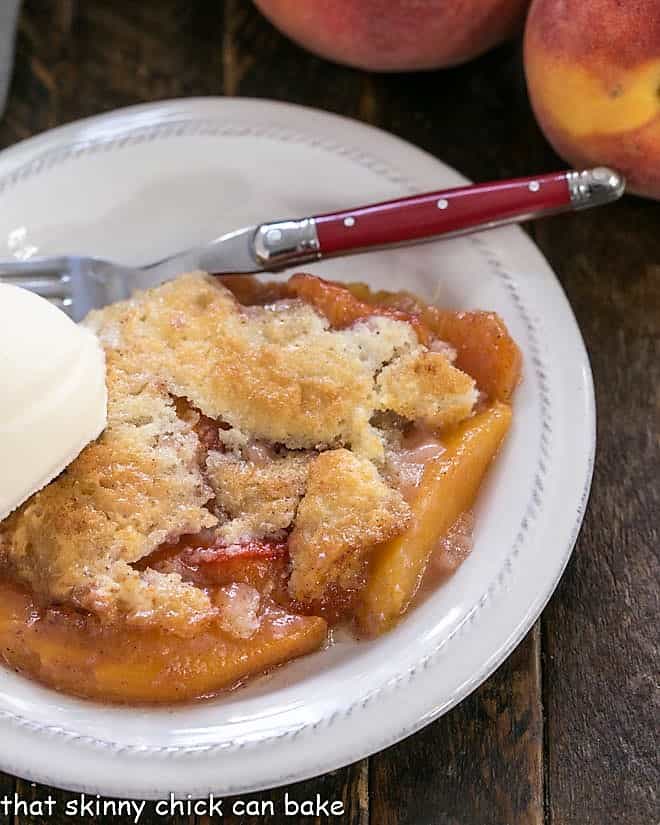 Why You Must Make
If you love peach pie, but hate the process, this foolproof cobbler recipe is for you!
It's a perfect dessert when fresh peaches are in season.
This Peach Cobbler is easy enough for even the novice baker!
How to Make
Here are the step-by-step directions for making a peach cobbler with a batter topping.
Select Your Fruit – First, make sure you have delicious peaches. The success of your recipe depends upon good fruit. There should be no green tinge on the flesh, no bruises, and should smell like peaches. Use in-season fresh fruit or fruit you have frozen at the peak of peach season. You may have access to some good quality store-bought frozen peaches, but I have not encountered them.
Peel Your Peaches – Peel the peaches by slicing a superficial X through the skin on the bottom of the peach with a sharp knife. Drop a few peaches into a pot of boiling water and leave them in for a minute or two, turning on occasion. Have a bowl of ice water available to shock and cool the peaches as soon as you remove them from the pot. Then, using your fingers or paring knife, slip the skin off each peach and place it on a cutting board to slice.
Make the Batter – This part of the process is simple. In a bowl, melt the butter in your baking dish (do this in a warm oven or microwave and watch carefully), combine the batter ingredients in a bowl, and pour over the butter. 
Prepare the Peach Filling – Slice the peaches as directed in the recipe and place them in a saucepan. Add sugar and lemon juice. Cook, stirring frequently, until the sugar dissolves and the mixture is bubbling.
Prepare for the Oven – First, line a baking sheet with foil. Place your baking dish on a baking sheet. If your dish isn't quite large enough, the batter will overflow over the sides. Add the peaches and juices evenly over the batter. Bake as directed or until the peach juices are bubbling again and the topping is browned.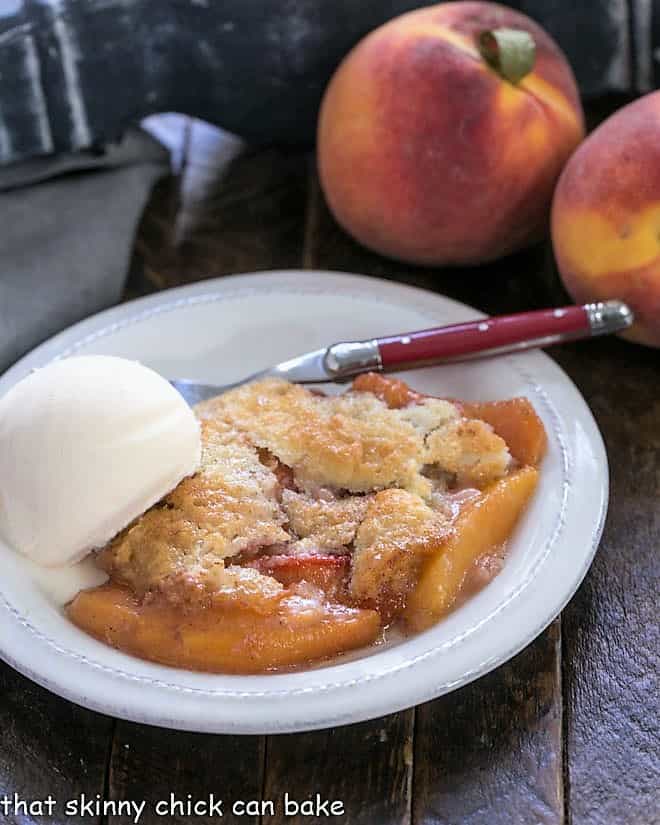 Expert Tips
Make sure your baking powder has not expired. It is not the same as baking soda which has a long shelf life. If you're unsure, place a spoonful into a cup of very hot water. If the baking powder is still active, it will bubble vigorously.
Use good quality, flavorful peaches. If the peaches are bland or mealy, it's not worth making a dessert using them.
A 9 x 13-inch baking dish works well. Any smaller and you risk a mess in your oven.
The peaches are cooked twice, once in a saucepan then again in the oven. This ensures the juices will transform into a syrupy coating for the fruit.
Serve warm with a scoop of vanilla ice cream for the ultimate summer dessert!
Frequently Asked Questions
What is a Cobbler?
A cobbler is basically pie filling baked with a tender biscuit, batter, or dough topping. A crisp or crumble has more of a streusel topping with or without oats plus brown sugar, flour, and butter. Cobblers got their name because of the topping's resemblance to a cobbled or cobblestone street.
Can This Cobbler Be Made with Other Fruit?
This cobbler recipe will definitely work with other fruit. If you have some fruit in the freezer, just defrost before continuing with the recipe. Restrain yourself from using canned fruit as it can be overly sweet, though it will work in a pinch.
If you use apples, make sure they're cooked with some sugar and a good sprinkle of cinnamon until they're tender. Raw apples won't be fully cooked if used as the peaches are in this recipe.
Even a combination of fruit is lovely. I'd add a cup of fresh raspberries or blueberries to the peach cobbler filling for another exquisite version.
How Do You Know When a Cobbler is Done?
The filling should be bubbling around the edges and the topping should be puffed and browned. For the most accurate way of testing, insert an instant-read thermometer into the middle of the cobbler. It should read 200 degrees.
It's OK if the filling is a bit runny, as that's the nature of a cobbler. But for a thicker filling, watch for some bubbling in the center of the cobbler as well.
How Do You Store a Cobbler?
It can be stored at room temperature for a day or two, but it's best to cover and refrigerate after that and finish eating it within 4-5 days of baking.
You May Also Like:
Stay in touch through social media @ Instagram, Facebook, and Pinterest. Don't forget to tag me when you try one of my recipes! And if you love the results, please give it a 5-star rating in the recipe card. Note: As an Amazon Associate, I earn from qualifying purchases. Visit my Amazon Store for my favorite products.
The Recipe:
Peach Cobbler
Prep Time 20 minutes
Cook Time 45 minutes
Total Time 1 hour 5 minutes
Yield 8 servings
A timeless dessert that's perfect with ripe summer peaches
Ingredients
Cobbler topping:
½ cup butter
1 cup flour
1 cup sugar
¼ teaspoon salt
1 tablespoon baking powder
1 cup milk
Peach filling:
8 peaches, peeled, pitted and sliced into ½-inch wedges
1 cup sugar
1 tablespoon fresh lemon juice
1 teaspoon cinnamon
Instructions
Preheat oven to 375º.
Melt butter in a large baking dish. In a medium bowl, whisk together the flour, sugar, baking powder, and salt. Mix in milk until just combined and pour over butter.
Combine sugar, lemon juice, and the sliced peaches in a large pan. Cook, stirring constantly, until sugar melts and the mixture boils. Mix in cinnamon to taste. Pour over batter without stirring.
Bake for about 45 minutes or until golden brown and bubbly.
Notes
To peel your peaches, cut an X just through the peel on the opposite end from the stem. Drop into a pan of boiling water for a minute or two, then into a bowl of ice water. The skin will peel off easily using your fingers or a knife.
Note that baking powder usually expires before you can use it all. Check the expiration date and replace it if needed before making this dessert.
Recommended Products
As an Amazon Associate and member of other affiliate programs, I earn from qualifying purchases.
Nutrition Information:
Yield:
8
Serving Size:
1
Amount Per Serving:
Calories: 438
Total Fat: 13g
Saturated Fat: 8g
Trans Fat: 0g
Unsaturated Fat: 4g
Cholesterol: 33mg
Sodium: 357mg
Carbohydrates: 81g
Fiber: 3g
Sugar: 65g
Protein: 4g
Note: This post may contain affiliate links; view
my Disclosure Policy
for details. I earn a small percentage from any purchase you make by clicking on these links at no extra cost to you.