Streusel Topped Peach Tart
Made with sweet, juicy summer peaches & a buttery crust, this Streusel Topped Peach Tart is easier than pie & absolutely scrumptious.
So far this summer, the peaches I have purchased have been transformed into sweet, refreshing margaritas. I knew the hubby was hankering for a peach dessert, and this fruit tart became one of our most unforgettable Peach Desserts Recipes. National Peach Month will be here soon!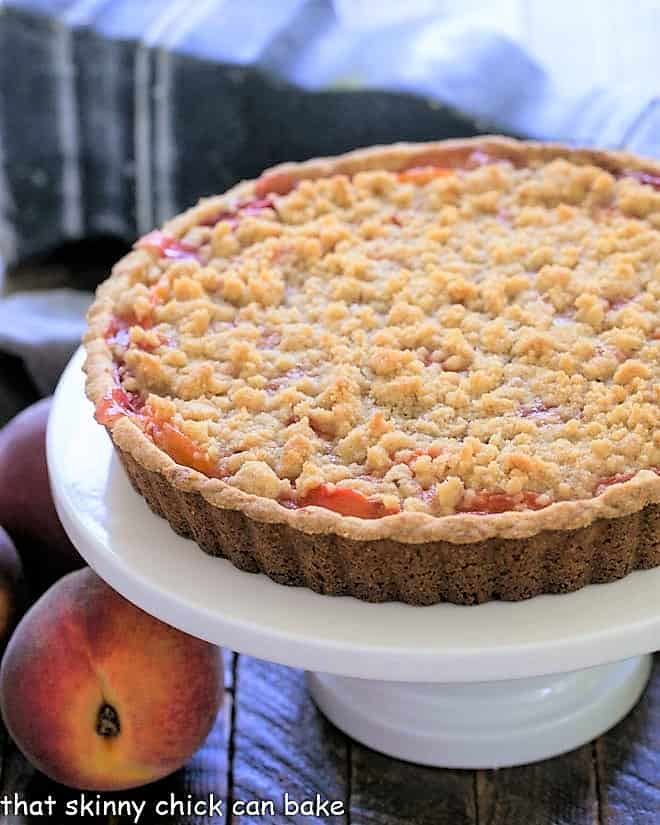 Why You'll Love:
The hubby was hinting around about "pie." Peach pie to be exact. Have I told you how much I dislike making double-crust pies? A "pat in" tart crust is more my speed.
This peach tart had all the amazing flavors of a pie without all the work.
A crumb topping is EASY and so delicious!
It's a wonderful summer dessert when peaches are in season.
I toyed with adding a lattice crust till the dough strips fell apart in my hands. No way was I going to weave those! When I see desserts with a crumb topping, like this Streusel Strawberry Rhubarb Pie, I never fume, "Where the heck is that top crust????" Instead, my mouth starts to water. So streusel won out. Bill was a happy guy! And I was a happy, stress-free baker. If you love peach recipes, check out all my Best Peach Recipes for more inspiration.

Expert Tips
Use fresh, seasonal summer peaches for the tastiest results. They should be sweet, flavorful, and juicy. Mealy bland peaches will not be any better after you bake them.
Use cold butter to make the flakiest crust. The little pieces of butter will produce steam when they are heated in the oven which then creates little pockets of air that make a flaky crust.
The crust is made in a food processor, but it can also be made by hand. You may use two knives or a pastry blender instead.
After you mix the crumb topping, you may want to go in with your fingers and pinch together some larger crumbs. This helps make a nicer presentation but is totally optional.
Our 4th of July Menu
I first served this fruit tart recipe at our annual 4th of July gathering a few years ago. The forecast was dreary so our party was moved indoors and the fireworks were nixed. We all squeezed into our home and I decked the tables in red, white, and blue.
Everyone brought a dish to share, something to grill, and I baked up a storm. A frozen Grasshopper Pie, Homemade Samoas, Frosted Cocoa Brownies, and this luscious fruit tart were my contributions. Everything was a huge hit!
Oh, yeah, it's an Independence Day tradition to make my Sour Cream Corn Dip which was devoured in record time (that's what happens when you have 3 twenty-something-year-old young men for dinner). Bill requests it every year without fail. But I think desserts are traditionally the highlight of this summer party, and this scrumptious tart was the perfect addition.
Frequently Asked Questions
How do you prep the baking pan?
Grease your baking pan with butter or non-stick cooking spray. I use a non-stick tart pan, which also helps minimize sticking.
What is the difference between a tart and a pie?
Both have crusts and fillings, but a pie crust tends to be light and flaky and a tart crust is more short, firm, and crumbly. A tart has a single crust with short sides and a pie crust can have a single or double crust. Both can have sweet or savory fillings.
What is streusel?
Streusel is a crumbly topping made of flour, butter, sugar, and sometimes spices. The mixture is sprinkled on coffeecakes, tarts, bread, muffins, and cakes. According to the Food Lover's Companion, the word streusel is German for sprinkle or strew. To make a streusel, first mix the dry ingredients together. Next cut in the butter with a pastry blender, two knives, or your fingers until the butter is incorporated and crumbs form. I like using my fingers to work in the butter, then form the mixture into crumbs of different sizes.
How do you peel a peach?
"First, cut an X through the peach skin on the end opposite the stem on all the peaches you need to peel. Bring a pot of water to a boil, then add the peaches and leave them for about 30 seconds, or until you see the skin at the X starting to peel away. Have a bowl of ice water near your stove and remove the peaches with a slotted spoon and place them in the cold water bath. Once they are cool enough to handle, use a paring knife or your fingers to peel the peaches. The skin should just slip off the fruit.
You May Also Like: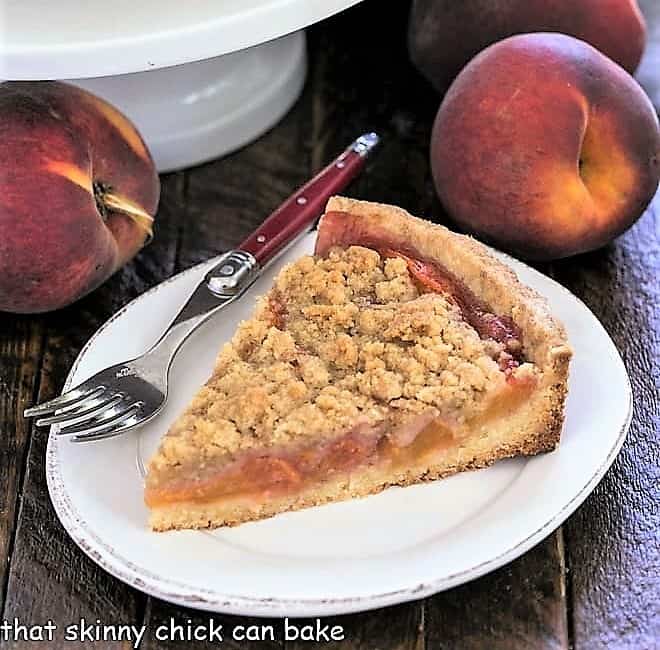 The Recipe:
Streusel Topped Peach Tart Recipe
Prep Time 40 minutes
Cook Time 55 minutes
Total Time 1 hour 35 minutes
Yield 6 servings
A peach tart made with fresh summer peaches and topped with a buttery streusel.
Ingredients
Tart Dough:
1 ⅓ cups flour
½ cup sugar
⅛ teaspoon salt
7 tablespoons plus 1 teaspoon cold butter, cut into pieces
2 egg yolks, whisked to break up
Peach Filling:
4 peaches, peeled pitted and sliced about ½ inch wide
⅓ cup sugar
3 tablespoons flour
⅛ teaspoon cinnamon
1 tablespoon fresh lemon juice
Streusel Topping:
½ cup flour
¼ cup brown sugar
¼ cup butter, cut into pieces
Instructions
Put the flour, sugar, and salt in a food processor and pulse a couple of times to combine.
Scatter the pieces of butter over the dry ingredients and pulse until the butter is pea-sized or smaller.
Add the yolks, a little at a time, pulsing after each addition. When the eggs are all in, process the dough in long pulses until it starts to clump.
Turn the dough out onto a lightly floured work surface and knead gently to pull the dough together. Wrap in plastic and let rest at room temperature for 30 minutes.
Press the dough into a 9-inch fluted, greased tart pan with a removable bottom. Press the dough evenly over the bottom and up the sides of the pan. Set on a baking sheet.
Preheat the oven to 350º.
Mix sugar, flour, and cinnamon in a large bowl. Add peach slices and lemon juice and gently toss. Arrange peach slices in concentric circles over the crust, starting on the outside and working toward the middle. Pour any of the juices in the bowl over the tart.
To make the topping, mix the flour and brown sugar. With fingers, rub the butter pieces into the dry ingredients to make crumbs. Spread over the top of the tart.
Bake for 45-55 minutes or till the crust is brown and the filling is bubbling.
Cool to room temperature on a wire rack and serve with vanilla ice cream if desired.
Notes
Use fragrant, ripe seasonal peaches for the best results.
Recommended Products
As an Amazon Associate and member of other affiliate programs, I earn from qualifying purchases.
Nutrition Information:
Yield:
6
Serving Size:
1 slice
Amount Per Serving:
Calories: 427
Total Fat: 11g
Saturated Fat: 6g
Trans Fat: 0g
Unsaturated Fat: 4g
Cholesterol: 84mg
Sodium: 114mg
Carbohydrates: 79g
Fiber: 3g
Sugar: 45g
Protein: 6g
Note: This post may contain affiliate links; view
my Disclosure Policy
for details. I earn a small percentage from any purchase you make by clicking on these links at no extra cost to you.