The summer kicked off with a blast of heat and humidity. Sipping on chilled Fresh Peach Margaritas is a most delightful way to cool down on a sultry July evening. This post is sponsored by Florida Crystals® Sugar; all opinions are my own.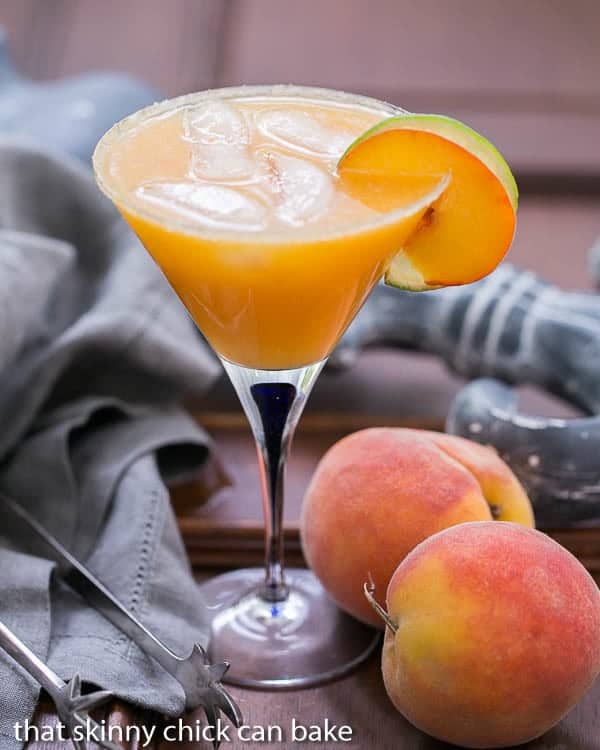 Fresh Peach Margaritas
We have a terrific produce stand down the street. Their tender sweet corn and ripe, juicy peaches are my two favorite summer foods. Right now, we're savoring fresh Georgia peaches, then we'll get an east coast crop before local Indiana and Michigan peaches are harvested. I set aside some of this luscious fruit for a signature cocktail.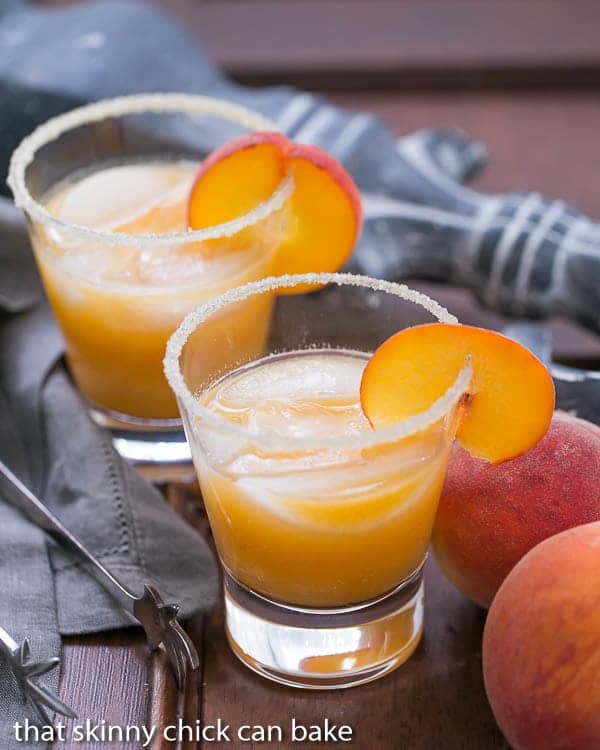 Making the Best Margaritas
For the best results, you must start with peak of the season fruit. If your peaches aren't ripe and flavorful, your margaritas will be lackluster. Freshly squeezed lime juice is imperative, too. Don't even think of buying anything in a bottle. To balance the tart lime, I also add a top notch sweetener, Florida Crystals® Organic Sugar. Did you know that Florida Crystals® is America's first and only producer of certified organic sugar, grown and harvested in the Untied States? To me, that sounds like what I'd want to feed my family. Uniquely Delicious." I'll vouch for that!
More Margaritas You'll Love: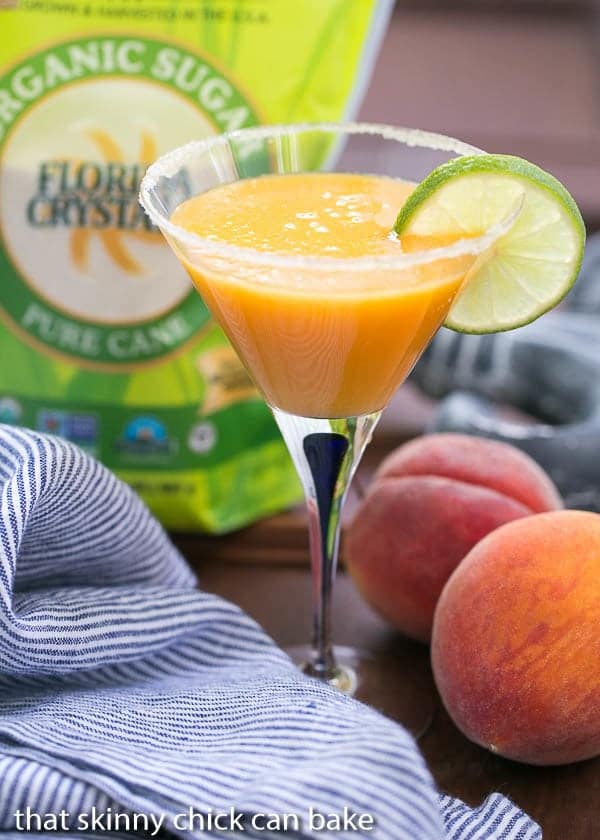 Print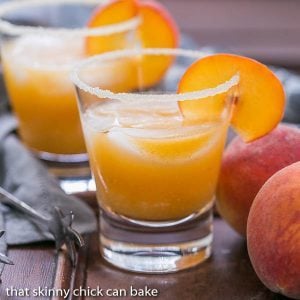 Fresh Peach Margaritas
A summery twist on the classic Margarita made with juicy fresh peaches
Author:
Prep Time: 10 mins
Total Time: 10 mins
Yield: 2 servings
Ingredients
1/2 cup fresh peach puree (about 2 medium peaches, peeled, pitted, cut into pieces, and pureed in a blender or food processor)
1-2 tablespoons Florida Crystals® Organic Sugar
2 ounces tequila
1-ounce fresh lime juice
1/2 ounce of Grand Marnier (or your favorite orange liqueur)
Florida Crystals® Organic Sugar for sugar rims on glasses
Lime slices and/or peach slices to garnish, optional
Instructions
Whisk together peach puree and 1 tablespoon of sugar. Taste and add more sugar if needed. Whisk in the tequila, lime juice, and Grand Marnier. Taste and adjust to your preferences.
Pour a bit of water onto a small flat plate. Sprinkle sugar over a second small plate. Dip the rim of the glasses into the water, then dip them into the sugar to make a sugar rim. Garnish margaritas with sliced fruit. Serve margaritas over ice.
For a virgin peach spritzer, combine peach puree, sugar and then top the glass with cold club soda or lemon-lime soda. Makes one.
Notes
This recipe can be adapted to your liking. I tend to go light on the liquor, so taste first and tweak to your tastes. If your peaches aren't sweet enough, you may need to add more sugar.
Giveaway!
Hop on over to the Florida Crystals Instagram  page to enter for a chance to win the #Sweet4USAGiveaway. You and a friend could win a Summer Beverage Prize Pack. Just follow @Florida-Crystals Sugar and tag a friend. It's as easy as that. The winner will receive 2 prizepacks which each include one hand juicer, one mason jar beverage dispenser, one set of mason jar glasses and coupons for free product for each of you. What are you waiting for????
Follow Florida Crystals on their Website – Facebook – Twitter – Instagram

Note: This post may contain affiliate links; view my Disclosure Policy for details. I earn a small percentage from any purchase you make by clicking on these links at no extra cost to you.