Easy 3-Ingredient Beer Margaritas
Kick off your Mexican Fiesta, Cinco de Mayo celebration, game day party or any gathering where you're craving a slushy lime cocktail with these Easy 3-Ingredient Beer Margaritas!
Sweet. tart with the classic salty rim, you'll make these super simple Beergaritas again and again!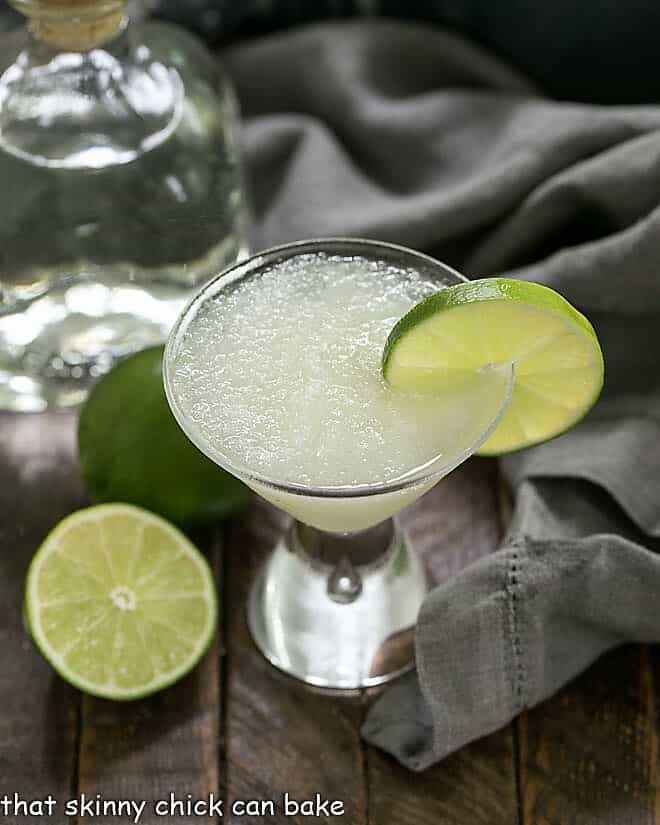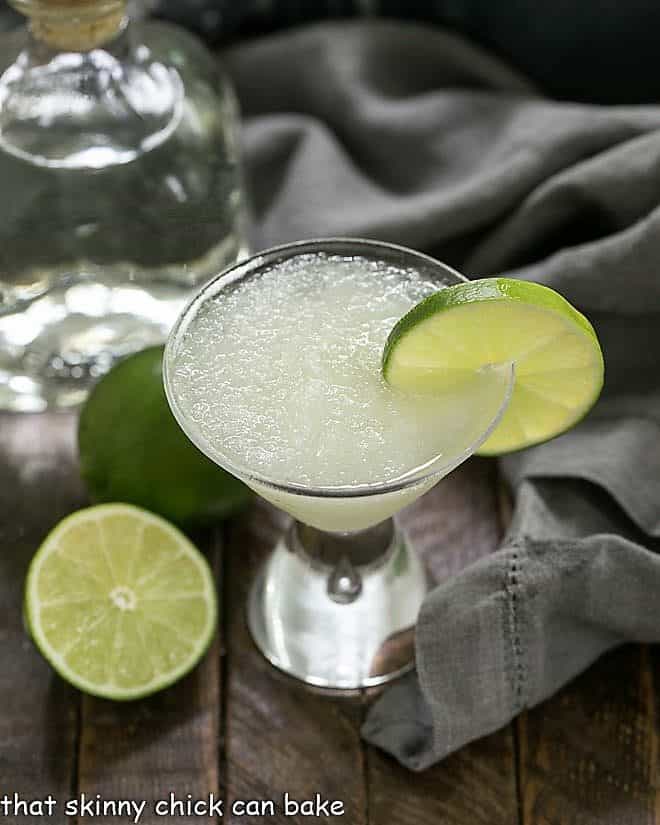 Why You Should Make a Margarita with Beer
Whether it's Cinco de Mayo, the 4th of July, or a simple summer gathering, a Tex-Mex themed meal is always a hit! Who doesn't love a gooey, cheesy chicken enchilada, loaded nachos, or a slushy margarita? I fell for these easy beer margaritas with my first sip over a decade ago!
The method is so simple, that you'll have the recipe memorized with no effort. And it's ready in minutes!
There is a time and place to make the classic margarita recipe, but sometimes an easy, tasty shortcut is just right! I keep some frozen limeade in the freezer, tequila in the liquor cabinet, and there's always beer in the fridge, though Bill gets nervous that I'll grab some of his Stella!
With only 3 ingredients, just toss the tequila, limeade, and beer into a blender full of ice. Hit the "frozen drinks and smoothies" setting or just blend until you have a slushy mixture.
Such a simple cocktail! Pour the flavorful, frozen concoction into your prepared glasses and garnish with a lime slice! How easy is that???!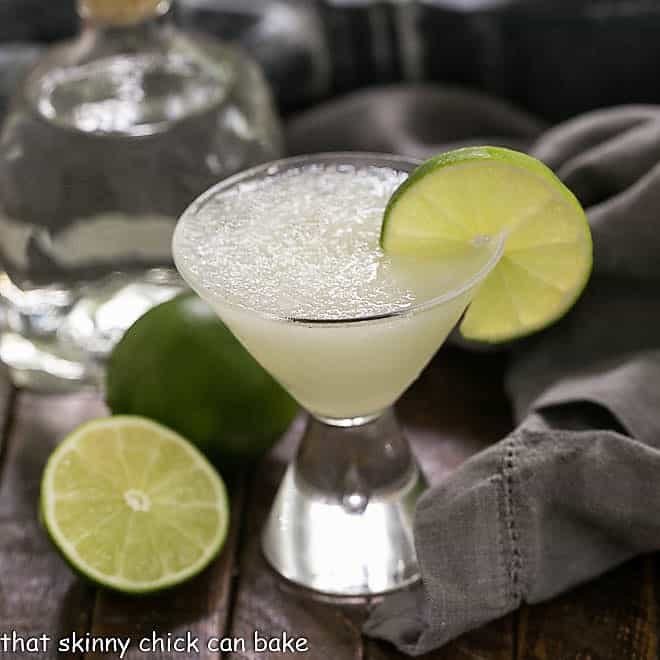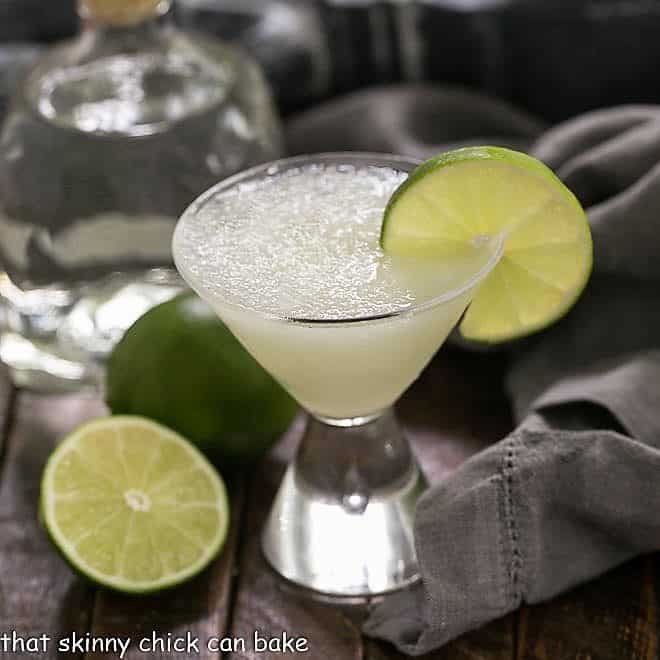 Tips for Making A Lime a Rita
Don't let the name dissuade you. Margarita purists may have some heart palpitations viewing the ingredients, but, I promise, these taste phenomenal. I know you're wondering why anyone would ever muddy the flavors of a classic margarita with beer??? But trust me; these are winners.
Use a light lager-type beer as you don't want any obvious beer flavor. It doesn't need to be an expensive brand. And if you're watching calories, light beer is fine.
You do want decent tequila, though.
Watch out, these are potent! The sweetness of the limeade concentrate dulls the flavor of the tequila so beware!
Add a splash of Triple Sec or Grand Marnier if you'd like.
PRO-Tip: To make a salt rim on your glass, fill a saucer with lime juice and another with Margarita Salt or kosher salt. Dip the rim of the glass into the lime, then into the salt. Voila! Just pour in the margarita, garnish with a lime slice and serve.
You only need three ingredients to make these easy margaritas, so stock up on frozen limeade, tequila, and beer. Fresh limes and margarita salt are also essential to garnish the glasses if desired.
If you want to serve your beer margaritas on the rocks, just mix equal parts beer, tequila, and defrosted limeade in a pitcher. Add water to taste. Stir and pour into ice-filled glasses!
Plus they're so quick to whip up that you'll be pulling out the blender to make a batch ALL summer long. Make a big bowl of guacamole with a side of tortilla chips, and you're set!!! And if you want to add a margarita bar to your buffet, these peach margaritas and blood orange margaritas are also fabulous!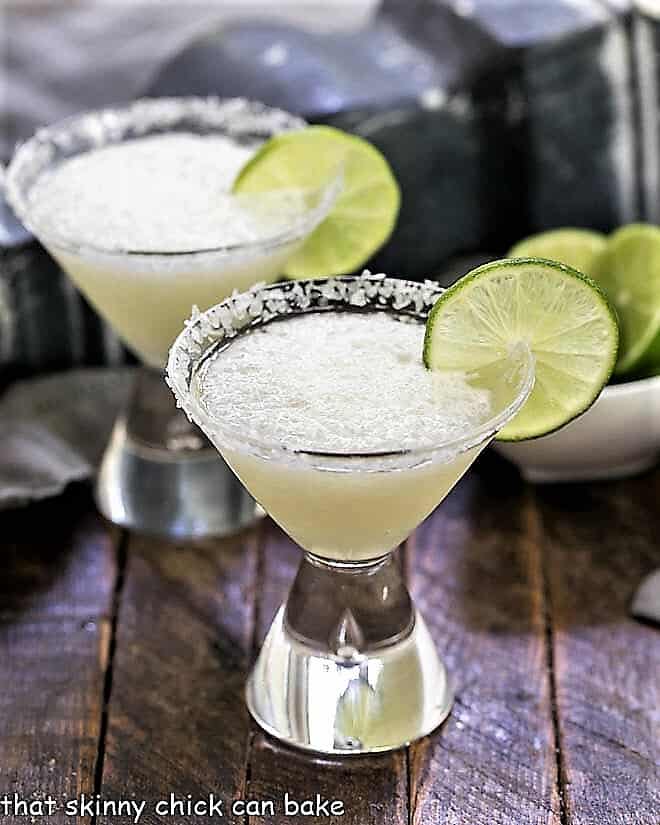 More Margarita Recipes You'll Love:
Margaritas hail from Mexico, but the inventor remains a mystery. Brought to the forefront in the 1930s or '40s, one story is that a guest of one supposed inventor was allergic to all spirits except tequila. Her host developed a tequila cocktail that included the elements used with a tequila shot, a lime wedge, and salt.
The traditional margarita cocktail contains tequila, lime juice, and an orange liqueur, like Cointreau or Triple Sec. Served in a glass rimmed with salt, the Smithsonian.com calls a margarita the perfect combination of sweet, salty, sour, and bitter.
More Mexican Fiesta Recipes:
Cheesy Chicken Enchiladas
This post was first shared in 2019 and updated in 2021.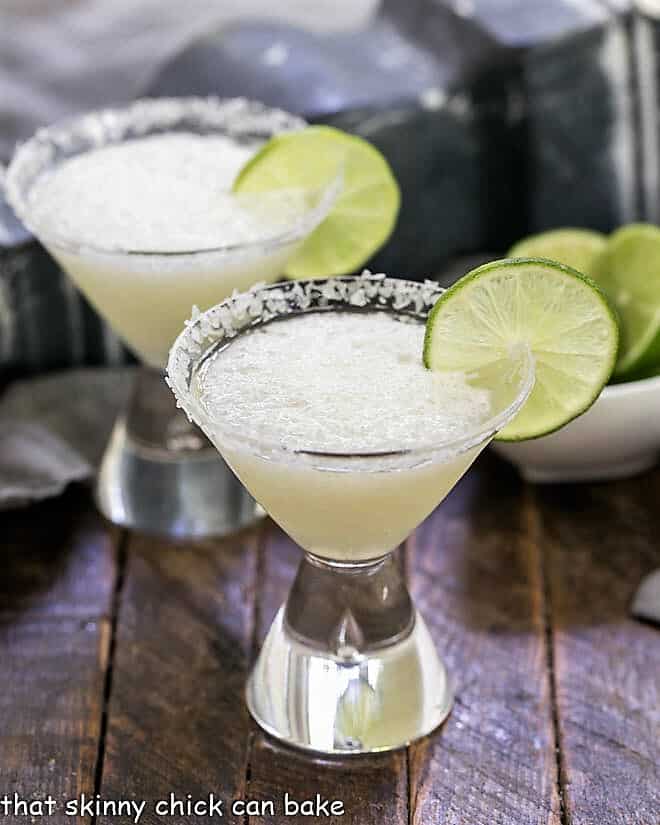 The Recipe:
Easy Beer Margaritas Recipe
Prep Time 10 minutes
Total Time 10 minutes
Yield 4 servings
The easiest margarita recipe in the world! You'll love these slushy gems!
Ingredients
6 ounces frozen limeade concentrate
6 ounces beer, light, lager type preferred
6 ounces tequila
Lime slices, to garnish
Margarita salt, for glass rims, optional
Instructions
To prepare salted glasses, dip the edge of the rim into water, then into a plate of margarita salt. Set aside.
Fill blender with ice. Add limeade, beer, and tequila and blend until slushy. Pour into prepared glasses and garnish with a lime slice.
Notes
To make these margaritas on the rocks, just mix equal parts beer, tequila and defrosted frozen limeade in a pitcher. Pour mixture into ice filled glasses.
Recipe adapted from Gourmet LA.
Recommended Products
As an Amazon Associate and member of other affiliate programs, I earn from qualifying purchases.
Nutrition Information:
Yield:
4
Serving Size:
1 glass
Amount Per Serving:
Calories: 233
Total Fat: 0g
Saturated Fat: 0g
Trans Fat: 0g
Unsaturated Fat: 0g
Cholesterol: 0mg
Sodium: 259mg
Carbohydrates: 18g
Fiber: 1g
Sugar: 11g
Protein: 1g
Note: This post may contain affiliate links; view
my Disclosure Policy
for details. I earn a small percentage from any purchase you make by clicking on these links at no extra cost to you.