Best Guacamole Recipe
This Best Guacamole Recipe is perfection with a touch of heat from jalapenos, a dash of color from minced tomatoes and a smattering of fresh cilantro. Served at my latest book club meeting, this Avocado Dip got rave reviews from my girlfriends!
I have a weak spot when it comes to guacamole and chips. Who needs dinner when there is a bowl of the Homemade Guacamole along with lightly salted tortilla chips? A heavenly combo. Scroll down for my tips on how to buy an avocado at the grocery store.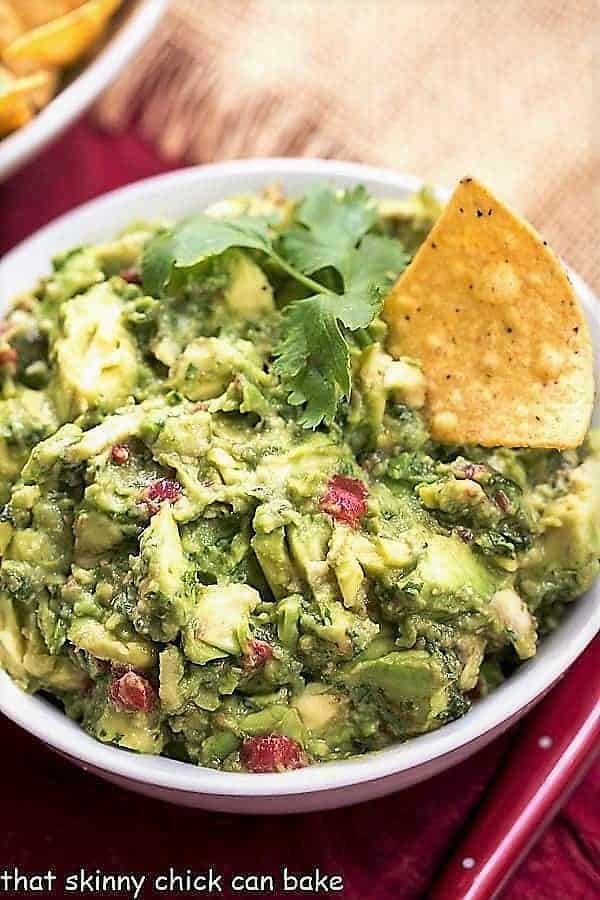 Why You Must Make
This chunky version is WAY better than anything you can buy in your local markets. My book club went crazy for this recipe. Plus, when you make it at home you can adjust the heat and leave out any ingredients you dislike.
A homemade chile paste brought another layer of flavor than what minced jalapenos and onions can provide.
The homemade guacamole recipe is an authentic Mexican version, not the Tex-Mex, Americanized recipes that we're used to eating.
Guacamole Ingredients
Kitchen Staples – Salt, White Onion
Fresh Cilantro – Stems removed and chopped or minced
Jalapeño – Finely chopped. Decrease amount for less heat.
Hass Avocados – Ripe but firm (about 8 ounces each)
Fresh Tomatoes – Diced, remove seeds if desired
Lime Juice – to taste, optional, but it will help minimize oxidation and balance the flavors.
Tortilla Chips – to serve
How to Make Guacamole
Today, I'm sharing Mary's marvelous recipe for guacamole. Not typical of the other recipes I've made, it starts with a homemade chili paste made of onions, cilantro, and jalapenos which was then mixed with ripe avocados, diced tomato, more cilantro, and onion. Truly the best recipe for guacamole I've ever made. And I've tried a lot!!
The most important ingredient in this classic guacamole is avocados. They must be ripe, so they are soft enough to make into a dip.
PRO-Tip: Buy your avocadoes when they're firm and green and let them ripen a day or two at home. This prevents the dreaded grocery bag bruising which can happen while attempting to transport soft, ripe avocados home or even by customers checking them in the produce department.
My addition to this recipe was to add a little lime juice to preserve the color of the avocados but otherwise made this classic guacamole true to Mary's recipe. PRO-Tip: The acid in the lime juice prevents the avocados from oxidizing, or turning brown.
If you don't want to add lime juice, just make sure you press some plastic wrap onto the surface of the guacamole as soon as it's mixed. This will prevent any air from reaching the guacamole and starting the oxidation process.
A granite molcajete is a Mexican mortar and pestle that's perfect for making this recipe for guacamole. By pulverizing the chile paste ingredients, you'll release oils that chopping will not. If you own one, make both the paste and the guacamole in your molcajete for a most authentic guacamole.
Serving Suggestions:
Kick-off your menu with this terrific guacamole as a starter. Here are some more recipes to round out your meal.
Frequently Asked Questions
How Do You Pick Out the Best Avocados?
To check for ripeness, first give your avocado a gentle squeeze. It should give slightly without leaving an indentation. If you're still unsure, remove the little stem end at the top of the avocado and examine the color underneath. If it's green, it's ripe. If it's dark brown to black, it's over-ripe. If the stem end does not come off easily, the avocado is not ripe.

The color of a ripe avocado should be a dark to very dark green. When it's over-ripe, it will be almost black in color.
What Ingredients are in a Classic Guacamole Recipe?
Guacamole ingredients usually include mashed avocados, lemon or lime juice, and seasonings like chili powder or red pepper, salt, and fresh cilantro. Other additions may include chopped tomatoes, green or white onion, and/or minced jalapenos.
Is Cilantro Required to Make Guacamole?
Cilantro is a optional ingredient. A certain smell-receptor gene cluster makes cilantro taste soapy to those with it in their genetic profile.
How Do You Prevent your Guacamole Dip from Oxidizing?
Oxidizing is the process of discoloration of foods like apples, bananas, avocados and red meat when they're exposed to air. By pressing plastic wrap over the exposed surfaces, oxidation can be minimized. Adding an acid like lemon juice, lime juice, or vinegar can slow oxidation.
What Are the Health Benefits of Eating Avocados?
Avocados are relatively low in calories, high in unsaturated fat (good fat), with vitamin C, thiamine and riboflavin. See the graphic below.
The Benefits of Avocados
Check out this Avocado Buying and Growing Guide.


You May Also Like:
Stay in touch through social media @ Instagram, Facebook, and Pinterest. Don't forget to tag me when you try one of my recipes! And if you love the results, please give it a 5-star rating in the recipe card. Note: As an Amazon Associate, I earn from qualifying purchases. Visit my Amazon Store for my favorite products.
The Recipe:
Best Guacamole Recipe
Prep Time 15 minutes
Total Time 15 minutes
Yield 6 servings
A tasty Mexican-style guacamole recipe.
Ingredients
For Chile Paste:
1 tablespoon finely chopped white onion
1 firmly packed tablespoon chopped fresh cilantro
2 teaspoons finely chopped jalapeño, or more to taste
½-1 teaspoon of salt (start with ½ teaspoon and add more if needed at the end)
For Guacamole:
Chile paste
4 medium avocados (Hass), ripe but firm (about 8 ounces each)
3 tablespoons diced tomato
2 packed tablespoons chopped fresh cilantro
1 tablespoon finely chopped white onion
Lime juice, to taste, optional
Tortilla chips, for serving
Instructions
Make the chile paste: Grind the onion, cilantro, jalapeño, and salt together in a molcajete (I used a mortar and pestle, but chopped ingredients together first) until all the ingredients are very finely ground.
Cut each avocado in half, remove pits, then cut a cross-hatch pattern into the flesh and scoop out the flesh into a medium bowl with a spoon.
Stir in chile paste, then tomatoes, cilantro, and onion. Mix to desired consistency.
Squeeze in some lime juice if desired.
Check for seasonings and add salt if desired.
If not using immediately cover the surface with plastic wrap to minimize browning.
Recommended Products
As an Amazon Associate and member of other affiliate programs, I earn from qualifying purchases.
Nutrition Information:
Yield:
6
Serving Size:
1
Amount Per Serving:
Calories: 225
Total Fat: 20g
Saturated Fat: 3g
Trans Fat: 0g
Unsaturated Fat: 16g
Cholesterol: 0mg
Sodium: 365mg
Carbohydrates: 14g
Fiber: 9g
Sugar: 2g
Protein: 3g
My whole family trekked to Colorado this summer to visit my dad, who was delighted to see his grandchildren and go on "adventures." When my sisters and I were children, we spent the majority of our summer vacations in the picturesque ski town of Aspen, Colorado. Decades ago, summers were quiet and the streets were filled with few tourists.
My dad was there to attend the physics institute, which was very loose with its demands on its scientists. Meaning we were up at dawn many mornings, donned with our hiking boots and backpacks to head to a mountain lake, treacherous pass or a 14,000-foot peak. Learning a few tidbits about the wildlife and rocks was about the only "science" happening on many days.
Once my kids were walking, we started the tradition of joining my parents for biennial trips to our favorite mountain destination. That was where I sampled my first delicious classic guacamole recipe, not too commonplace in Ames, Iowa back in the day. We headed back to Aspen, for the first time in nearly a decade, this summer. That's where my friend, Mary, a fellow food blogger whose daughter was a friend of my sister, shared her recipe!
Note: This post may contain affiliate links; view
my Disclosure Policy
for details. I earn a small percentage from any purchase you make by clicking on these links at no extra cost to you.