Authentic Tres Leches Cake
An Authentic Tres Leches Cake, or three milks cake, is a Latin American classic. Rich, ultra moist, and absolutely impossible to resist. One of my daughter's favorite desserts, it's often her birthday cake request!
A popular cake in Latin America, this pastel de tres leches translates to sponge cake with three milks, the latter referring to evaporated milk, sweetened condensed milk, and half and half. This Tres Leches Cake Recipe is unlike any other you've ever eaten!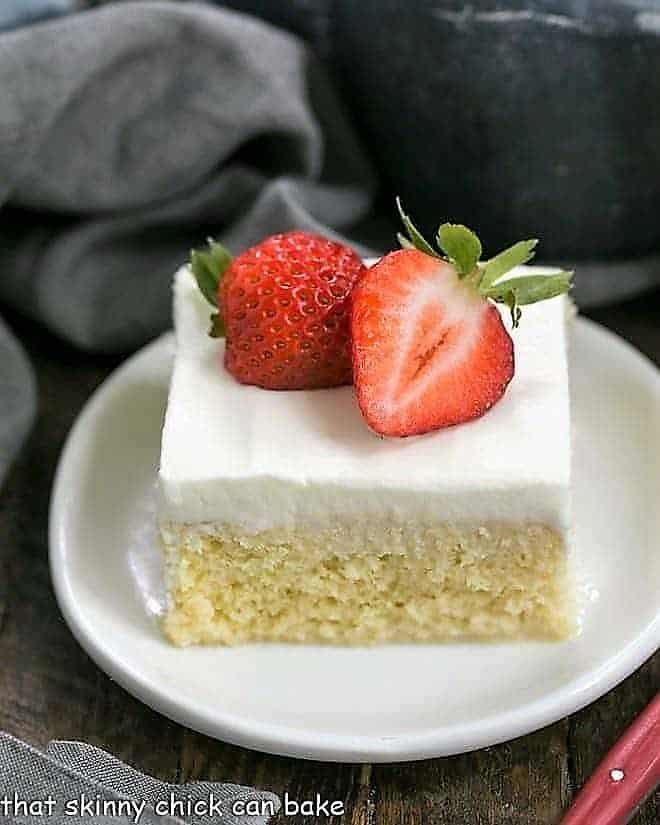 Why You Must Make
This is based on Alton Brown's recipe. He is a master at researching the science of what makes a recipe work and is considered a good source for an authentic, well-tested recipe.
It's perfect for dessert when serving Mexican or Tex-Mex for dinner.
If you've ever eaten a 3-leches cake at a restaurant, now you can make a just as delicious version at home!!
It must have been more than 10 years ago when I heard about tres leches cake, so of course, the foodie in me had to make one. My first attempt was nothing special, but my daughter, Katie, was smitten. The rest of the family was underwhelmed.
Of course, despite what the rest of the family thinks, Katie gets to request her favorite dinner and birthday dessert. So, as much as I tried to ignore her pleas, I went ahead and baked up a new version. I added a few strawberries just to garnish. Just to give the plate a little pizzazz. The results were pretty darn tasty, I have to admit! Even picky Bill changed his tune after I suggested he give this tres leches cake recipe a chance.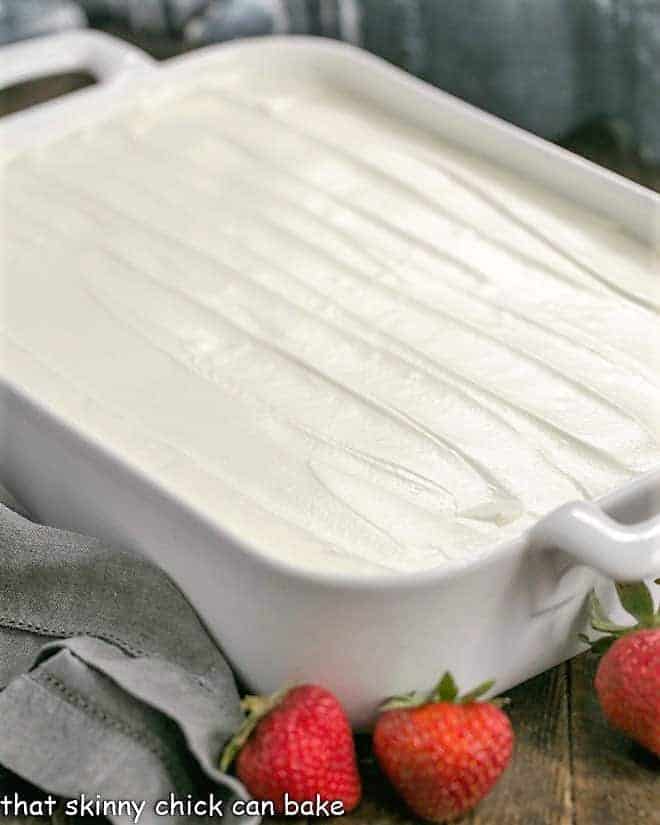 Expert Tips
There are scads of variations of this three milks cake. But this one is what our family considers the best tres leches cake. The picky hubby isn't totally on board, preferring chocolate chip cookies or brownies, but hey, you can't win 'em all. If you're new to making this cake, here are a few tips on How to Make a Tres Leches Cake.
The cake is an egg-heavy sponge cake. "Sponge" is key here as the cake must be able to absorb almost 4 cups of liquid.
Other recipes call for a butter cake or even using a yellow cake mix, but I'm on team sponge cake.
To facilitate absorption, use a fork, skewer, or even a straw to poke numerous holes across the surface of the cake. This gives more real estate for the milk to soak into.
Cake flour is used in the recipe instead of all-purpose flour. Cake flour is made from softer wheat and has less gluten, making for a more tender cake. I do not recommend using all-purpose flour as a substitution.
When I was a teenager, WAY before the Internet, I remember using a mixture of all-purpose flour and cornstarch as a substitute for cake flour. You can easily make your own.
PRO-Tip: To make your own cake flour, follow these instructions: For each cup needed, measure out a cup of flour, then remove two tablespoons. Replace the 2 tablespoons of flour with 2 tablespoons of cornstarch. Sift this mixture 3 or 4 times to make sure the cornstarch is evenly dispersed. While you're at it, make more than one cup, and save the extra for the next time you need cake flour.
Depending on the recipe, the 3 milks can vary. Most recipes I've seen call for two canned milks, evaporated and sweetened condensed. The third for this cake is half and half, an equal blend of whole milk and light cream, but other recipes call for whole milk or heavy cream.
PRO-Tip: Use a 4-cup Pyrex measuring cup with a spout to pour the milks over the cake. I start with a dousing across the surface of the cake, using about a third of the mixture to start, then letting it absorb before repeating the process. Using all of the "milks" may cause some leakage at the bottom of the cake as a smidgen of the liquid may not totally absorb. It isn't a huge deal, but feel free to hold back some of the liquid if desired. I didn't use 1/3 of a cup.
Beware, this is a VERY sweet cake. The whipped cream topper has an additional 1 cup of sugar added. I've seen comments/complaints on other recipes about this dessert being too sweet. Just know that this is how it's supposed to taste.
PRO-Tip: A caterer friend taught me to freeze the bowl for whipping the cream for a half hour or more before making it. Cream whipped in an icy cold bowl is much more stable than when done in a room-temperature bowl. Meaning, it's less likely to "break" and turn watery.
This authentic tres leches cake is perfect for Cinco de Mayo or your only daughter's birthday!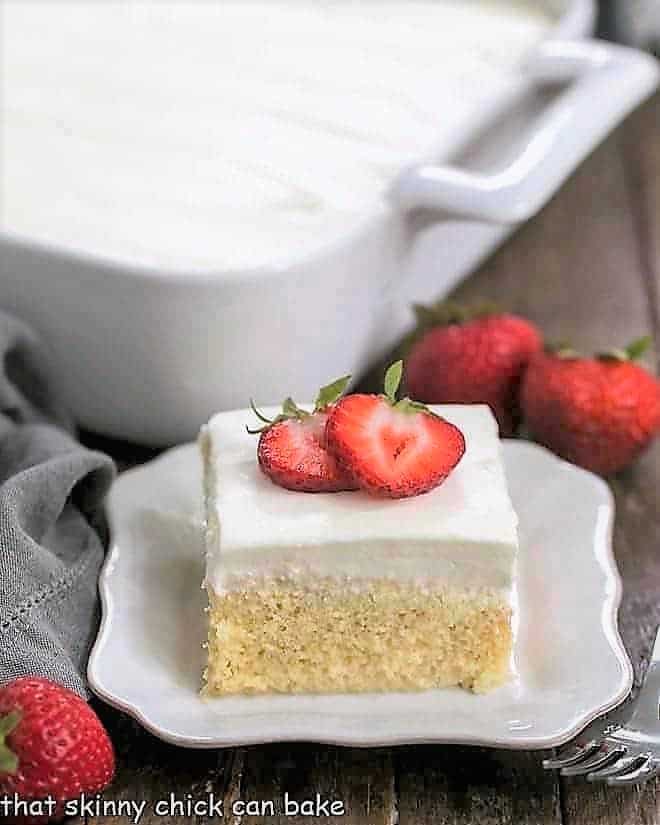 Frequently Asked Questions
What does tres leches mean?
Tres Leches is the Spanish phrase for three milks, referring to the 3 kinds of milk products in this cake recipe.
What does an authentic tres leches cake taste like?
It's a cool, moist, spongy, custardy cake. It's like no other cake you'll ever eat!
Can skim milk be used for one of the kinds of milk?
It's best to use 2% or whole milk as the fat helps add richness to this dessert. The reduction of calories per serving won't be substantial by swapping the milk out for skim milk.
How far in advance can a tres leches cake be made?
Making it the night before gives the cake plenty of time to absorb the milk. If you do not have time the day before, it could be made two days before. Add the whipped cream topping before serving. Note: the cake will need at least 6 hours to absorb the milk.
How long will a Tres Leches Cake Keep?
A tres leches cake will start losing quality after 3 days as the whipped cream topping will start to separate. It is safe to eat up to 4 or 5 days after baking as long as it's been stored correctly.
How Do You Serve a Tres Leches Cake?
Though totally optional, topping with a couple of slices or halves of ripe strawberries adds a nice pop of color to a rather pale dessert. It should be served cold.
How Do You Store a Tres Leches Cake?
It must be stored covered in the refrigerator due to all the milk in the cake.
You May Also Like
Stay in touch through social media @ Instagram, Facebook, and Pinterest. Don't forget to tag me when you try one of my recipes! And if you love the results, please give it a 5-star rating in the recipe card. Note: As an Amazon Associate, I earn from qualifying purchases. Visit my Amazon Store for my favorite products.
The Recipe:
Tres Leches Cake
Prep Time 45 minutes
Cook Time 25 minutes
Total Time 1 hour 10 minutes
Yield 24 servings
Alton Brown's version of this "3 Milks" cake.
Ingredients
Cake:
1 1/2 cups cake flour, plus extra to dust the pan
1 teaspoon baking powder
1/2 teaspoon salt
4 ounces butter, at room temperature
1 cup plus 1 tabblespoon sugar
5 eggs
1 tablespoon vanilla
Glaze:
1 can evaporated milk (12 ounces)
1 can sweetened condensed milk (14 ounces)
1 cup half and half
Topping:
2 cups heavy cream
1 cup sugar
1 teaspoon vanilla
Instructions
Preheat oven to 350º. Grease and flour, or use Baker's Joy, to coat a 9 x 13 pan.
Whisk together dry ingredients and set aside.
Using the paddle attachment of a stand mixer, beat butter until fluffy on medium speed. Decrease to low and add sugar slowly. Scrape down sides of the bowl. Add eggs, one at a time, mixing until well combined. Add vanilla and mix.
Add dry ingredients in three batches and mix till just incorporated. Pour batter into prepared pan. Smooth top. Bake in the middle of your oven for 20-25 minutes.
Remove and cool for a half hour. Poke top of cake with fork or skewer. Allow cake to completely cool.
Make the glaze by whisking the milks and half and half. Slowly pour over cake and refrigerate overnight. I did not use the last 1/4 cup of glaze so that it all absorbed.
Before serving, make topping by whipping heavy cream, sugar, and vanilla until mixture thickens and stiff peaks form. Spread topping over cake and refrigerate until serving.
May garnish with sliced strawberries.
Notes
If you don't have cake flour, you can make your own with a combination of all-purpose flour and cornstarch. For each cup of flour needed, measure out 1 cup of AP flour, remove 2 tablespoons, and replace those 2 tablespoons of flour with 2 tablespoons of cornstarch. Whisk together and use as a substitute for 1 cup of pastry flour.
Nutrition Information:
Yield:
24
Serving Size:
1
Amount Per Serving:
Calories: 220
Total Fat: 14g
Saturated Fat: 9g
Trans Fat: 0g
Unsaturated Fat: 5g
Cholesterol: 80mg
Sodium: 140mg
Carbohydrates: 19g
Fiber: 0g
Sugar: 12g
Protein: 4g
Note: This post may contain affiliate links; view
my Disclosure Policy
for details. I earn a small percentage from any purchase you make by clicking on these links at no extra cost to you.