Traditional English Trifle
Made with pound cake, Grand Marnier, creme anglaise, whipped cream, & fresh berries, my twist on Traditional English Trifle is pure bliss. Decades ago, while my parents were living in Scotland for the year, I was introduced to my first trifle.
That Scottish version was made with sponge cake, sherry, Bird's Custard mix, whipped cream, and fresh raspberries from the yard, and was simple and unforgettable. My past Trifle Recipes have been anything but traditional, so I channeled my memories of that Scottish trifle and created this Christmas Trifle.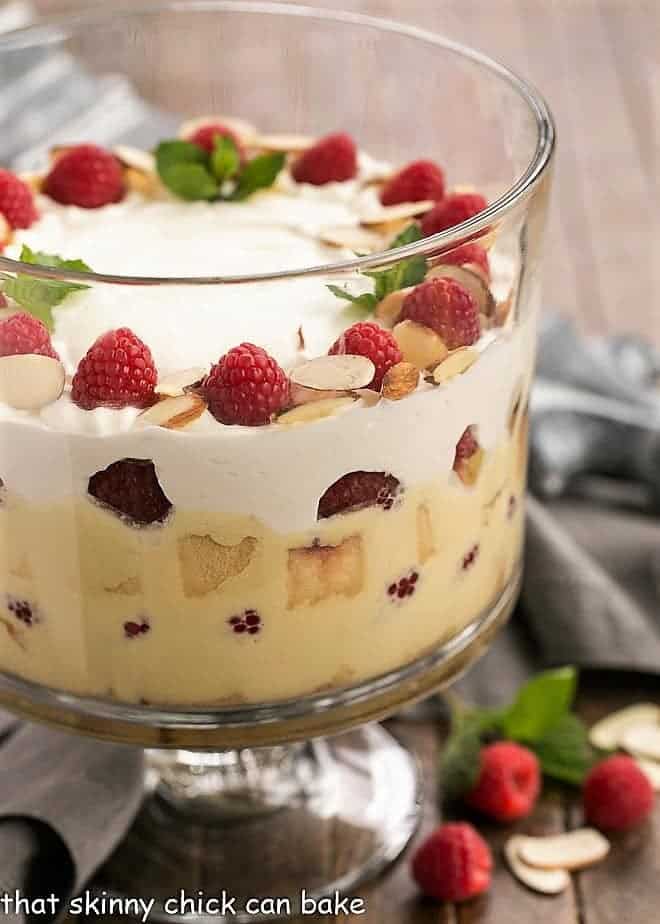 Why You Must Make
For a holiday luncheon last week, I brought this traditional English trifle to share with my friends. I've made loads of trifles in the past, like this incredible Strawberry Cheesecake Trifle and this chocolate lover's Brownie Trifle, but wanted to make something closer to what I tasted years ago in the British Isles. From the reaction of my friends, I'd say it was a huge success. Here's why you should try this recipe:
The layering of ingredients and serving in a glass dish on a pedestal makes for an impressive presentation.
The combination of cake, custard, cream, and fruit is an incredible treat.
This trifle recipe serves a crowd and is perfect for dinner parties or holidays.
Ingredient Notes
Pound Cake – sponge cake or ladyfingers are traditional (I used a Sara Lee frozen pound cake for a shortcut, defrost overnight in the refrigerator).
Grand Marnier – used to douse the cake. Sherry is traditional.
Seedless Raspberry Jelly or Jam, with jelly AKA Jello being traditional.
Raspberries – other garnishes include candied or fresh fruit, nuts, or chocolate. 
Heavy Cream, whipped – another traditional garnish, mine is sweetened.
Custard – either made from scratch or a box mix. This custard is thinner than a typical American pudding.
Expert Tips
Making a traditional English trifle is all about layering. Carefully composing this dessert is what makes trifle recipes so popular!!! Here are some tips for making a beautiful Christmas trifle.
You need to carefully layer each component. If you smear the sides of your glass trifle bowl with custard, the presentation will not be as attractive. It's easier to prevent a drip than to clean one up, but I've had to do the latter more than once!
Start with a bed of cake. I like to make sure they're bite-sized pieces for easy serving and eating. If you want to add jam to your trifle, spread a bit on each cake slice or just drop spoonfuls across the surface of the cake. Pick a flavor that complements the fruit in your trifle. I used fresh raspberries and raspberry jam.
PRO-Tip: Neither jam nor American jelly (like used on toast or in a peanut butter and jelly sandwich) are in a traditional trifle. Instead, there is a layer of Jello (British jelly). Explore that option if it sounds good to you.
Drizzle the cake with the alcohol of your choice, but note that it's totally optional. The cake absorbs the flavor and then softens. Again choose a liqueur that complements your specific trifle.
PRO-Tip: Cream sherry is the classic choice for use in trifles, but there are some lovely liqueurs that work well. If you want to avoid alcohol, try using orange juice instead.
Next, layer the fruit, then the "pudding," which can be custard, creme anglaise, homemade pudding or pudding made from a box. Note that the creme anglaise is more of a sauce, so try to aim for the center of the bowl when pouring it, so some of the layers still show through the sides of the trifle bowl.
Bird's Custard Powder (affiliate link) is frequently used in Britain, and in the states, and boxed pudding mixes are also options. PRO-Tip: Look in the international aisle for Bird's as it's a great shortcut.
Note: Dorie Greenspan uses melted vanilla ice cream instead of creme anglaise for a shortcut, so keep that in mind, too.
If you're determined to see the layers in your traditional English trifle, you may want to use a custard instead.
Add a layer of whipped cream and repeat the layers! There are no set ingredients or layering order. I only added whipped cream at the top and repeated the other layers once.
Garnish the top with more fruit, candied fruit, nuts or whatever might reflect your fillings. Garnishing with red berries and mint make a perfect Christmas trifle! Chill for a few hours before serving.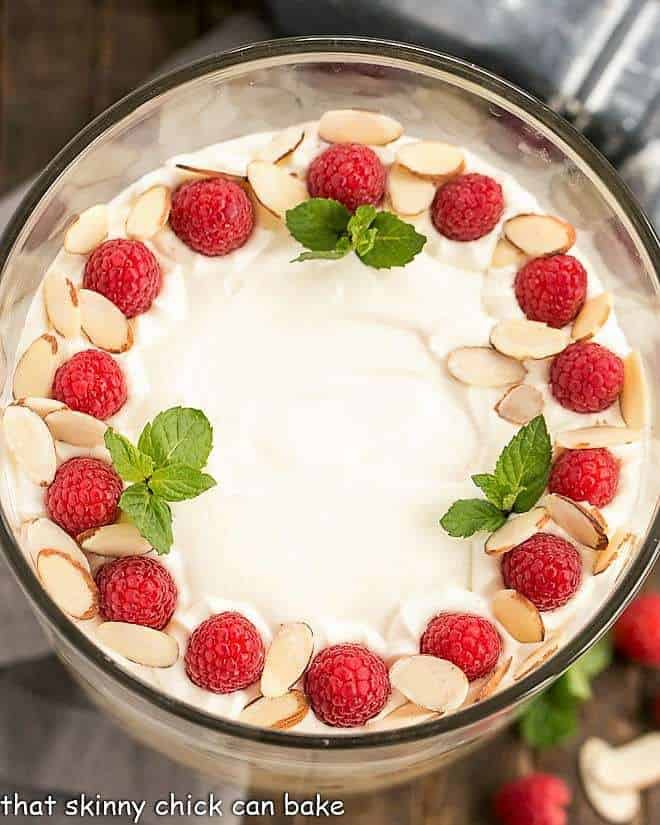 Frequently Asked Questions
What's In Trifle?
The traditional trifle ingredients include Spongecake or Ladyfingers, Sherry or other spirits, jam, custard, whipped cream, and garnishes of fruit, nuts, or grated chocolate.
How Do You Serve Trifle?
A trifle bowl or any glass bowl will showcase the beautiful layers and is the most common way to serve a trifle recipe. PRO-Tip: Aim for even layers for the most beautiful presentation.
Alternatively, use clear, glasses with relatively wide openings to make individual desserts. It may be a little more challenging not to smear the sides of the containers, but who doesn't love their own dessert!
Can You Make Trifle The Day Before?
Yes, but leave off the whipped cream topping until the day of serving as it can separate as time goes on. Making it in advance actually gives the cake more time to absorb the liqueurs and juices, which is a good thing! Make sure to keep your partially composed trifle in the refrigerator since the custard contains eggs.
Why Is It Called Trifle?
The name trifle comes from the French word, "trufle," which literally means something whimsical. I suppose a layered dessert composed of cake, spirits, jam, custard cream, and fruit could easily meet this definition.
How Do You Whip Cream?
If you're new to whipping cream, no worries. It's very simple. Now you'll mostly find ultra-pasteurized whipping cream and heavy cream in the markets. They are almost impossible to overwhip. When I started baking, years ago, overwhipping would result in clumpy cream instead of billowy whipped cream. It could be fixed by adding more liquid cream, but I'm delighted not to deal with those types of disasters anymore.

My biggest tip is to place the bowl you're using in the freezer for about 15 minutes before you start the process. PRO-Tip: A chilled bowl will help keep the fat in the cream cool and result in a light and fluffy whipped cream.

Once you add the cream (plus sugar and vanilla if you're using those) to the bowl, whisk or beat just until stiff peaks form. Stiff peaks are when the cream stands up straight when the beaters or whisk are lifted from the bowl.

You May Also Like:
Stay in touch through social media @ Instagram, Facebook, and Pinterest. Don't forget to tag me when you try one of my recipes! And if you love the results, please give it a 5-star rating in the recipe card. Note: As an Amazon Associate, I earn from qualifying purchases. Visit my Amazon Store for my favorite products.
The Recipe:
Traditional English Trifle
Prep Time 45 minutes
Cook Time 10 minutes
Total Time 55 minutes
Yield 16 servings
A classic holiday trifle with raspberries, pound cake, creme anglaise and whipped cream!
Ingredients
10 ounces pound cake (I used a Sara Lee frozen pound cake)
½ cup seedless raspberry jam
12 ounces fresh raspberries (reserve a few to garnish the top of your trifle)
2 cups heavy cream
½ cup sugar
6 egg yolks
1 teaspoon vanilla
2 tablespoons Grand Marnier (or add a bit more if you want more boozy flavor!)
1 ¼ cups heavy cream
¼ cup powdered sugar
½ teaspoon vanilla
Sliced almonds to garnish, if desired
Instructions
Cut the pound cake into bite-sized cubes. Spread some jam on half the cubes and place them in the bottom of a trifle dish. Spread jam on the rest of the cake and set aside.
Sprinkle half the Grand Marnier, then half the raspberries over the cake layer.
Make creme anglaise by heating the 2 cups of cream in a medium saucepan over medium heat. Beat together the egg yolks with the sugar until thick and pale yellow. Set aside.
Just before the cream starts to boil, remove from the heat. Very slowly drizzle some of the hot cream into the sugar/yolk mixture while beating or whisking constantly.
Return the mixture to the pan and cook over low until the mixture thickens and can coat a spoon. Do not allow to boil for the smoothest texture. Run through a strainer if desired. Allow to cool before adding to the trifle.
When the creme anglaise is cooled, pour about half in the middle of the trifle, then layer more cake, sprinkle with the rest of the Grand Marnier and raspberries, then the rest of the creme anglaise.
Whip the 1 ¼ cups of heavy cream with the powdered sugar and vanilla until soft peaks form. Smooth whipped cream over the top of the trifle and garnish with raspberries and almonds if desired.½
Notes
Inspired by English Trifle to Die For on allrecipes.com
Recommended Products
As an Amazon Associate and member of other affiliate programs, I earn from qualifying purchases.
Nutrition Information:
Yield:
16
Serving Size:
1
Amount Per Serving:
Calories: 352
Total Fat: 25g
Saturated Fat: 13g
Trans Fat: 1g
Unsaturated Fat: 10g
Cholesterol: 135mg
Sodium: 87mg
Carbohydrates: 30g
Fiber: 2g
Sugar: 21g
Protein: 5g
Note: This post may contain affiliate links; view
my Disclosure Policy
for details. I earn a small percentage from any purchase you make by clicking on these links at no extra cost to you.