Bûche de Noël (Christmas Yule Log)
A Yule Log or Bûche de Noël is a traditional French Christmas dessert, filled with chocolate mousse and iced with chocolate ganache. This Christmas cake roll recipe will be the star of your holiday menu! Sold yet?
This Christmas Bûche de Noël will be the star of your holiday menu! Make this Yule Log Recipe a Christmas tradition!
Why You Must Make
It's a classic Christmas dessert!
This chocolate version is out of this world!
It makes a gorgeous presentation with the bark-like frosting and meringue mushrooms.
Literally translated, Bûche de Noël means "log of Christmas" in French. A simple chocolate genoise cake is rolled around a chocolate filling, then iced to resemble a large tree limb. Replete with striated bark and mushrooms, it's both a memorable and delicious holiday dessert.
The original yule logs were real logs decorated with holly, pine cones, or ivy to welcome the winter solstice and cleanse the air. This tradition began centuries ago in the Iron age. Fast forward to the 1600s when the tradition may have continued with logs being burned in smaller hearths, ones which were also used for baking. The genoise, or sponge cake, dates back to this time as well. According to History.com, this may be when the first Bûche de Noël was created.
Expert Tips
Use superfine sugar to make your meringues. If you can't find a box in the market, just whiz regular sugar in a food processor for about a minute.
PRO-Tip: If any grease or egg yolk gets into your whites, they won't beat properly. If this happens, you must begin again.
Make sure you beat your sugar and egg white mixture until the sugar is dissolved. I like to rub some meringue between my thumb and pointer finger to feel for sugar granules. If the meringue feels gritty, beat longer.
Ina Garten recommends heating your sugar on a sheet pan before adding to the egg whites to make the sugar dissolves more easily. I have not attempted this, but it might be worth a try if you've had trouble with meringues in the past!
The cake in this recipe is a chocolate genoise. Most times the eggs are separated and the whipped whites are folded into the batter to lighten the mixture. In this case, the eggs and sugar and heated in a double boiler before beating. PRO-Tip: This mixture must be beaten until tripled in volume which takes about 5 minutes. Under-beating will make for a shorter, not as tender cake. Be patient.
After the cake is baked, and it's cooled enough so you can handle it, roll it up in a slightly damp tea towel along with the parchment to finish cooling. This allows the cake to take the shape of a log and that helps when you unroll and then reroll the cake after it's filled. The towel helps the cake from drying out.
I rolled my cake from short end to short end. The recipe I used called for rolling from long end to long end, making a narrower cake. I wouldn't cut the ends off for branches unless making the longer cake. PRO-Tip: Feel free to trim the ends for a prettier presentation.
I used a 3 Sided Decorating Comb (affiliate link) to make striations along the top and sides of the yule log to resemble tree bark.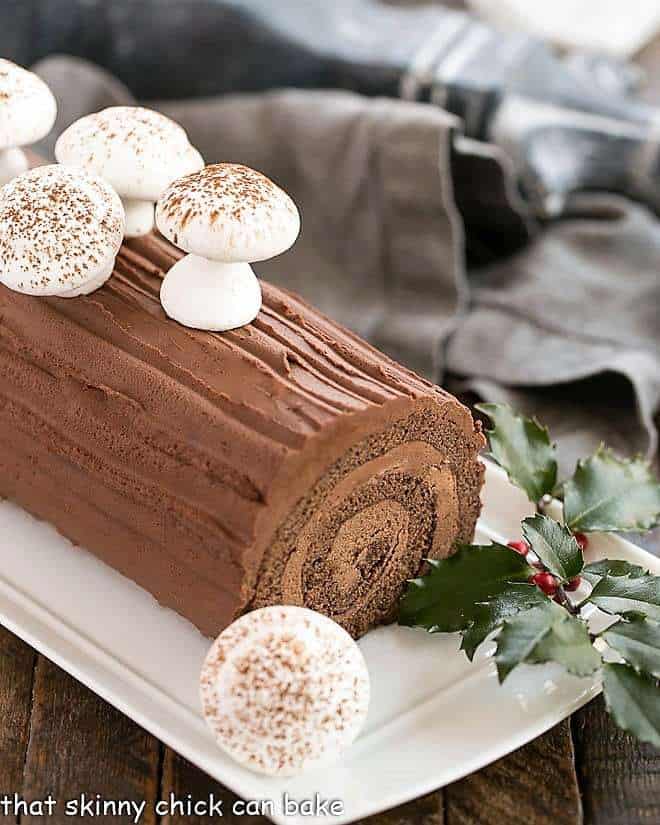 How to Make
These photos are from 2010, but will still give you some guidance.
Make the cake batter.
Pour into a rimmed baking sheet and bake as directed.
While the cake is warm and pliable, roll it up in a lint-free towel.
Unroll when the mousse filling is ready. Spread over the cake, roll up using the towel to assist, then frost using an icing blade if desired.

You Might Also Like:
Chocolate Peppermint Bark from Cravings of a Lunatic
Buche de Noel from That Skinny Chick Can Bake
Cranberry Moscow Mule from The Girl in the Little Red Kitchen
Chocolate Gingerbread Crumb Cake from Hungry Couple
Gingerbread Cupcakes with Chai Spiced Frosting from Jen's Favorite Cookies
Apres Ski Boozy Tea from Pineapple and Coconut
Raspberry Almond Torte from Magnolia Days
Fruit and Nut Bars from What Smells So Good
Frequently Asked Questions
What is a Yule Log?
It's the English translation for Bûche de Noël, so the terms are interchangeable.
What's in a Bûche de Noël?
There are three components in a yule log cake roll:
1. Chocolate genoise cake or a sponge cake
2. Chocolate buttercream, chocolate mousse, or chocolate or vanilla whipped cream filling
3. Whipped chocolate ganache frosting
How Do You Make a Yule Log?
A thin genoise cake is rolled around a chocolate filling and iced with a whipped chocolate ganache to form a Bûche de Noël. A genoise, also known as a sponge cake, is flexible enough to roll following the technique in the recipe below. This Yule Log Cake is really just a fancified jelly roll cake or roulade.
Does a Bûche de Noël Need to be Refrigerated?
Whether or not a yule log needs to be refrigerated depends on the filling. If filled with mousse, it definitely needs to be refrigerated and not left out at room temperature for over 2 hours. Christmas is not the time to get food poisoning.
But if your holiday cake is filled with buttercream frosting, it can stay out at room temperature. Cover with plastic wrap to prevent the cake from drying out. Refrigerating either version may help lengthen its shelf life, but make sure to bring it to room temperature before serving.
How Long Does It Take to Make a Yule Log?
This Christmas Cake takes some planning with cooling times and numerous steps. For the first go-around, I had some friends over to help me bake, so we took a few shortcuts.
But I still couldn't finish it in the time we had allotted. So if you're planning to make a yule log for the holidays, clear your calendar. Plan to make the meringue mushrooms ahead of time and set aside a good 3-4 hours for baking the cake and assembly.
I love the concept of this festive dessert recipe and have used a couple of different fillings, both buttercream frosting, and chocolate mousse. Other Bûche de Noël cakes are filled with thick custard. So this time, I filled my cake with chocolate buttercream!
It was a thing of beauty when I cut my first slice. Whew. Everyone gave this Yule Log rave reviews!
More Holiday Desserts:
Stay in touch through social media @ Instagram, Facebook, and Pinterest. Don't forget to tag me when you try one of my recipes! And if you love the results, please give it a 5-star rating in the recipe card. Note: As an Amazon Associate, I earn from qualifying purchases. Visit my Amazon Store for my favorite products.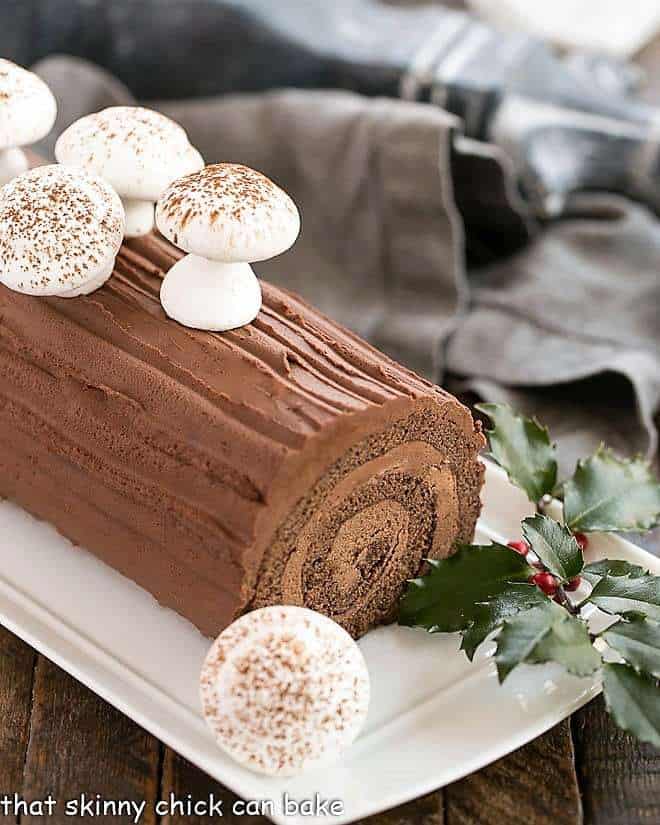 The Recipe:
Bûche de Noël
Prep Time 1 hour 20 minutes
Cook Time 1 hour 20 minutes
Total Time 2 hours 40 minutes
Yield 12 servings
A traditional French Christmas dessert that is perfect for chocolate lovers!
Ingredients
For mushrooms:
½ cup egg whites at room temperature
¼ teaspoon cream of tartar
dash of salt
1 teaspoon vanilla
1 cup superfine sugar (I used Dominos brand)
1 tablespoon cocoa powder
4 ounces semi-sweet chocolate, chopped
½ teaspoon vegetable oil
For chocolate buttercream filling (mousse alternative in notes below):
1 ounce semi-sweet chocolate, chopped
1 ounce unsweetened chocolate, chopped
½ cup butter, at room temperature
2 cups powdered sugar, sifted
2 tablespoons cocoa powder, sifted
2 tablespoons milk
1 teaspoon vanilla
For cake:
5 tablespoons butter, plus more to butter pan
⅔ cup cake flour
⅓ cup cocoa powder, plus more for dusting cake
Pinch of baking soda
6 eggs
¾ cup sugar
2 teaspoons vanilla
For ganache:
6 ounces semi-sweet chocolate, chopped
1 cup heavy cream
Instructions
Make meringue mushrooms up to 3 days ahead. Preheat the oven to 225º. Line the baking sheet with parchment and set aside.
Use an electric mixer to whip egg whites till foamy. Add cream of tartar, salt, and vanilla. Continue whipping till egg whites form soft peaks (if you make a peak with the meringue, the tip will not stay upright).
Slowly add the sugar while continuing to whip on high…a tablespoon or so at a time…till the whites form stiff peaks (the peaks will stay upright).
Place the meringue in a pastry bag fitted with a large plain tip. Or do what I do and use a ziplock bag fitted with a large plain tip. For stems, press out a bit of meringue onto the baking sheet and lift the tip straight up.
For caps, squeeze out round mounds of meringue. I just used a teaspoon dough scoop to form my rounds. You can use a wet finger to gently pat down any major imperfections.
Bake for 1 hour. Remove from oven and cool completely.
To make mushrooms, melt semi-sweet chocolate in the microwave…stopping and stirring at 30-second increments till melted. Add vegetable oil and stir. Use a toothpick to make a hole in the bottom of the cap…just large enough to insert one of the stems. Spread a small amount of chocolate on the underside of the cap and connect the stem to the cap.
It may take a bit of fiddling to make the holes the correct size and to get the mushrooms to stand alone. You should have plenty of caps and stems with which to practice. Dust mushrooms with cocoa powder to finish.
Make chocolate buttercream. Melt chocolates in the microwave, stopping and stirring at 30-second increments till smooth. Let cool slightly.
Beat the butter in a medium bowl until creamy. Add the chocolate, powdered sugar, cocoa powder, milk, and vanilla. Beat until it reaches a spreading consistency. Cover with plastic until ready to use.
To make the cake: Preheat oven to 350º. Butter 10½ x 15½ x 1-inch jelly roll pan. Line with parchment paper then butter and flour paper. Tap out excess flour.
Sift flour, cocoa, and baking soda twice into a medium bowl. Set aside while you clarify the butter. Over low heat, melt butter. Skim off the white foam and then pour the butter into a bowl, leaving any white solids that remain in the pan. Set aside and don't forget to add this to the cake batter (I nearly did).
In a medium heat-proof bowl, whisk together sugar and eggs. Place over a pot of simmering water and heat and whisk till the mixture is warm and sugar is dissolved. Remove from heat and beat on high till tripled in volume, this will take about 5 minutes. Be patient. Reduce speed to medium and add vanilla. Beat another few minutes.
Sift about a third of the dry ingredients into the egg mixture. Fold in with a spatula. Repeat two more times, adding in the butter with the last addition.
Spread batter evenly in the prepared jelly roll pan. Bake for 15-20 minutes, till cake, pops back up when lightly tapped. Do not over-bake. Place on rack till cool enough to handle.
Dust the top of the cake with cocoa powder. Cut around the perimeter of the cake to loosen. Place a piece of waxed paper over the top of the cake, followed by a damp dishtowel.
Invert the cake onto a work surface, peel off the parchment, and sprinkle with cocoa. Starting with one short end, carefully roll up the cake in the towel. Wrap in plastic if desired and refrigerate till needed.
Make ganache: Microwave cream in a large measuring cup till hot. Add chocolate and whisk till smooth. Refrigerate till cold.
Whip cold ganache at medium speed till it has the consistency of soft butter. Start assembling the cake.
To assemble: Carefully unroll the cake onto the backside of a baking pan. Discard the wax paper and any plastic wrap.
Spread mousse on cake leaving a one-inch margin on each long edge.
Reroll cake starting with the other end…using a towel to help roll. Cover with plastic and chill for one hour.
Ice with the ganache. Make lines or ridges on the cake to resemble tree bark if desired. Garnish with meringue mushrooms.
Notes
If you'd rather fill with chocolate mousse, here is that recipe:
4 ounces semi-sweet chocolate, chopped
4 tablespoons butter, cut into 4 pieces
4 eggs separated
Pinch of cream of tartar
1/2 cup heavy cream
To make mousse, melt chocolate and butter in microwave, stopping and stirring at 30 second increments till smooth. Let cool slightly.
Whisk in egg yolks. Let cool to room temperature.
In large bowl, beat egg whites with cream of tartar till stiff peaks form. Whisk a third of the whites into the chocolate, then carefully fold in the rest of the egg whites.
Whip the heavy cream till soft peaks form, and fold into the chocolate mixture.
Chill till set, about an hour.
Recommended Products
As an Amazon Associate and member of other affiliate programs, I earn from qualifying purchases.
Nutrition Information:
Yield:
12
Serving Size:
1
Amount Per Serving:
Calories: 622
Total Fat: 34g
Saturated Fat: 19g
Trans Fat: 1g
Unsaturated Fat: 12g
Cholesterol: 155mg
Sodium: 204mg
Carbohydrates: 77g
Fiber: 3g
Sugar: 65g
Protein: 8g
Note: This post may contain affiliate links; view
my Disclosure Policy
for details. I earn a small percentage from any purchase you make by clicking on these links at no extra cost to you.