Brownie Baked Alaska
A Brownie Baked Alaska is an exquisite twist on the classic meringue topped dessert named after Alaska was purchased by the United States in the late 1800's.
This out of the ordinary Baked Alaska Recipe is truly a show stopper with the massive topping of toasted meringue.

Brownie Baked Alaska Recipe
Of course, my version of this baked Alaska has a chocolate twist starting with a brownie base. I've always topped with vanilla ice cream, but the "vanilla" in the freezer was Graeter's Vanilla with bittersweet chocolate pieces! Nothing wrong with more chocolate!
This baked Alaska would also be spectacular with peppermint stick, coffee, or one of your favorite ice cream flavors that pairs well with chocolate. I started with a recipe from Gourmet and made it my own.
My oldest, Tom, joked as he was eating this tonight, "This can't be good for you." That's a huge compliment!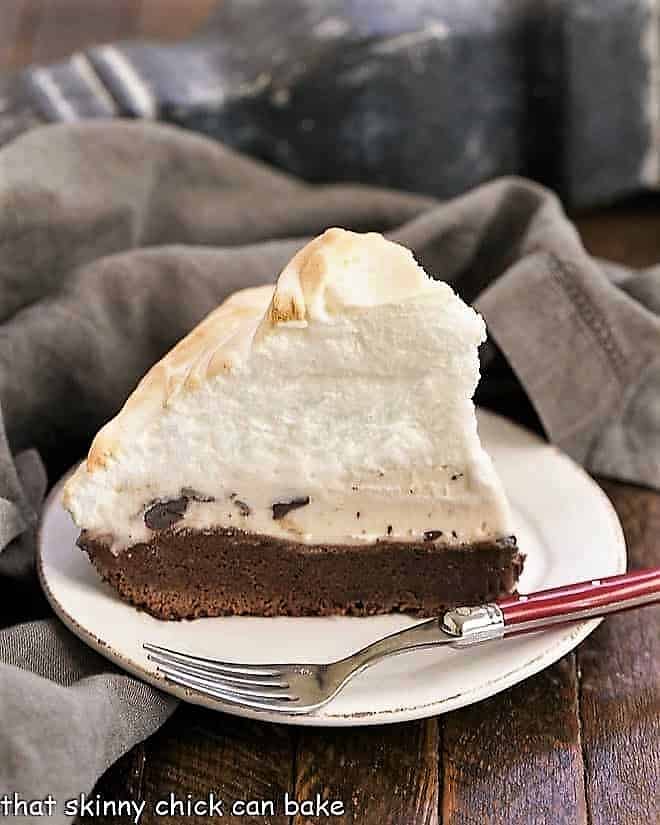 How to Make a Recipe for Baked Alaska
Instead of the typical sponge cake base, there are endless options for cake flavors or even brownies, like with my recipe. The base is made in a pie plate, though, instead of the classic round cake pan.
Like the base, the ice cream layer can vary as well. Vanilla is always appropriate, but any flavor will do as long as the flavor is complementary to the cake layer.
The meringue topping is added only after the cake and ice cream layer have been frozen for up to an hour. This prevents the ice cream from becoming a melted mess while the meringue is browning in the oven.
A huge pie of meringue topping this dessert is the classic finishing touch. The original recipe used 6 egg whites which made a massive meringue topping. Decreasing the amount to 4 egg whites still made a beautiful, fluffy mound of meringue. If you haven't made a meringue before, there are a few tips to be successful.
PRO-Tip: Use room temperature egg whites for the most voluminous meringue.
PRO-Tip: Whipping up a meringue is an easy process, but your egg whites, beaters, and bowls have to be free from any grease, oils, or egg yolk contamination or the whites will not beat properly.
It behooves you to separate the eggs one at a time into separate dishes before adding the whites to your mixing bowl. If you don't and get a dribble of yolk in your bowlful of whites, you'll have to toss them all. Also, make sure your bowls, etc. have been run through the dishwasher for the best chance that they're 100% clean.
How to Slice a Baked Alaska
Cutting through a meringue topping can be challenging. The meringue wants to stick to the knife, ripping through the meringue instead of gliding.
To help slicing, dip the knife into boiling water, drip it off, then slice through the meringue. Alternatively, take the sharp point of a knife and pierce along the line of where you plan to slice. Next, slice along that line. These "dots" provide controlled slicing.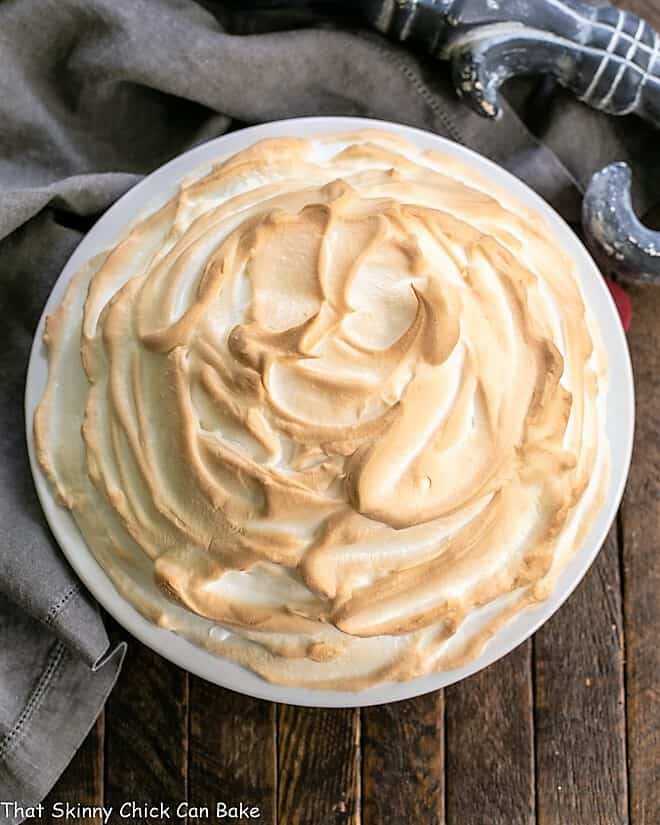 What is a Baked Alaska Made of?
Typically a baked Alaska is made of a sponge cake base, followed by an ice cream layer, and finished off with a billowy meringue topping. The bottom two layers are frozen before the whipped meringue is added and toasted briefly in the oven.
Why is This Dessert Called Baked Alaska?
Baked Alaska purportedly got its name when Charles Ranhofer, a New York chef for Delmonico's is said to have created the dessert to commemorate Seward's purchase of Alaska in 1867. First called the Alaska-Florida because of the contrast between the hot and cold elements, shortly after it was known only as Baked Alaska.
Though, Ranhofer may have been the first to coin the name, there are also there are undocumented claims that Antoine Alciatore of New Orleans 'Antoine's restaurant may have actually been the originator of a baked Alaska, also after the sale to the US.
This frozen dessert was not new to the world when first baked up in those two restaurants. It was known overseas as omelette norvégienne, omelette surprise, or omelette sibérienne. If you want to douse your baked Alaska in rum and ignite, it's then called a Bombe Alaska.
More Delicious Frozen Desserts: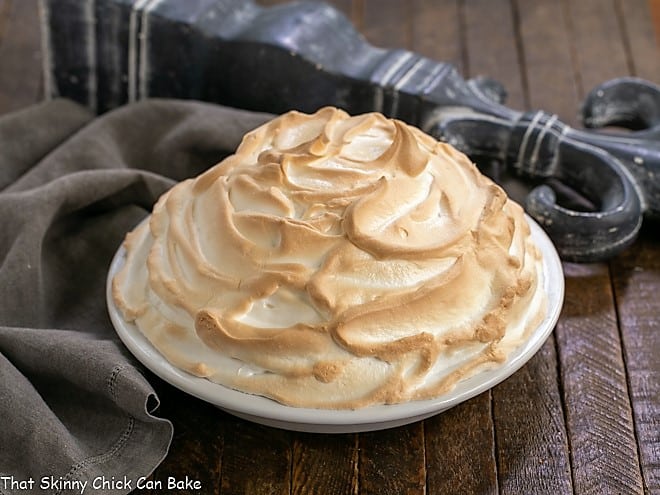 The Recipe:
Brownie Baked Alaska
Prep Time 30 minutes
Cook Time 45 minutes
Total Time 1 hour 15 minutes
Yield 8 servings
A fudgy twist on a baked Alaska with a brownie base and vanilla chocolate chip ice cream.
Ingredients
1 brownie recipe, homemade or boxed, baked in a pie dish and cooled*
2 pints premium any ice cream, I used Graeter's Vanilla with Chocolate Chips
Meringue:
4 egg whites, at room temperature
1/4 teaspoon cream of tartar (may substitute lemon juice)
1/2 cup sugar
Instructions
Bake the brownies in a 9-inch pie plate. If you use a box mix, you most likely won't need all the batter.
If you use my fudgy brownie recipe, it's OK to leave out a small amount of batter. I pressed down on the top after it was partially cool to level the top.
Cool to room temperature.
Remove ice cream from paper containers and slice each pint into 3 rounds. Arrange 3 rounds on top of cake in pie plate and cut each remaining round into 6 wedges.
Fill holes in ice cream layer with some of ice cream wedges and pile remainder in center of pie plate.
Freeze 30-60 minutes.
Preheat oven to 375°.
About 5 minutes before you're ready to finish the dessert, beat egg whites and a pinch of salt with an electric mixer until foamy, then add cream of tartar and continue to beat until whites hold soft peaks.
Gradually add sugar, beating until whites just hold stiff peaks.
Remove ice-cream base from freezer and mound meringue over it, spreading to edge of plate to cover ice cream completely.
Bake until golden brown, about 10 minutes. Serve immediately.
Alternatively, you can make up to the meringue topping, cover and freeze for up to 2 days. You may need to bake a few extra minutes.
Notes
To cut through the meringue, use a hot dry knife to minimize sticking. I dip the knife in boiling water, then dry it off.
* I used my Fudgy Brownie Recipe for the base.
Nutrition Information:
Yield:
8
Serving Size:
1 slice
Amount Per Serving:
Calories: 461
Total Fat: 14g
Saturated Fat: 7g
Trans Fat: 0g
Unsaturated Fat: 6g
Cholesterol: 38mg
Sodium: 156mg
Carbohydrates: 81g
Fiber: 1g
Sugar: 69g
Protein: 5g
This recipe was originally shared in June, 2010. Recipe, photos, and text were updated in 2019.
Note: This post may contain affiliate links; view
my Disclosure Policy
for details. I earn a small percentage from any purchase you make by clicking on these links at no extra cost to you.