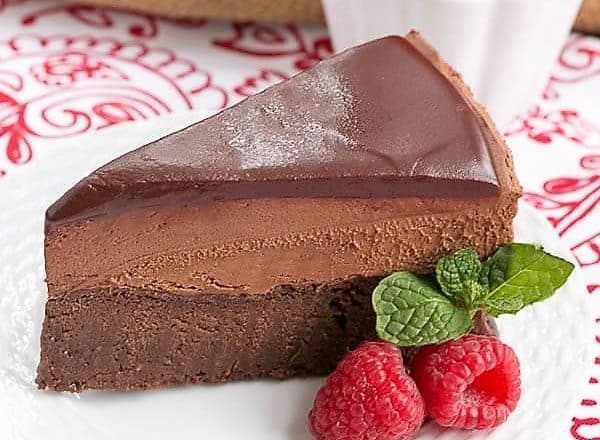 If you're looking for a swoon worthy chocolate dessert, I've got you covered with this sublime Frozen Chocolate Mousse Cake.

This chocolate number started with a flourless chocolate cake base, topped by an incredibly rich and creamy mousse and iced with a glossy ganache. I had a friend facing back surgery and a long recovery period.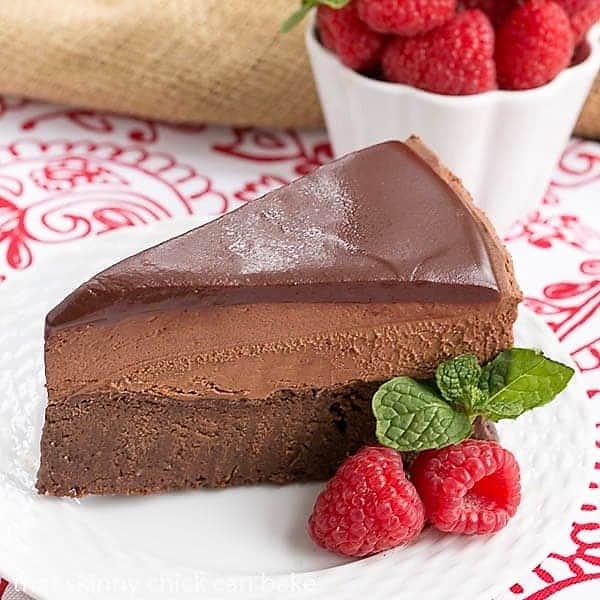 Frozen Chocolate Mousse Cake
Frozen desserts are perfect for gifting as they don't need to be eaten right away and are terrific for unexpected company or those pesty cravings! My girlfriend is a chocolate fanatic and I knew having slices of this dreamy frozen chocolate mousse cake in her freezer would brighten up a dreary day of rehab.
There are three layers of decadence in this frozen mousse cake: a flourless chocolate cake, a layer of dreamy mousse, and a topping of chocolate ganache! Each one is fabulous on its own, but together, they create a chocolate extravaganza!
A Bonus: Gluten Free
I brought this cake to my friend, Candes, with a couple pre-cut slices for her and our other friends to sample. Our hostess is gluten free so rarely gets to enjoy my treats. She was happy to indulge as was the rest of the crew.
I left a slice at home for my own chocolate taste tester—and this was unequivocally a hit across the board. I found this recipe on the blog of my dear blogger friend, Danielle.   She and I cook from each other's blogs each month, and when I spied this chocolate number on Hugs & Cookies XOXO, I knew it would bring sheer bliss to all who indulged.
I got an email from Candy only days after her surgery, requesting the recipe. Her husband, another chocoholic, told her it was the only chocolate cake she ever needed to make. And she clarified that it was most likely the only dessert she'd ever need to make! If you're looking for a showstopping treat for the chocoholic in your life, you've found it.

More Mousse Recipes You'll Love:
Print
Frozen Chocolate Mousse Cake
3 delicious chocolate layers make every slice a party in your mouth!
Author:
Prep Time: 30 mins
Cook Time: 45 mins
Total Time: 1 hour 15 minutes
Yield: 12 servings
Category: Dessert
Method: Baking, Freezing
Cuisine: American
Ingredients
Flourless Cake:
2 sticks (1 cup) butter
12 ounces semisweet chocolate, chopped
6 large eggs
1 cup sugar
1 tablespoon vanilla
Mousse:
4 tablespoons (1/4 cup) butter
10 ounces semisweet chocolate
3 large eggs, separated (pasteurized eggs preferred)*
3 tablespoons sugar
1 tablespoon vanilla
1 cup heavy whipping cream
Glaze:
4 ounces semisweet chocolate
1/4 cup light corn syrup
1/2 cup heavy whipping cream
Instructions
Make the cake:
Preheat oven to 350º.
Line inside of 9-inch springform pan with nonstick foil and wrap a piece of foil around outside, too.
Heat butter and chocolate in the microwave until melted. Whisk till smooth.
Whisk in the eggs and sugar.Add vanilla and pour into prepared pan.
Place the pan in a larger roasting pan and fill the larger pan with hot water to come about halfway up the sides of the pan.
Bake 40-45 minutes and remove from oven, allowing cake to cool in the water bath.
Once cool, place cake pan in freezer.
Make the mousse:
Melt butter and chocolate in the microwave. Whisk till smooth.
Whisk yolks, sugar and vanilla together.
Whisk yolk mixture into hot chocolate mixture carefully.
Using a mixer, beat the whites to stiff peaks. Fold the egg whites into the chocolate.
In the mixer, beat the cream to soft peaks and fold it into the mousse.
Spread mousse over the cold cake and return to freezer for an hour.
Make the Glaze:
Microwave corn syrup and cream just till hot. Add chocolate.
Let sit one minute and then whisk smooth. Let sit an additional 30 mins to thicken. Remove cake sides. Pour glaze over cold mousse layer and return to freezer for a few hours until ready to serve. Keep frozen. Let warm up at room temperature for a couple minutes before slicing and serving.
Notes
To prevent foodborne illnesses, I recommend using pasteurized eggs in recipes calling for raw eggs.
Recipe adapted fromThe Pastry Queen by Rebecca Rather via Hugs & Cookies XOXO
On the second Monday of each month, Danielle and I cook up something from each other's blog. Every treat I pull from her blog is a winner…I never have to worry whether we'll like it or not. We always do!
Check out Danielle's social media sites!
Note: This post may contain affiliate links; view
my Disclosure Policy
for details. I earn a small percentage from any purchase you make by clicking on these links at no extra cost to you.