The Ultimate Turtle Brownies
Something magical happens when rich, dark chocolate meets gooey caramel. These Ultimate Turtle Brownies epitomize this classic pairing!!
Caramel Brownies topped with pecan halves have the classic components of turtle candies and are absolutely irresistible. The combination of Chocolate, Caramel, and Pecans in this brownie recipe will rock your world.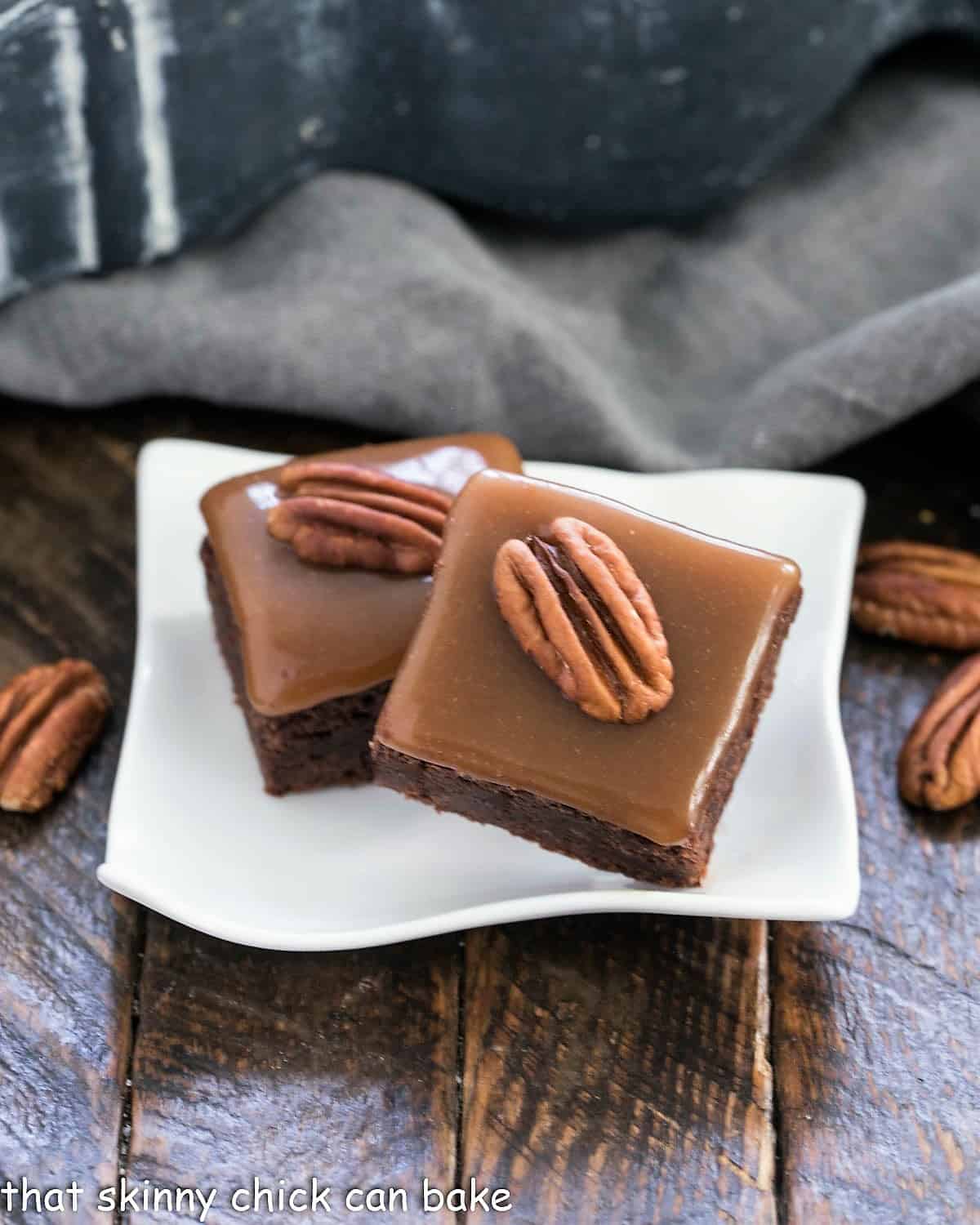 Why You Should Make
If you love the combo of chocolate and caramel, and especially turtle candies, these brownies will knock your socks off!
This is a tried and true recipe adapted from Cook's Illustrated.
If you want a decadent dessert, these brownies fit the bill.
Ingredient Notes:
Heavy Cream – Must be 36-38% butterfat for a rich caramel topping.
Kosher Salt – A flavor enhancer even in desserts. Do not omit or the flavor will be flat
Corn syrup – Prevents the caramel from recrystallizing
Vanilla Extract – Must be pure, not imitation vanilla
Baking Powder – Used in brownies when cocoa powder is an ingredient. Make sure to check the expiration date. Replace before it expires or check by adding a spoonful to boiling water and expect vigorous bubbling if it's active.
Pecan Halves – Toast and cool before using to bring out their natural oils. This will enhance their flavor.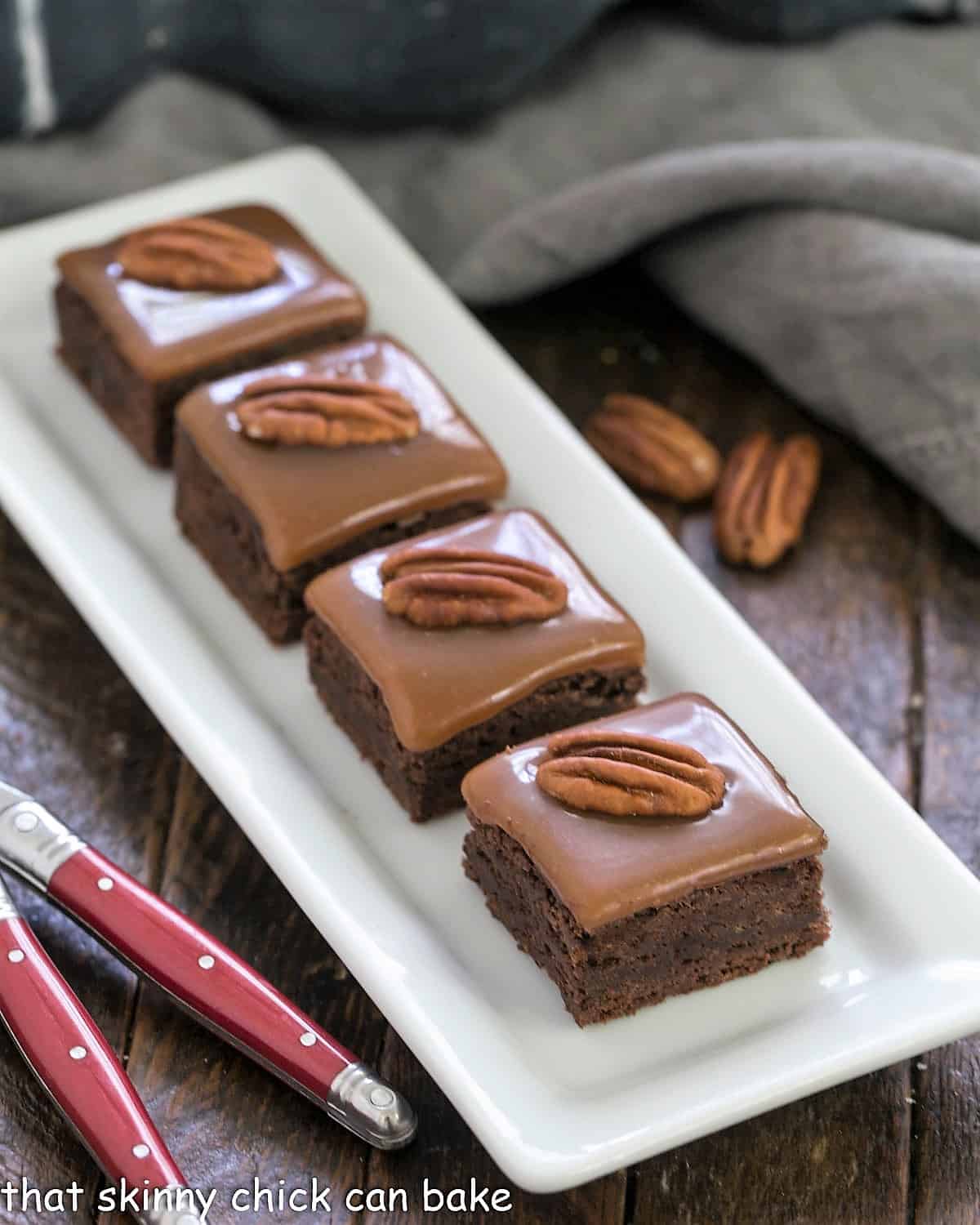 Expert Tips
PRO-Tip: Go ahead and make your caramel the day before. It's the most challenging part of this recipe, so you don't want to rush the process.
Make sure you have an accurate candy thermometer. It's very important to cook the caramel to the proper stage. You can always test your thermometer's accuracy by checking the temperature of boiling water. It should read 100° C or 212° F.
PRO-Tip: When your caramel is finished cooking, pour it into a liquid Pyrex measuring cup sprayed with Pam or another non-stick cooking spray.
When it's time to pour it over the batter and again over the top of the baked brownies, it will glide out of the measuring cup. Plus, the spout makes for easy drizzling.
If the caramel is too cool to pour, just zap it in the microwave, stir and repeat if needed.
PRO-Tip: Feel free to mix in 2/3 cup of toasted, chopped pecans to your brownie batter for the ultimate turtle brownie experience.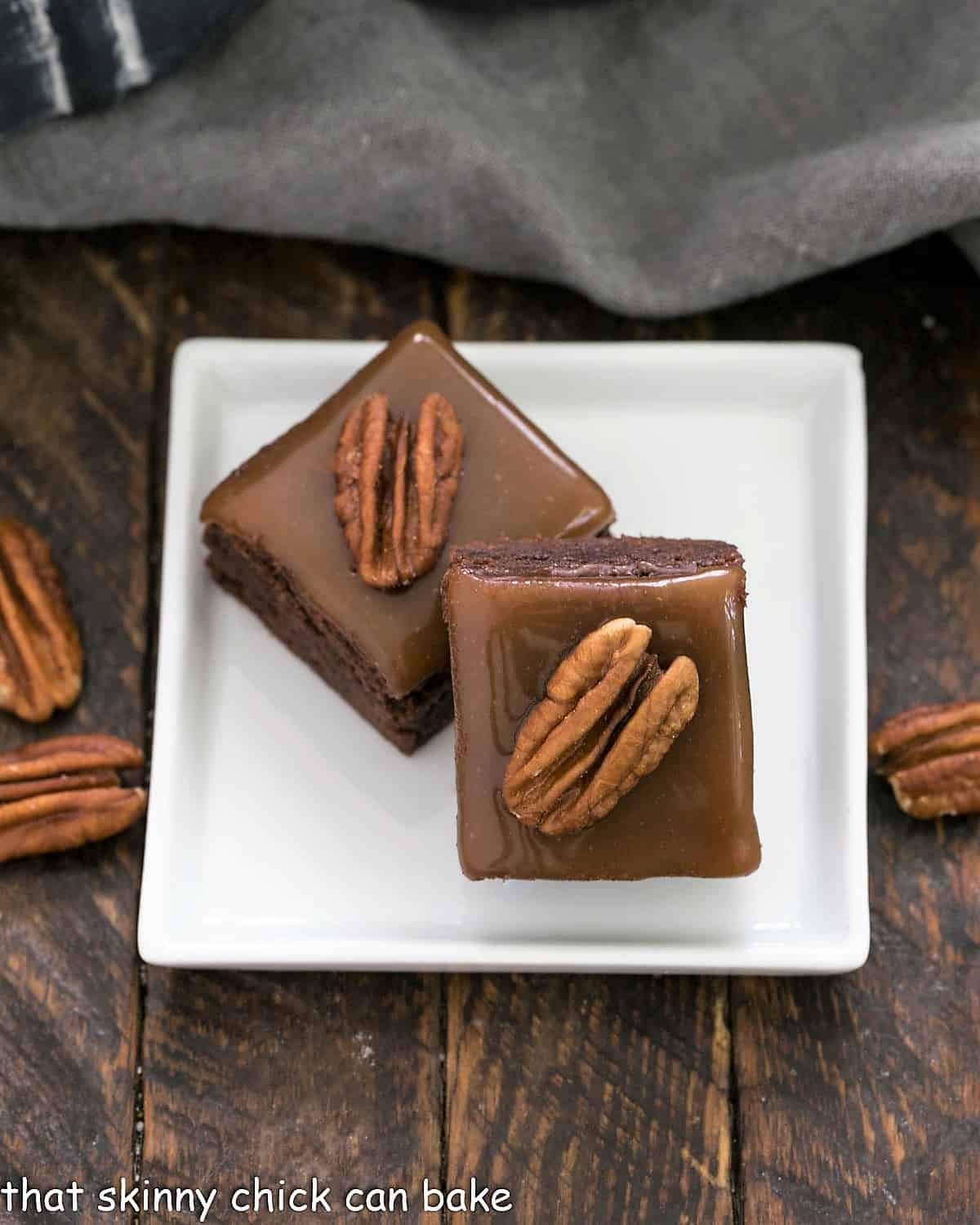 Frequently Asked Questions
What are Turtles?
 Turtle candies were first made in the early 1900s when pecans and caramel were dipped in chocolate. These mounds of deliciousness resembled turtles as the arrangement of nuts sticking out from the sides looked like turtle legs.
Since that time, many desserts featuring the combination of chocolate, caramel, and pecans received the "turtle" nickname. These delectable turtle brownies definitely fit the profile!
What are Turtle Brownies?
Turtle Brownies are any brownie that has the addition of caramel and pecans. This version has optional chopped pecans in the brownies, a caramel topping, and pecan halves to garnish.
How Do You Make a Caramel Topping?
This is the trickiest part of the recipe. First, you need a quality, accurate candy thermometer. It's imperative that you cook the caramel to 360º or it won't get firm enough to stay put on top of the brownies.
Dissolve the salt in the heavy cream.
Add water, corn syrup, and sugar to a saucepan as directed.
Cook mixture over medium-high heat stirring gently until the edges just begin to boil.
Cover with the lid and boil until the mixture is clear.
Remove the lid and boil until the mixture reaches 290º on a candy thermometer.
Lower the heat to medium-low and cook until light amber and reaches 360º.
Remove the caramel from the heat and stir in the cream.
Once the bubbling stops, Add butter and vanilla, stirring until smooth.
What's the Best Way to Cut Brownies?
Brownies taste best when they're served at room temperature, but they can be a challenge to cut when they're at their fudgiest! Instead, chill them first, then slice them with a hot, dry knife. Clean and reheat the knife as needed. Then bring them to room temperature to serve.
When Should You Add Caramel to Brownies?
In this recipe, you add part of the caramel between two layers of batter before baking and the rest on top of the cooled brownies. They must be cooled to room temperature so that the caramel is not absorbed by the warm brownies.
You May Also Like:
Stay in touch through social media @ Instagram, Facebook, and Pinterest. Don't forget to tag me when you try one of my recipes! And if you love the results, please give it a 5-star rating in the recipe card. Note: As an Amazon Associate, I earn from qualifying purchases. Visit my Amazon Store for my favorite products.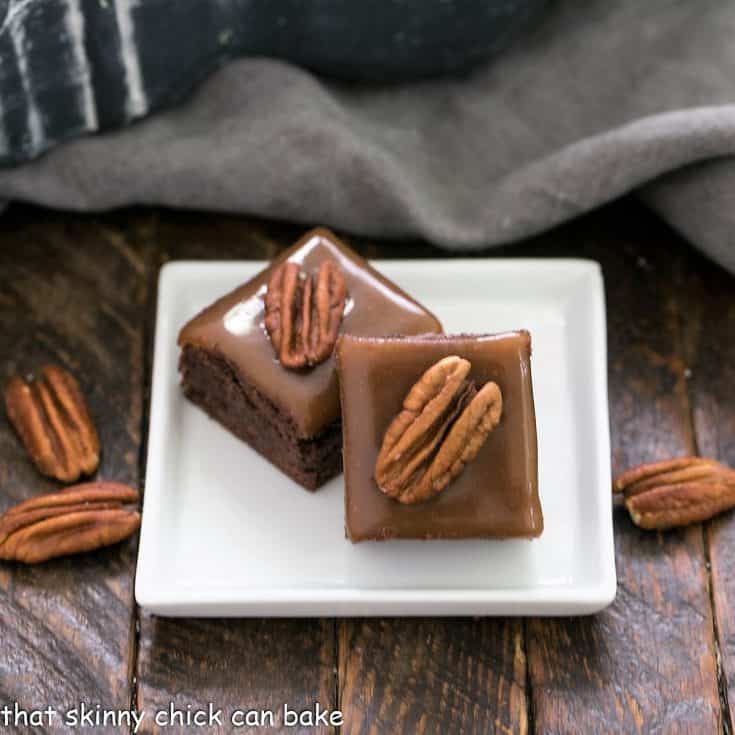 The Recipe:
Turtle Brownies
Prep Time 30 minutes
Cook Time 1 hour
Total Time 1 hour 30 minutes
Yield 25 brownies
The perfect turtle brownies. Adapted from Cook's Illustrated.
Ingredients
Caramel
¼ cup heavy cream plus 2 tablespoons
⅛ teaspoon kosher salt
¼ cup water
2 tablespoons light corn syrup
1 ¼ cups white sugar
2 tablespoons butter
1 teaspoon vanilla extract
Brownies
8 tablespoons butter, cut into pieces
4 ounces semisweet chocolate, chopped
2 ounces unsweetened chocolate, chopped
2 teaspoons Dutch-process cocoa powder
¾ cup flour
½ teaspoon baking powder
2 large eggs, room temperature
1 cup sugar
¼ teaspoon kosher salt
2 teaspoons vanilla
25 whole pecan halves, toasted (may add 2/3 cups chopped pecans to filling, optional)
⅓ cup semisweet chocolate chips
Instructions
Caramel
Measure the cream into a 1 cup Pyrex measuring cup or small bowl. Add salt, stirring to dissolve completely. Set aside.
Mix together water and corn syrup in a small saucepan. Carefully pour the sugar into the middle of the saucepan making none touches the sides.
Cook mixture over medium-high heat stirring gently until the edges just begin to boil.
Cover with a tight-fitting lid and allow to boil until the mixture is completely clear. Take off the lid and boil until the mixture reaches 290º on a candy thermometer.
Lower the heat to medium-low and continue to cook, swirling occasionally until the mixture is light amber and reaches 360º.
Remove the caramel from the heat and stir in the cream. The mixture will bubble vigorously, but keep stirring, scraping the bottom and sides.
Once the caramel stops bubbling add butter and vanilla, stirring until smooth. Set aside and make brownies.
Brownies
Preheat oven to 325 degrees.
Line a 9x9 inch baking pan with nonstick foil...making sure to leave some excess overhanging on two sides. Or line with regular foil and coat with nonstick spray. Set aside.
Combine chocolates and butter in a microwave-safe bowl. Gently heat till the chocolate melts. Stir in the unsweetened cocoa powder
In a larger bowl beat the sugar, salt, vanilla, and eggs until pale. Whisk in the chocolate and blend until thoroughly combined. Gently fold in the flour and baking powder with a rubber spatula until just combined. Mix in ⅔ cup chopped pecans if desired.
Pour half of the mixture into the pan and smooth with an offset spatula. Drizzle ¼ cup of the caramel over the top of the brownie batter (may gently rewarm caramel if necessary to make it pourable. Add the rest of the brownie batter on top, smoothing the top.
Bake for 35-40 minutes or until a toothpick inserted into the center comes out clean.
Remove from oven and evenly sprinkle chocolate chips on top of the brownies. Cover with foil or cookie sheet and let rest for 10 minutes.
Remove the cover and smooth the melted chocolate over the brownies. Allow brownies to cool to room temperature.
Gently rewarm caramel to a pourable consistency. Pour the caramel over the top of the brownies. Refrigerate for at least 4 hours.
To serve, remove brownies from the pan, remove foil, and cut into 25 pieces. Top each with a pecan half.
Notes
Use an accurate candy thermometer. If you're unsure, check it in a pan of boiling water. It should read 100 degrees C or 212 degrees F.
If you don't bring the caramel sauce to 360 degrees F, it will be too runny.

Store the brownies in the refrigerator and cut them right before serving in case your caramel is a little loose.
Recommended Products
As an Amazon Associate and member of other affiliate programs, I earn from qualifying purchases.
Nutrition Information:
Yield:
25
Serving Size:
1 brownie
Amount Per Serving:
Calories: 202
Total Fat: 10g
Saturated Fat: 6g
Trans Fat: 0g
Unsaturated Fat: 4g
Cholesterol: 30mg
Sodium: 87mg
Carbohydrates: 28g
Fiber: 1g
Sugar: 23g
Protein: 2g
Note: This post may contain affiliate links; view
my Disclosure Policy
for details. I earn a small percentage from any purchase you make by clicking on these links at no extra cost to you.