Italian Cream Cake
With three sweet, dense layers of coconut cake and a decadent cream cheese frosting, this Italian Cream Cake makes a spectacular dessert! It's worthy of any celebration.
I truly swooned with my first bite of this Coconut Cake. Other versions have been tasty, but this recipe is out of this world! Plus this is a nut-free version, but feel free to add some pecans if that's your preference!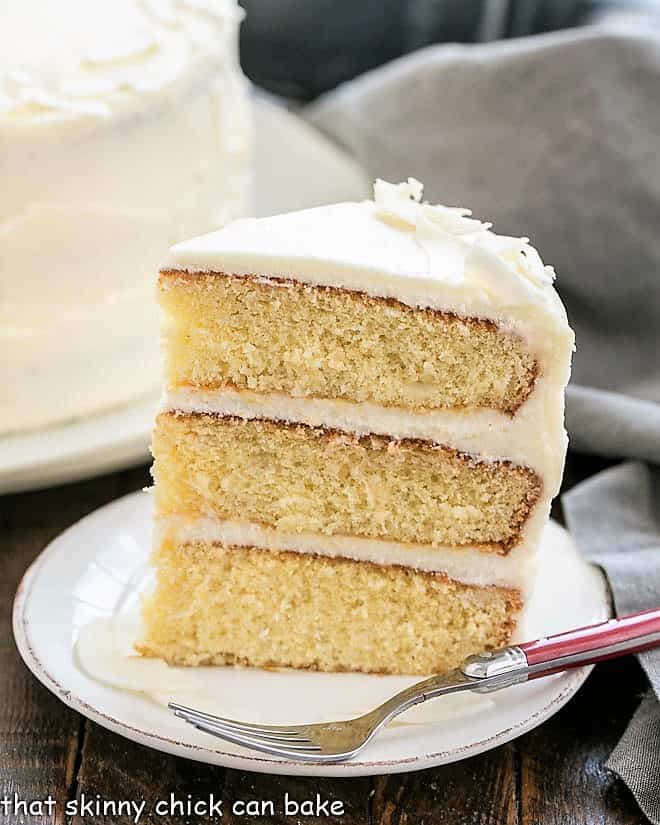 Why You Must Make
I had my first taste of Italian Cream Cake a few years back. Tasty, but not memorable. One bite of this latest version and I knew I needed the recipe ASAP. I'm a huge fan of a classic Coconut Cake, but this one was something special.
Was it the absence of nuts, the extremely moist cake, or the fluffy cream cheese frosting that sold me? It was a combination of all three!
A THREE layer cake makes an impression. Whether for a birthday, a holiday, or any celebration, jaws will drop when you bring this towering cake to the table!
My personal experience was after a filling gourmet dinner club meal. I tried to resist eating the whole slice, but in reality, I had to hold myself back from licking the plate. So rich and delicious.
Ingredient Notes:
Check your stock of pantry and refrigerator staples: Sugar, Butter, Eggs, Baking Soda, Salt, Flour, Vanilla, Powdered Sugar
Shortening – as mentioned above, it contributes to the lovely texture of this cake
Buttermilk – adds moisture to the cake. PRO-Tip: If you don't have any buttermilk, put a tablespoon of either lemon juice or a neutral-flavored vinegar into a 1 cup Pyrex liquid measuring cup. Add enough milk to bring up to the 1 cup mark. Mix and let sit for a few minutes before using.
Sweetened coconut flakes – I use Angelflake brand
Vanilla – use real vanilla extract, never imitation
Powdered Sugar – Sift first for the smoothest frosting
Cream Cheese – Bring to room temperature for the smoothest frosting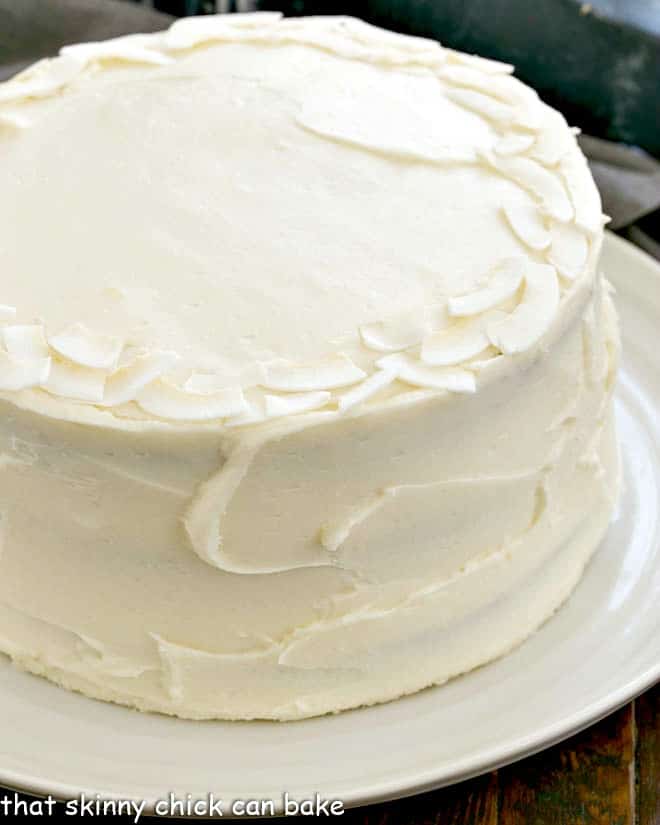 Expert Tips
I find that buttermilk is one of the secrets to an outrageously moist and tender cake. These Coconut Cupcakes have been a perennial favorite of mine, and I swear using buttermilk is key to their deliciousness.
Between the addition of buttermilk and alternately adding wet and dry ingredients, this method practically guarantees a spectacular dessert. Plus 3 layer cakes just can't help but be impressive!
PRO-Tip: Use room temperature ingredients, especially the eggs, butter, and cream cheese so they will incorporate more easily.
Cream together the sugar, butter, and shortening very well before adding any other ingredients.
Fold in the egg whites with a spatula, not your mixer. Folding is a technique to help lighten the batter with egg whites. If you deflate the egg whites, the batter will be too dense.
PRO-Tip: After dividing the batter between your 3 pans, weigh them with a kitchen scale. This ensures there is approximately the same amount in each pan.
Test the cakes for doneness before pulling them out of the oven. Use a toothpick inserted in the center of each cake. When the cake is done, it will come out clean. If you're unsure, you can always use an instant-read thermometer to make sure the center is up to 210 degrees (according to (affiliate link)Bake from Scratch Magazine).
Cool for 10 minutes before removing from the pan to a cooling rack. Any longer and the cake may not come out in one piece.
I took this 3-layer coconut cake to my book club dinner last week and my girlfriends responded with the same swoons that I had with my initial taste. I upped the ante and made a batch and a half of the frosting (the recipe reflects a single batch), so this made an extremely rich cake even more decadent. With a luscious batter full of coconut and two layers of cream cheese buttercream, this is one show-stopper of a cake.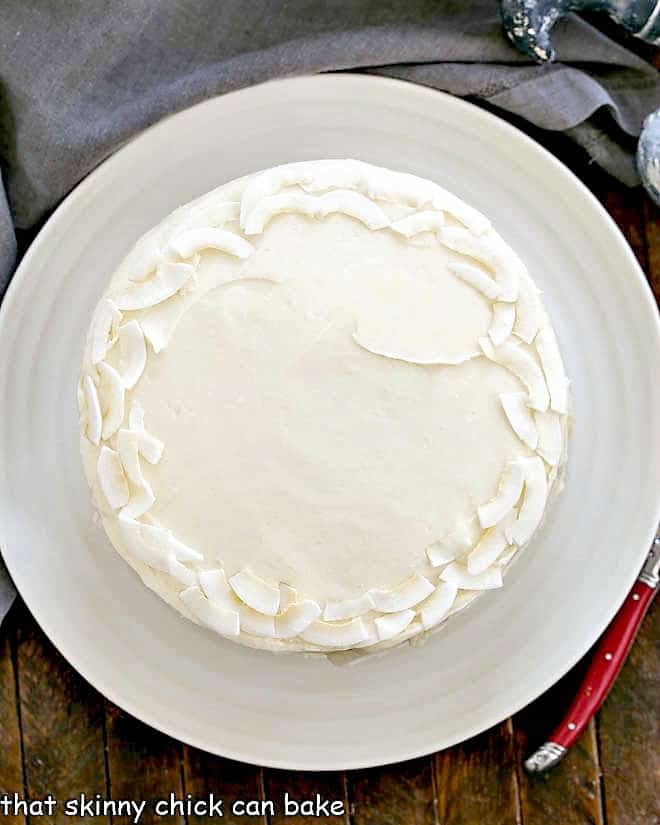 Expert Tips
PRO-Tip: Use room temperature ingredients, especially eggs, butter, and cream cheese.
PRO-Tip: This is a nut-free Italian Cream Cake but you can add a cup of chopped, toasted pecans to the batter if that's your jam.
Toasting the nuts for about 5-10 minutes at 350 degrees will bring out their essential oils and enhance their flavor. Watch carefully and stir a few times as they can burn easily.
I'd also use some pecan halves to garnish (in lieu of the coconut I placed on top of the cake) to give a preview of what's inside the sliced cake.
A ring of coconut flakes (affiliate link) over the top was a hint to what was beneath the frosting.
Don't be put off by the shortening in this recipe. Most of my cakes and cookies have only butter used for the fat. But there are some advantages to using part butter and part shortening. The butter provides a lovely flavor, but when shortening is creamed with sugar, it makes a tender, lofty, light crumb according to King Arthur Flour's website.
PRO-Tip: Make a batch and a half of frosting if you love cream cheese frosting. I always do!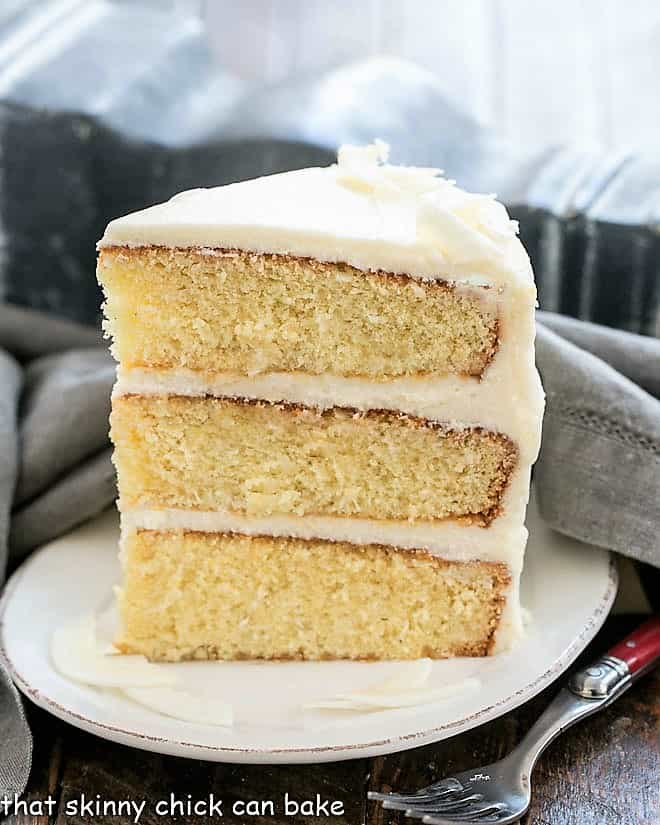 Frequently Asked Questions
Is Italian Cream Cake Really Italian?
Apparently, there may be ties to Renaissance Italy, but there was no written recipe for this coconut cake until the early 1900s. The first known recipe was from Canada then a version was published in Plano, Texas, in 1937. This cake seems to have more Southern roots than Italian!
Does Italian Cream Cake Need to Be Refrigerated?
Yes, a cake with cream cheese frosting should be refrigerated. It will stay fresh for up to 3 days as long as the cut surfaces are covered with plastic wrap.

PRO-Tip: Bring the cake out of the fridge and let it warm up at room temperature for about an hour before you plan to serve it. This gives the frosting a chance to soften and get creamier.
Can You Freeze Italian Cream Cake?
Yes, it freezes well for up to 3 months. Just make sure to wrap it airtight before freezing. Defrost overnight in the refrigerator.

Pro-Tip: So your plastic wrap doesn't get stuck to the frosting, you may want to put the unwrapped cake in the freezer for a couple of hours so the frosting gets hard. Then wrap and freeze until you're ready to eat it. Remove the plastic before defrosting.

Or just freeze the unfrosted cakes ahead of time, defrost, make the frosting, and ice a day or so before serving.
You May Also Like: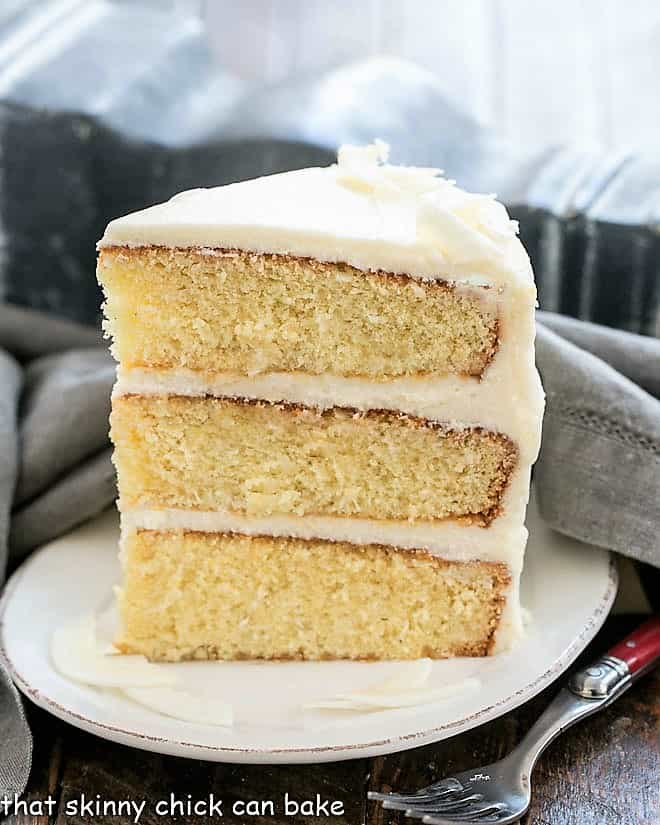 The Recipe:
Italian Cream Cake Recipe
Prep Time 30 minutes
Cook Time 30 minutes
Total Time 1 hour
Yield 12 servings
A spectacular three layer coconut cake with fluffy cream cheese frosting
Ingredients
Cake:
2 cups sugar
1/2 cup butter (1 stick), at room temperature
1/2 cup shortening
5 eggs, separated
1 teaspoon baking soda
1/2 teaspoon salt
1 cup buttermilk
2 cups flour, sifted (measure, then sift)
1 cup sweetened coconut (I used angel flake)
1 teaspoon vanilla
For frosting (I made an extra half batch of this recipe for a thicker layer of frosting):
1 1/2 pounds powdered sugar, sifted
8 ounces cream cheese, at room temperature
1/2 cup butter, at room temperature
1 1/2 vanilla
1 cup pecans, chopped, optional (I did not use)
Milk, to thin frosting
Coconut, to garnish, if desired
Instructions
Preheat oven to 350º. Grease and flour 3 8-inch baking pans or spray with flour and oil baking spray like Baker's Joy. Set aside.
In a large bowl or stand mixer, cream together sugar, butter, and shortening. Add egg yolks, one at a time, beating after each addition.
Whisk together flour and salt. Dissolve baking soda in the buttermilk and add alternately with flour mixture to batter. Add coconut and mix to combine.
Beat egg whites till stiff. Fold into batter, then add vanilla.
Divide batter evenly between the 3 prepared pans.
Bake for 25-30 minutes or till a toothpick inserted into the cake comes out clean. Cool for 10 minutes, then remove cakes from pans to wire racks to finish cooling.
Make frosting. Mix butter and cream cheese. Add powdered sugar, vanilla and nuts, if using. Drizzle in a little milk till frosting is a good spreading consistency. Frost between layers. Sprinkle top with more coconut, if desired.
Notes
Total time does not include cooling time.
For better coverage, make an extra half batch of the frosting.
This recipe is adapted from Southern Living
Recommended Products
As an Amazon Associate and member of other affiliate programs, I earn from qualifying purchases.
Nutrition Information:
Yield:
12
Serving Size:
1 slice
Amount Per Serving:
Calories: 834
Total Fat: 36g
Saturated Fat: 17g
Trans Fat: 0g
Unsaturated Fat: 16g
Cholesterol: 124mg
Sodium: 415mg
Carbohydrates: 119g
Fiber: 3g
Sugar: 98g
Protein: 12g
Note: This post may contain affiliate links; view
my Disclosure Policy
for details. I earn a small percentage from any purchase you make by clicking on these links at no extra cost to you.