Coconut Cupcakes with Cream Cheese Frosting
Coconut lovers: These moist and tender Coconut Cupcakes with Cream Cheese Frosting will thrill your palate with your first nibble. The decadent mound of cream cheese frosting guarantees that these will be unforgettable!
If you love a Coconut Cake Recipe, these delectable cupcakes provide built-in portion control. Though, I'd never fault anyone for going back for seconds. They're just that irresistible!!!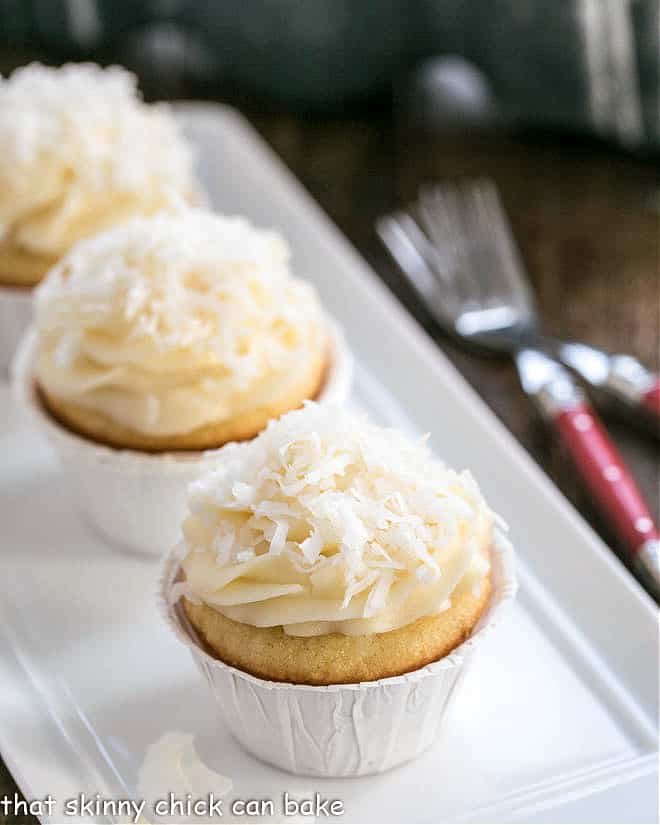 Why You Must Make these Coconut Cupcakes 
My mother had an immense influence as far as my palate is concerned. I was the oldest of four daughters. A rule follower. She'd eat sardines, I'd eat sardines. She'd eat chicken hearts, I'd eat chicken hearts. She'd eat liver, er…I'd, uh, taste liver.
When I was a wee first-grader, Mrs. McGinnis asked our moms to send in two favorite recipes which she used to compile a cookbook. One of my mom's contributions was Mounds Bars; and, to this day, I treasure the stained mimeographed pages with our block print signatures. I think I could have eaten my weight in those rich, coconut gems back in the day. Maybe even now.
Ina Garten Coconut Cupcake Recipe
This recipe was one of the first I made from Ina Garten's original Barefoot Contessa Cookbook. Way back in 1999. Before many of my food blogger friends were even out of first grade. Before the Barefoot Contessa had her own Food Network TV show. When dinosaurs still roamed the land. Well, maybe that's just me showing my age.
There must be something in the double X chromosomes as none of the guy folks in the family are as gung-ho about coconut as Katie and me. We were happy to hoard these babies in honor of Mother's Day. Girl power and all that. Coconut Desserts for the win! And now for some more recipes from some of my very favorite food bloggers so you can treat the wonderful mothers in your life to some deliciousness. I know my mom would approve of me sharing a mini version of Coconut Cake. In fact, she'd eat one for breakfast!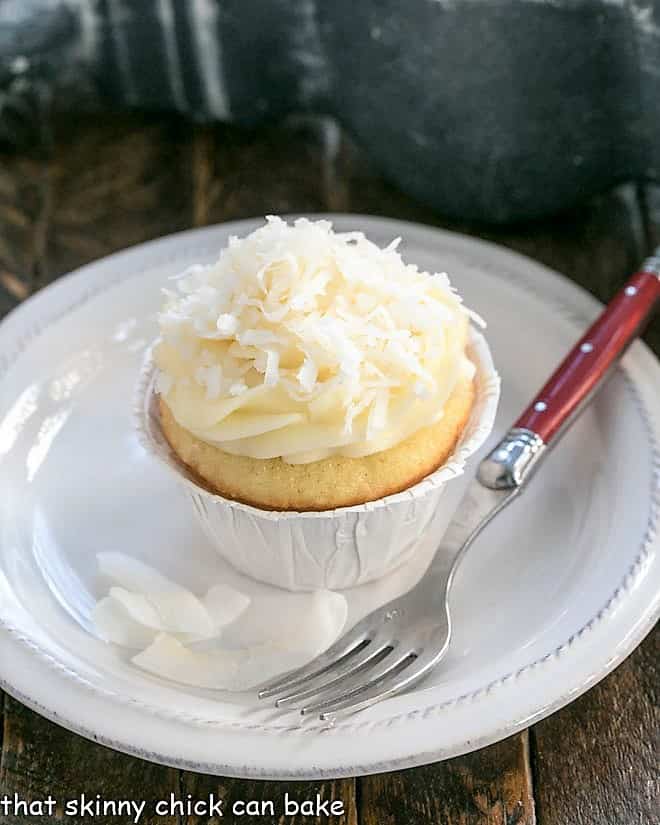 How to Make Coconut Cupcakes from Scratch
Have all your ingredients at room temperature for the best results. It's much easier when you don't have to cream the butter when it's cold from the refrigerator. So butter, eggs, cream cheese, and buttermilk should be taken out of the fridge at least an hour before you start mixing.
Use the paddle attachment for mixing this cupcake batter. You do not want to whip air into the mixture.
PRO-Tip: If you've ever forgotten to purchase buttermilk, you can easily make it at home. To a one-cup liquid measuring cup, add either a tablespoon of lemon juice or a tablespoon of vinegar. White vinegar or apple cider vinegar provides the most neutral flavor. Fill the rest of the cup with milk. Let rest for 5 minutes or so and it will start to thicken and curdle. Use as directed.
The acid in buttermilk helps to tenderize the gluten in the flour resulting in a softer crumb.
Purchase shredded, sweetened coconut for this recipe, not unsweetened.
PRO-Tip: I like to use a large, 1/4 cup scoop to dish out the cupcake batter. This helps ensure the cupcakes are approximately the same size.
Bake until a toothpick inserted in a couple of the cupcakes comes out clean. You can also test by gently pressing your finger on top of the cupcake. If the cake bounces back up, the cupcakes are done. If the indentation remains, they need more baking time.
More Delicious Mother's Day Recipes
Check out all the marvelous recipes to celebrate Mother's Day below. There's something for everyone…and a couple of coconut dessert recipes for me!!!
More Coconut Desserts You'll Love:
This recipe was first shared in May 2014. Photos and text were updated in 2020.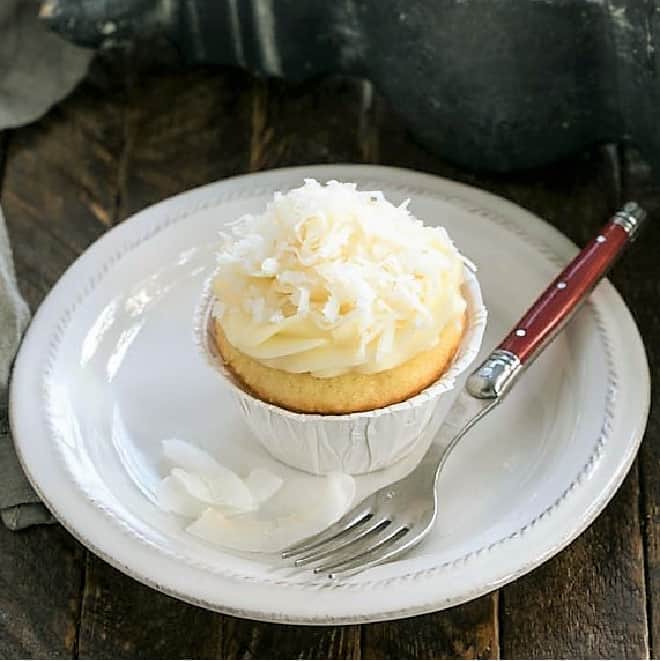 The Recipe:
Coconut Cupcakes Recipe
Prep Time 30 minutes
Cook Time 35 minutes
Total Time 1 hour 5 minutes
Yield 10 cupcakes
Moist and tender coconut cupcakes topped with a decadent mound of cream cheese icing!
Ingredients
For cupcakes:
6 ounces butter, at room temperature
1 cup sugar
3 eggs, at room temperature
1 teaspoons vanilla
½ teaspoons almond extract
1 ½ cups flour
½ teaspoon baking powder
¼ teaspoon baking soda
¼ teaspoon salt
½ cup buttermilk
7 ounces sweetened, shredded coconut
For the frosting:
8 ounces cream cheese at room temperature
6 ounces butter, at room temperature
½ teaspoon vanilla extract
¼ teaspoon almond extract
¾ pounds powdered sugar, sifted
Instructions
Preheat the oven to 325º.
In the bowl of your stand mixer with the paddle attachment, cream the butter and sugar on high until fluffy, about 5 minutes.
With the mixer on low speed, add the eggs, one at a time, scraping down the bowl as needed.
Add the vanilla and almond extracts and mix well.
In a separate bowl, sift together the flour, baking powder, baking soda, and salt.
Alternate adding the dry ingredients and the buttermilk to the batter, beginning and ending with the dry.
Mix until just combined. Fold in 3½ ounces of coconut.
Line a muffin pan with paper liners. Fill each liner to the top with batter.
Bake for 25 to 35 minutes, until the tops are brown and a toothpick comes out clean.
Cool in the pan on a rack for about 15 minutes. Remove to a baking rack and cool completely.
In your mixer with the paddle attachment, slowly mix together the cream cheese, butter, vanilla, and almond extract.
Add the powdered sugar and mix until smooth.
Frost the cupcakes and sprinkle with the remaining coconut.
Notes
Recipe adapted from Ina Garten.

Make sure your baking powder is fresh. It's not used as often as baking powder and most likely will lose its potency before you use it up.
Recommended Products
As an Amazon Associate and member of other affiliate programs, I earn from qualifying purchases.
Nutrition Information:
Yield:
10
Serving Size:
1 cupcake
Amount Per Serving:
Calories: 721
Total Fat: 43g
Saturated Fat: 28g
Trans Fat: 1g
Unsaturated Fat: 12g
Cholesterol: 152mg
Sodium: 501mg
Carbohydrates: 81g
Fiber: 2g
Sugar: 62g
Protein: 7g
Note: This post may contain affiliate links; view
my Disclosure Policy
for details. I earn a small percentage from any purchase you make by clicking on these links at no extra cost to you.