Hummingbird Cake Recipe
This Hummingbird Cake Recipe is a Southern delicacy with a banana cake batter, pecans, pineapple, cinnamon, and in my version, coconut! The addition of cream cheese frosting makes this layered banana cake practically irresistible.
This is no ordinary Banana Cake with its three layers and rich, creamy icing. It's worthy of any celebration.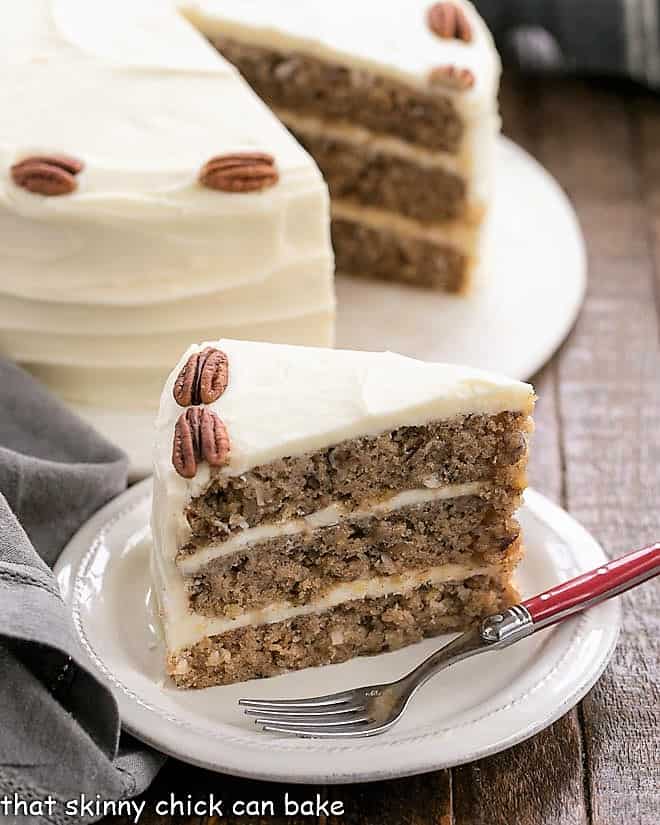 Why You Must Make
If you are a fan of banana bread, you'll adore this cake!
It's packed full of flavor and texture with pecans, coconut, and pineapple!
With 3 layers, it's a dessert made to impress!!
The ol' ball and chain has a huge list of dislikes. Banana bread? No way. All quick bread and muffins are out. So a banana cake is out. Nuts, coconut, pineapple? All three rank high on his fake "I'm deathly allergic" list. So I've been saving this hummingbird cake recipe for my book club gathering, where I could share with my more tolerant girlfriends. As you might guess, they all raved about this amped-up banana cake recipe!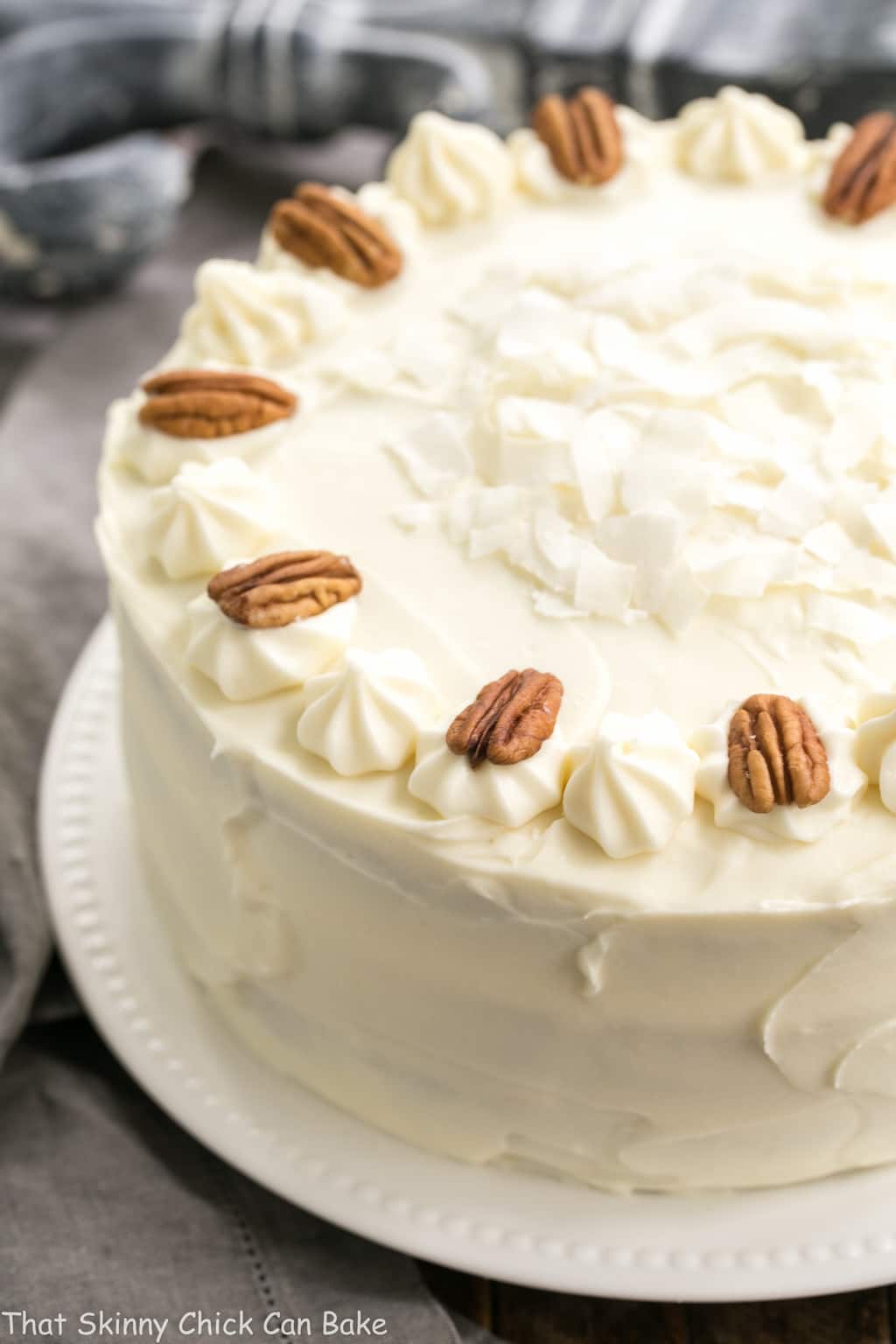 Expert Tips
You'll need 3 9-inch baking pans. I like lining them with parchment rounds. Make sure all are well-greased.
Your bananas should have some brown spots on their skins. They should be slightly overripe, but not so ripe they're fermenting!
PRO-Tip: If you need to ripen a few of your bananas quickly, I've often roasted them in the oven to make both this cake and banana bread. Preheat your oven to 300º and roast for 15-20 minutes until the peels are very dark. I found this technique on the Southern Living website.
I like to stock my freezer with bananas that are too ripe for my taste buds, but perfect for banana bread and cake. Peel, place in a freezer-safe zip-top bag, remove any excess air, and freeze. Date the bag in case it gets lost in the back of your freezer.
PRO-Tip: It takes about 3 medium bananas to make one cup of mashed bananas.
Make sure you drain your pineapple well. This recipe does not count on any extra liquid from the juices.
Make sure your cream cheese and butter for the frosting are at room temperature. They will be much easier to mix.
Also, sift your powdered sugar. It's a pain, but your frosting will be much smoother if you take the time with this extra step.
PRO-Tip: Take the time to toast your pecans to release the natural oils and improve their flavor. Toast in a single layer on a sheet pan at 350º for about 5 minutes. Shake the pan at the halfway mark, and watch carefully so the nuts do not burn.
You can omit the nuts and/or the coconut if desired.
PRO-Tip: Use about ¼ of the frosting to top each layer, then the last quarter to frost the sides.
How to Make
Like my favorite carrot cake, I also prefer my hummingbird cake loaded. And though coconut is not traditional, it works beautifully! Katie and I both enjoyed every morsel of the leftovers, though, like her dad, she picked out all the nuts. Sigh. Time for a batch of chocolate chip cookies. The family never complains about those!
Is there an ingredient you do not want in your cake?? Bill still brings up the time we dined at the now-defunct Lumiere in Vancouver. I told him he wouldn't even notice the beets that were in their chocolate cake. Apparently, I was horribly mistaken! I'll never live that one down. So feel free to leave out the nuts or coconut as those omissions won't interfere with the cake's baking chemistry.
Whisk together all the dry ingredients first. This helps distribute the baking soda, cinnamon, and salt.
Next mix in the wet ingredients in two batches. First the eggs, oil, and vanilla. Next, fold in the bananas, pineapple, coconut, and pecans.
Divide the batter between the three cake pans. Use a cooking scale if available to ensure they all have a similar amount of batter. Or just eyeball the depth of the batter and add or subtract what's needed to even them out.
Bake as directed or until a toothpick inserted in the center of each cake comes out clean.
Cool completely before frosting.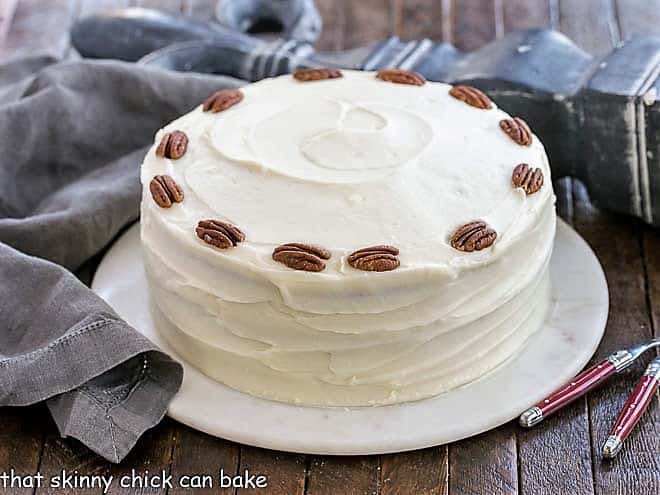 Frequently Asked Questions
What Is Hummingbird Cake?
This coconut hummingbird cake worked its way up to the deep south via Jamaica. First, you must know that Jamaica's national bird is the hummingbird, which is also known as the doctor bird.
A Jamaican newspaper published a cake recipe made with bananas called a Doctor Bird Cake. Whether this cake had the traditional nuts, spices, and cream cheese frosting, as today's version does, no one seems to know.
But I can tell you about this banana cake. The base is rich and dense, made with oil instead of butter. But it's all the extras that make this delectable dessert a standout. The Southern Living Hummingbird Cake was first published in 1978 and became their most requested recipe ever!
It's just that delicious. Of note, though the naming of this cake is still considered a mystery, it also is known as the "Nothing Left Cake," referring to the empty plates after it's served.
What Does Hummingbird Cake Taste Like?
It's obviously a banana cake, as there is lots of banana flavor, but much more than that. It's almost a cross between banana bread and my classic carrot cake. My favorite carrot cake recipe also has a cream cheese frosting, plus crushed pineapple, coconut, and pecans. And just like carrot cake, this banana cake recipe is dense, moist, and irresistible!
Is There a Way to Ripen Bananas Quickly?
You can place them in a paper sack with another piece of fruit, like an apple. The apple will give off ethylene gas that will encourage ripening. This may take a couple of days.
If you don't have enough time for that option, you can also soften/ripen them in the oven. Preheat your oven to 300º and roast for 15-20 minutes until the peels are very dark. I found this technique on the Southern Living website.
You May Also Like:
Stay in touch through social media @ Instagram, Facebook, and Pinterest. Don't forget to tag me when you try one of my recipes! And if you love the results, please give it a 5-star rating in the recipe card. Note: As an Amazon Associate, I earn from qualifying purchases. Visit my Amazon Store for my favorite products.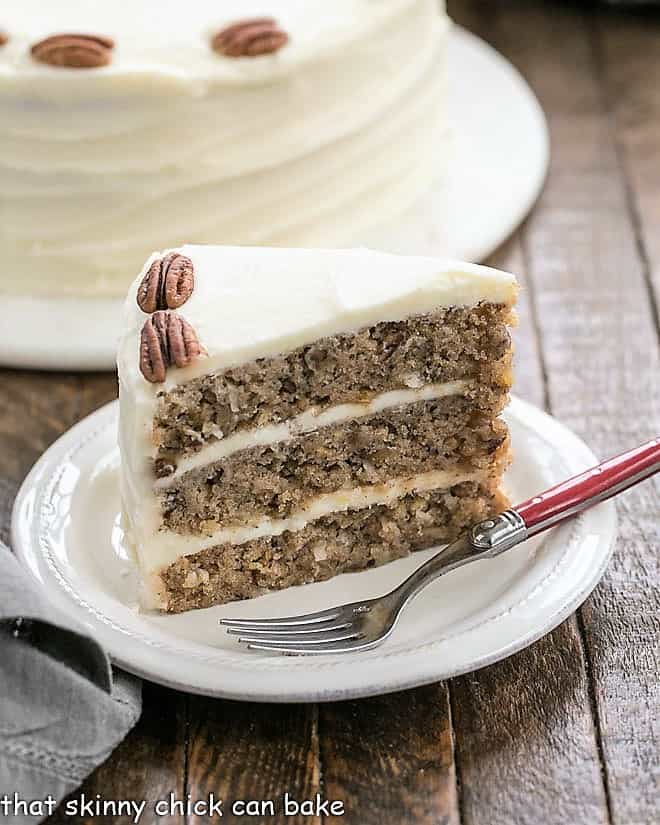 The Recipe:
Classic Hummingbird Cake with Coconut
Prep Time 30 minutes
Cook Time 30 minutes
Total Time 1 hour
Yield 16 servings
A classic Southern dessert with bananas, pecans, and pineapple. I added coconut just because! Adapted from Southern Living.
Ingredients
For cake:
3 cups flour
1 ½ cups sugar
1 ½ teaspoons cinnamon
1 teaspoon salt
1 teaspoon baking soda
3 eggs, lightly beaten
1 ½ cups vegetable oil
1 ½ teaspoons vanilla extract
2 cups mashed bananas (use ripe bananas)
1 (8-ounce can crushed pineapple, drained
¾ cup coconut
1 cup chopped pecans, toasted for about 5 minutes at 350 degrees
For Frosting:
16 ounces cream cheese, at room temperature
12 tablespoons butter, at room temperature
6 cups powdered sugar, sifted
2 teaspoons vanilla
Pecans, coconut, to garnish, if desired.
Instructions
Preheat oven to 350°. Spray three 9-inch cake pans with non-stick cooking spray. Line the bottom of each pan with parchment paper and spray parchment with non-stick cooking spray.
Whisk together flour and the next 4 ingredients in a large bowl.
Add eggs, oil, and vanilla, and stir until combined.
Fold in bananas, pineapple, coconut, and pecans. Divide batter evenly between prepared pans.
Bake for 28 to 30 minutes. Place pans on cooling racks for 10 minutes. Remove from pans to cooling racks, and cool completely. Remove parchment paper.
While the cakes are cooling, make the frosting.
In a large bowl beat cream cheese and butter until smooth. Slowly add powdered sugar, mixing until it's all incorporated. Add vanilla and mix until combined.
Place one layer on a serving plate. Top with one-fourth of the frosting. Repeat the procedure once.
Top with the remaining cake layer. Spread the remaining frosting over the top and sides of the cake. Garnish with pecans or coconut, if desired.
Recommended Products
As an Amazon Associate and member of other affiliate programs, I earn from qualifying purchases.
Nutrition Information:
Yield:
16
Serving Size:
1 slice
Amount Per Serving:
Calories: 807
Total Fat: 48g
Saturated Fat: 16g
Trans Fat: 1g
Unsaturated Fat: 29g
Cholesterol: 86mg
Sodium: 410mg
Carbohydrates: 92g
Fiber: 3g
Sugar: 68g
Protein: 7g
Note: This post may contain affiliate links; view
my Disclosure Policy
for details. I earn a small percentage from any purchase you make by clicking on these links at no extra cost to you.