Sour Cream Pound Cake
Perfectly sweet and dense, a slice of Sour Cream Pound Cake is scrumptious topped with seasonal berries and a dollop of whipped cream. Your reputation as a baker will increase exponentially with your friends and family when you use my foolproof tips for How to Make a Pound Cake!
With sour cream to keep it moist and along with a fine crumb, this Pound Cake Recipe can't be beat! Be prepared to give out the recipe.
Why You Should Make This Sour Cream Cake
A classic pound cake calls for only butter, sugar, eggs, and flour. This sour cream version has just a few additions to push it over the top. The sour cream provides a tender crumb and the vanilla and almond extracts boost the flavor complexity.
Yet it is still a very simple cake needing nothing but a fork to enjoy. Adding a Pound Cake Glaze with a thin coating of powdered sugar and water actually helps keep the cake moist and gives a little texture to the already tasty crust.
A simple garnish is all this cake needs to make it company-worthy, though it can be served with all sorts of delicious toppings! I had planned to make a sauce from some raspberries I found buried deep in the freezer, but in the end, I just used a few fresh berries for garnish. If serving to company, a sweetened raspberry sauce and a dollop of whipped cream would up the elegant factor. Either way, a winner.
Easy Pound Cake Recipe
When you're not sure of someone's likes and dislikes, this sour cream pound cake recipe is perfect to serve or give as a gift. Unlike other flavors, like coconut or mint, vanilla anything is usually a winner. There are a few odd ducks who don't like chocolate (or are allergic—poor souls), then others like the hubby who won't eat nuts, coconut, dried fruit, and on and on.
We kept a few slices at home but some went to Bill's mom, a tiny Irish woman who deserves a treat, and the rest to some dear friends. If you don't have any sour cream on hand, this Pound Cake Recipe using heavy cream is another tasty choice! My family really enjoyed this Easy Pound Cake Recipe, and I know it spread some cheer and smiles to all who indulged.
Tips for How to Make Pound Cake
Pound cakes are dense with a fine crumb and can be made in numerous flavors with a variety of delicious add-ins. I find them so much easier to make than a layer cake you must frost or cupcakes that look best with a piped swirl of buttercream. But the rules for creating a pound cake are slightly different than an ordinary cake.
Ingredients and Mixing Your Pound Cake Recipe:
Start with room temperature ingredients. As with all cakes, having the ingredients at room temperature is key. You can set the eggs, butter, and sour cream out on the counter about an hour before mixing. If you forget, just set the eggs into a bowl of hot, not boiling water, to speed up the process.
Use the paddle attachment to beat the butter and sugar. This will ensure a smooth dense batter. You do not want to use the whip as it will add air to the batter when your goal is a smooth, thick batter. Make sure the mixture is well creamed before adding the eggs.
PRO-Tip: The eggs and flour are alternated in the mixing process. When cake recipes call for this method, start and stop with the flour. This prevents (or minimizes) overmixing which will affect the tenderness of your baked cake. We're aiming for a tender, dense, fine crumb cake.
Scrape the bottom of the bowl a couple of times during the mixing process so the batter is mixed thoroughly.
PRO-Tip: Like with a cheesecake, you only want to beat in each egg until it's just incorporated. And after you add the flour, you do not want to over-activate the gluten, so mix just until combined. Do not over-mix or beat in the flour.

Baking and Storing This Easy Pound Cake:
Grease and flour your Bundt pan. Shortening works best for greasing your pan, but butter or even Baker's Joy spray works in a pinch.
Most pound cakes take an hour or more in the oven. Be patient. To check if your pound cake is done, insert a toothpick into the center of the cake. When the cake is done, the toothpick should come out clean.
Let the pound cake cool in the pan on a wire rack for 10-15 minutes before gently shaking and flipping it out onto the cooling rack.
Make sure your cake is completely cooled before slicing.
Your pound cake will keep well covered at room temperature for up to 3-4 days. Any longer, wrap well with plastic wrap, then foil and freeze.
A well-wrapped pound cake can be frozen for 4-6 months.
Frequently Asked Questions
Why is it called Pound Cake?
The answer is simple. The original pound cakes called for a pound of sugar, a pound of butter, a pound of flour and a pound of eggs.
What is Pound Cake?
It's a fine textured cake that was first made with the ingredients listed above plus a vanilla or lemon flavoring. As the recipe evolved, baking powder or soda were added along with other ingredients like coconut, nuts and dried fruit. It was first a loaf cake, but now is often baked in a Bundt or tube pan.
How Long to Bake a Pound Cake?
Use the recipe as a guide but depending on your oven and specific pan, the cake could take more or less time than called for in the recipe. Note the temperature in your recipe.

Often the go-to baking temperature of 350 is too hot for pound cake. This cake is baked at 325 degrees.
How Can You Tell When a Pound Cake Is Done?
Use the toothpick test. Insert a toothpick into the middle of the pound cake. When it comes out clean, the pound cake is done. Do this test in more than one location. Check when you start smelling a baked cake aroma or a few minutes before your timer goes off to prevent overbaking.
How Long Should A Pound Cake Cool Before Removing It from the Pan?
A pound cake should cool on a wire rack for 10-15 minutes before removing it from the pan. Any sooner and the cake may break into pieces. Any longer, the cake may start sticking to the pan.
What is the Best Pan for Pound Cake?
Pound cakes bake best in a tube pan like an angel food pan or Bundt pan. Do Not use a 2-piece angel food pan with a removable bottom as the batter will leak out the bottom as it bakes. Pound cakes can be baked in loaf pans, but if you use a recipe calling for a Bundt pan, the batter will fill more than one loaf pan. The time will need to be adjusted, too.
Why Add Sour Cream to a Pound Cake?
Sour cream adds moisture and richness to the cake without diluting the batter. It helps create a soft, fine crumb.

The acid in the sour cream weakens the gluten strands, creating a more tender cake. It also helps activate the baking soda which needs acid to help the cake rise.
More Pound Cake Recipes You'll Love:
Ingredient Notes:
Make sure your baking soda is fresh and you have real, not artificial, vanilla extract. Plus, check your pantry for granulated sugar, baking soda, and vanilla extract
Butter – Salted, brand name, or European butter. If you'd like to use unsalted, you'll need to add a little more salt to the recipe. Have the butter at room temperature. For the best flavor, never substitute margarine for the butter.
Sour Cream – Use full fat.
Large Eggs – You'll need 6. Have the eggs at room temperature.
Vanilla Extract – Use real vanilla extract, never imitation. The flavor of real is incomparable.
Almond Extract – also buy the best quality you can find. I use Penzey's brand.
Powdered Sugar – Sift to prevent lumps.
All-Purpose Flour – Some pound cakes call for pastry or cake flour, but the more common all-purpose flour is best in this recipe.
Check out more terrific cakes on my Delicious Cakes and Cupcakes Pinterest Board.
Don't Forget to Subscribe!
Have you subscribed to my weekly newsletter? You'll get the latest blog recipes plus some seasonal favorites delivered to your inbox every Saturday morning! And as a bonus, you'll receive a series of 5 Tips & Recipes for Leveling Up Your Desserts! Of course, you can unsubscribe at any time!!
SUBSCRIBE HERE—> https://bit.ly/3tLQIcL
This recipe was first shared in July 2015. The text was updated in 2019, 2021.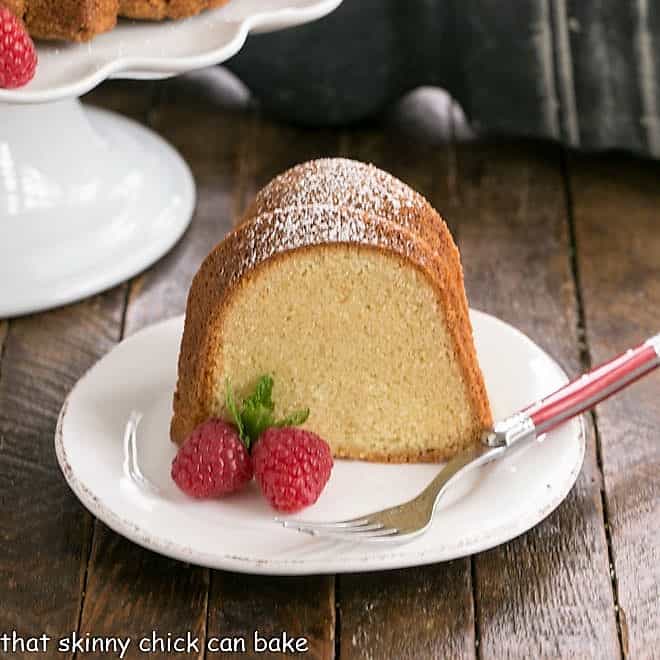 The Recipe:
Sour Cream Pound Cake Recipe
Prep Time 20 minutes
Cook Time 1 hour 20 minutes
Total Time 1 hour 40 minutes
Yield 10 servings
A dense, classic vanilla pound cake. Perfect served with berries and cream.
Ingredients
1/2 lb (2 sticks) butter, at room temperature
3 cups sugar
1 cup sour cream
3 cups flour
1/2 teaspoon baking soda
6 large eggs
1 teaspoon vanilla
1/2 teaspoon almond extract
Optional Glaze:
1 1/2 cups powdered sugar, sifted
1/2 teaspoon vanilla
Hot water
Instructions
Preheat oven to 325°.
Grease and flour standard Bundt pan (or use Baker's Joy)
In a large mixing bowl, combine and cream the butter, sugar, then mix in the sour cream. Sift the baking soda and flour together. Add the sifted flour to the creamed mixture alternating with eggs, beating in each egg one at a time.
Add the vanilla and almond and pour the mixture into the prepared pan. Bake for 1 hour 20 minutes. Let cool 10 minutes on a rack, then invert and release from the pan.
If you'd like to add the glaze, make it while the cake is cooling in the pan. Add water to powdered sugar and vanilla till it's thin enough to brush on and soak into the cake a bit. Brush on warm cake.
Notes
Adapted from Paul Deen.

May dust with powdered sugar for an easy garnish instead of glazing.
Recommended Products
As an Amazon Associate and member of other affiliate programs, I earn from qualifying purchases.
Nutrition Information:
Yield:
10
Serving Size:
1
Amount Per Serving:
Calories: 524
Total Fat: 8g
Saturated Fat: 3g
Trans Fat: 0g
Unsaturated Fat: 3g
Cholesterol: 125mg
Sodium: 115mg
Carbohydrates: 106g
Fiber: 1g
Sugar: 77g
Protein: 8g
Note: This post may contain affiliate links; view
my Disclosure Policy
for details. I earn a small percentage from any purchase you make by clicking on these links at no extra cost to you.