Strawberry Pound Cake
This Fresh Strawberry Pound Cake is sweet, dense and has the spectacular aroma of strawberry jam. Born out of desperation, there was no dessert in the house except some dredges of white chocolate ice cream.
With fragrant strawberries in the produce drawer and plenty of eggs and butter in the fridge, a lovely Strawberry Cake was born.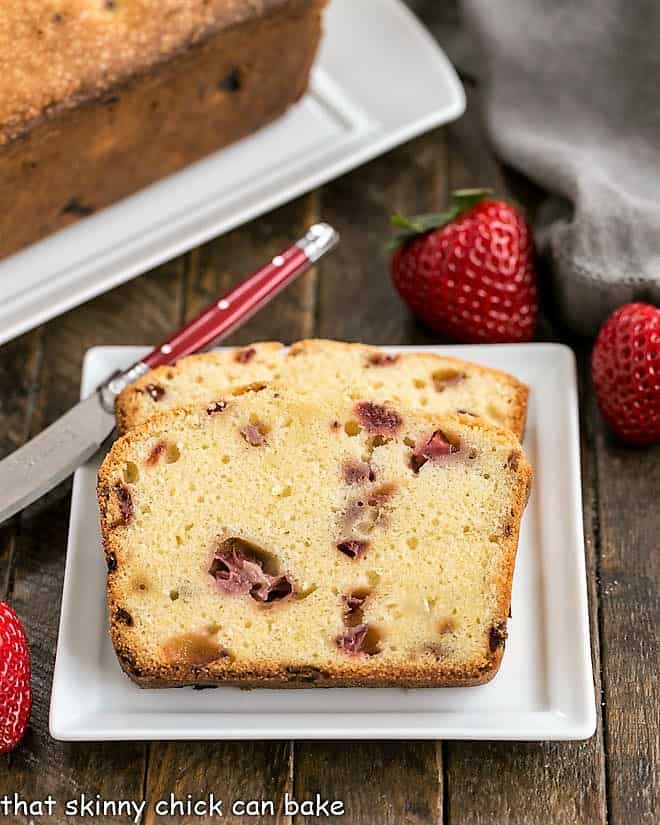 Why You Must Make
Only a few days before Easter and Bill was into the Oreos after dinner. I wanted to whip up an easy dessert, but knowing I'd soon be cooking up a big holiday meal for the family, I had to scale back. I turned to a classic pound cake formula from Cook's Illustrated and crossed my fingers that adding chopped strawberries would not mess up the baking chemistry. I did leave out the water figuring the strawberries would add some extra moisture. This recipe makes one generous strawberry loaf cake, which was just the size I needed! And, whew, it baked up perfectly.
A loaf-sized pound cake is great when you don't need a huge dessert.
Adding fresh strawberries makes it perfect for spring and summer.
A touch of almond extract provides a delicious undertone that plays well with the berries.
Recipe Notes
Kitchen Staples – Sugar, Salt
Butter – Have it at room temperature for easy incorporation.
Eggs, Egg Yolks – Also should be at room temperature.
Vanilla – Use real vanilla extract, never imitation (check your label).
Almond Extract – A little goes a long way. It's a delicious addition to fruit desserts.
Fresh Strawberries – Diced into ¼-inch cubes. Drain on paper towels until ready to mix into the batter.
Cake Flour – Has less gluten than regular flour so will make a more tender cake.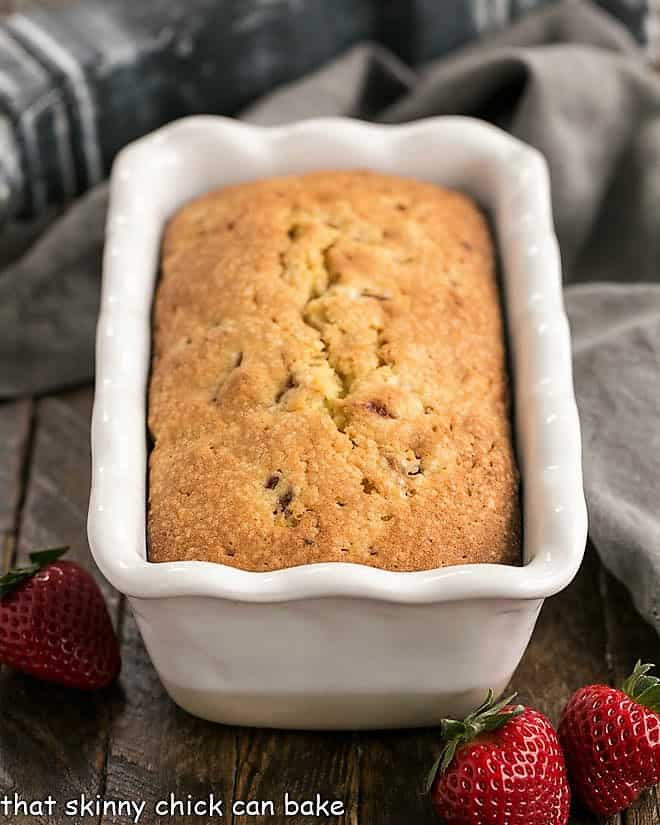 Recipe Tips
As with most of my cake recipes, you must start with room-temperature butter and eggs. They will incorporate more easily and create a silkier batter.
This strawberry pound cake recipe does not alternate adding wet and dry ingredients, but the resulting texture was perfect. The chopped strawberries were folded in after adding the wet ingredients to the batter.
I added 1½ cups of beautiful ripe red strawberries that I chopped into about ¼-inch pieces. I think this batter could take up to 2 cups of chopped berries, but I haven't tested that out yet.
Almond extract pairs beautifully with strawberries so I added ¼ teaspoon. It's potent so tread carefully with your amounts. 1 teaspoon of vanilla rounded out the flavor palate.
If you want to try another flavor, omit the strawberries and add other ingredients. If you use blueberries instead of strawberries, the zest of one orange or the zest of two lemons, you'll need to add back in the 1½ teaspoons of water I omitted.
PRO-Tip: The butter and sugar are beaten for about 5 full minutes. This contributes to a velvety texture after it bakes.
PRO-Tip: The flour is added in increments and should not be overmixed. Overmixing can encourage more gluten formation which you do want when making bread, but not when making cakes.
Greasing the loaf pan, then lining it with 2 pieces of parchment paper ensures that your cake will not stick to the pan. Cool for only about 10 minutes before releasing. That gives the exterior of the cake time to firm up so it will keep its shape.
Don't overfill your (affiliate links) loaf pan. It should have a 7-cup capacity. If your pan is smaller, you can make a few cupcakes using ramekins for the excess batter.
I smoothed the top of the batter with an offset spatula. There was some space between the top of the batter and the top of the loaf pan. If it's filled to the brim, there's apt to be some overflow onto the bottom of the oven.
PRO-Tip: Note that you can double this strawberry loaf cake recipe and bake it in a 14-cup capacity Bundt pan. The baking time is the same, but make sure to use a toothpick inserted in a few spots to ensure doneness.
Frequently Asked Questions
Why Is It Called a Pound Cake?
The first pound cakes were made with a pound of sugar, a pound of flour, a pound of butter, and a pound of eggs. Now there are all sorts of varieties with extra yolks, cream cheese, or cream added, plus a variety of flavorings and add-ins.
How Long Can You Store a Pound Cake?
If covered with plastic wrap, you can keep your pound cake at room temperature for 4-5 days. You can refrigerate for up to a week, but bring it to room temperature to serve. You can also freeze a pound cake for up to 3 months. Note that this cake has moist strawberries in the batter, so it may not keep a full 5 days at room temperature.
You May Also Like:
Stay in touch through social media @ Instagram, Facebook, and Pinterest. Don't forget to tag me when you try one of my recipes! And if you love the results, please give it a 5-star rating in the recipe card. Note: As an Amazon Associate, I earn from qualifying purchases. Visit my Amazon Store for my favorite products.
The Recipe:
Strawberry Pound Cake
Prep Time 20 minutes
Cook Time 1 hour 20 minutes
Total Time 1 hour 40 minutes
Yield 10 servings
A simple pound cake loaf full of chopped, fragrant strawberries.
Ingredients
2 sticks butter, at room temperature
1 ⅓ cups sugar
3 eggs, at room temperature
3 egg yolks, at room temperature
1 teaspoon vanilla
¼ teaspoon almond extract
1 ½ cups diced strawberries (about 1/4-inch cubes)
¼ teaspoon table salt
1 ½ cups cake flour
Instructions
Preheat oven to 325 degrees. Grease a 9 x 5 x 3 ½-inch loaf pan, then line with two strips of parchment paper, perpendicular to each other to cover the inside surface of the pan. Set aside.
In a stand mixer, beat the butter for a few seconds until smooth, then on medium-high speed, slowly pour in sugar and beat until very light in color and fluffy. This could take up to 5 minutes. Scrape the bottom of the bowl as needed.
In a large Pyrex measuring cup with a spout, whisk together the eggs, egg yolks, vanilla, and almond extract. With the mixer on, drizzle the egg mixture in slowly, and mix until well combined, scraping the bottom of the bowl as needed. Mix in the salt.
Remove the bowl from the mixer and fold in the strawberries.
Put ½ cup of the flour into a wire sieve or sifter and sift over the batter, then fold in carefully with a spatula. Repeat with another ½ cup, then the final ½ cup of flour.
Scrape the batter into the prepared pan, and smooth the top of the batter.
Bake for 70-90 minutes or until a toothpick inserted into a few spots in the center of the cake comes out clean. Remove to a wire rack and cool for about 10 minutes. Using the parchment to remove, lift the cake out of the pan and place it on the rack to finish cooling.
Notes
The inspiration for this cake was a Master Recipe for Classic Pound Cake in The Best Recipe, a cookbook from the editors of Cook's Illustrated.
This cake may be doubled and baked in a large Bundt pan. Baking time should be similar to the loaf cake.
Nutrition Information:
Yield:
10
Serving Size:
1 slice
Amount Per Serving:
Calories: 387
Total Fat: 21g
Saturated Fat: 13g
Trans Fat: 1g
Unsaturated Fat: 7g
Cholesterol: 160mg
Sodium: 223mg
Carbohydrates: 45g
Fiber: 1g
Sugar: 28g
Protein: 5g
Note: This post may contain affiliate links; view
my Disclosure Policy
for details. I earn a small percentage from any purchase you make by clicking on these links at no extra cost to you.