Mini Mascarpone Cheesecakes
Mini Mascarpone Cheesecakes are Homemade Cheesecake Recipes, perfect for your holiday dessert buffet. Top with a single raspberry and watch them disappear.
This Mini Cheesecake Recipe is ideal for parties. Placed in mini cupcake wrappers, they're easy to pick up and devour in 2-3 bites. Of course, they're so creamy and delicious, you'll want another!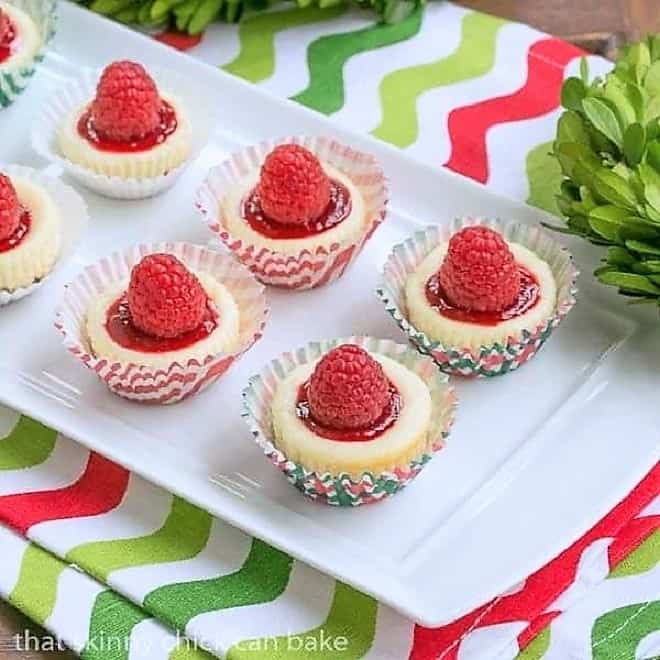 Why You Must Make
You can make all sorts of variations of these mini mascarpone cheesecakes for numerous events. Bake some with graham cracker crusts, others with chocolate cookie crusts, and of course, these with Biscoff crusts.
They can be flavored with a bit of dark chocolate, plain old vanilla extract, or the extract of your choice.
They are two-bite, scrumptious little numbers. No forks are needed when you make this mini cheesecake recipe!
Ingredient Notes
Kitchen Staples – Butter, Sugar, Flour
Biscoff Cookie Crumbs – Grind Biscoff Cookies in your food processor. You may substitute graham cracker crumbs or chocolate cookie crumbs.
Egg – Have at room temperature for easier incorporation.
Cream Cheese – Have it at room temperature for the smoothest batter.
Mascarpone Cheese – Also at room temperature.
Vanilla Extract – Always make sure you're using real vanilla extract not imitation.
Raspberry Sauce and Fresh Raspberries – Optional garnish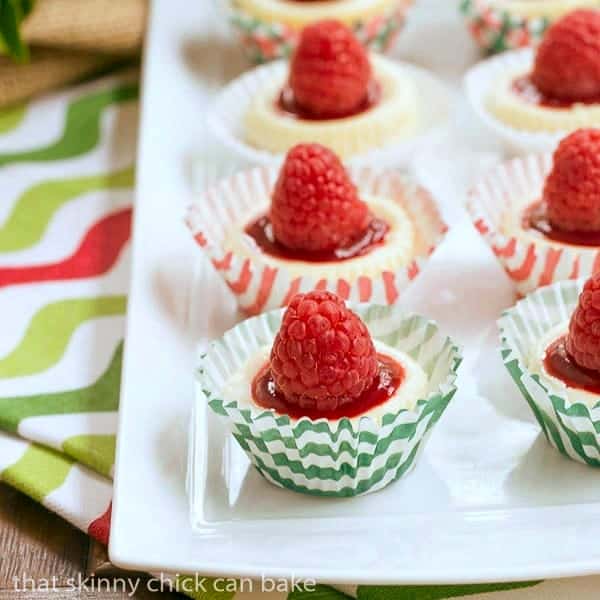 Recipe Tips
I have loads of cheesecake recipes on this blog, and over the years I've found a few key steps that will make your cheesecake the creamiest, most luscious dessert you can make. For a full-sized cheesecake, you might enjoy this Blueberry Swirl Cheesecake or the Strawberry Topped Cheesecake. This Ganache Topped Cheesecake is to die for! And these Mini Vanilla Bean Cheesecakes are also fun individual desserts.
First, you must get out your refrigerated ingredients at least an hour before you plan to mix them. This is especially important for eggs and cream cheese.
PRO-Tip: Having the ingredients at room temperature allows them to mix in smoothly. You want the cream cheese totally incorporated, with no tiny white bits in the batter.
PRO-Tip: It's also imperative not to over-mix the batter. So if you see white bits in your batter, resist the urge to turn your mixer on high and beat the batter to death.
Overbeating will add air into the mixture, thus changing the texture of the cheesecake.
PRO-Tip: If you're using a stand mixer, always mix with the paddle attachment. It will mix your batter without adding any excess air, making a dense, creamy cheesecake.
Add your eggs one at a time, and mix just until each is incorporated.
To make a white chocolate version, add 2 ounces of melted white chocolate and 1 1/2 teaspoons of Frangelico liqueur (optional). Use Oreo or graham cracker crumbs for the crust, if desired.
To make a chocolate version, add 2 ounces of melted and slightly cooled semisweet chocolate to the batter, and consider a crust made of Oreos or Nabisco Famous Wafers. Top with a dab of ganache made with 2 ounces of semisweet chocolate and 2 tablespoons of heavy cream, then add a fresh raspberry or M&M to garnish.
To make these mini cheesecake bites extra pretty for parties, top them with small dollops of raspberry coulis and perfectly plump red raspberries. They may also be decorated with dark chocolate and white chocolate ganache, then crowned with colorful M&M's. Red and green candies are perfect for Christmas, but fall colors work for Halloween and Thanksgiving or pastels for Easter. You get the picture.
Made with store-bought or my homemade mascarpone gives an Italian flair.
For company, set each cheesecake into festive holiday or seasonal wrappers (paper mini cupcake cups). You may leave on the original wrappers.
When I make a full-sized cheesecake, I bake it in a bain marie or water bath to help prevent cracking of the surface. With this small cheesecake recipe, it's not needed as they don't tend to crack plus the tops will be garnished!
Frequently Asked Questions
How Long Can You Keep Leftover Mini Cheesecakes?
If you store them airtight in the refrigerator, they will keep for up to 5 days. Just bring them to room temperature to serve as they will be ultra creamy when not cold.
Can You Freeze Cheesecake?
Yes, most cheesecakes and mini cheesecakes will freeze beautifully. Just wait to garnish until after they're defrosted. They will keep well for up to 3 months.
How Do You Store Leftover Cheesecakes?
Keep them airtight by covering them with plastic wrap or placing them in a container with a lid so they don't dry out. Make sure not to leave them out at room temperature for more than 2 hours and store them in the refrigerator.
How Deep Do You Fill the Mini Muffin Wrappers Before Baking?
The cheesecake batter shouldn't totally fill the wrappers as you must leave room for expansion as the cheesecakes bake. Aim for ⅛-¼-inch below the top of the papers.
You May Also Like
Stay in touch through social media @ Instagram, Facebook, and Pinterest. Don't forget to tag me when you try one of my recipes! And if you love the results, please give it a 5-star rating in the recipe card. Note: As an Amazon Associate, I earn from qualifying purchases. Visit my Amazon Store for my favorite products.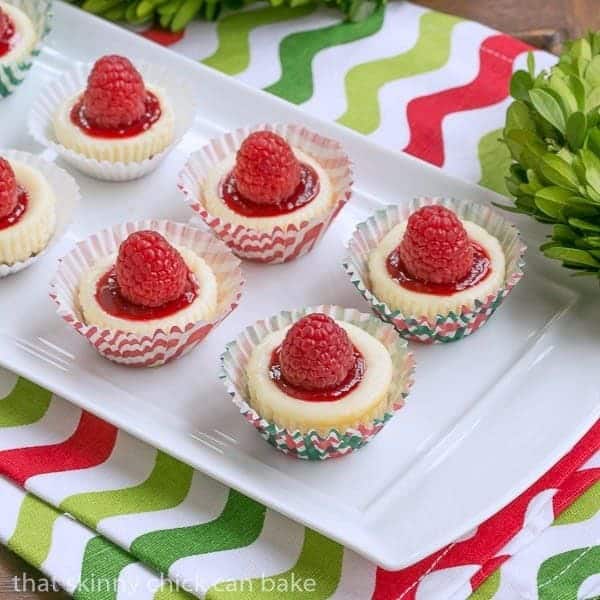 The Recipe:
Mini Mascarpone Cheesecakes Recipe
Prep Time 10 minutes
Cook Time 20 minutes
Total Time 30 minutes
Yield 20
Versatile mini mascarpone cheesecakes! Garnish to suit your whim!
Ingredients
½ cup Biscoff cookie crumbs
2 tablespoons butter, melted
8 ounces cream cheese, at room temperature
2 tablespoons mascarpone cheese, at room temperature
¼ cup sugar
¼ teaspoon vanilla
2 teaspoons flour
1 egg, at room temperature
Raspberry sauce, raspberries for garnish
Instructions
⅛Line the mini muffin tin with 20 paper liners. Set aside.
Preheat oven to 325º.
Mix cookie crumbs and melted butter. Place 1 teaspoon into the bottom of each lined muffin cup. Tamp it down to cover the bottom of the cup and compress the crumbs. Set aside.
With an electric mixer, beat cream cheese and mascarpone in a medium bowl till smooth. Mix in sugar, then vanilla. Mix in the flour. Add egg and beat till just combined.
Scoop out rounded tablespoons of batter and carefully place over crusts. Smooth tops with an offset spatula. Bake for 18-20 minutes till puffed, but not browned. Remove from oven to cooling rack.
When cool, remove the cheesecakes from the tin to decorate. Top each with a small dollop of raspberry sauce and one ripe raspberry. Alternatively, you can make a white chocolate ganache by melting 2 ounces of chopped white chocolate and 1 tablespoon of heavy cream and use it instead of the raspberry sauce.
Notes
If serving to company, drop each cheesecake into a festive mini cupcake liner. You may leave the original liner on.
Recommended Products
As an Amazon Associate and member of other affiliate programs, I earn from qualifying purchases.
Nutrition Information:
Yield:
12
Serving Size:
2 cheesecakes
Amount Per Serving:
Calories: 224
Total Fat: 16g
Saturated Fat: 8g
Trans Fat: 0g
Unsaturated Fat: 6g
Cholesterol: 59mg
Sodium: 158mg
Carbohydrates: 18g
Fiber: 1g
Sugar: 11g
Protein: 3g
Note: This post may contain affiliate links; view
my Disclosure Policy
for details. I earn a small percentage from any purchase you make by clicking on these links at no extra cost to you.