Blueberry Swirl Cheesecake
With sweet plump blueberries appearing in the produce department, it was only fitting to whip up a dreamy, luscious Blueberry Swirl Cheesecake!
Blueberry Swirl Cheesecake
This dessert took some trial and error. I saw a "Blue Ribbon" recipe online and gave it a whirl. But against my better judgment, I didn't bake it in a water bath, and there were numerous cracks among the swirls after it finished cooling. Rats.
So plan B was to go back to my White Chocolate Raspberry Swirl Cheesecake and just replace the raspberries with blueberries. It was baked in a water bath. It stayed for 2 hours in the oven, one hour on and one hour off. And it was definitely more delectable with a silkier, smoother texture. More blueberry topping could have been swirled across the surface, but there's no way I could make another and feed my crew three blueberry cheesecakes in a row!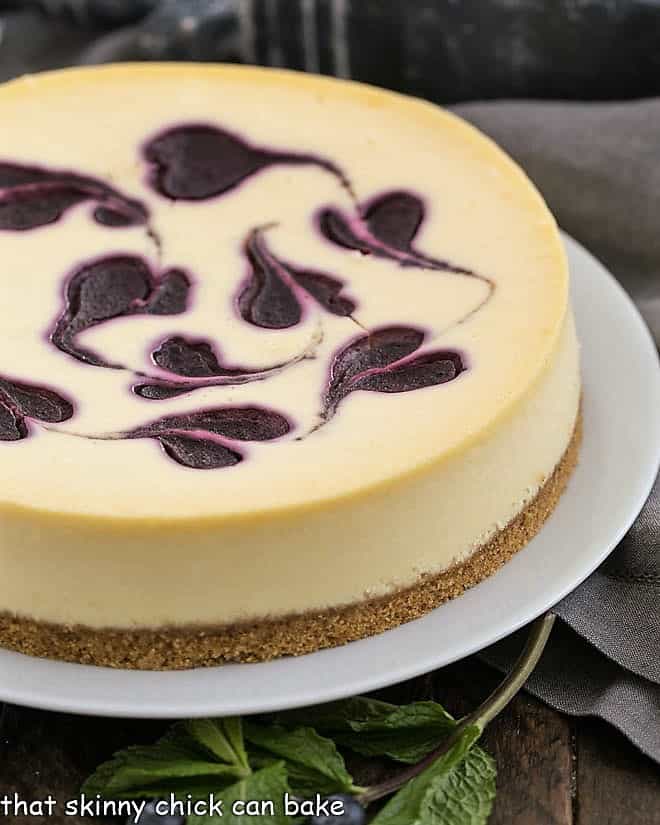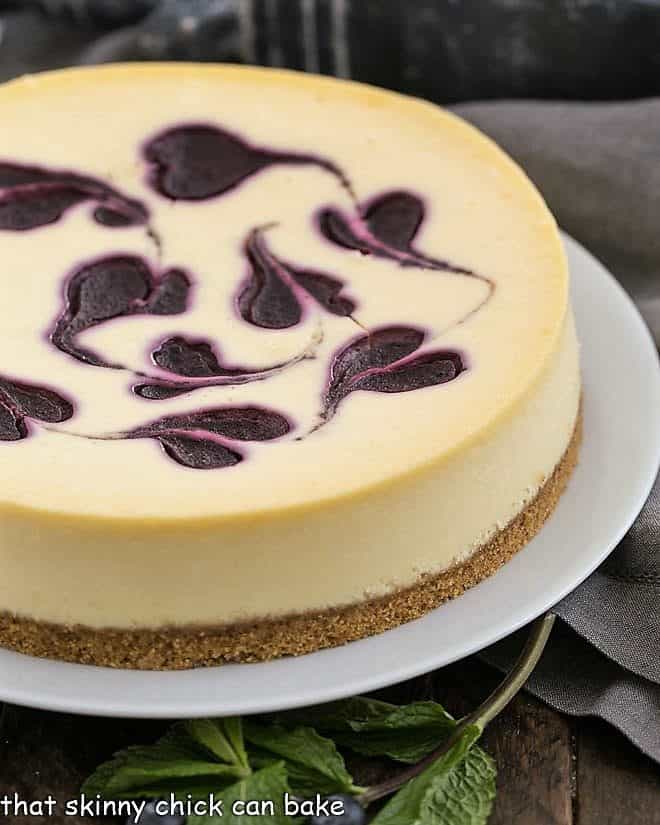 How Do You Prevent a Cheesecake from Cracking?
PRO-Tip: So many cheesecake recipes recommend baking in a water bath, it's almost a given when I make a cheesecake. The logic is that the surrounding water keeps the cheesecake baking at a steady temperature. It's the rapid changes in heat that can wreak havoc on a cheesecake.
Part of the trouble with my first attempt was that after an hour the center was way too jiggly, and I knew it wasn't nearly done enough to remove from the oven. Opening and shutting the oven a number of times most likely contributed to the cracking as the oven had to cycle back and reheat each time I peeked. PRO-Tip: Minimize the times you open the oven to prevent cracking.

What was genius about this blueberry swirl cheesecake recipe is that after an hour, which wasn't enough time to fully bake the cheesecake, the oven was turned off and another hour of slow cooling (and cooking) occurred in a controlled environment.
There is some thought that the humidity of the water bath also helps with making a creamier cheesecake. I know that my Instant Pot Vanilla Cheesecake was truly one of the best textured cheesecakes I've ever tasted. Too bad it was so small! Baked under pressure, surrounded by steam obviously worked some magic. So even though a water bath, AKA bain marie, is an extra step, I feel it's fully worth the effort.

But there is a caveat to baking in a water bath. Your springform pan must create a decent seal to prevent seepage into the crust. Never take that for granted, though. I always wrap the exterior of the pan with two sheets of heavy duty aluminum foil and that always does the trick.
PRO-Tip: Over baking, over mixing are also culprits. The over mixing causes the batter to aerate and it ends up puffing and falling more than it would if just mixed until combined. I always recommend using a paddle attachment for this very reason.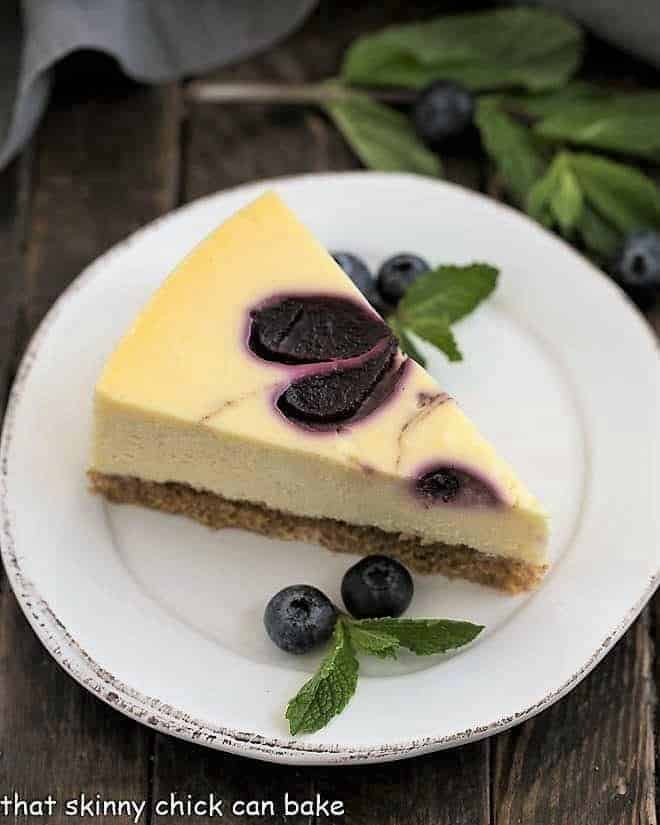 Looking for More Terrific Cheesecake Recipes?
Some of our family favorites include this Mascarpone Cheesecake with Balsamic Strawberries, Hot Fudge Brownie Cheesecake and this no-bake Strawberry Cheesecake Lush Dessert. Make sure to check out more tips on my post on How to Make Cheesecake!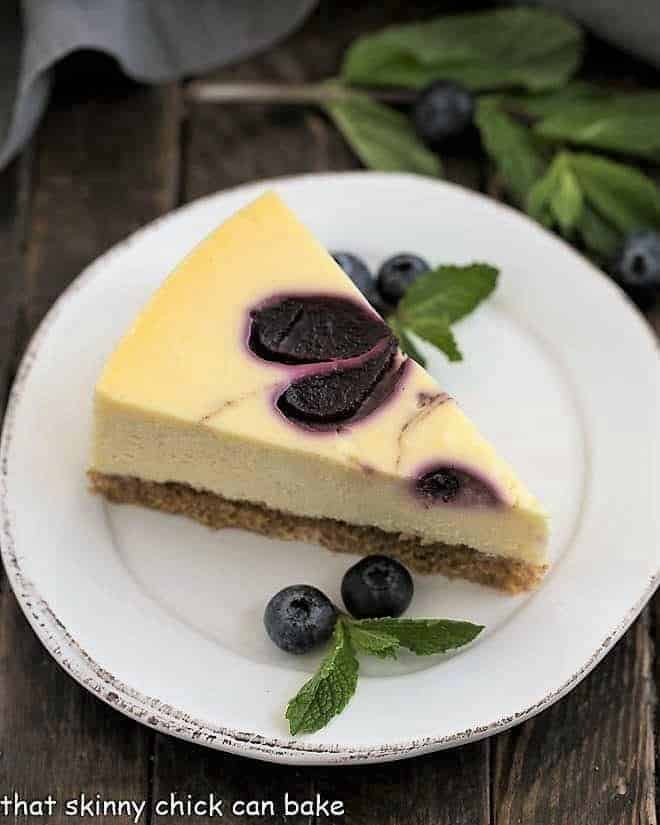 The Recipe:
Blueberry Swirl Cheesecake
Prep Time 45 minutes
Cook Time 1 hour
Total Time 1 hour 45 minutes
Yield 16 servings
A luscious vanilla and almond kissed cheesecake with a blueberry swirl
Ingredients
CRUST:
1 ¾ cups graham cracker or vanilla wafer crumbs
3 tablespoons sugar
4 tablespoons butter, melted
BLUEBERRY SAUCE:
1 ½ cups fresh blueberries
1 tablespoon sugar
1 teaspoon fresh lemon juice
CHEESECAKE:
2 pounds cream cheese, at room temperature
1 ¼ cups sugar
2 tablespoons flour
4 eggs, at room temperature
2 teaspoons vanilla
¼ teaspoon almond extract
2 tablespoons whipping cream
Fresh blueberries and mint to garnish, optional
Instructions
Mix together crust ingredients and pat into the bottom of a greased 9-inch springform pan. Wrap the pan with heavy-duty aluminum foil and place it in a large baking pan (I use my roaster). Set aside.
To make the blueberry sauce, purée the berries in a food processor. Press the berries through a strainer to remove the seeds. Add 1 tablespoon of sugar and the lemon juice to the strained puree. Set aside.
Preheat the oven to 350º.
Put the cream cheese in a stand mixer fit with a paddle attachment. Mix on low speed until smooth, about 1 minute. Add the sugar and mix until smooth, about 1 minute. Mix in the flour. Add the eggs, one at a time, mixing smooth after each addition, scraping down the sides of the mixing bowl after each addition. Add the vanilla and whipping cream. Pour the batter into the prepared springform pan.
Spoon tablespoonfuls of blueberry sauce over the surface of cheesecake, leaving space between each dollop. Avoid getting any sauce too close to the edge of the pan. You may not need to use all your sauce (I used about ½ cup). Dip the spoon about ½ inch into the batter and swirl some of the sauce into the batter making a marbleized pattern. Do not over-swirl.
Put the cheesecake in the oven and pour hot water into the large baking pan to reach 1 inch up the sides of the springform pan. Bake for about 1 hour or until the top appears set.
Cool the cheesecake in the water bath for 1 hour. Remove the pan and cool on a wire rack for another hour. Chill for at least 6 hours or overnight before serving.
Set out on the counter for an hour before serving. Garnish with fresh berries and mint if desired.
Recommended Products
As an Amazon Associate and member of other affiliate programs, I earn from qualifying purchases.
Nutrition Information:
Yield:
16
Serving Size:
1 slice
Amount Per Serving:
Calories: 383
Total Fat: 26g
Saturated Fat: 14g
Trans Fat: 0g
Unsaturated Fat: 9g
Cholesterol: 114mg
Sodium: 269mg
Carbohydrates: 34g
Fiber: 1g
Sugar: 25g
Protein: 6g
Note: This post may contain affiliate links; view
my Disclosure Policy
for details. I earn a small percentage from any purchase you make by clicking on these links at no extra cost to you.