Easy Glazed Salmon
These Easy Glazed Salmon fillets are a breeze to prep, then just 15 minutes in the oven or even less time on the grill, and dinner is served!
Best of all, this simple grilled salmon recipe is made with kitchen staples I always have on hand! Perfect for a delicious last-minute, healthy entree.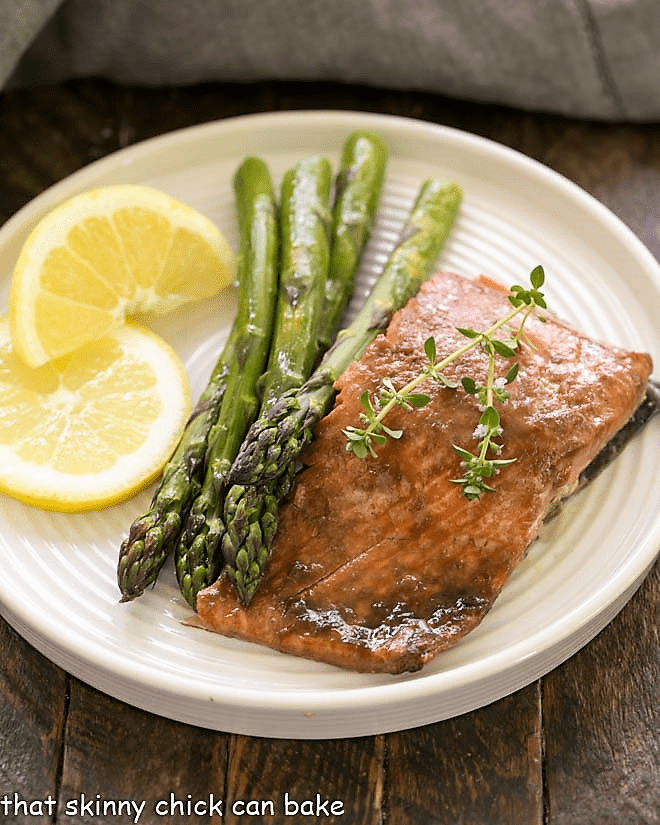 Why You Must Make
This is one of those recipes that is deceptively simple to prepare. We grilled these marinated salmon fillets for our dinner guests a few months ago and I had to print off copies of the recipe before my guests left.
With just 6 ingredients, all I needed to purchase was the salmon and double-check the fridge for a lemon to make this glazed brown sugar salmon.
Grilling gives added flavor and crispy bits from the hot temperature and smoke, but 15 minutes in the oven also makes for a delicious entree! The combination of sweet, salty, and citrus flavors marry well in this simple marinade and salmon glaze recipe.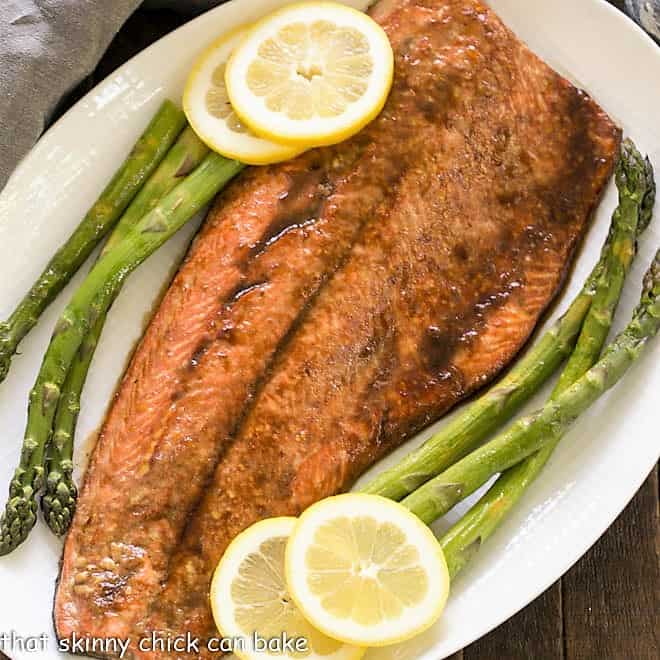 Grilled Salmon Recipe for Lent
This seafood entree made its debut back in 2011, during Lent. My youngest was in high school and opted for a peanut butter sandwich after taking a courtesy bite of this marinated salmon. Thank goodness, his palate has matured and he's happy to eat all variations of salmon. And I wish I could say I weaned the picky hubby off of tuna casserole and salmon loaf, but at least he's expanded his seafood repertoire to now include fresh salmon. It's nice to have a simple salmon glaze recipe in one's repertoire.
Ingredient Notes
Brown sugar – adds sweetness and helps with caramelization.
Olive oil – adds richness
Soy sauce – along with saltiness, soy sauce adds umami, a term for the 5th category of tastes which is said to be a brothy, meaty, savory flavor.
Fresh lemon juice – adds acid to balance all 3 of the above ingredients. Never substitute bottled lemon juice as the flavor cannot compare to fresh.
White wine – like salt, alcohol is a flavor enhancer. Almost all the alcohol is cooked by the time the glaze is brought to a boil and then heated again in the oven or on the grill.
Cooking Tips
The rule of thumb is to cook 10 minutes per inch of thickness when it comes to fish. Of course, if the hubby is grilling on the Big Green Egg and the thermometer is registering 500+ degrees, it won't take as long as in my oven at 400º!
I like my tuna rare with just the sides seared, but for salmon, I prefer medium rare to medium. I'd say the photo above is cooked to medium as there is no translucency in the fish.
PRO-Tip: For medium rare salmon, cook wild salmon to 120º and farmed salmon to 125º. Cover with foil after removing it from the grill and allow to rest for 10 minutes to allow the internal temperature to rise another 5-10º.
Farmed salmon actually has more fat than wild, so won't dry out if you cook it to the higher internal temperature.
The marinade is very simple, but you could increase the marinating time a bit so more flavor can be absorbed, especially if you're cooking in the oven. Usually, it's recommended that seafood only has a short time in a marinade, but salmon is a hearty fish and I think you could marinate up to 45 minutes.
Leave the skin on as this helps keeps the delicate seafood intact as you cook.
I prefer wild salmon as I think the quality and flavor is better. But it is more expensive, so if it's out of your budget, farmed salmon will also provide the protein and Omega 3 fatty acids that are found in wild. Plus, many feel farmed salmon has a more buttery texture due to the higher fat content.
PRO-Tip: My cooking preference for this recipe is grilled over oven-cooked as the smoke makes this fish even more incredible. If not grilling, give the salmon a minute or two under the broiler to give the top some color.
Make sure to use the easy salmon glaze to baste a few times during the roasting or grilling time as that will impart extra flavor, too. This is especially important if you roast vs. grill.
PRO-Tip: Always cook the marinade after you remove the salmon if you're using it for basting. I boil or simmer it for a couple of minutes. This ensures you aren't adding raw juices to the salmon as you baste.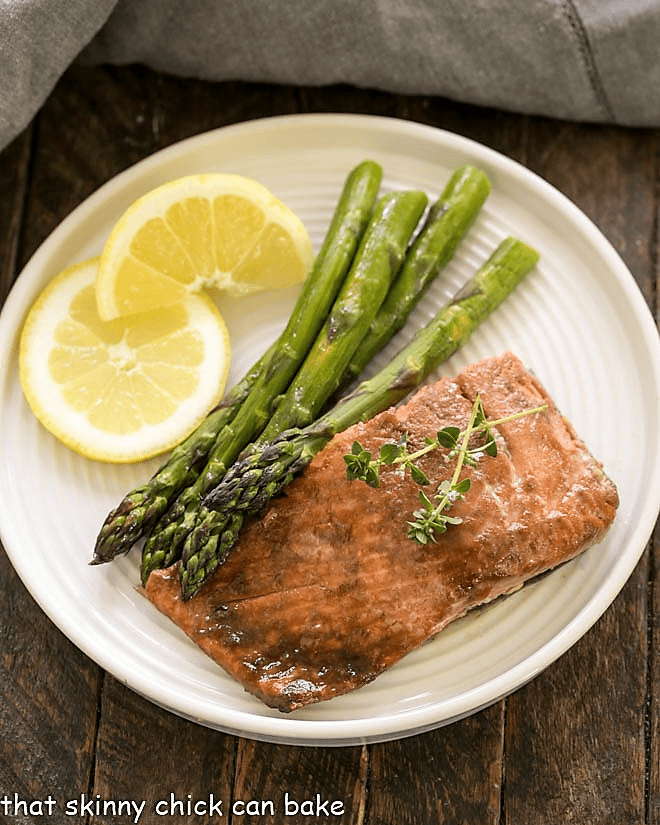 Frequently Asked Questions
Can You Use Frozen Salmon in this Recipe?
Yes, frozen salmon works perfectly. Just defrost it in the refrigerator overnight so you can marinate it for about 6 hours to allow the flavors to penetrate. In fact, all salmon sold in the US is frozen before being distributed to retailers.
How Do You Know When Salmon is Cooked?
The best way to know your salmon is done is to use a meat thermometer. The internal temperature should be 145° according to the USDA. I often order it medium which is 120-125°. Medium-done salmon will have a pinkish center, opaque, and slightly firm to the touch.
You May Also Like:
If like us, you eat a meatless meal on Fridays during Lent, you'll need a little inspiration this time of year. Or if you'd like to incorporate more seafood in your menu, you'll also appreciate these recipes.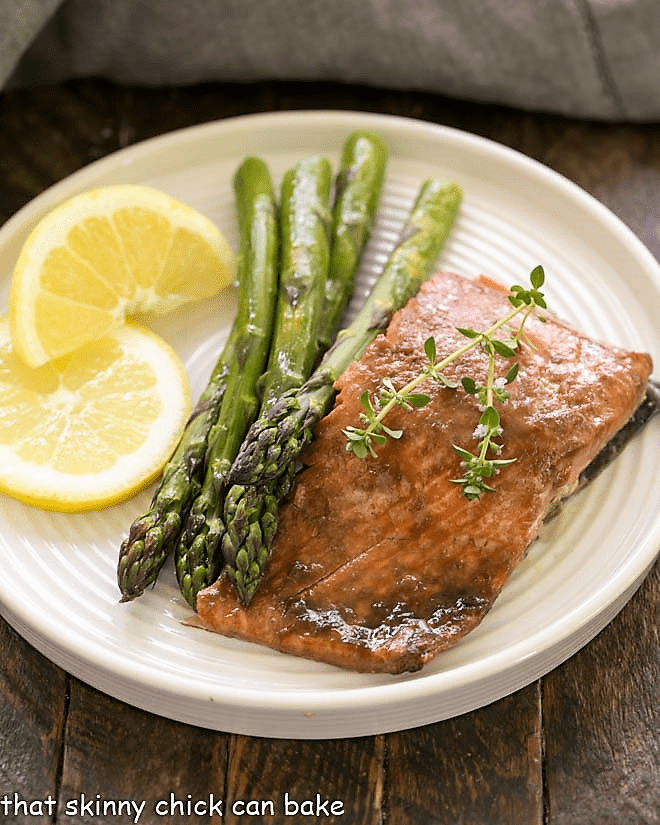 The Recipe:
Easy Glazed Salmon
Prep Time 5 minutes
Cook Time 15 minutes
Total Time 20 minutes
Yield 4 servings
An easy, delicious salmon recipe made with kitchen staples.
Ingredients
4 salmon fillets (8 ounces each)
¼ cup brown sugar
¼ cup olive oil
3 tablespoons soy sauce
2 tablespoons fresh lemon juice
2 tablespoons dry white wine
Lemon wedges
Instructions
Preheat the oven to 400º if you plan to roast instead of grilling.
Combine brown sugar, olive oil, soy, lemon juice, and white wine. Stir to dissolve sugar.
Place salmon fillets in a baking dish. Pour glaze over salmon and turn to coat. Let marinate 10-20 minutes, turning at least once.
Place the leftover marinade in a saucepan and heat to a boil. Cook for a minute or two, then set aside. This will make it safe to use as a glaze.
Bake or grill to your desired doneness (ours took about 15 minutes), basting every few minutes with glaze. You may broil for a minute or two and the end of the cooking time to brown the top of the salmon if it's cooked in the oven.
Serve with lemon wedges and a drizzle of cooked glaze if desired.
Notes
Adapted from Everyday Food
Nutrition Information:
Yield:
4
Serving Size:
1
Amount Per Serving:
Calories: 650
Total Fat: 42g
Saturated Fat: 7g
Trans Fat: 0g
Unsaturated Fat: 31g
Cholesterol: 143mg
Sodium: 800mg
Carbohydrates: 14g
Fiber: 1g
Sugar: 12g
Protein: 51g
Note: This post may contain affiliate links; view
my Disclosure Policy
for details. I earn a small percentage from any purchase you make by clicking on these links at no extra cost to you.