Italian Sautéed Green Beans
Add Italian Sautéed Green Beans with Tomatoes to your menu for a pop of vibrant color on your plate plus an outstanding treat for your taste buds!
This Fresh Green Bean Recipe is easy enough for every day, yet elegant enough for company!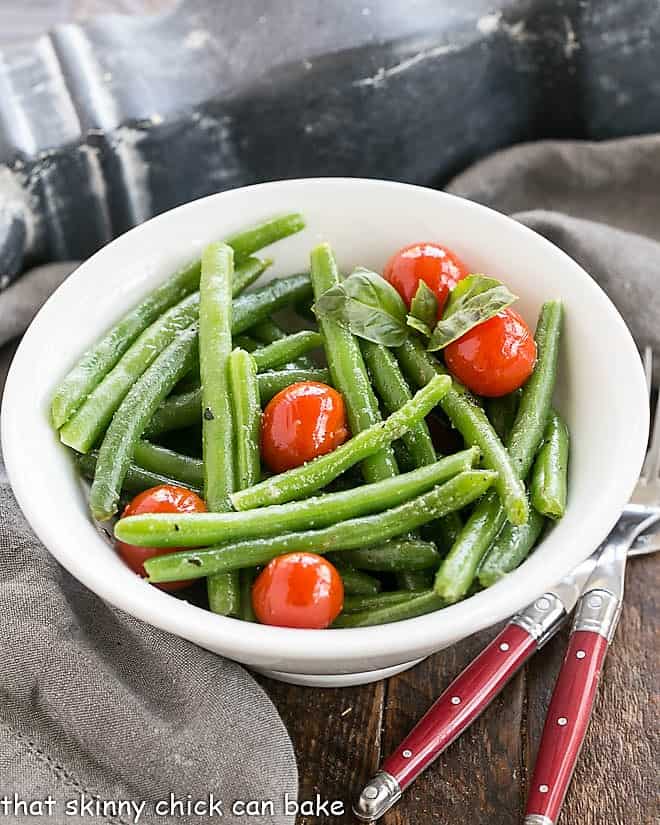 Why You Must Make
As I often do, I came to search my blog for this fresh green bean recipe. I spotted these yummy roasted green beans, but apparently, I was remiss in sharing this recipe with you all. Finding decent green beans in the produce section, in the middle of winter, reminded me of these tasty beans!
Once I tracked down the recipe, it took only about 10 minutes until they were ready to serve.
The recipe is super easy, yet definitely packed full of flavor.
It's perfect for a weeknight dinner, yet the flavor and colorful presentation make it a fun option when having company over.
How to Blanch Fresh Beans
Though these beans could easily be cooked until tender, strained, and parked until the garlic butter was ready, I decided to blanch them. What is blanching, you might wonder? Blanching is the process of plunging fruit or vegetables into boiling water briefly, then into cold water to stop the cooking process. I often do this for sugar snap peas and asparagus, when serving them as crudite, to slightly soften and minimize the "raw" flavor. When making peach pie, this process also is helpful in removing the skins.
According to the Food Lover's Companion, blanching can set the color as well as heighten the flavor. Since I wanted them cooked past crisp, this may have been more of a parboil than blanching. Let's call it a long blanch.
How to Make Sauteed Green Beans
First, the veggies are parboiled or blanched, then there are just a couple more steps.
The butter is melted and seasonings are added to the mix.
Next, the cherry (or grape) tomatoes are tossed in and cooked until soft.
Finally, the beans are added and cooked to your desired doneness.
Recipe Notes:
Though I didn't do it this time, slicing the tomatoes in half makes them easier to eat.
Parcooking or blanching the beans until tender will make the final cooking time much shorter.
Fresh basil can be replaced with any other herb that goes well with beans and tomatoes, like fresh thyme.
More Vegetable Recipes You'll Enjoy
By the way, I found this recipe shared in 2012 but had titled it Haricots Vert with Grape Tomatoes! And here I was searching for green beans. Photos, name of recipe, and text have been updated so this doesn't go missing again.
The Recipe:
Italian Sautéed Green Beans
Prep Time 5 minutes
Cook Time 8 minutes
Total Time 13 minutes
Yield 6
A vibrant green bean recipe flavored with butter, garlic and basil and sweet cherry tomatoes.
Ingredients
1 1/2 to 2 pounds fresh green beans
1/4 cup butter
1 tablespoon sugar
3/4 teaspoon garlic powder
1/8 teaspoon of salt
1/4 teaspoon of pepper
1/2 teaspoon basil
1 cup whole or halved cherry or grape tomatoes
Instructions
Cook green beans in salted water until tender. Drain and set aside.
In a large saute pan, melt the butter, then stir in the sugar, garlic powder, salt, pepper and basil. Add tomatoes and cook until soft.
Add the green beans and toss gently. Serve while hot.
Notes
May use frozen green beans if fresh are not available.
Adapted from Southern Living.
Nutrition Information:
Yield:
6
Serving Size:
1
Amount Per Serving:
Calories: 140
Total Fat: 8g
Saturated Fat: 5g
Trans Fat: 0g
Unsaturated Fat: 2g
Cholesterol: 20mg
Sodium: 113mg
Carbohydrates: 17g
Fiber: 5g
Sugar: 10g
Protein: 3g
Note: This post may contain affiliate links; view
my Disclosure Policy
for details. I earn a small percentage from any purchase you make by clicking on these links at no extra cost to you.